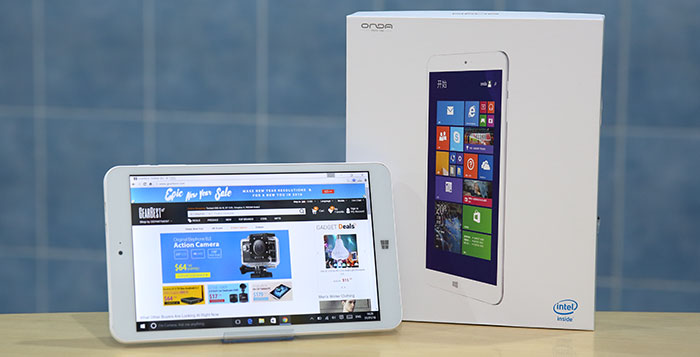 Introduction
Yeah… Check out my latest budget dual OS tablet. Onda V820w which loaded with latest Microsoft Windows 10 and Android 4.4 is the star today. Yes, I can have the best of both worlds (office & entertainment) with this tablet that powered by Intel Z3735F Quad Core 1.83GHz processor with Intel HD Graphic Gen7 GPU. Besides, it is loaded with 2GB of RAM and 32GB of internal storage (can be expanded up to 128GB with external SD card). Equipped with 8 inch 1280 x 800 WXGA IPS screen and lot of connectivities like Bluetooth 4.0, HDMI 1.4, Wi-Fi, Miracast, WiDi and USB 2.0 with OTG. How does it perform? Let's this review tells you…
Specifications
CPU: Intel Z3735F Quad Core 1.83GHz
GPU: Intel HD Graphic Gen7 processor
RAM + ROM: 2GB + 32GB
TF card: Up to 128GB (not included)
Camera: Front 2MP, Back 0.3MP
Windows 10 system + Android 4.4
Screen: 8 inch 1280 x 800 WUXGA IPS screen
Wi-Fi: 802.11b/g/n @ 2.4GHz
Bluetooth: 4.0
HDMI: 1.4
Micro USB2.0/OTG: Yes
Battery: 4200mAh
Gravity sensing system: Yes
Dimensions: 205x120x9mm
Weight: 331g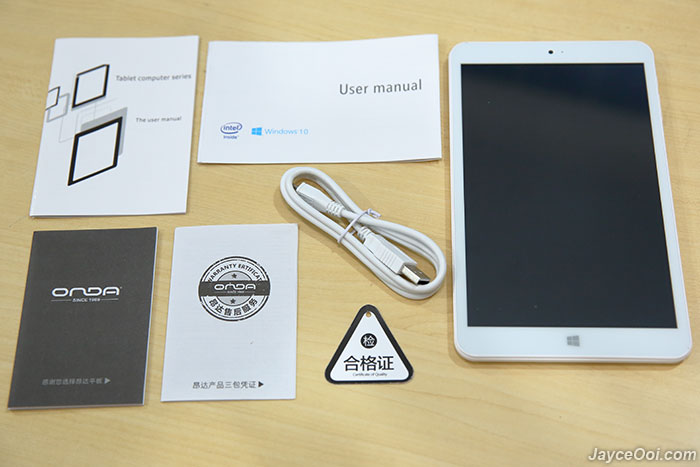 Package Content & Design
There are Onda V820w, micro USB cable, warranty information, user manuals for both Windows and Android in the package. That's it. No charger is included as the tablet is intended to sell worldwide. And the included one might not suit you. Just use back your existing one or grab a new 2A USB charger will do, right? Look at the bright side, it comes with screen protector pre-installed as bonus. As for the design, Onda V820w comes in clean white colour. Build quality is decent thanks to sturdy plastic back cover. You can find 0.3MP camera, LED light indicator, 8″ screen and Windows home button in front. 3.5mm headphone jack, micro HDMI and USB ports on top. Micro SD slot on the left while power, volume up and down buttons on the right. Lastly, 2MP camera and speaker on the back.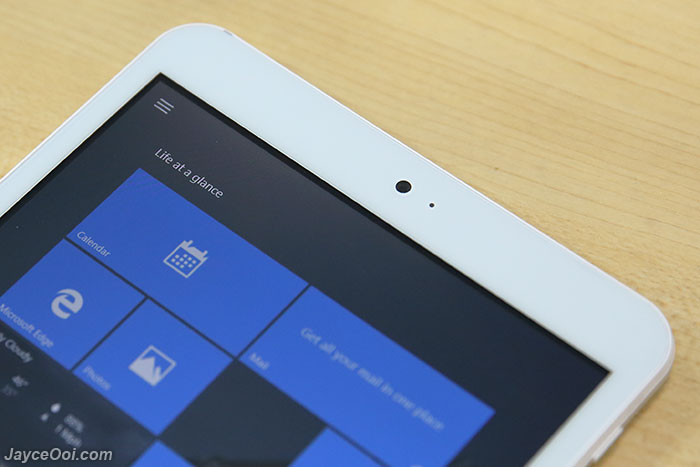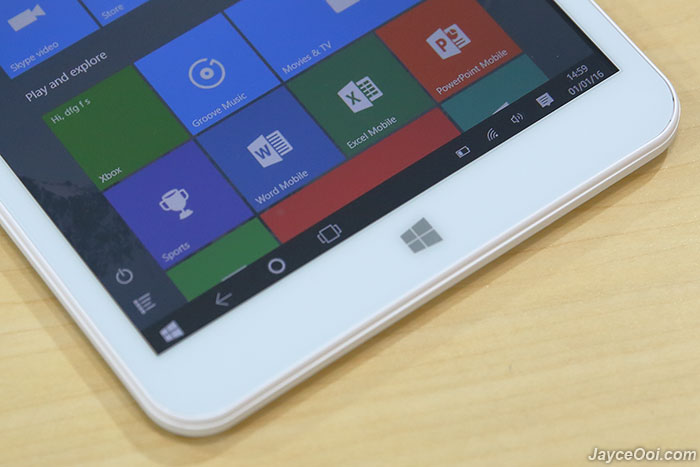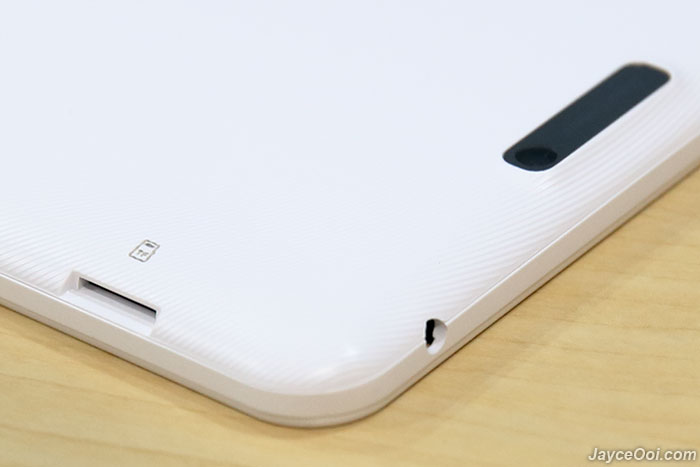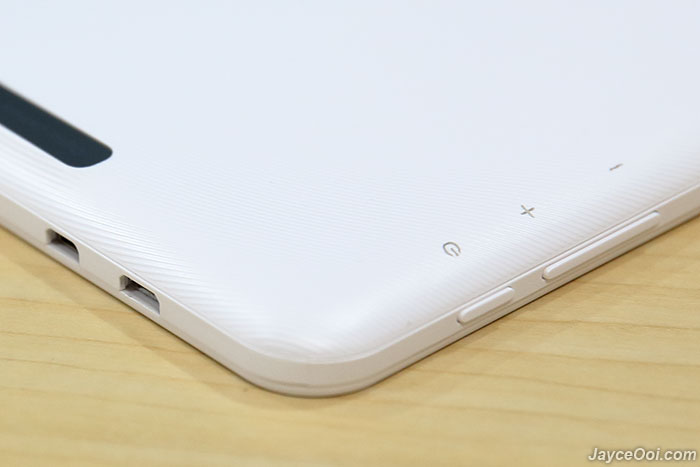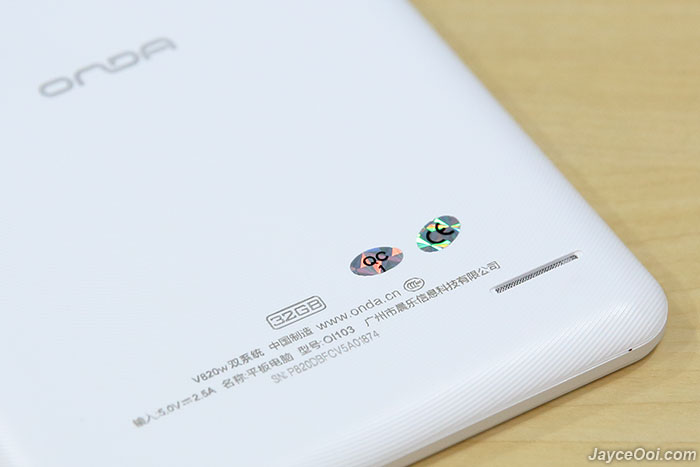 Software & Hardware
Onda V820w is a powerful beast at this price point. Period. Thanks to Intel Z3735F Quad Core 1.3GHz processor with Intel HD Graphic Gen7 GPU. Everything is running smoothly no matter in office applications or 3D gaming. 2GB RAM let you multi-tasking easily. Yes, you will have around 1.4GB free RAM for Android and 1.1GB on Windows 10. More than enough to run included Office 365 applications and Windows Store's apps and games (with GameSir G4s Review). Same apply to Android thanks to effectiveness of Google platform. I still did not find an app or game that requires more than 1GB of RAM. As for storage, 32GB ROM lets dual boot possible while still have enough disk space left for you to install more apps and games. What is the user usable disk space? Onda partitions 20GB for Windows and 10GB for Android. But you only get around 10GB usable on Windows and 7GB on Android right after factory data reset. It may not be enough for you to install lot of big size games at the same time but thankfully there is external SD card slot to expand the storage.
Intel HD Graphic Gen7 GPU is perfect match for 8 inch 1280 x 800 WUXGA IPS screen. The colours and contrast are good and the brightness is ok as well. 3D games are running smoothly in both Android and Windows. Of course, just don't expect to run extreme 3D games on Windows which designed for dedicated graphics card. 3D games designed for mobile devices will be run just fine. For example, both racing games like Need for Speed No Limits and Asphalt 8 Airborne perform fairly well on Onda V820w. Furthermore, HDMI output turns it into a entertainment machine. Yes, enjoy all your favourite movies and games on bigger TV screen while sitting on soft sofa. Basically, it is also a set-top box with Kodi installed and games console when connected with mouse, keyboard and game controller via both OTG cable and Bluetooth connections. Don't limit yourself to 8″ screen only, right? Okay, here is a catch. Your standard micro HDMI cable might not work on this tablet. Why? Onda V820w has a deeper HDMI port which requires a longer male HDMI head (same length as micro USB head). Not a deal breaker as you can modify your cable later to suit it by follow this guide – How to fix Onda Tablet HDMI port not working?
Wi-Fi coverage range is okay. I manage to get Wi-Fi connected throughout my double storey house with router at first floor. However, Bluetooth coverage is below average. Not an issue to output to Bluetooth speaker or headphone in the same room though. Look at the brightside, you can turn it into Intel WiDi (Wireless Display) receiver on Android. And Miracast is supported as well. Or connect to external 3G module as well. The built-in speaker quality is okay at best. No problem to blast in small quiet room. Just don't expect miracle from it. No worry, Bluetooth speaker and headphone are there to provide help. Headphone jack output is great too. Oh well, words can't describe all of Onda V820w features and actual performance. Check out below video for Onda V820w real world performance on applications like Google Chrome for web browsing, Windows 10 navigation and lot of games in both 2D & 3D on both Windows and Android. See it yourself…
Thanks to decent hardware specs, Onda V820w is able to perform fairly well in both Windows 10 and Android 4.4. Yes, latest Windows 10 is great on this tablet. Windows Store's apps and games run very well on it. And it can be turned into a productive notebook when attached keyboard and mouse to it. Or use it like mini desktop with monitor via HDMI. Running office applications are just a piece of cake for it while CPU intensive application like Adobe Photoshop still runnable but slower than normal desktop PC. Personally, I have no complaint on Onda V820w when running Windows 10. On the other hand, Android is working fine too. However, it is loaded with several bloatware like Game Center, Clean Master, Account Center and others including Onda Launcher itself with Top Apps. Luckily, it is easy to uninstall / disable all of them (except Onda Launcher which still running in background). In the end, I have ZenUI Launcher replaced Onda Launcher and all unnecessary apps uninstalled. It is running as fast as CyanogenMod ROM now – fresh and clean. By the way, Google Play Store is pre-installed already. No worry about that. And rooting it is very simple as well. Just follow this guide will do – How to root Onda V820w?
Benchmark
Well, you should get to know about the performance of Onda V820w with Intel Z3735F Quad Core 1.3GHz processor with Intel HD Graphic Gen7 GPU after watched its real world performance video. Anyway, here are the results from synthetic benchmarks like AnTuTu, Basemark OS, CrystalDiskMark and 3DMark for you that hungry for in-depth technical data.


Both Windows 10 and Android perform similar in 3DMark benchmark. This mean you should get roughly the same performance on both platforms, right?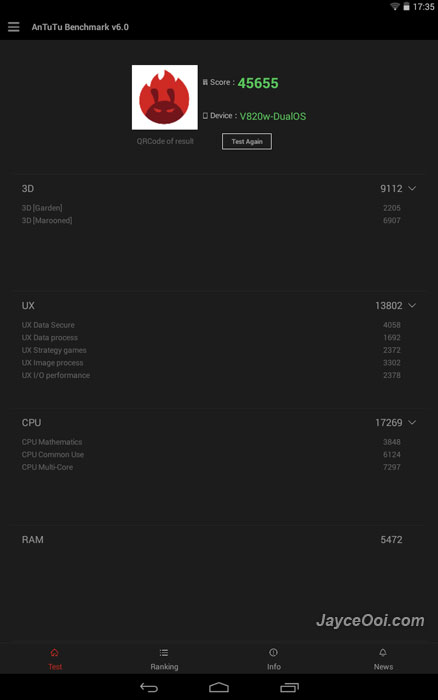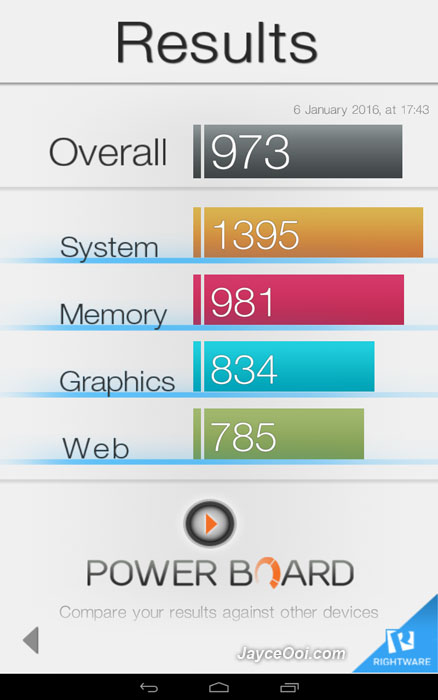 Windows 10 is the best place to test storage speed compared to Android. CrystalDiskMark is being used to do so. Onda V820w is able to get sequential reading speed at 135 MB/s and sequential writing speed at 54 MB/s with its 32GB eMMC. Much slower on external microSD slot with around 23 MB/s for both read and write on SanDisk Extreme card. So don't bother to invest high speed card as you can't get any faster with it.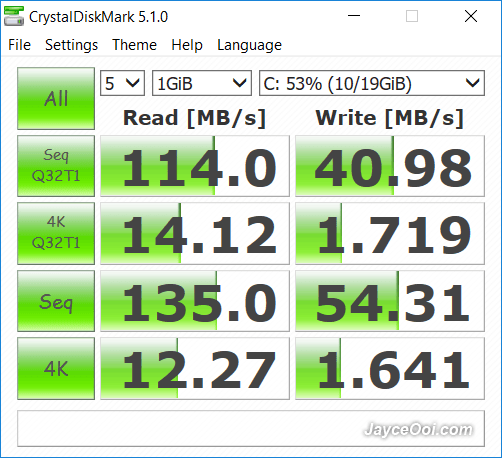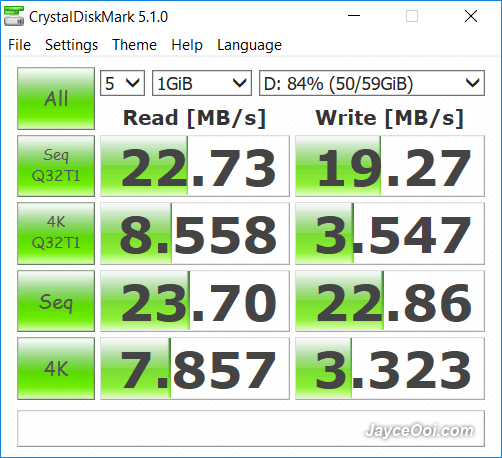 Battery
Onda V820w battery life is quite good also. Its 4200mAh battery manages to provide 3 to 5 hours screen time on. Of course, this will depend on what you do. Battery life will be shorter when running intensive 3D games. And longer while just surfing Internet or listening to music. As for charging, it takes around 3 hours and a half to fully charge.
Camera
I don't focus much tablet's camera as tablet is too bulky as a camera. But it is useful for video conferencing and casual photo taking. How does Onda V820w's camera perform? Personally, I did not put much hope on them but they turn out quite useful as backup camera. Well, it can't take high quality photo but good enough for blog and social media like Facebook, Instagram usages. Check out below samples for both front and rear camera.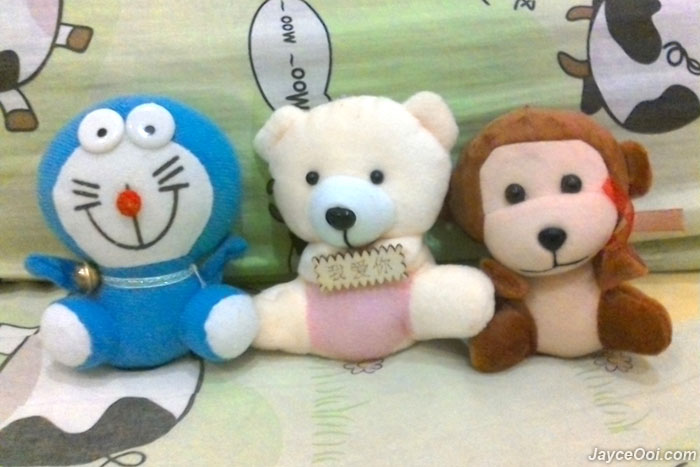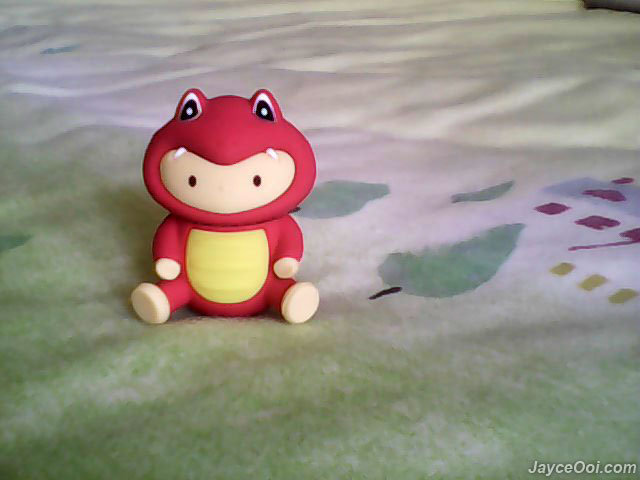 Advantages
Dual OS (Windows 10 + Android 4.4)
2GB RAM + 32GB ROM
Powered by Intel Z3735F
Unbeatable price
HDMI output (as set-top box & game console)
Miracast, WiDi & USB OTG support
Limitations
Below average Bluetooth range
Deeper micro HDMI port
No USB charger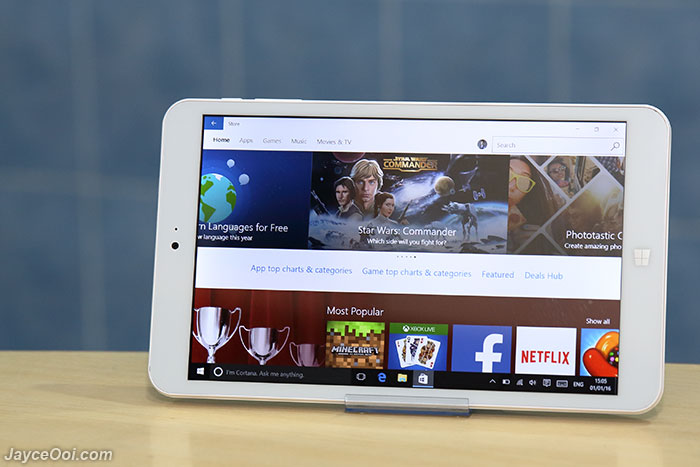 Conclusion
Onda V820w is a budget tablet loaded with lot of interested stuffs. Dual OS (Windows + Android) support and can be turn into mini notebook with keyboard and mouse attached. Act as set-top box or game console via HDMI output. At this price point, you can forgive all its weaknesses. More information can be found at Onda Website. And get yours here.