Introduction
Hey, SpongeBob is here!!! Well, it is my latest ORICO SSD Enclosure actually. Unlike normal HDD enclosure, it has aluminium alloy chassis with silicone cover for maximum protection. Being as a SSD enclosure, SuperSpeed USB 3.0 interface with UASP support is a must. Yup, ORICO 2789U3 has all of them. Is ORICO 2789U3 perfect as SSD enclosure? Better than my recently reviewed ORICO 2569S3? Let's find out…
Special Thanks
This review is possible thanks to below companies. Be sure to check them out…
Features
Aluminium alloy chassis
USB3.0 TO SATA3.0 bridging solution
Internal shockproof sponge pad design
Equipped with 360 ° silicone protective cover
Enclosed with screwdriver tools, worry-free installation
LED indicator monitoring
Plug and play, widely compatible
Multi-safety protection, transferring safer
Package Content & Design
Again, ORICO 2789U3 comes with a simple package. However, it has lot of individual components this time. 2789U3 chip is well protected with antistatic bag and others by plastic cover. Yup, you need to assemble all of them yourself. Cool, right? User manual will guide you to install. Just use the triangle screwdriver to do so. And no worry about missing screws. 2 additional ones are included. Lastly, there are 2 silicone cover colours to choose – orange and blue.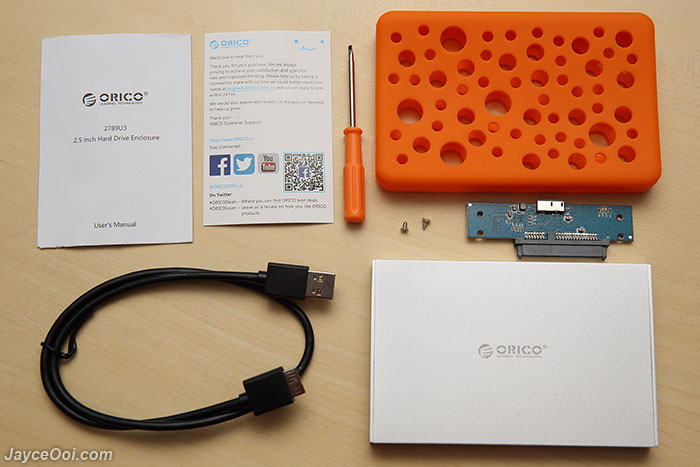 I won't cover the step by step for installation. It's not hard by following the detailed guide. And below is the end result.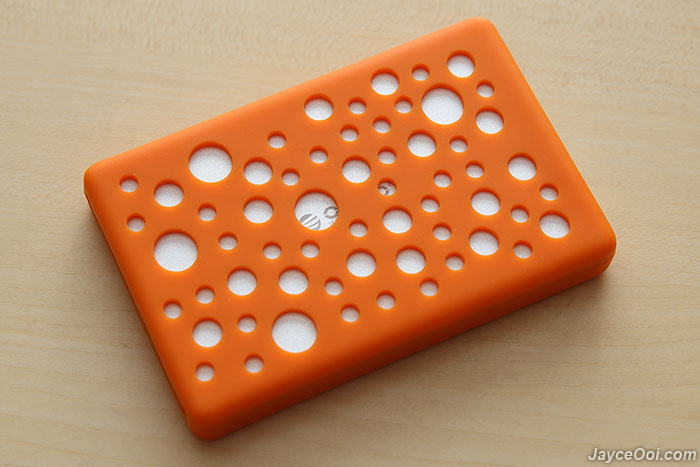 Build quality is top notch with aluminium alloy as chassis. And surely will help to disperse heat fast and provide protection. 360° silicone protective cover helps to absorb shock and collision. Effectively protecting your hard drive even in the outdoors.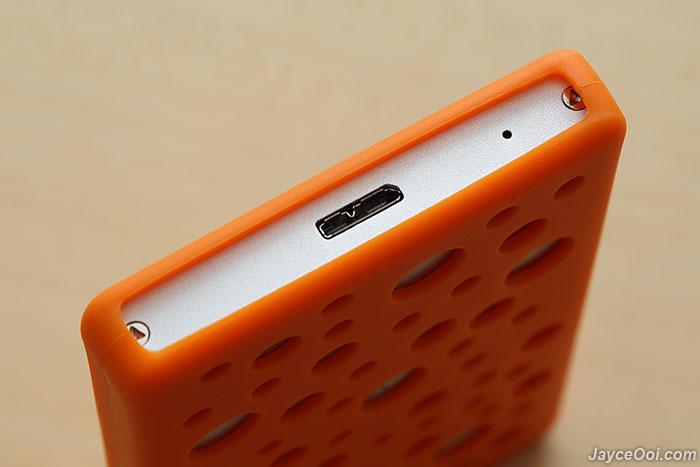 Above are the 2 triangle screws, micro USB 3.0 port and the LED light indicator.
Specifications
Material: Aluminum Alloy
Dimension: 124 x 80 x 13mm
Output: USB3.0 Micro B
Speed: USB3.0 5Gbps
Installation: Screws (screwdriver enclosed)
Capacity: 2TB (9.5mm and below thickness)
Indicator: Blue LED Indicator
Performance Result
Does all ORICO hard drive enclosure comes with same controller chip? Nope. ORICO 2789U3 is using NS1068X USB 3.0 to SATA Ⅲ (6Gbps) Bridge Controller by Norel Systems. As usual, it supports USB Attached SCSI Protocol too. Rest assure that you can have maximum transfer rate on 5400RPM HDD. Are SSD getting the same treatment also? Below benchmark results will tell you…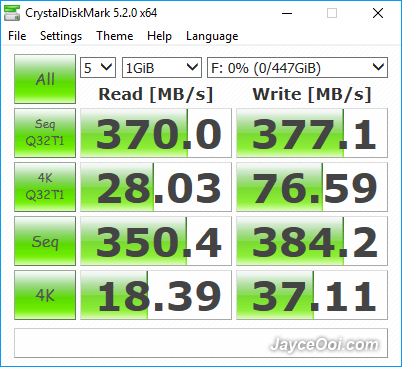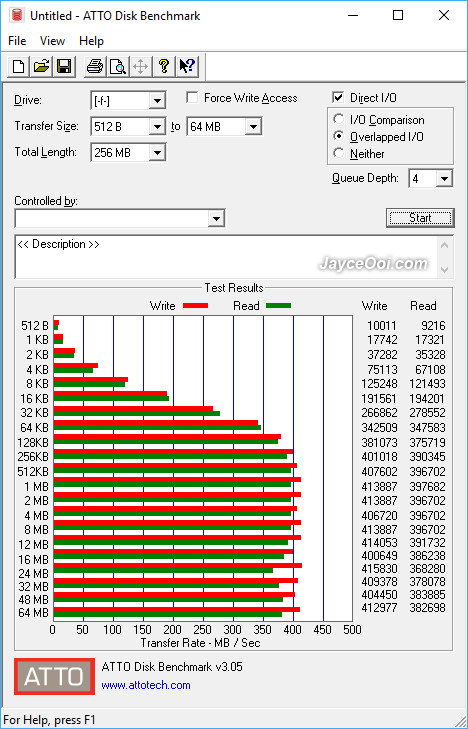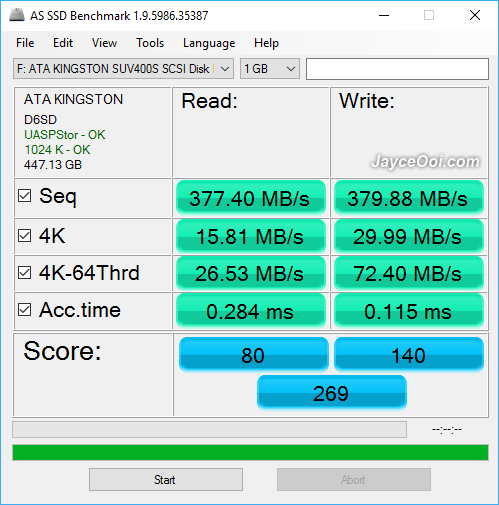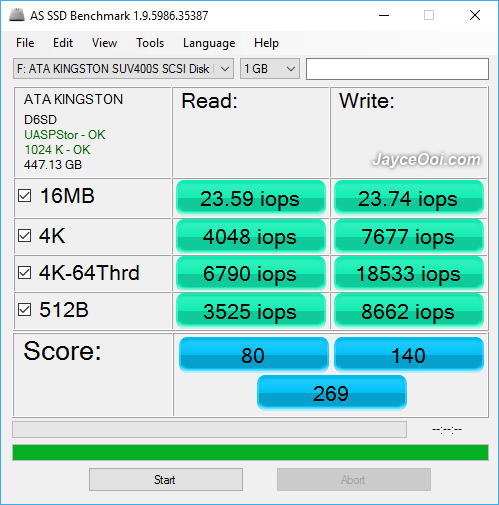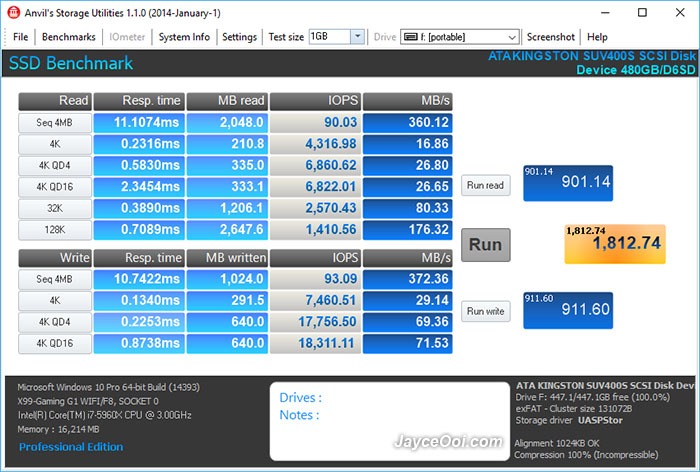 Hmm… NS1068X is slower than ASM1153E with 480GB Kingston SSDNow UV400 SSD. Not much as it is getting 370 MB/s read and 377 MB/s write in CrystalDiskMark sequential Q32T1 test. Higher write than read on ATTO Disk Benchmark with 397 MB/s read and 415 MB/s write. Again AS SSD Benchmark result is like CrystalDiskMark too. Finally, it manages to get much higher reading speed in Anvil's Storage Utilities compare other controllers that I tested.
Advantages
Decent performance with UASP support
Excellent build quality
Shock absorption protective cover
Ultra-portable
Workable without the casing
Stylish design
Limitations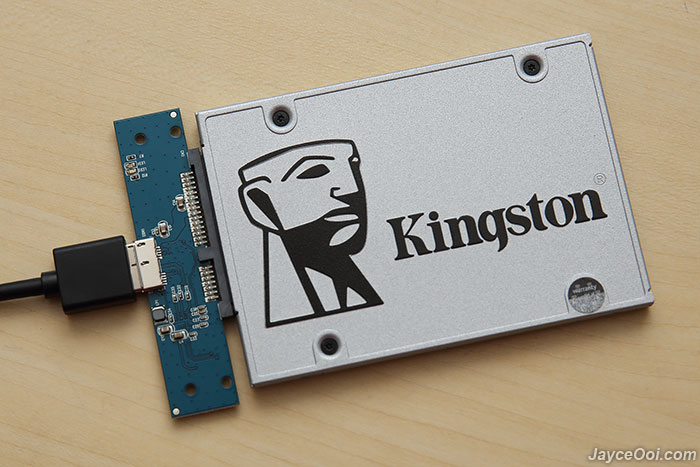 Conclusion
ORICO 2789U3 may not have the best transfer rate. But it is providing the best protection for sure. And this is great for those who like to carry portable hard drive around frequently. As usual, more information can be found at ORICO Website. You can also consider ORICO 2569S3 with better performance for home use too.