Introduction
"I am an Android TV Box. I am also digital video recorder DVR. I am the latest box from PROBOX2 – AVA." Yes, PROBOX2 AVA is powered by Realtek RTD1295DD CPU and ARM Mali-T820MP3 GPU. Loaded with Android 6.0 + OpenWRT(NAS) dual system that run simultaneously. Support UHD 4K HDR, wider colour spectrum (BT.2020) video @ H.265 10-bit 60fps and audio like Dolby / DTS and S/SPDIF (5.1CH, 7.1CH). And have internal SATA HDD slot for all your favourite movies. Sound great? Let's check it out…
Special Thanks
This review is possible thanks to below companies. Be sure to check them out too…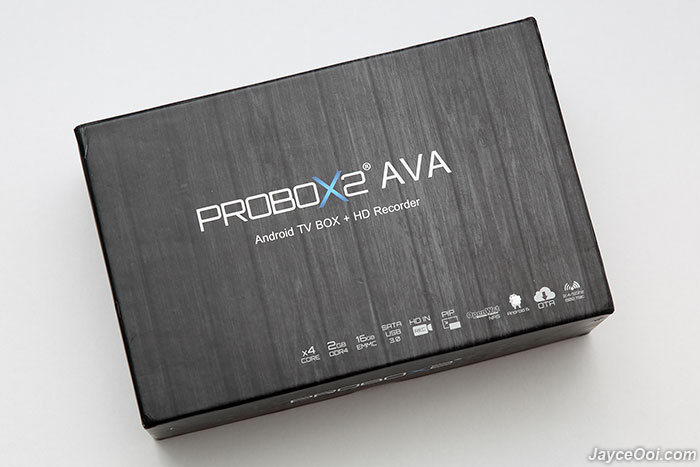 Package Content
As usual, PROBOX2 AVA is well protected like other PROBOX2 products. You can find PROBOX2 AVA, remote control, HDMI cable, power adaptor, removable antenna and user manual in the package. You will get the suitable plug for your own country like US, UK, AU and EU plug. By the way, the bundled infrared remote unit is a common one without air mouse ability. But it has 4 extra shortcuts like media, music, web and app. If you need air mouse, do select package with PROBOX2 Remote+ (optional). And take your time to read PROBOX2 Remote+ Review to understand more.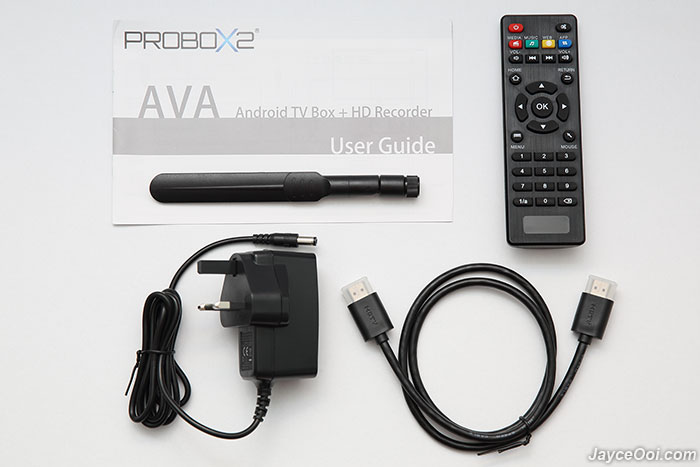 Build Quality & Design
Build quality is decent with solid plastics as casing. It's longer than previous models as it has internal HDD slot this time. Yup, remove the left bottom cover to insert your 2.5″ SSD / HDD there as storage expansion on top of 16GB internal storage. And it has blue LED status indicator in front that shows clock too. On the left, there are USB 3.0, USB 2.0 ports and SD card slot. And the rest of the stuffs like HDMI in and out, RJ45, optical, DC in and external antenna are located at back. Finally, firmware update switch and 4 anti-skid pads at the bottom. Do check out below photos for details…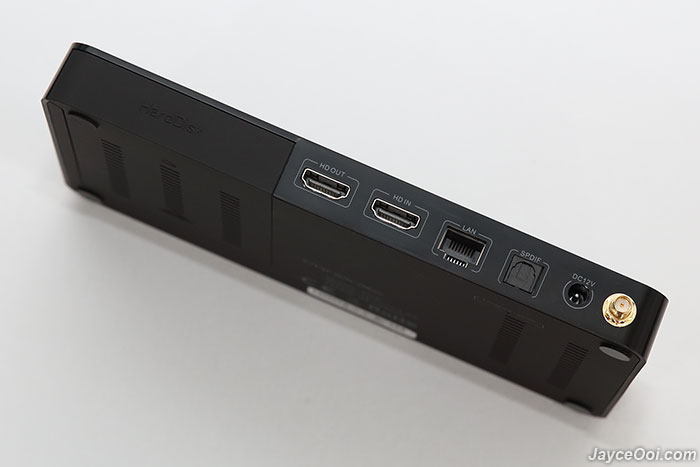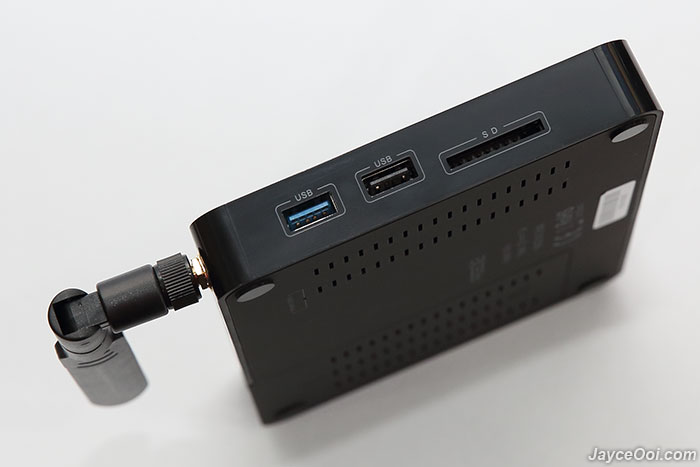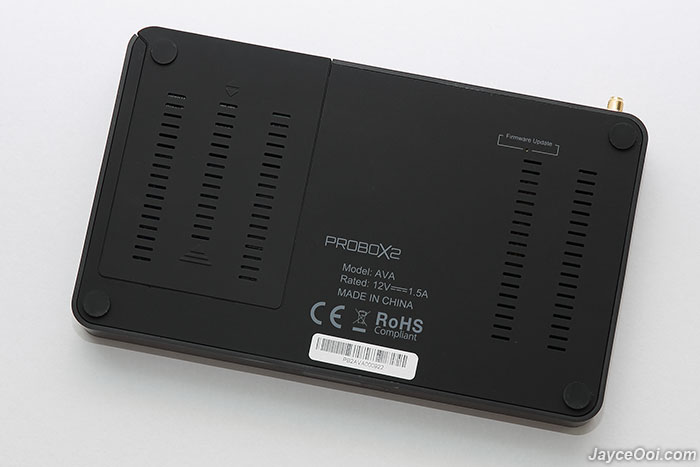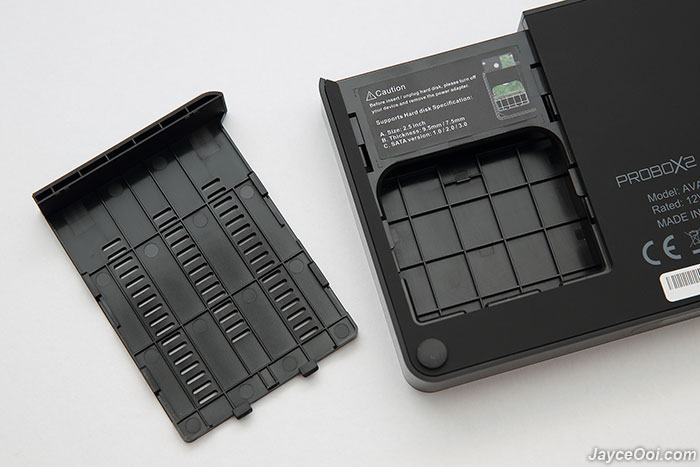 Software
PROBOX2 AVA is loaded with Android 6.0.1 Marshmallow and OpenWRT (NAS). Both systems run simultaneously. As for Android, it support OTA firmware update no doubt just like other PROBOX2 products that I own. I believe local USB update is available as well with the firmware update switch. By the way, it comes with few pre-installed applications like Kodi 17.1, Fishing Joy, Happy Cast, Miracast, Netflix, HDMI In and YouTube. As usual, more applications can be installed through Play Store.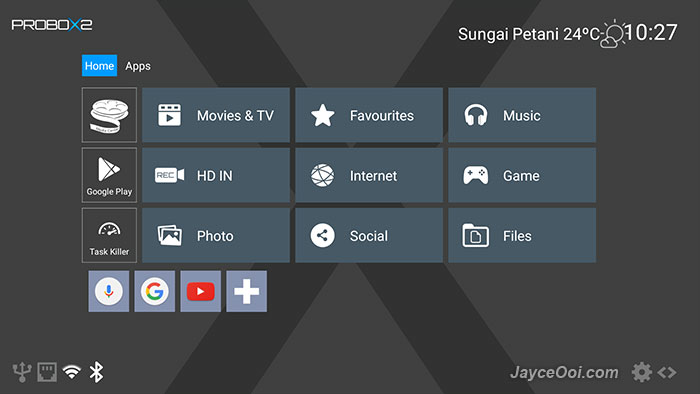 PROBOX2 APEX UI Launcher is pre-installed. You can add another launcher that you prefer. Switching between them is very easy with a single click only (bottom right <> button). As for OpenWRT, it supports samba server, iTunes (DAAP) server, DLNA (UPnP) server, FTP server, AFP function (for Apple TimeMachine) and BitTorrent download function. Internal HDD with large storage (up to 4TB supported) will provide more than enough storage for all your favourite movies, music and photos. Lot of configurations and settings. Need more time to study all of them…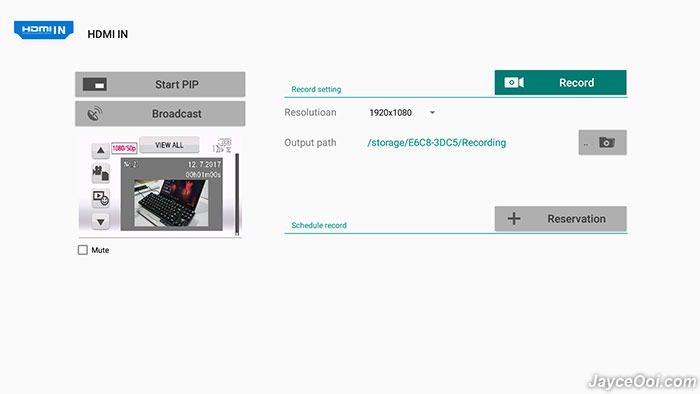 HD Recorder (HDMI IN) is what make PROBOX2 AVA different from other Android TV boxes. Yes, it supports recording to 2.5″ SATA HDD, USB storage, SD Card and internal eMMC. Besides recording, PIP (Picture in Picture) and broadcasting are supported as well. PIP allows you to watch the input HDMI signal in a floating window on home screen while running other apps simultaneously. Cool, right? Note – it support up to 1080p recording (in .TS format) and can't record HDCP contents. Do take note…
Benchmark
PROBOX2 AVA is powered by Realtek RTD1295 Quad Core 64bit Cortex A53 CPU and ARM Mali-T820MP3 GPU (3-Core). Loaded with 2GB DDR4 RAM and 16GB eMMC as internal storage. As for connectivity, it has 802.11ac, Dual Band WIFI (2.4Ghz / 5.8Ghz), Bluetooth 4.0 and Gigabit Ethernet. How does it perform? Let's below synthetic benchmarks tell you…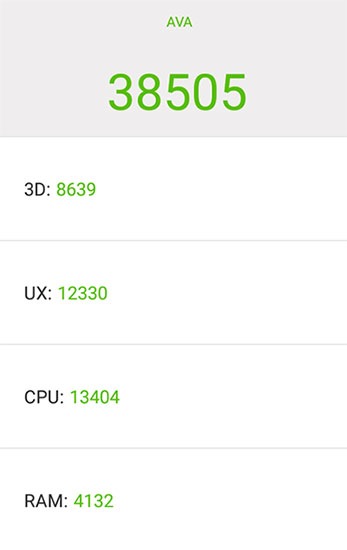 AVA almost hit 40k score in AnTuTu Benchmark. I believe future firmware can further enhance 3D speed as Mali-T820MP3 GPU still can perform much better when compare to the same GPU in Amlogic S912.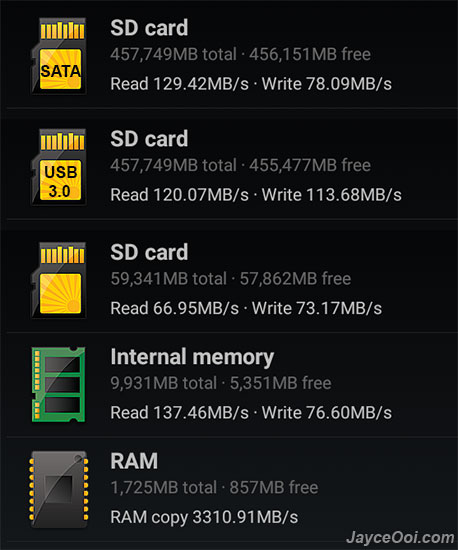 As for storage speed, it passes with flying colours. Excellent performance in internal storage, SD card slot (USB 3.0 speed) and memory. Read and write speed of internal SATA drive and USB 3.0 port with Kingston SSD are great as well. Rest assures that you are getting fastest transfer speed by using it as NAS and Adoptable Storage.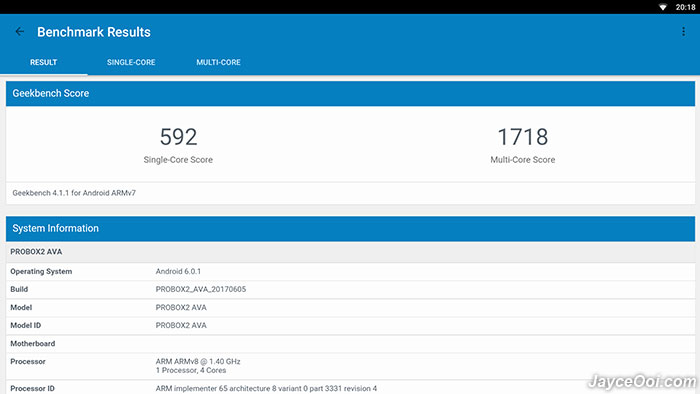 Here is Geekbench 4 scores for your reference.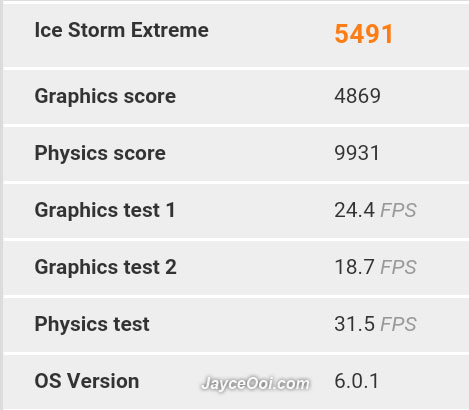 Again, 3DMark Ice Storm Extreme benchmark confirms that 3D speed still can be improved. No worry, casual 3D games are performing smoothly here.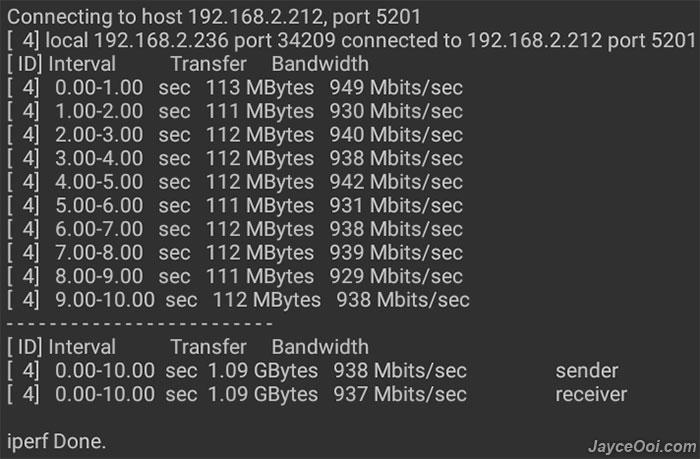 AVA is the best PROBOX2 box in connectivity tests. Period. It is able to get connected at 434 Mbps on 5GHz AC and 150 Mbps on 2.4GHz on Wi-Fi. Getting transfer rates 144 Mbits/sec on 5GHz and 94 Mbits/sec on 2.4GHz from iPerf3 test. Wireless range is outstanding – the best among all my TV boxes (improve 5GHz AC transfer speed then it will be perfect). 938 Mbits/sec from Gigabit Ethernet as you can see. As for Bluetooth, it is excellent too. Easily exceeds 10m Bluetooth range in straight sight line and almost up to 8m with obstacles.
Performance Result
PROBOX2 AVA is my very first box with Realtek RTD1295 chipset. Yes, it supports 4K Ultra HD H.265/HEVC high bit rate to up 400Mbps smoothly. It almost can play virtually any video files and types that you throw at. Yes, 4K Jellyfish 400Mbps video can be played smoothly with local drives. Furthermore, a must have feature – auto frame rate switching is supported. Smoothest playback is what you can get. In addition, HDR10 deep colour and BT.2020 wider colour gamut are supported. Best picture quality in return for sure. As for audio, it supports audio codec like Dolby True HD, DTS HD-MA and other more (5.1CH & 7.1CH). For your information, it use external player on video playback with Kodi. Main video player will be loaded to play then. And if you need to play network media files (via Samba / uPNP etc.) by Kodi, you need to do the following settings – refer this guide.

Those need root access will be very happy. Yes, you can start to use apps which require root access like AdAway after installed SuperSU. For your information, Miracast performance is excellent too. Smooth video and audio playback with no skipping nor distortion are what you will get. As for game streaming with Moonlight (NVIDIA GameStream), it is playable through both Ethernet and wireless with around 55ms latency.
AVA takes around 35 seconds to boot up. Shut down is almost instant. On the other hands, multi-tasking is working so so here. System started to slow down / hang with more than 3 games opened at the same time. Maybe it has something to deal with slower 3D performance here. Hopefully, future firmware will improve it.
Advantages
4K Ultra HD & H.265 codec support
Crazy high bit rate videos support
Auto frame rate switching support
Outstanding wireless range & Ethernet speed
HDMI input recording
Hidden internal HDD slot
USB 3.0 port
Decent build quality
Limitations
Firmware still can be improved
Hard to remove HDD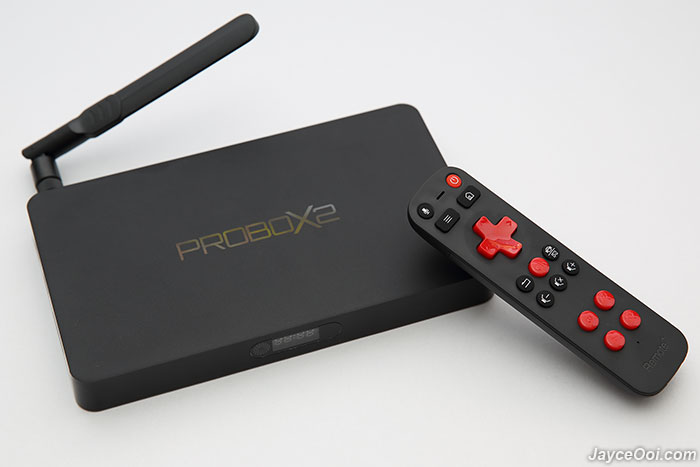 Conclusion
The best PROBOX2 Android TV box yet! Period. Enjoy superior video quality with HDR10 deep colour and BT.2020 wider colour gamut. Auto frame rate switching for smoothest video playback. Internal HDD support for both video playback and recording. Interested? More information can be found at PROBOX2 Website. And get yours at Amazon.