Introduction
Most of the Android TV boxes out there are loaded with latest Amlogic S912 octa-core CPU and ARM Mali-T820MP3 GPU nowadays. Same apply to RKM MK22 Plus by Rikomagic that I have. Being a S912 TV box, rest assures that it is capable to play 4K Ultra HD content through H.265 codec technology. Furthermore, it is loaded with 3GB of RAM and 32GB of ROM. Hey, that's not common among those boxes. And comes with dual-band Wi-Fi (802.11 B/G/N/AC), Bluetooth 4.0 and Gigabit Ethernet. Powered by Android 6.0 Marshmallow with lot of nice features like Adoptable Storage. How does it perform compare to other S912 boxes? Let's find out together…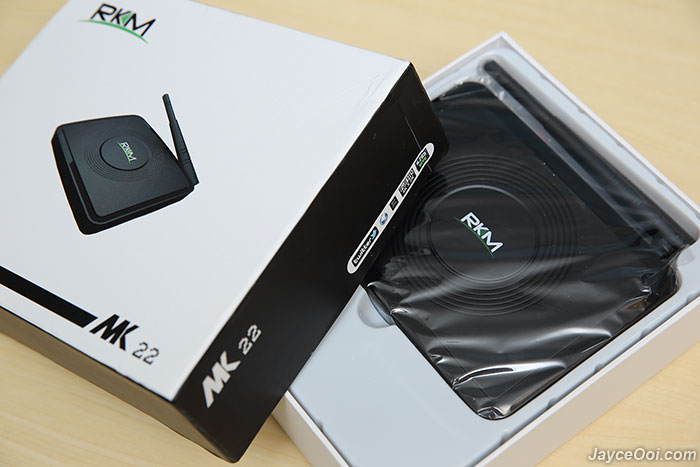 Package Content & Design
There are RKM MK22 Plus, remote control, HDMI cable and power adaptor in the package. No user manual here. Based on Rikomagic website, there should be an e-Manual. But I can't find it there either. Anyway, it is not hard to use Android TV box if you are familiar with Android operating system already. As for power adaptor, you can select the correct plug for your region (US, EU, UK & AU). Like mine is UK plug. The infrared remote unit is a very simple one. No air mouse support is fine. But it don't even have mouse pointer which basically make it a useless remote. No problem to use it to do simple navigation but you will face problem when trying to input something.
Build quality is decent with all solid plastic as housing. There is LED light indicator for power status at front (blue for on, red for standby). On the right, you can find USB 2.0 OTG port, micro SD slot and update pin switch.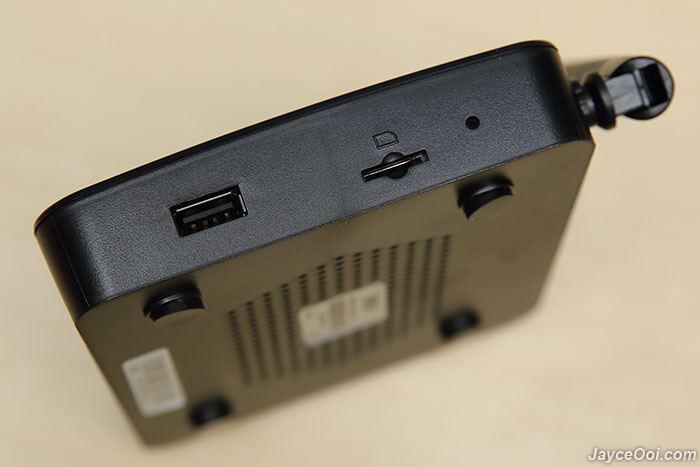 There are lot of stuffs at back. You can find non-removable antenna, 2 more USB 2.0 ports, optical, AV, HDMI, RJ45 and DC input. 4 anti-skid pads and vents for disperse heat at the bottom. As usual, do refer to all the photos for details.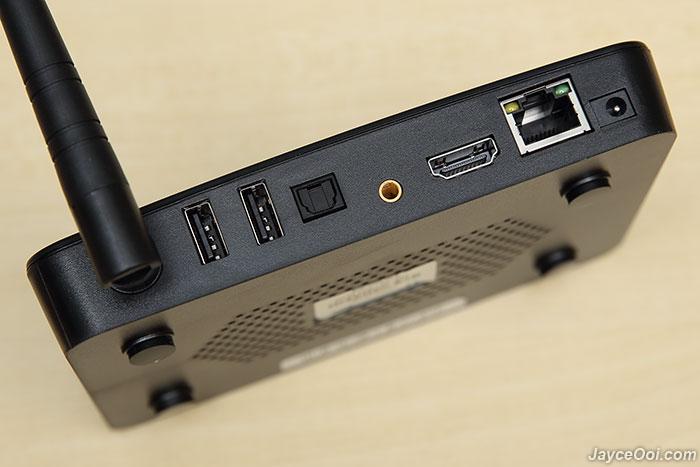 Software
MK22 Plus is powered by Android 6.0.1 and support OTA firmware update (so far I did not receive any update – using the latest one here). It is loaded with Kodi Media Center – 16.1 stable version. And comes with other applications like Gmail, Superuser and YouTube pre-installed too. Hmm… All of them are part of system applications (except Kodi). You can only disable them but not uninstall unless you have root access. Not to worry much because there are 3GB of RAM and 32GB of internal storage for you. If still not enough, just enable Adoptable Storage that use SD card as internal storage to store applications, data and media.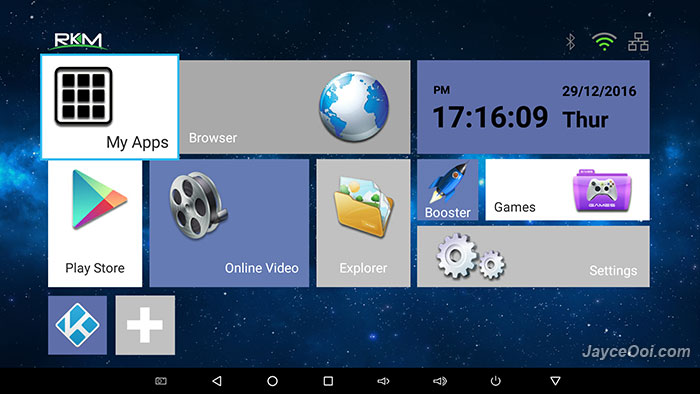 Above is the launcher that come along with MK22 Plus. You can't change the big shortcuts. But you do can add your prefer apps at bottom (the smaller shortcut like Kodi). And it also comes with Android tablet alike launcher (you can select the one you want in the settings). The current RKM Launcher V3 is not so stable. I faced launcher force closed issue when exiting from certain applications. Not sure why…
Get an air mouse? Well, no need. There is an Android application – RemoteIME as the substitution of the simple IR remote.  Basically, you get touch navigation buttons, mouse and keyboard as air mouse replacement. Cool, right?
Benchmark
How does Amlogic S912 octa-core CPU and ARM Mali-T820MP3 GPU inside of RKM MK22 Plus perform? Does its 3GB of RAM and 32GB internal storage make any different in daily use? And how is the wireless and Ethernet performance? Below synthetic benchmarks data should give you some ideas about them.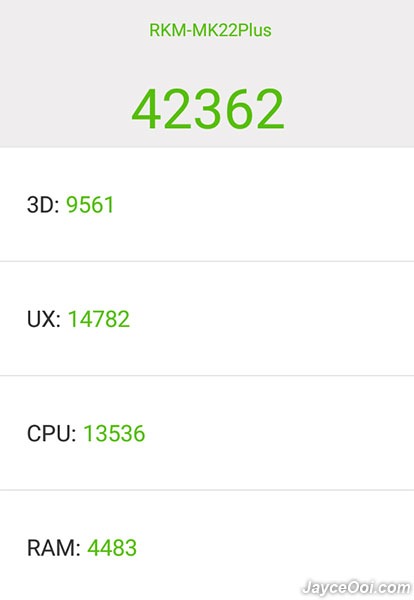 MK22 Plus has better score in Antutu Benchmark than my other S912 box. Faster 3D performance and better UX.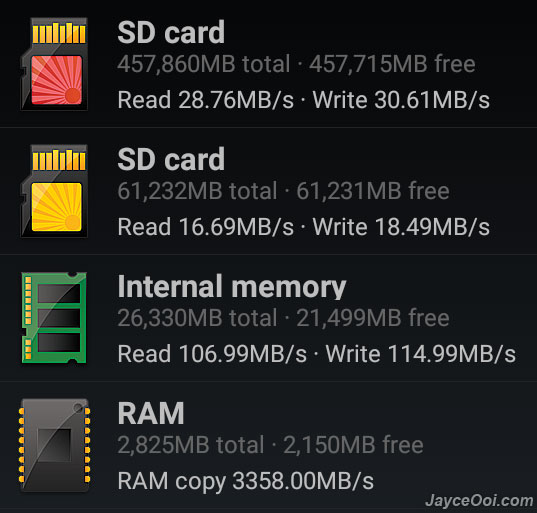 Wow… MK22 Plus has the best internal storage among all my TV boxes with 106 MB/s read and 114 MB/s write. Both above 100 MB/s to give the best and fastest response on file coping and games loading. Micro SD slot performance is decent too with 16 MB/s read and 18 MB/s write. Test was done with 64GB Kingston UHS-I U3 90R/80W by the way. And external storage test was using 480GB Kingston SSDNow UV400 SSD. Transfer rate is limited by USB 2.0 port for sure.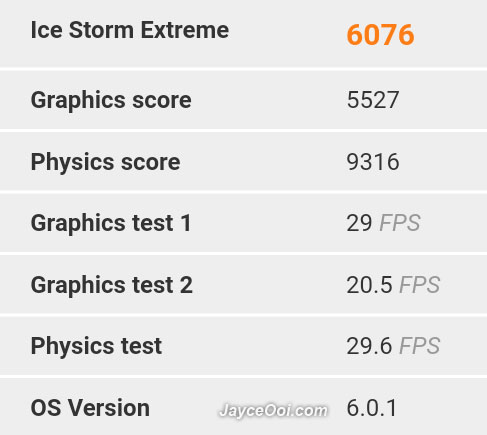 Again 3DMark Ice Storm Extreme shows RKM MK22 Plus has solid 3D performance too. Fast paced 3D games like Asphalt 8 Airborne and Unkilled are playing very smooth here.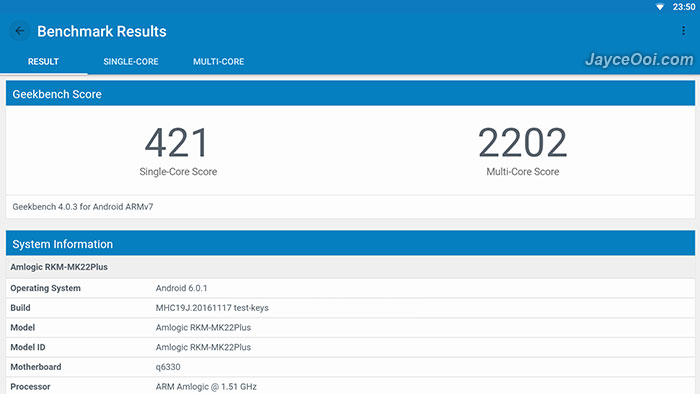 Hmm… MK22 Plus performs very well in Geekbench 4 multi-core test with 2200 score. Much better than my other S912 box. Overall, MK22 Plus is a great performer based on these data.
Performance Result
Rikomagic MK22 Plus boots up in less than 30 seconds. But shutdown is on the slower side – need few seconds here. You get to choose between 'suspend and resume' and 'shutdown' on the power button by the way. Wow… Just wow! MK22 Plus passed the connectivity tests with flying colours. It get connected at 433 Mbps on 5GHz AC and 72 Mbps on 2.4GHz. Getting transfer rates like 230 Mbits/sec on 5GHz and 44 Mbits/sec on 2.4GHz from iPerf3 test. 924 Mbits/sec on Gigabit Ethernet. In addition, the Wi-Fi coverage is great as well. Same apply to Bluetooth range. Easily exceeds 10m Bluetooth range in straight sight line with no obstacle. Up to 7m with obstacles. As a result, I am still able to play 4K Jellyfish 140Mbps video smoothly through wireless AC. And Miracast is working great too. Well done, Rikomagic!
Kodi, Chrome, YouTube, Asphalt 8 Airborne, Rayman Adventures, Beach Buggy Racing, Xenowerk, Unkilled and Angry Bird 2 are loaded on the multi-tasking test. None of them were killed when switch between them. Yes, I can continue to add on more applications if I want as 3GB RAM is excessive here. Everything is running fast thanks to high performance internal storage and plenty of RAM. Of course, Android 6.0 helps too. Yup, as you can see, MK22 Plus comes pre-rooted. Superuser app was installed for you as well. Therefore, you can start to use applications that require root access out of the box here.

MK22 Plus can play almost everything that you throw at it. All thanks to powerful Amlogic S912 that support 4K VP9 hardware decoding and HDR (High Dynamic Range). It can play video up to 4K Ultra HD 10-bit 3840 x 2160 HEVC 60fps smoothly. As I mentioned, it can play 4K Jellyfish 140Mbps video flawlessly. And almost able to play 400Mbps one too (video has slight slower playback here). As usual, it supports most of the popular audio codec like AAC (Dolby Digital), AC3 (DTS), Dolby True HD and DTS HD-MA on both 5.1 and 7.1 channels. By the way, Netflix is on SD mode only as Google Widevine Modular and Microsoft Playready DRMs are not there. And auto frame rate switching is not working. Do take note…
Again, MK22 Plus gives me the best experience on Moonlight (NVIDIA GameStream) too. It is able to get around 28ms latency on 1080p60 with H.265. And also the only box that able to provide smooth playback on 1080p60 output through wireless on my ground floor living room TV (where router is located at first floor). Can't do so if it don't have fast and wide wireless range. Overall, I am very impressed with RKM MK22 Plus ability and performance. Great as a game console with gamepad (like GameSir G4s Review).
Advantages
4K Ultra HD & H.265 codec support
Outstanding wireless range & Gigabit Ethernet speed
Smooth multi-tasking with 3GB RAM
Plenty of disk storage with 32GB ROM
Remote control app support
Pre-rooted
Decent build quality
Limitations
IR remote with no mouse pointer
Launcher still can be improved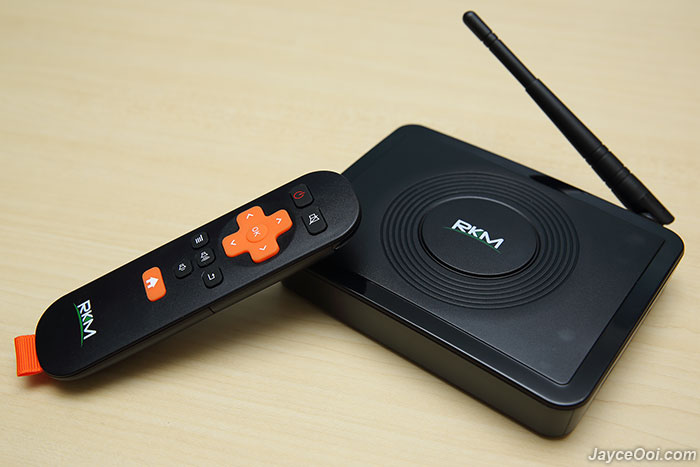 Conclusion
Rikomagic MK22 Plus is the almost perfect Android TV box for you. It is an all-rounder that perform well in almost every places like smooth 4K video playback, great multi-tasking, perfect Moonlight game streaming and other more. If you don't need Netflix HD and auto framerate switching, this is the TV box that you must buy. More information can be found at Rikomagic Website. And you can buy yours at Amazon. Or GearBest.