Introduction
Hey, I have the latest mini projector from Slicepad in my hand. It is Slicepad MP-50 Pocket Projector, little brother to Slicepad MP-100 Pocket Projector that I reviewed previously. As usual, it supports multiple connections like HDMI, MHL connections and wireless (with optional adaptor). Supporting lot of devices like Android, iPhone, iPad, Windows devices and of course PC, laptop and set-top box with HDMI output. Besides, it is a power bank too. Yet smaller and lighter. But does it better? Read on to know more.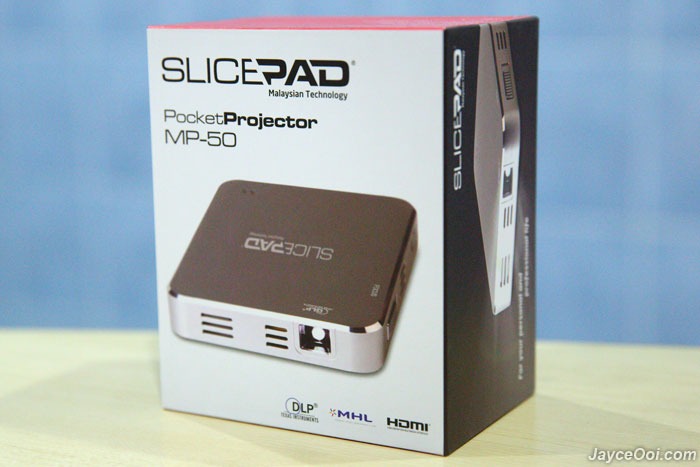 Package Contents
There are dual port (2.1A and 1A) USB charger, mini tripod stand, pouch, HDMI cable, MHL cable, micro & mini HDMI to HDMI convertor, 5-pin to 11-pin MHL convertor and user guide that come along with Slicepad MP-50 Pocket Projector.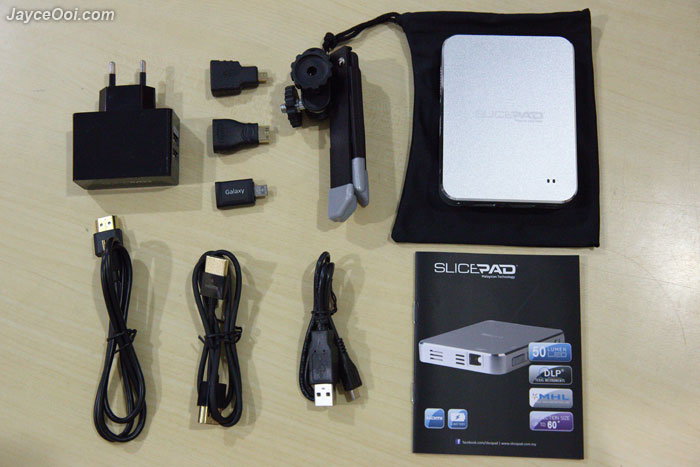 Design
The build materials are good. The classy cover is made by aluminium to protect the projector and soft touch rubber at the bottom to provide grip. Powerful grip by the way. And it is really small, light and highly pocket-able. There is Slicepad logo and LED light indicators on the top. In front, there is mega bright 50 lumens Texas Instruments DLP LED lamp and speaker. Another speaker on the left with focusing slider and power button. Right side has display mode, volume up, down buttons and air intake for cooling. Reset switch, HDMI/MHL, 5V micro USB power input, 5V USB and audio outputs on the back. Finally, tripod mount and cooing fan at the bottom.
Hardware Specifications
Connect to projector from Android / iOS (iPad / iPhone) / Windows device
Palm sized – 103 x 79 x 16.7mm
Battery – Built in rechargeable battery (Approximately 2 hours of continuous operation)
Built in stereo speakers
Max project screen – 60″
Resolution – WVGA (854 x 480)
Mega bright 50 lumens LED Lamp (Approximately 20,000 hours lamp life)
Other connections – Input: HDMI / MHL – Output: 3.5mm jack audio
USB port – Act as power bank (2800mAH)
Weight – 172g
Performance Review
Slicepad MP-50 Pocket Projector setup is very simple and easy to use. Power on and plug in your video source. Fine-tune the image with focus slider. You can start enjoy your favourite games and movie at any place you want. Thanks to its highly portability and built-in battery. By the way, it support HDMI and MHL connections. And wireless with Slicepad Wireless Display Dongle. Accept input source up to 1080p FHD. So plenty of devices are supported. Slicepad MP-50 Pocket Projector can perform well even with 50 lumens LED Lamp. Colour is vivid, image is clear and sharp. However, there is a catch. Its performance is determined by environment and throw distance. You can enjoy it up to 60″ in completely dark environment. But need to shorten the throw distance and smaller screen in order to get visible output at bright environment. Else you will get dim and washout image. It is great to act as home cinema or game display. The built-in stereo speakers are powerful enough to blast in a room. Louder than smartphones and on par with my tablets. Anyway, you can always amplify sound volume by connect it to Hi-Fi sound system or portable speakers with its 3.5mm jack audio output. Enjoy your movies, songs and games with bigger and louder bass then.
How long the battery last? It can last for 2 hours while using HDMI connection. Yeah, you can enjoy the whole movie with built-in battery. And around 1 hour and 40 minutes when connected with MHL device. Lesser than HDMI because it is charging your MHL device like Galaxy Note 4 too. Same apply to wireless adaptor which needed to be powered. No worry when running out of battery, just plug in AC USB charger and continue to use it. By the way, it needs 4 hours to fully charge the projector. Hey, don't forget that it is also a power bank. A great feature as you don't need to carry another power bank with you. With 2800mAH battery capacity, it manages to charge Nexus 7 2013 (with 3950mAh battery capacity) up to 65%.
Few points to take… You will hear the cooling fan spinning sound when powered up. You won't notice it unless in quiet place. So not to worry that it will interfere your movie or music playback. The aluminium case warms up a bit after a while. But the LED Lamp is not hot and can play continuously unlike conventional bulb projectors that may need to rest to dispose heat after hours of continuous playing. By the way, small texts are a little bit fuzzy from device with higher resolution than WVGA (this is normal). Lastly, the display mode does nothing when pressed.
Be sure to check out Slicepad MP-50 Pocket Projector in action with below video. See the actual performance. And ignore the flicking part (that's caused by camcorder). Do watch in HD mode.
Advantages
Ultra portable
Built-in battery and act as power bank
Support plenty of devices (Wireless, HDMI & MHL)
Sharp, clear and vivid colour
Limitations
Poor visibility at bright environment
Fuzzy small text
Conclusion
Slicepad MP-50 Pocket Projector is a highly portable mini projector with built-in battery. Nice for home entertainment and gaming use. Support multiple connections like HDMI, MHL and wireless (with optional adaptor). A nice addition to your mobile devices. Interested? More information at Slicepad Facebook Page here.