Introduction
Want to have your own personal home theatre on the go? Enjoy favourite movie up to 60″ screen size. Or present PowerPoint slide in office easily. Yes, you can do so with Slicepad Pocket Projector. It is a palm-sized and lightweight projector. Support wireless (with adaptor that bundled along), HDMI and MHL connections. Therefore, most of the mobile devices like Android smartphone & tablet, iOS (iPhone / iPad), laptop, PC, camera and set-top box (Astro & HyppTV) are supported. Besides, it is also acted as power bank (3800mAh). How does it perform? Let's find out…
Package Contents
Wow… There is lot of accessories in Slicepad Pocket Projector package. You will find projector itself, AC charger, mini tripod stand, pouch, HDMI cable, MHL cable, micro & mini HDMI to HDMI convertor, 5-pin to 11-pin MHL convertor and user guide. Basically, all the stuffs that you need to connect your device to projector.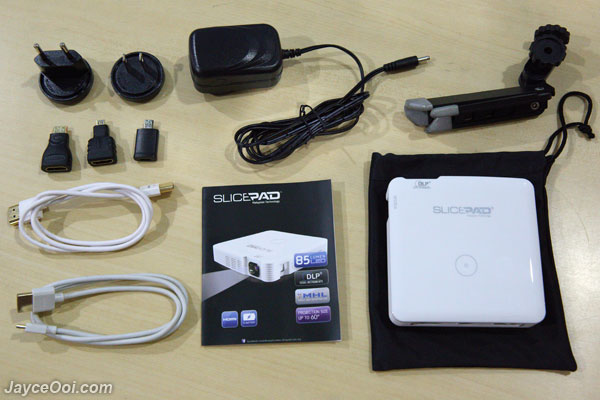 Design
Slicepad Pocket Projector is small, light and ultra portable. Yes, it is really pocket-able with 99.5mm x 99mm x 21mm size. There is mega bright 85 lumens DLP LED lamp from Texas Instruments in the front. Focusing wheel on the left. Power switch on the right. And inputs like HDMI/MHL, 12V power and USB and audio outputs on the back. On top of the projector, there are 3 touch-able buttons for display mode (Movie & Document) and volume up / down. Finally, hole at the bottom for tripod mount.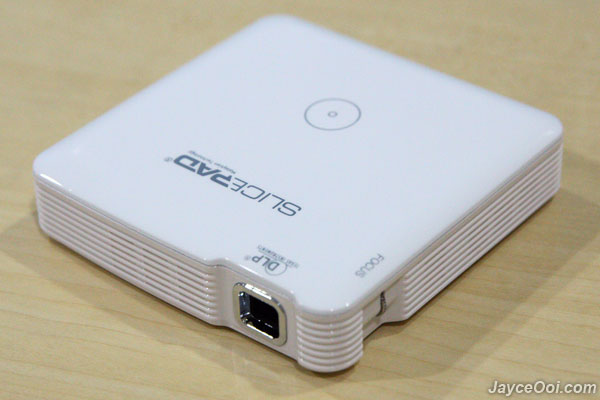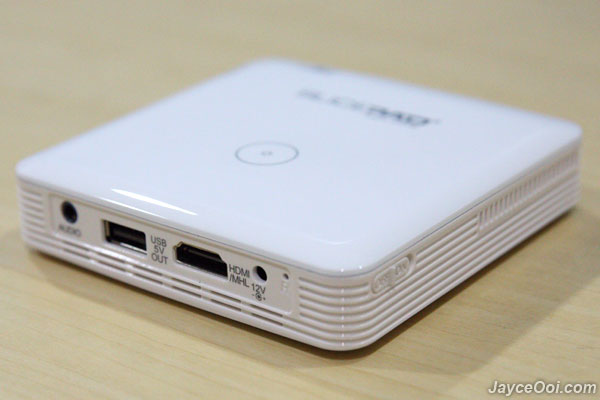 Hardware Specifications
Connect to projector from Android / iOS (iPad / iPhone) / Windows device without wire. (wireless display)
Palm sized – 99.5 x 99 x 21mm
Battery – Built in rechargeable battery (Approximately 2 hours of continuous operation)
Built in stereo speakers
Max project screen – 60″
Resolution – WVGA (854 x 480)
Mega bright 85 lumens LED Lamp (Approximately 20,000 hours lamp life)
Other connections – Input HDMI / MHL – Output 3.5mm jack audio
USB port – Act as power bank (3800mAH)
Weight – 220g
Performance Review
The very first question that came to my mind ~ does 85 lumens LED Lamp able to perform? Most of the projector has thousands of lumens LED Lamp. Yes, Slicepad Pocket Projector is still able to project (colour wash out thou) at normal indoor light condition thanks to mega bright LED Lamp. The best experience is at low light environment. You will get sharp, clear and vivid colour then. It can go more than 60″ size screen but the image is dimmer (smaller == brighter). It is very easy to set up and use. Just power on, adjust the focus ring and connect to your video source. That's it. It support wireless with Slicepad Wireless Display Dongle, HDMI and MHL connections. It can accept input source up to 1080p FHD even through having WVGA 854 X 480 native resolution only. FYI, Slicepad Wireless Display Dongle supports mirroring on iOS 7 and above now. Just upgrade your device firmware to enjoy it.
The portability of Slicepad Pocket Projector is another advantage. You can enjoy favourite movie and games (with GameSir G4s Review) at any place that you like. Or give business presentation on-the-go. All is possible thanks to 3800mAH battery. No power source is needed. Based on my tests, it can last for 1 hour and 45 minutes while using HDMI connection. 1 hour and 30 minutes when connected with MHL and wireless adaptor. Lesser than HDMI because it is charging your MHL device (like Galaxy S5, Note 3) too. Same apply to wireless adaptor which needed to be powered. Running out of battery? No worry, just plug in AC charger and continue to use it. By the way, it needs 3 hours to fully charge the projector.
How about the sound quality? It is powerful enough to blast in a room with its built-in stereo speakers. Louder than my smartphones and tablets. Still not loud enough? Just connect it to your Hi-Fi sound system or portable speakers with 3.5mm jack audio output. Enjoy music video non-stop then. Hey, it is also a power bank. With its 3800mAH battery, I managed to charge Nexus 7 2013 (with 3950mAh battery capacity) up to 86%. That's around 3400mAh charging ability. Not a problem to fully charge most of the smartphone in the market. A great feature as you doesn't need to carry another power bank with you.
Something to take note… There are 2 display modes ~ Movie and Document. As the names apply, movie mode to watch video. And Document mode for text based. There is fan for cooling. You won't notice it unless in totally quiet place. By the way, LED Lamp is not hot and can play continuously unlike conventional bulb projectors that may need to rest to dispose heat after hours of continuous playing. And no maintenance is needed for the LED lamp. Lastly, small text is a little bit fuzzy from high resolution device with FHD screen.
Video Demo

Advantages
Ultra portable
Built-in battery
Support plenty of devices (Wireless, HDMI & MHL)
Sharp, clear and vivid colour
It's a power bank too
Limitations
Colour wash out at bright environment
Fuzzy small text