Introduction
Want to connect and display your smartphone / tablet to big TV screen or projector wirelessly? Yes, you can do so with Slicepad Wireless Display Dongle. It supports multiple operation system like Android, iOS, Mac and Windows. Cast all your photos, music, movie and games through Miracast + DLNA + Air Play. Isn't that great? Let find out…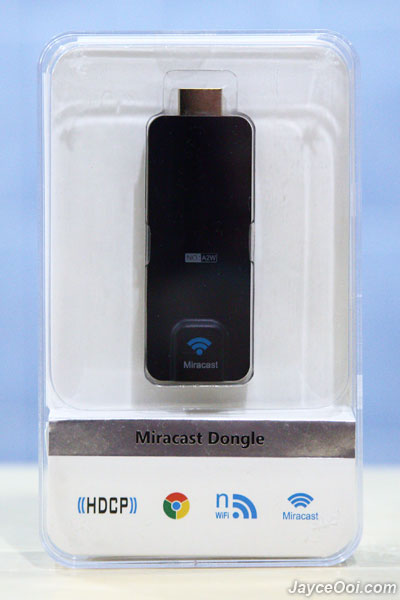 Package Contents
There are Slicepad Wireless Display Dongle and USB cable in the package. USB cable is used to power up dongle. However, no power adaptor is included. So you have to connect it to TV USB port or own power adaptor. By the way, you might need to get an optional external HDMI cable if fail to connect dongle to your HDTV directly (due to TV ports design issue).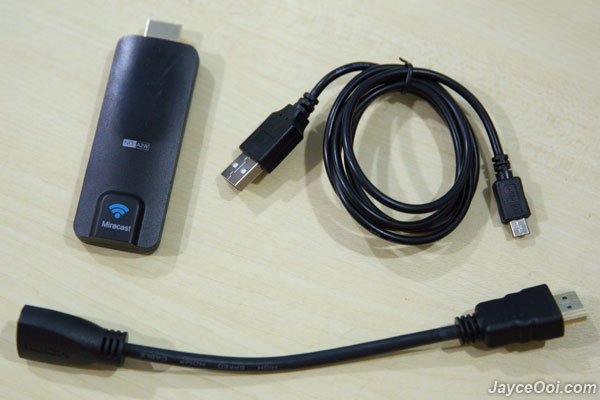 Performance Review
First of all, you need to download EZCast application from Google Play Store (or iOS App Store) in order to use Slicepad Wireless Display Dongle on your Android phone and tablet (or iPhone and iPad). Same apply to Windows and Mac OS. You will be able to cast photo, camera, music, video, document and surf Internet with EZCast. Dongle settings can be setup through it too. It supports 3 display modes – 720p @ 60fps, 1080p @ 24fps and 1080p @ 30fps. 1080p @ 30fps gives the best experience as the picture quality is clear and sharp. By the way, it has multiple languages to choose too. And the best part, you will get latest features, enhancements and bug fixes through firmware upgrade from time to time.
EZCast is easy to use. Just power on Slicepad Wireless Display Dongle and you are ready to go after connected to it. Enjoy all your photos, music, movie on big TV screen while relax on comfortable sofa. Popular video formats like MKV, AVI, RMVB, MOV, WMV and MP4 are supported. Connect it to office's projector. Sharing PowerPoint or other documents like PDF from smartphone is never been easier to perform a good presentation. The camera mode can act like a security CCTV. It will broadcast the video captured from smartphone / tablet camera to TV. No recording mode though.
Miracast is done through EZMirror mode. It mirrors the whole interface of smartphone, tablet or laptop onto HDTV. You can play 3D motion sensing game where use smartphone / tablet as the game controller and enjoy it on the big TV screen. Do take note that it has latency (slower display output to TV) but this is a known issue on Miracast devices. Therefore, it is not suitable to play intensive real-time action games. Just refer to below demo video to see it live in action. Everything is working fine as expected.
Advantages
Streaming media wirelessly
Miracast + DLNA + Air Play support
Frequent firmware & app update
Limitations
Conclusion
Slicepad Wireless Display Dongle is a nice add-on to your HDTV or projector. Able to stream media wirelessly with Miracast + DLNA + Air Play support. Enjoy all your photos, music, movie and games on big screen comfortably. Interested? Get more information at Slicepad Facebook Page here.