Introduction
Looking for a budget 2.1 multimedia speakers? Check out my latest SonicGear EVO 3 Pro BTMI. It is a wooden speaker set with Bluetooth, FM radio and built-in MP3 player through USB and SD slot. Have total power of 36 watts RMS. Budget speakers == poor sound quality? Let's find out…
Special Thanks
This review is possible thanks to below companies. Be sure to check them out…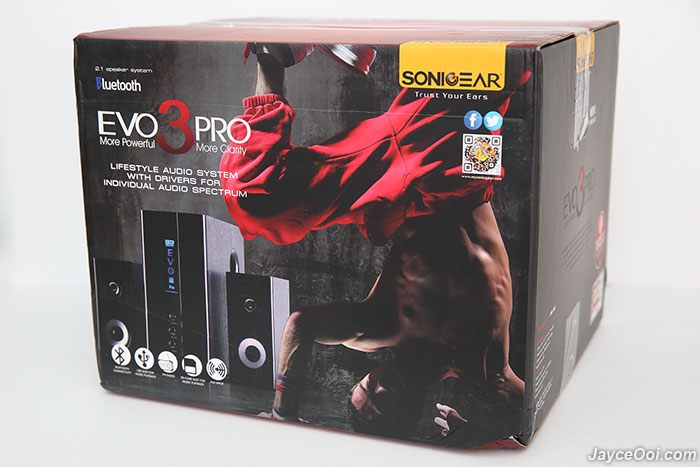 Package Content & Design
SonicGear EVO 3 Pro comes well protected. It's quite heavy for its size thanks to the wooden housing. Besides the speakers, there are 3.5mm to RCA audio cable and user manual. That's all. Do go through the guide to get started on how to use Bluetooth, MP3 player and so on. Build quality is great thanks to tough wooden cabinet. Most of the housing for both satellite speakers and subwoofer are using MDF wood except the front plastic panel. Just refer to below photos for its design in details…
Yes, there is volume, bass and treble control. Personally, I prefer to have both treble and bass adjustments. It's the best way to get the correct sound signature that suit your taste. Thanks for having this even on a budget speaker set. No remote control as you can see. So better put the subwoofer somewhere near you.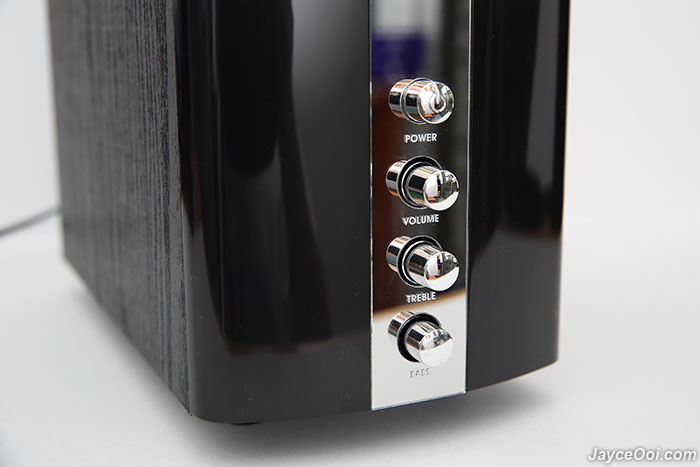 Here is where you get to control AUX input, Bluetooth, FM radio or MP3 player with SD card / USB flash drive. All modes will have red colour as status except Bluetooth flash in red and blue when pairing and blue when connected.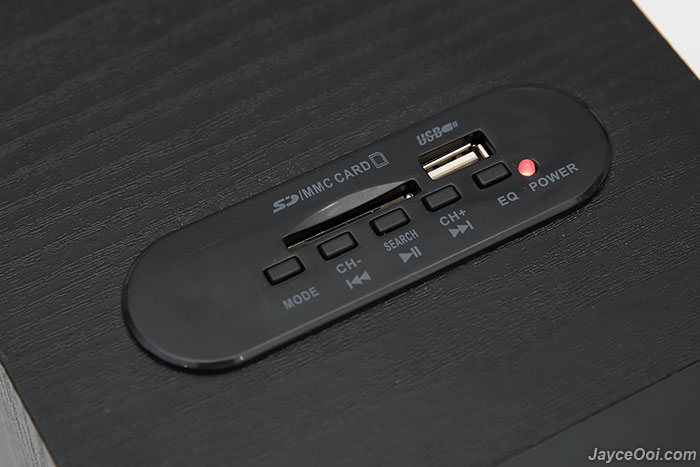 At the back, there are AUX input and output. And an external FM radio antenna for you to get the best signal. Lastly, 4 tall anti-skid pads at the bottom. By the way, the bass reflex port is covered to prevent unwanted stuffs from getting in.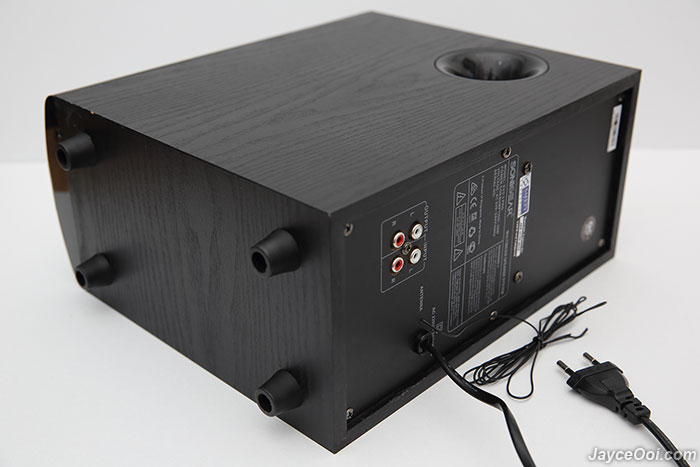 Alright, here are the satellite speakers with 3″ driver. By the way, the 1″ tweeters do not look like a real one but plastic. Hmm…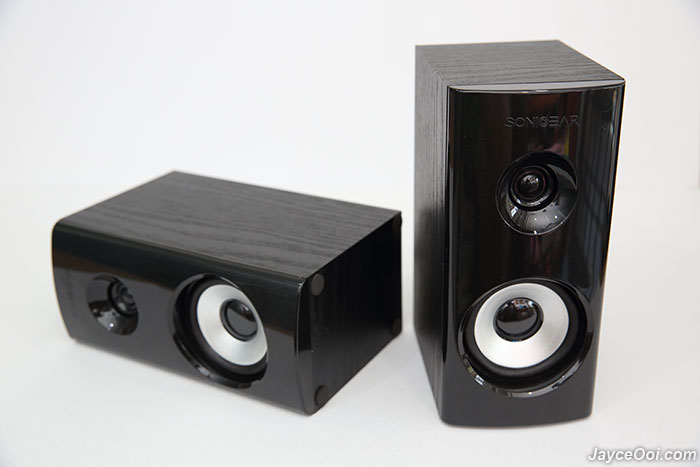 Performance Result
SonicGear EVO 3 Pro share some of the features of SonicGear Titan 7 BTMI Pro that I reviewed previously. The Bluetooth range is decent. Passed 10m straight sight line test as expected. And manages to get connected up to 6m with obstacles like wall. It also has almost no lag between video and audio which is great for games and movies.
EVO 3 Pro comes with built-in MP3 player and FM radio. Play MP3 when SD card/USB flash drive is plugged in. And will remember and continue to playback the song when power was cut off. Equalizer presets like pop, rock, jazz, classic and country are there for to select. Workable on MP3 player only though. As for FM radio, signal is clear as long as the adjustable external antenna reaches that particular station FM coverage. No complaint here.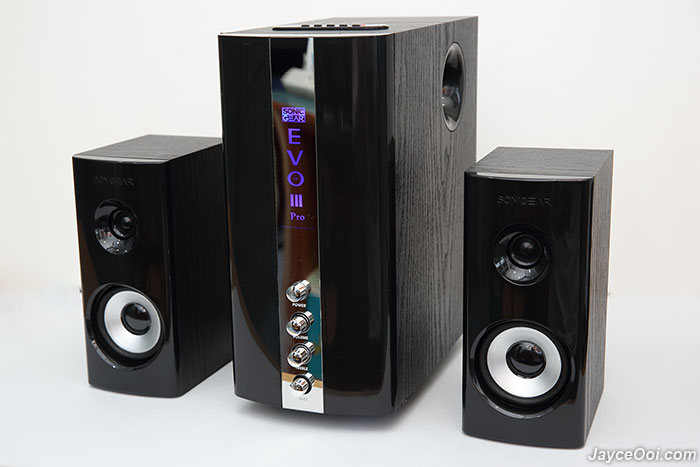 Surprising nice sound quality with powerful bass. Period. That's what I got from SonicGear EVO 3 Pro after tuned to sound signature to my taste. Yes, thanks to bass and treble control. You can adjust treble and bass output level easily to match your sound preferences – balance sound signature (for my case). A must have for speaker system. In short, I am getting clear and sharp treble yet enjoying pumping bass from here and there. Perfect for music, movie and even games. Overall, SonicGear EVO 3 Pro sounds great for its price.
Advantages
Surprising nice sound quality
Powerful bass in small subwoofer
Hey, it can go really loud
Bluetooth, FM radio & MP3 player (USB & SD)
Great build quality
Limitations
Speaker drivers are not protected
Conclusion
Look no further, SonicGear EVO 3 Pro is the budget 2.1 multimedia speakers that you want to get. Enjoy crisp sound quality and amazing bass in budget. Interested? Get yours at Shopee now.