Introduction
Yeah… Check out this hand-finished retro styling portable multimedia speaker with radio from SonicGear. It's the latest addition of their Pandora Neo Classic series. As usual, it is loaded with lot of interesting features like stereo speakers, Bluetooth CSR 4.0, dual alarm clock setting, FM radio, USB music playback through micro SD, built-in mic for phone call, LED display, 6-Equalizer acoustic modes and other more. Sound great? Read on to find out…
Special Thanks
This review is possible thanks to below companies. Be sure to check them out…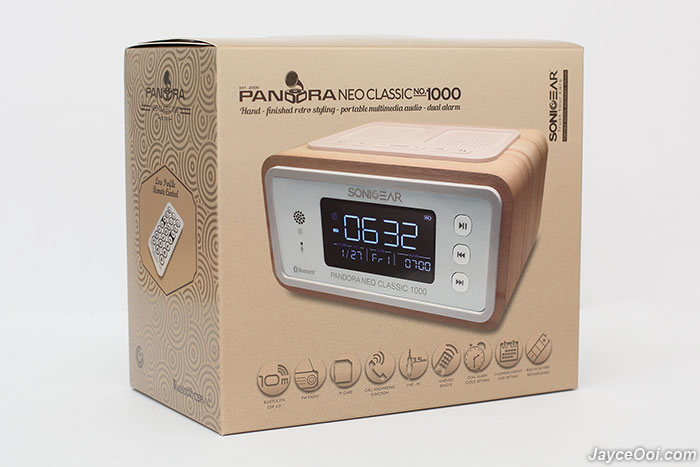 Package Content
SonicGear Pandora Neo Classic 1000 comes well protected just like other Neo Classic speakers. Everything is covered with plastic covers and foam for protection.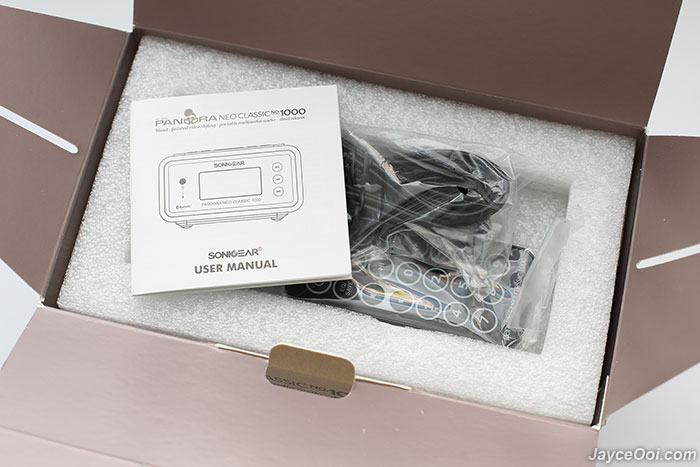 Inside the package, you can find accessories like remote control, micro USB charging cable, 3.5mm Aux audio cable and user manual.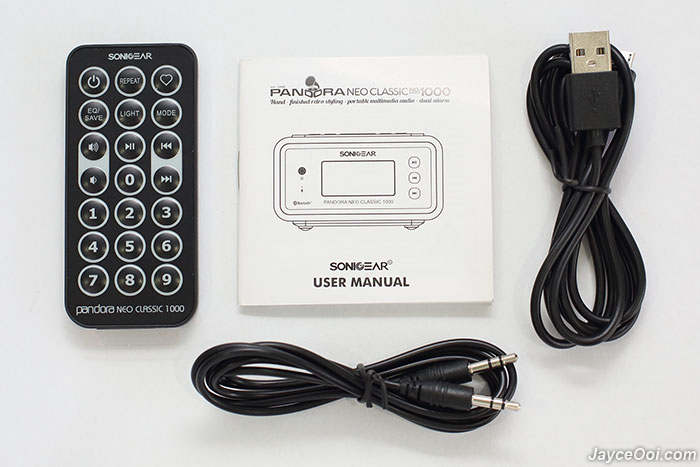 By the way, there are 2 colours to choose – Walnut and Silver Birch. And the accessories match to their colour as well. White remote control and cables for Silver Birch model. And black for Walnut.
Build Quality & Design
Top notch build quality is what you can get from Pandora Neo Classic 1000. 2 types of wood as housing – Walnut and Silver Birch. Tough and sturdy no doubt. The white and black parts are solid plastic by the way.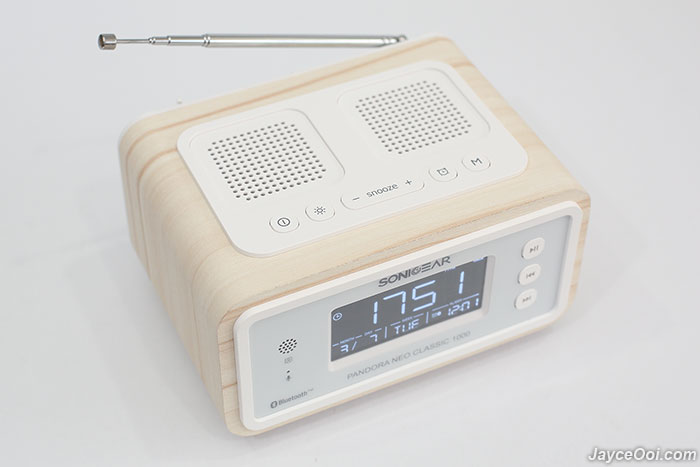 Unlike previous models that I tried, Neo Classic 1000 has 2 stereo speaker driver facing top instead of front. Therefore, you have a large LED display in front that's great to view at both day and night. 3 brightness levels to match your preferences. Bright enough for day and does not distract you with dimmest setting at night. As usual, do refer to all these photos for its design too.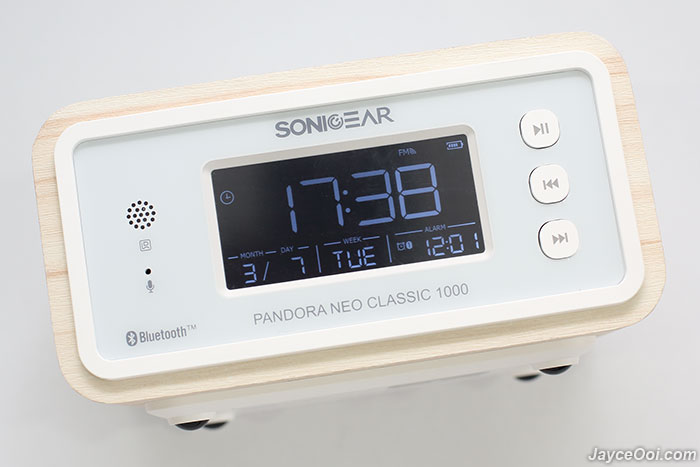 There are 4 round anti-skid pads at the bottom to provide stability.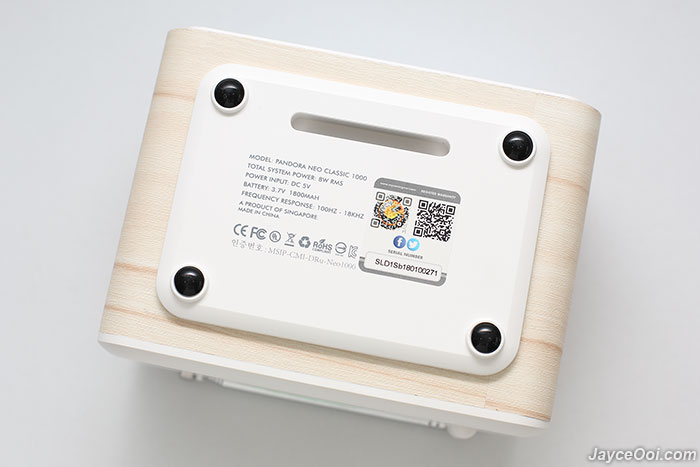 Finally, there are aux-in port, micro SD slot, USB port (for flash drive), micro USB port (for charging) and LED charging light indicator (red for charging and green when fully charged) at back.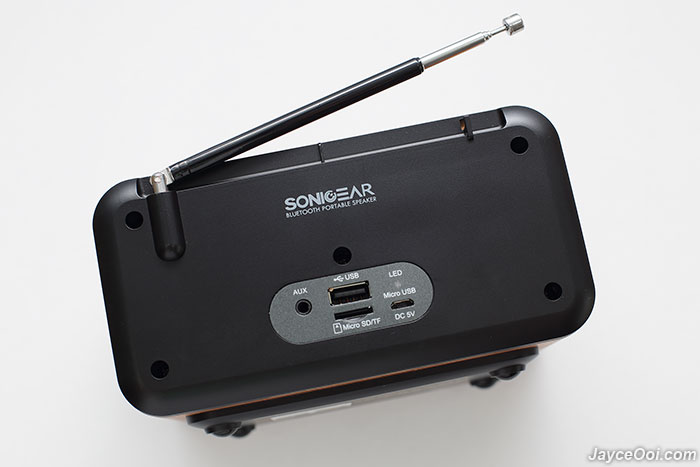 Performance Result
Neo Classic 1000 Bluetooth range is great. Easily exceeds the standard 10m Bluetooth range in straight sight line with no obstacle. Up to 7m with obstacles like walls. In addition, it almost does not have any audio delay (out-of-sync) between video as well. A pleasure to listen music video, play games and watch movie on smartphones and tablets through it. As usual, 3.5mm AUX line-in port is there for devices without Bluetooth support.
Nice bedside radio clock indeed. All thanks to large LED display. Clear to see time, date and all other information. Furthermore, FM radio reception is excellent all thanks to external retractable antenna. Auto scan feature is available too to scan from 87.5 MHz to 108 MHz. Then save all available radio stations. You can also input 928 on remote control directly to get Hitz FM Radio Station at Kedah. Wonderful feature, right? By the way, remote control infrared range is great – up to 7m in straight sight line.
Don't forget about the built-in MP3/WMA player. It will start playing songs after plugged in micro SD card or USB flash drive. 6 equalizer modes (normal, rock, pop, classic, jazz and bass) are selectable during this playback. One thing that is great – it will continue to playback the last MP3 song when power on back. Remember the last audio mode too. A must have for speaker system with multiple input sources.
10 hours of non-stop music playback is what I got from 1800mAh battery. As usual, tests were done with average room sound level through Bluetooth connection. Battery life will be shorter when play louder. And it takes about 4 and a half hour to fully charge. As for speakerphone call quality, it is great. Other can hear me loud and clear. As usual, closer to the mic == better quality.
Pandora Neo Classic 1000 has balanced sound signature. Both treble and bass are well in controlled. Not too much and less for portable stereo speakers. Have more than enough power to blast music for the whole large bedroom room. Almost no distortion even a highest volume setting. The highs are clear and smooth. Mids like vocal are natural. Surely nicer to hear no doubt. Bass is there but don't expect boom boom kind of power like dedicated subwoofer. Good enough for portable speaker though.
Advantages
Clear high & mid with nice bass
FM radio with alarm clock & date
Built-in MP3 player (USB & microSD)
Large LED display
Speakerphone ability
Excellent build quality
Stylish & portable
Limitations
Conclusion
SonicGear Pandora Neo Classic 1000 is a nice bedside companion no doubt. Lot of features in such small profile. Furthermore, sound quality is nice too. Do visit SonicGear Website for more information.