Introduction
Looking for a compact 2.1 multimedia speaker system? Check out SonicGear Titan 7 BTMI Pro 2017 edition that I have. It is loaded with ultra bass audio system with SD card, USB and FM Radio input. 25 watt output power in total. Furthermore, it comes with 7 colours pulsating LED effects. How does it sound? Read this review to find out…
Special Thanks
This review is possible thanks to below companies. Be sure to check them out…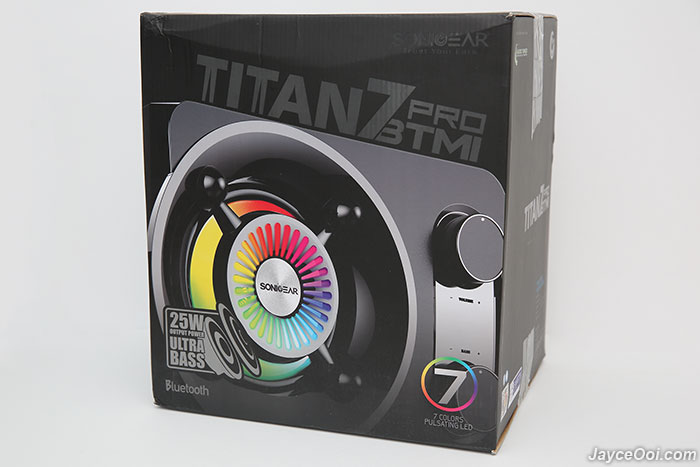 Package Content
SonicGear Titan 7 BTMI Pro 2017 edition comes in a stylish yet protected package. Everything is covered with plastic as you can see. Worry-free when purchase online. Once taken everything out, you can find user manual and 3.5mm to RCA audio cable besides the speakers. And if you notice, there are white and red USB plug. That's the way where satellite speakers connect to subwoofer. Why? In short, pass electric current for LED lights and audio signal at satellite speakers.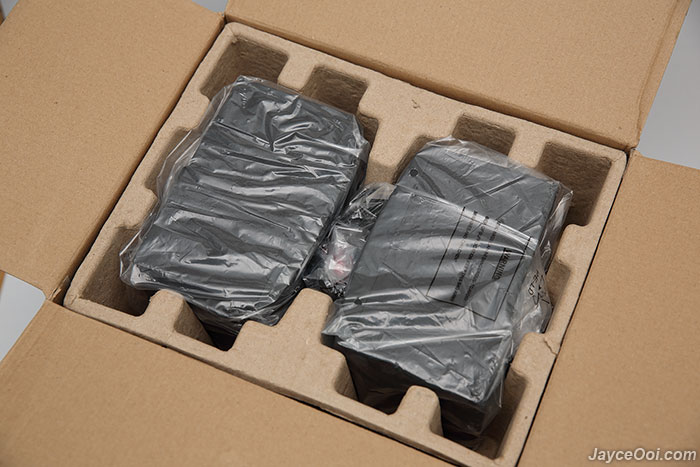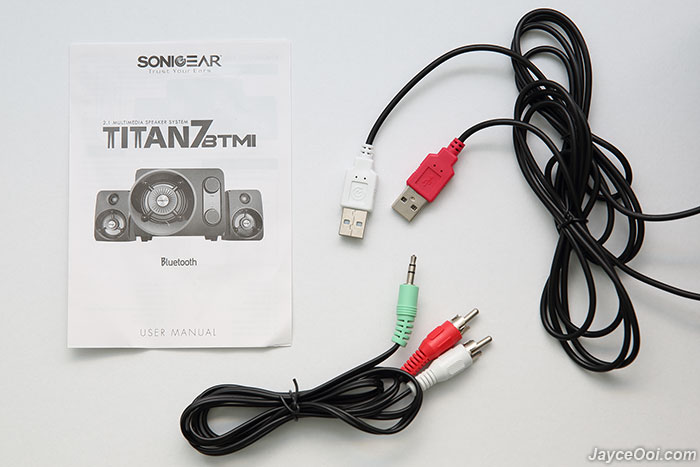 Design & Build Quality
Titan 7 BTMI Pro build quality is decent. Solid wooden cabinet with front plastic panel for all 2 satellite speakers and subwoofer. They are quite small for 2.1 speaker system and easily to put all them on the desk beside PC. Without remote control, it is preferable to put subwoofer as close to you as possible. This will ease to control modes, volume and access the USB port. Yup, you can control volume loudness and bass volume adjustment. Alright, let's have a look on the satellite speakers with 3″ 5W driver. Note – that's not an actual tweeter on top.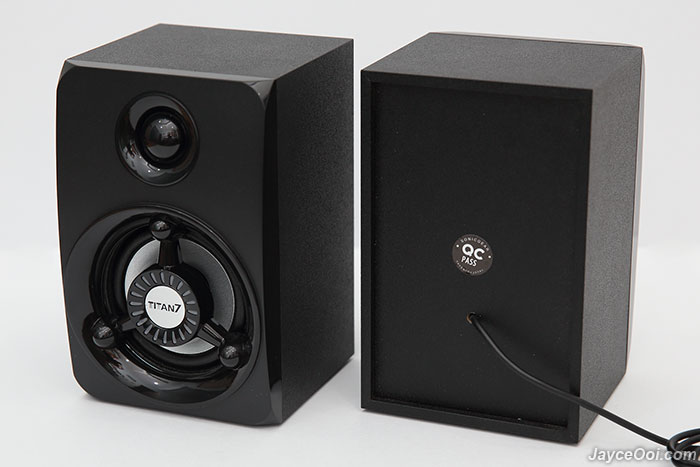 This is the main unit – subwoofer. Volume and bass controls are located in front. Control buttons, USB port and SD slot are on top. Bass reflex port on the right side of the subwoofer while the main 5″ 15W driver in front.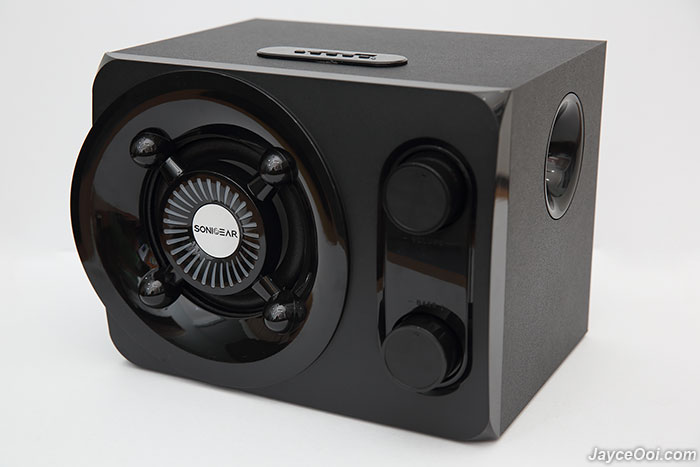 At back, you can find AUX input and USB output to speakers. Yes, there is external FM radio antenna for getting the best signal. Power on/off switch is there too. Finally, 4 anti-skid pads at the bottom. Satellite speakers have them too by the way.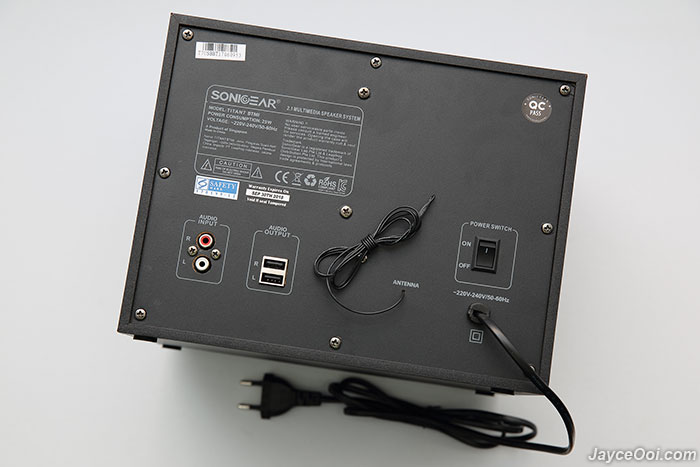 This the place to control AUX input, Bluetooth, FM radio or MP3 player with SD card / USB flash drive. All modes will have red colour as status except Bluetooth flash in red and blue when pairing and blue when connected.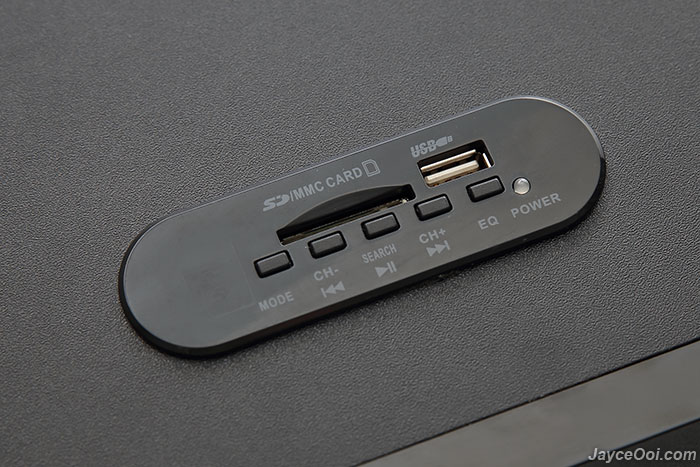 Performance Result
SonicGear Titan 7 BTMI Pro Bluetooth range is decent. Passed 10m straight sight line test. And manages to get connected up to 6m with obstacles. As long as you are in the same room with speaker, you are fine. Great news for smartphone and tablet users, it has virtually no lag between video and audio which is great for games and movies.
Don't forget the built-in MP3 player and FM radio too. It will start to play MP3 once plugged in SD card/USB flash drive. And will remember and continue to playback the song when power was cut off. There are equalizer presets in this mode as well. Pick the right EQ for your taste. FM radio is clear thanks to external antenna. As usual, it is depended on your area FM coverage to get perfect sound quality. Just scan all FM channel for the first time, then you can select them with next and previous buttons later.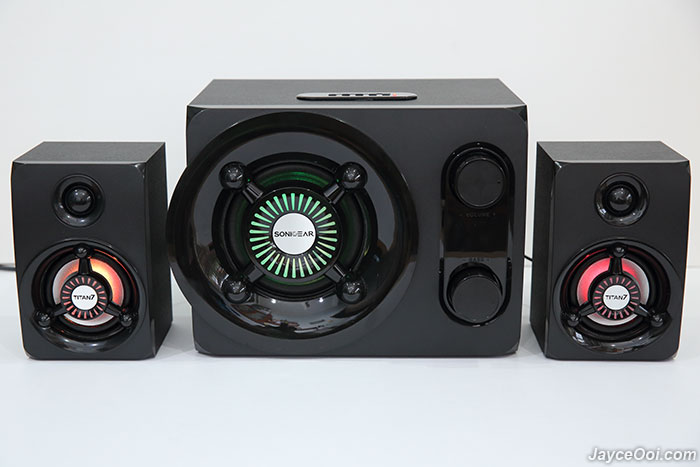 Wow… Super bright sound signature for a 2.1 speaker system here. SonicGear tuned Titan 7 BTMI Pro to have super clear and bright highs. A little bit over to my taste as certain songs will cause some harshness. Yes, definitely more treble than bass. Increase the bass volume control does help improve the situation but not much even with maximum bass level. Toward much more balanced sound but treble still in control. If you prefer bright and clear sound, you will going to love Titan 7 BTMI Pro. For mids, it continues the trends from highs. Clear vocals are what you will get. As for bass, the small profile subwoofer performs at its best for the size. Be sure to level up bass volume to enjoy more punch and deeper bass. Overall, Titan 7 BTMI Pro produces decent sound for its price.
Advantages
Super bright & clear sound quality
Hey, it can go really loud
Bluetooth, FM radio & MP3 player (USB & SD)
Decent build quality
Stylish design with LED lights
Limitations
No treble adjustment control
Does not remember preferences, modes
Conclusion
Like bright and clear sound? You will love SonicGear Titan 7 BTMI Pro then. Enjoy fast Bluetooth, built-in MP3 player and FM radio. Don't forget the colourful 7 colours pulsating LED effects too. Interested? Get yours at Shopee now.