Introduction
Let's party!!! Yes, party all day long with SonicGear Titan 9 BTMI 2019 Edition 2.1 Multimedia Speakers. Maximum output power at 120 watts, Bluetooth 4.2, FM Radio, designer multi-colour illumination and karaoke function with 2 microphone jacks. Yes, there is a free wireless microphone for you too. Does it sound great? Let's find out…
Special Thanks
This review is possible thanks to below companies. Be sure to check them out…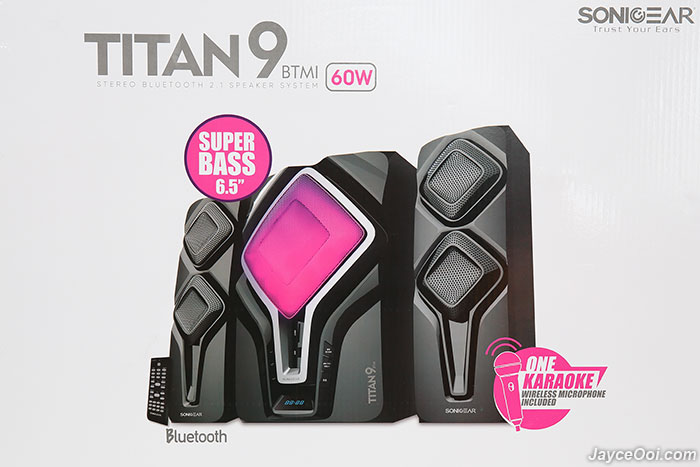 Package Content & Design
Titan 9 comes in a big package. Yes, its subwoofer is huge and heavy. Once taken the speakers out, you can find a multi-function remote control, AUX cable, FM radio antenna, 2 sets of batteries (AA & AAA), user manual and wireless microphone.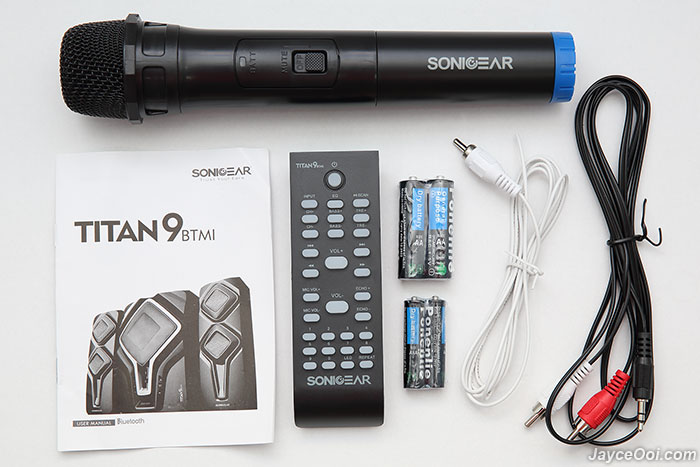 Alright, here are the 2 tall long satellite speakers that loaded with 2 x 3″ drivers each. Total satellite output (RMS) = 2 x 15W.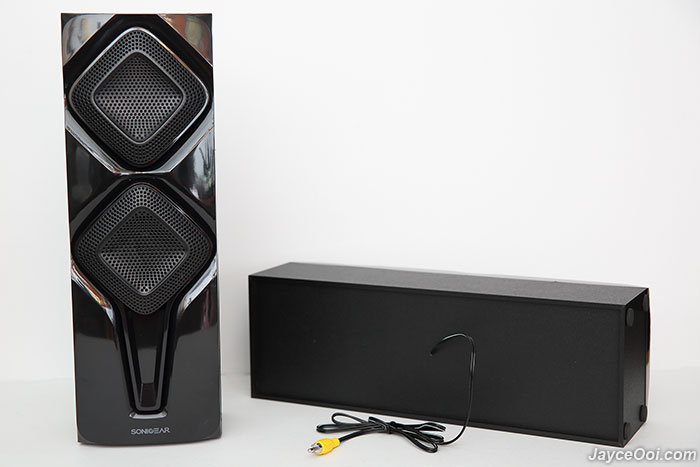 Yeah… Stylish subwoofer that I like. Subwoofer output power (RMS) is 30W by the way. And there is a LED with cool lighting effect in the center. All the buttons, USB port, SD slot and LED display indicator are located below it. Subwoofer driver is located on the right. Same place as the 2 microphone inputs.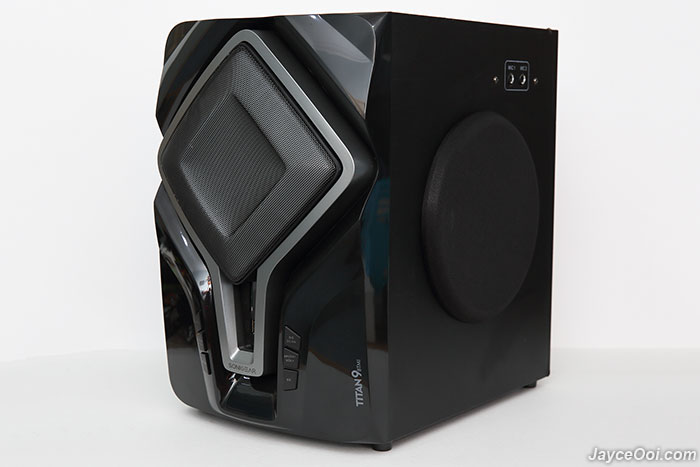 The bass reflex port is located at the back. Audio input and speaker output are located there too. Same apply to FM radio antenna slot.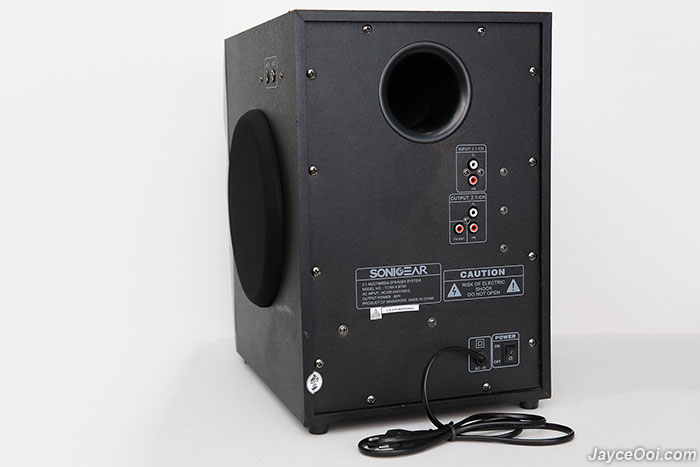 Oh, the build quality is decent with tough wooden cabinet. Most of the housing for both satellite speakers and subwoofer are using MDF wood except the front plastic panel and metal LED light grill.
Performance Result
SonicGear Titan 9 BTMI 2019 rocks your world with total system power (RMS) at 60W. In addition, enjoy its colourful LED light effects too. Yes, you can throw a small party with it. Karaoke all day long. Just make sure that you don't disturb your neighbours will do. By the way, the free wireless microphone performance is average at best. Do get own one if you plan to have serious karaoke competition. The microphone volume and echo effect control work great.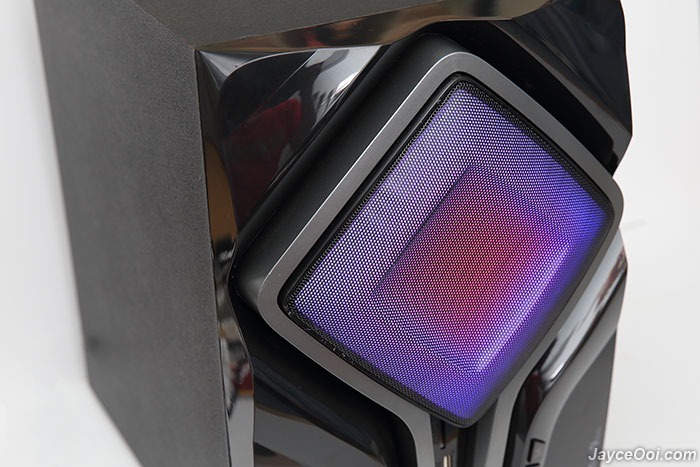 Bluetooth range is great. Yes, wide coverage up to 7m+ with obstacles like wall. In addition, it is great for movie and games on mobile devices too as it has almost no lag between video and audio. FM radio signal is clear thanks to adjustable external antenna. As usual, it is depended on your area FM coverage. As for the remote control, it can easily serve up to 8m in your big living room. In short, all wireless connections are great!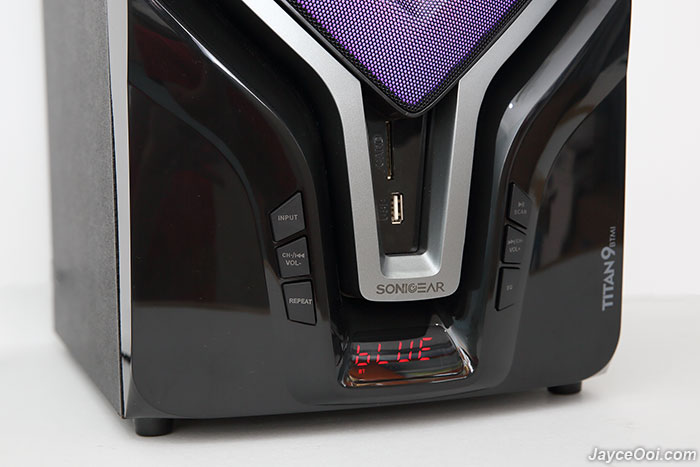 Yes, the built-in media player supports FLAC format also on top of the usual MP3. Enjoy higher audio quality with FLAC no doubt. Just plug in SD card or USB flash drive with songs will do. It will start to play or continue to playback the period that stopped previously. Enjoy your favourite music non-stop.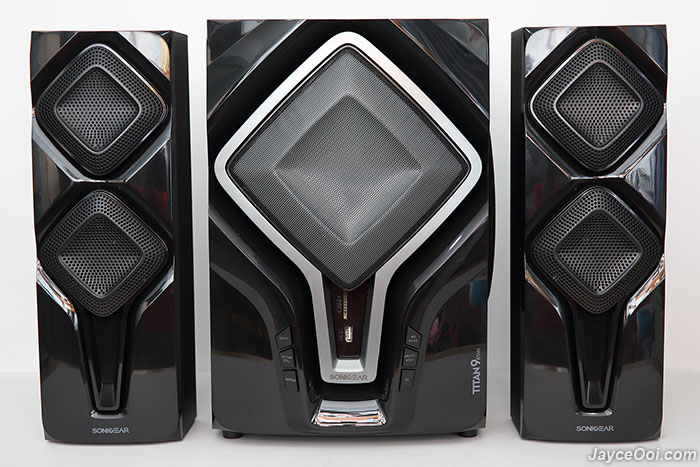 Titan 9 has both treble and bass volume control. You can adjust them with the remote control. 4 equalizer modes can be set as well. By the default, it sounds bright. Personally, I lower treble for 2 steps and increase bass for 2 steps also. I am getting less harshness in the treble and more power in the bass department. Yeah… It is great in gaming and movie then. In short, Titan 9 sounds good for the price.
Only one minor negative that I faced, it can't remember all the settings when powered off. So you need to leave it as standby all the time. Do take note…
Advantages
Nice sound with powerful deep bass
Hey, let's party!
Bluetooth, FM radio & FLAC/MP3 player (USB & SD)
Karaoke slots & echo control
Decent build quality
Stylish design with LED lights
Limitations
Does not remember preferences, modes
Conclusion
Enjoy nice sound with powerful bass. Karaoke all day long. Great for TV, PC and even mobile devices. Interested in SonicGear Titan 9 BTMI 2019 Edition? Get yours at Lazada now.