Introduction
Hey guys, check out the most colourful Android TV Box that I got from GearBest. It is having the same colour as Google Chrome Web Browser. Yup, Sunvell T95K Pro is the one and capable to play 4K Ultra HD content through H.265 codec technology. Besides, rapid, stable and smooth response are what you can get from its Amlogic S912 octa-core CPU with 2GB of RAM and 16GB of storage. And loaded with 2.4GHz + 5.0GHz dual band Wi-Fi, Bluetooth 4.0 and Gigabit Ethernet. In addition, it comes with Android 6.0 Marshmallow which gives you more features and better control. How does it perform? Read this review to find out…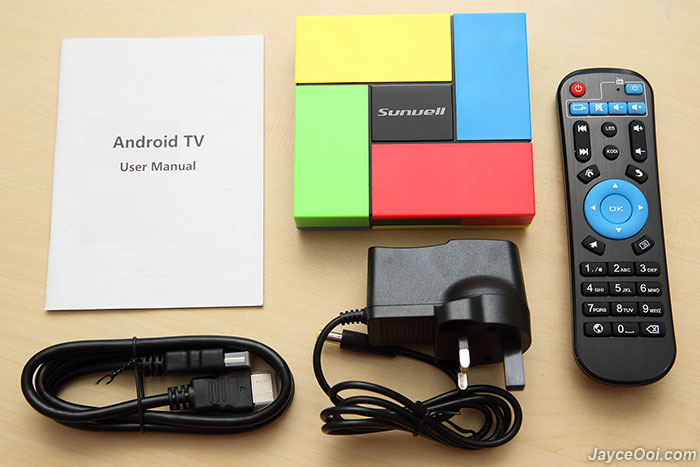 Package Content & Design
There are Sunvell T95K Pro, remote control, HDMI cable, power adaptor and user manual in the package. The guide is very simple one and comes with multiple language though. Anyway, shouldn't be hard to use this Android TV box when you are familiar with Android OS. My power adaptor is UK version, you can select US and EU plug too. The infrared remote unit is kind of advanced one (no air mouse support though). Need 2 AAA batteries (not included) like most of the remote out there. And it has the ability to study your TV remote control functions like power on/off, volume up/down, mute and TV source. Comes with Kodi, browser direct shortcut and telephone keypad at below.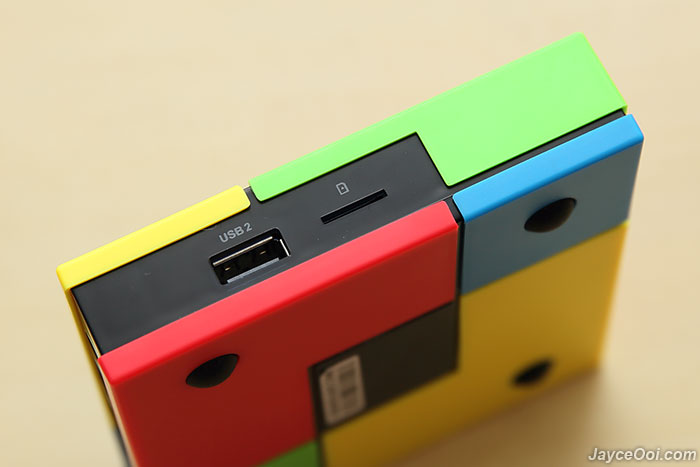 Build quality is decent with all plastic. Not the best out there but not going to break easily. Besides, you can't miss the lovely colours here. There is LCD display for clock and power indicator in front. And USB 2.0 port and micro SD slot on the left. More input/output like optical, AV, HDMI, RJ45, another USB 2.0 port and DC input at back. 4 round rubber anti-skid pads can be found at the bottom. As usual, do refer to all the photos for details.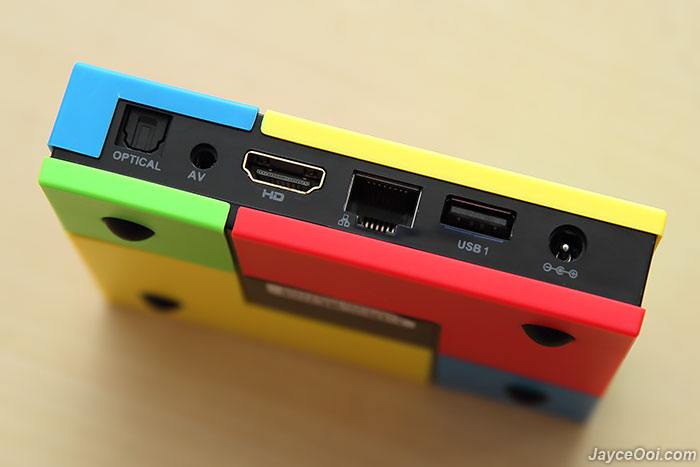 Software
Sunvell T95K Pro is powered by Android 6.0.1 and support OTA firmware update (so far I did not receive any update – using the latest one here). It is loaded with Kodi Media Center – 16.1 stable version. And other applications like Root Explorer, FilmOn Live TV, Skype, QuickSupport, Netflix, Twitter and YouTube pre-installed. No worry, these are no bloatware as you can uninstall them anytime you want.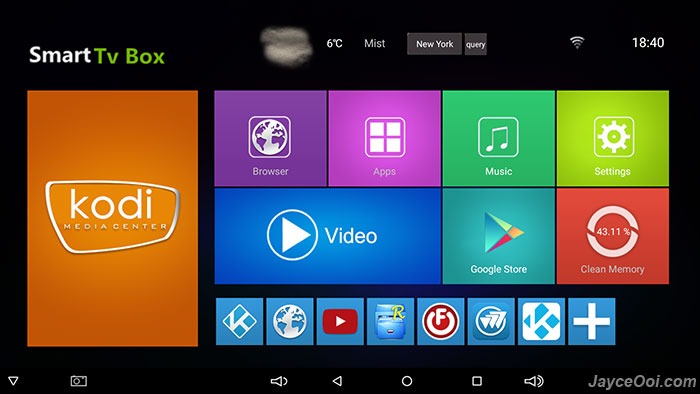 Yup, this is the main interface you get right after boot up. The large shortcuts are fixed while the smaller ones (at bottom) can be customized. Just select the apps that you use most there. By the way, there is T95K Pro custom ROM by Superceleron that bring a lot of interesting stuffs, features and performance improvements too. Be sure to check it out after you bought this TV box.
Benchmark
How does Amlogic S912 octa-core CPU and ARM Mali-T820MP3 GPU inside of Sunvell T95K Pro perform? Does its 2GB of RAM and 16GB internal storage enough for daily use? And how is the wireless and Ethernet performance? Below synthetic benchmarks data should give you some ideas about them. Hmm… Compare to AMLogic S905, the CPU processing power is about the same. However, Mali-T820MP3 blows Penta Core Mali MP-450 away. Good for those who looking for better 3D games performance, right? Yeah, Asphalt 8 Airborne and Unkilled are playing very smooth here.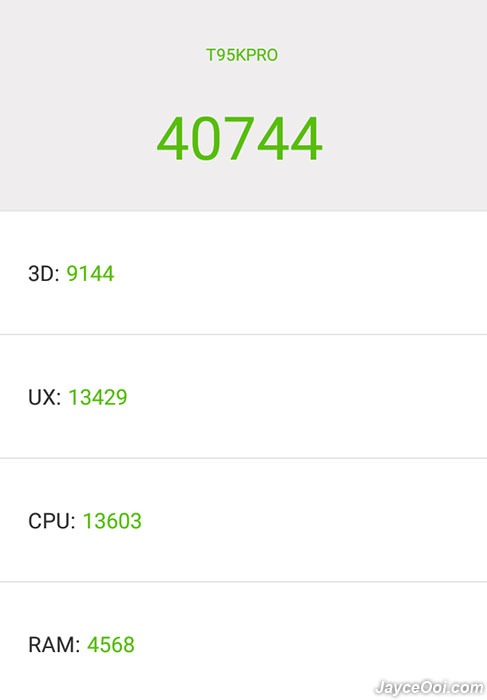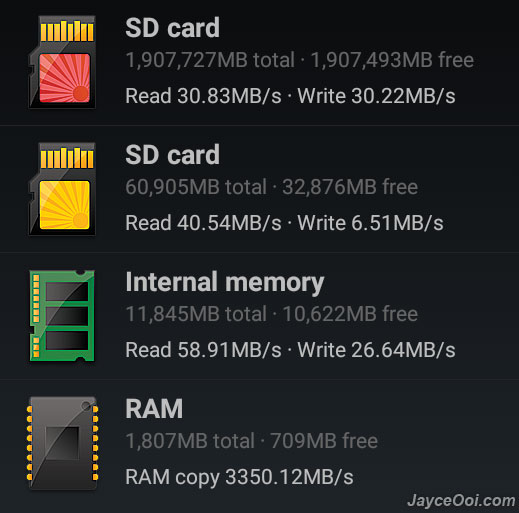 As for data transfer, T95K Pro performs well too. Surely more than enough to cope with normal tasks. By the way, SanDisk Extreme was used in microSD slot test and 2TB Toshiba HDD on USB 2.0. Performance seems like limited by USB 2.0 port.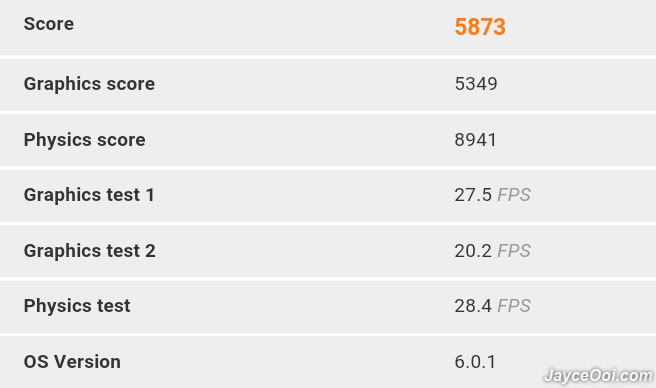 Performance Result
Sunvell T95K Pro boots up in less than 30 seconds. And shutdown is fast too. Wi-Fi connectivity is decent even without external antenna. Range coverage is almost like those with antenna but I am getting 65 Mbps maximum on both 2.4GHz and 5GHz only. Yup, there is no 802.11 AC connection here (specs don't mention support it also). Not a deal breaker as most of the 1080p content will work just fine. But you can't stream 4K Ultra HD contents that have more than 40 Mbps bit rate through wireless connection. No worry, Gigabit Ethernet is there for you and performance is great. Same apply to Bluetooth range. Easily exceeds 10m Bluetooth range in straight sight line with no obstacle. Up to 7m with obstacles.
Yeah… 2GB of RAM is great on Android 6.0. Multi-tasking is smooth and working properly. Yup, I manages to get Asphalt 8 Airborne, Rayman Adventures and Beach Buggy Racing loaded. None of them were killed when switch between them. Android 6.0 helps a lot here. Hey, T95K Pro comes with root access. It is pre-rooted so you can start to use applications that require root access after install SuperSU or Superuser. No manual work is needed here and you can start to enjoy those 'lovely' apps.

T95K Pro can play almost everything that you throw at it. All thanks to powerful Amlogic S912 that support 4K VP9 hardware decoding and HDR (High Dynamic Range). It can play video up to 4K Ultra HD 10-bit 3840 x 2160 HEVC 60fps smoothly. Same apply to h.264 or h.265 codec videos. Besides, it also support most of the popular audio codec like AAC (Dolby Digital), AC3 (DTS), Dolby True HD and DTS HD-MA on both 5.1 and 7.1 channels. Just remember that you need Gigabit Ethernet for those high bit rate video. And Netflix is on SD mode only as Google Widevine Modular and Microsoft Playready DRMs are not there.
I love to play games with gamepad (like GameSir G4s Review) through Moonlight (NVIDIA GameStream) on big TV. T95K Pro able to get around 24ms latency on 1080p60 with H.265 which is good for paced games like UNKILLED. Again, it requires Gigabit Ethernet to get smooth playback. Wireless is playable smoothly up to 720p only.
Advantages
4K Ultra HD & H.265 codec support
Solid overall performance
Smooth multi-tasking with 2GB RAM
Great Gigabit Ethernet
Pre-rooted
Portable
Limitations
Average wireless experience (for 4K contents)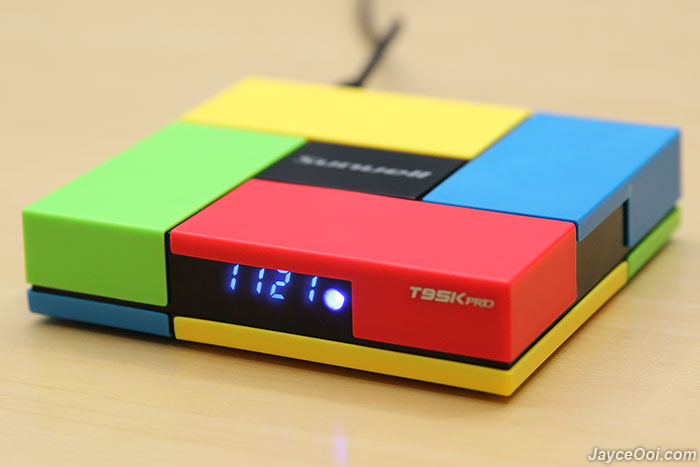 Conclusion
Sunvell T95K Pro is a nice budget Android 6.0 TV Box with solid performance thanks to Amlogic S912 CPU with 2GB RAM and 16GB storage. Perfect for 4K Ultra HD contents (with Ethernet), casual 3D games and comes pre-rooted to access all the wonderful apps out there. Interested? More information can be found at GearBest Website and buy yours there.
Extras
Original ROM – T95K Pro Stock Firmware
Custom ROM – T95K Pro Superceleron ROM