Get RM149 Power Kit Free when buy Selected DrivePro Dashcam! Yup, that's some of the best deals from Transcend at Lazada Malaysia during tomorrow 11.11 Flash Deal. Eligible models include the DrivePro 230, DrivePro 130 and DrivePro 110, the three latest additions to Transcend's dashcams. Sound great? Read on then…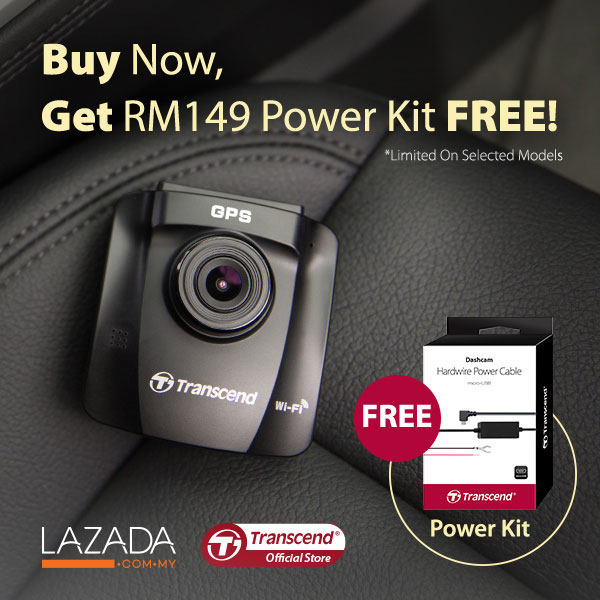 Transcend's DrivePro 230 is an advanced dashcam with comprehensive protection. It balances essential features with a multitude of topnotch add-ons, such as:
SONY Image Sensor,
Lane Departure Warning System,
Forward Collision Warning System,
Parking Mode,
GPS Conditions,
Emergency Recording.
Transcend's Power Kit includes a hardwire power cable allows users to wire their DrivePro dashcams directly into their vehicle's fuse box. Transcend's hardwire power cable has built-in power protection circuitry to prevent damage to either your vehicle or your DrivePro dashcam in the case of a short circuit or power surge.
If you do plan to drive at night, then be sure to invest in a dashcam with good night vision. Transcend's DrivePro 130/110 dashcam utilizes a Sony image sensor to provide high-resolution images with extremely fine tonal gradation even in low light.
Transcend bundles every DrivePro dashcam with its High Endurance memory card built with top-tier MLC NAND flash chips, providing consistent long-life durability and endurance. You do not need to spend extra money and effort in seeking a compatible and reliable flash card to make your dashcam work. What's more, the full range of DrivePro dashcams is backed by Transcend's 2-year Limited Warranty, whereas most dashcams are covered for 1 year only. This reflects Transcend's confidence in the high quality of production and product performance.
It is a one-day flash deal so hurry while it lasts at https://www.lazada.com.my/shop-car-cameras/ on November 11, 2017. Don't miss it!!!