Introduction
Up to 40W high power sound with SoundPulse technology to deliver deeper bass and more define vocals. Dual passive radiators with two 20W full-range stereo loudspeakers. 3 different equalizer audio modes that can suit any music genre. True Wireless Stereo support. Yes, these are what you get from the latest Tronsmart Element T6 Plus SoundPulse Portable Bluetooth Speaker. In addition, it comes with IPX6 water-resistant that built to withstand heavy splashes, rain and sweat. Does it sound great? Let's find out together…
Special Thanks
This review is possible thanks to below companies. Be sure to check them out…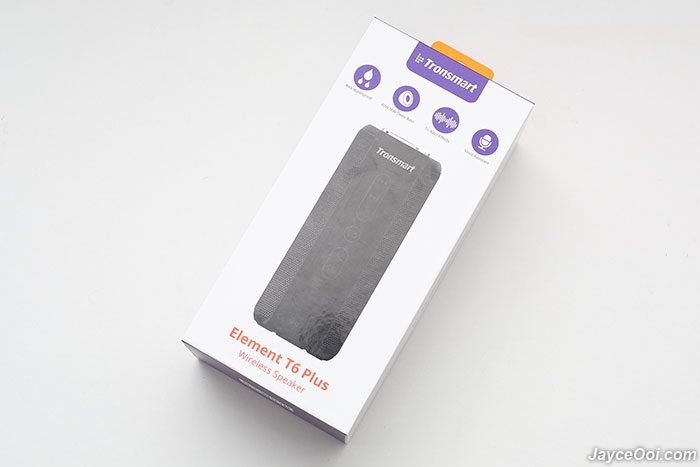 Package Content & Design
Element T6 Plus comes well protected. Once taken the speaker out, there are 3.5mm AUX cable, USB-C charging cable, warranty card and user manual in multiple languages. As usual, do go through the guide to get started.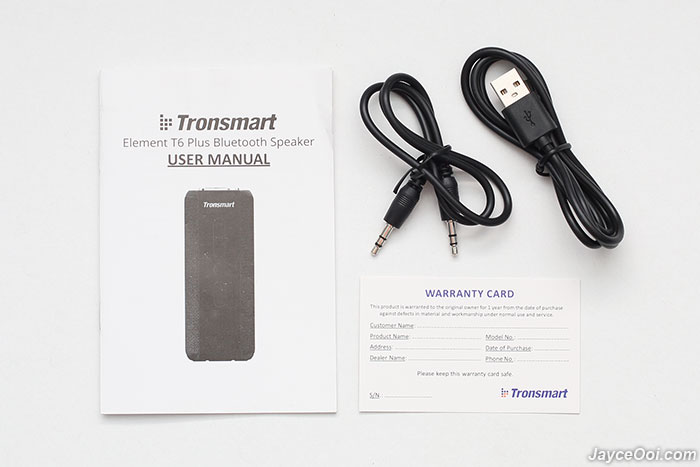 Build quality is excellent with ABS + aluminum as housing. Its matte coated housing gives the rubberize feel when touch by the way. And the fabric-covered speaker grill provides grip when holding it. You can put it both vertically or horizontally. Totally up to your preference.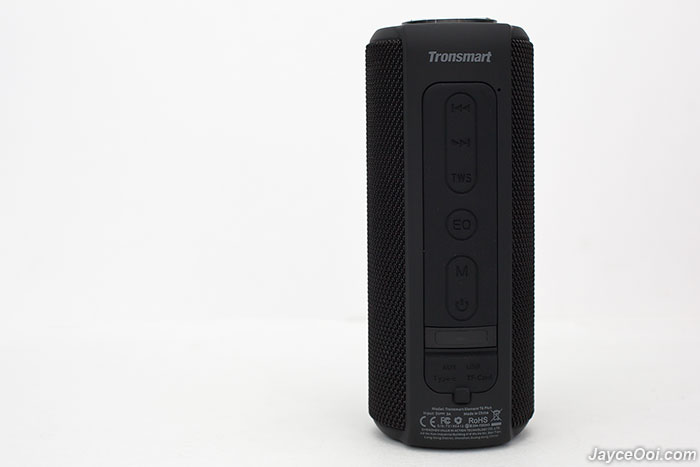 There is a big round volume control with blue light indicator on top. It also acts as play/pause button. And all the other buttons are located in front including the LED light indicator. Micro SD slot, AUX input, USB-A and USB-C ports are covered at bottom as part of the IPX6 water-resistant feature.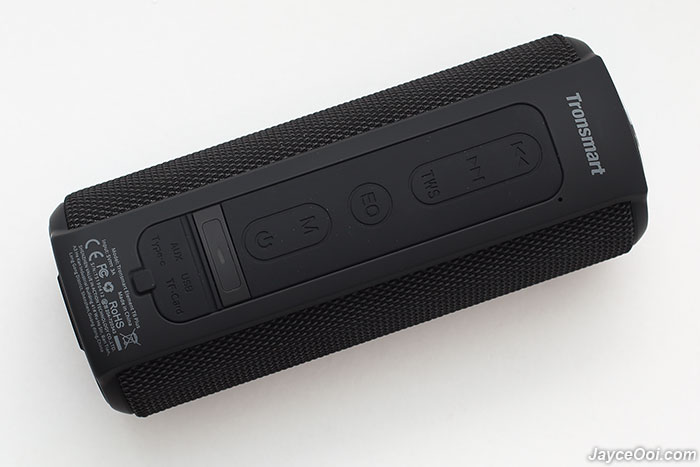 Two 20W full-range stereo loudspeakers are located at back. One passive radiator at bottom of the speaker. And another one in hidden on top. As usual, do check out all the photos for details.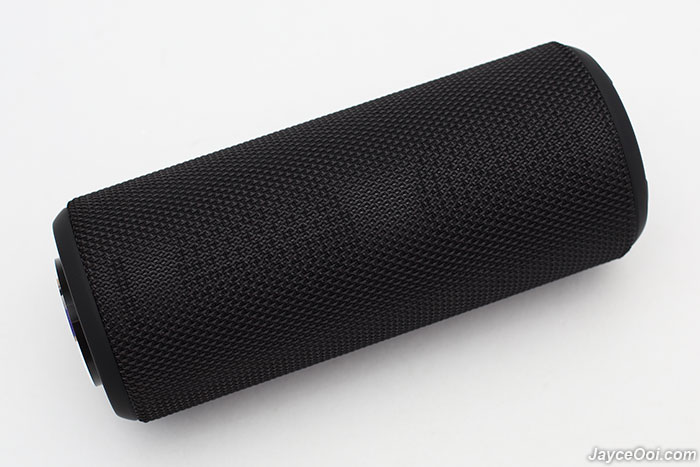 Performance Result
Excellent Bluetooth 5.0 range is what you get from Tronsmart Element T6 Plus. Easily go pass 8m+ with obstacles like wall. And virtually in-sync between video and audio. That's great to watch movie, TV series and play games on mobile devices like smartphone and tablet. As usual, there is AUX-in port for non-Bluetooth devices.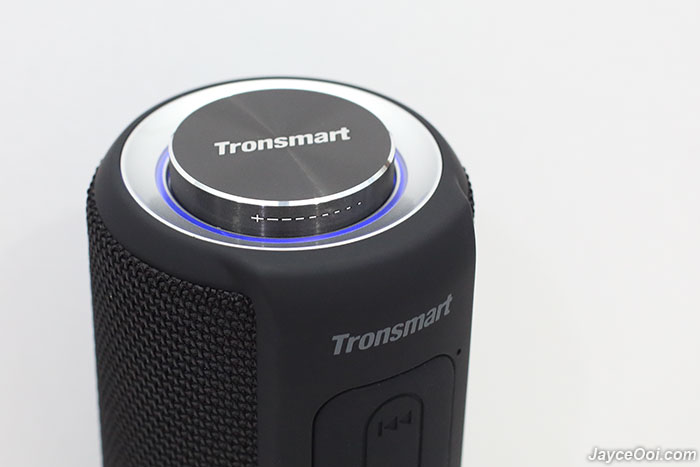 Song playback works as expected. Just plug in micro SD or USB flash drive will do. It will start playing song for you then. Surprise! T6 Plus supports FLAC file format as well on top of the usual MP3. Yes, I can enjoy a lot of FLAC format songs on 128GB micro SD card. As for speakerphone, others can hear my voice loud and clear. Sensitive microphone no doubt. Great for conference call in a small group.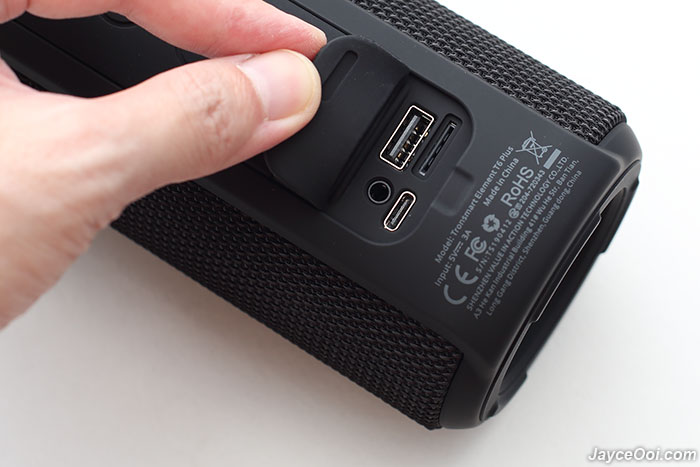 9 hours non-stop music playback on 3300mAh x 2 lithium battery. Yup, tests were done with on average room sound level. As usual, battery life will be shorter when playing louder. And requires around 3 hours 20 minutes for self fully charged. By the way, there is battery life indicator on both iOS and Android devices. Great to know when to charge it.
Sound Quality
Balanced sound signature is what you will get from Tronsmart Element T6 Plus. Much fuller sound compares to those small Bluetooth speakers. And of course, much more powerful at 40W too. Easily fill up whole large living room. You can throw a party when pair another one through TWS. 80W total output then. Yeah! Clear and deep bass. Yes, you can actually feel the bass bumping here and there. Of course, it's not subwoofer kind but it is really powerful for a portable speaker.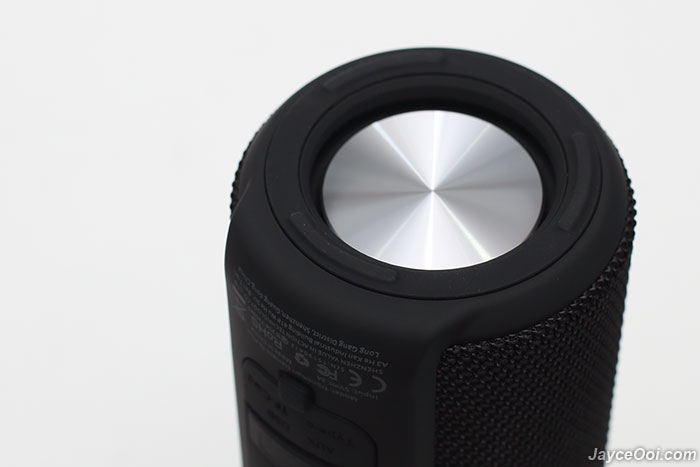 3 different equalizer audio modes that can suit any music genre – Vocal, 3D Deep Bass and Extra Bass (default is Vocal). 3D Deep Bass mode increases the clarity of the treble. And maybe bump up a little bit on the bass department too? Making it kind of V shape sound here. As for Extra Bass, it tunes down the treble basically. In short, just pick the one that suits your songs will do. And enjoy outstanding sound quality from T6 Plus.
Advantages
Outstanding sound with 3 different equalizers
Powerful deep bass
Excellent build quality
Long battery life
TWS mode support
Built-in player & speakerphone
IPX6 water resistant
Portable
Limitations
Conclusion
Wait no more and get yourself a Tronsmart Element T6 Plus. Enjoy better sound quality on the go. Don't limit yourself with mobile devices' built-in speaker anymore. Buy your T6 Plus at Lazada or Amazon now!