Introduction
Wow… 41 hours of playback time. Yes, my TYLT TUNZ Rechargeable Bluetooth Speaker manages to play up to 41 hours continuously with 50% volume level. It is a stylish compact size Bluetooth stereo speaker with two 3W drivers and a passive radiator. Furthermore, it has aptX audio coding, NFC built-in, speakerphone ability and USB charging port with 1 Amp output to charge phone and tablet. Interested? Read on to find out…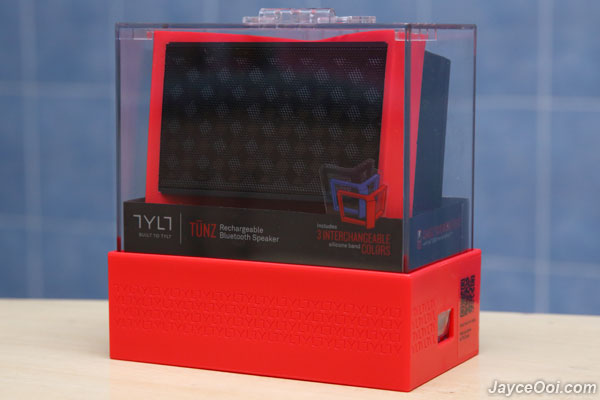 Package Contents
TYLT TUNZ comes in a nice packaging. When you open, you will find TUNZ itself, 3 interchangeable silicon bands in red, blue and black colour, Micro-USB charging cable, 3.5mm AUX cable, carry bag and user guide.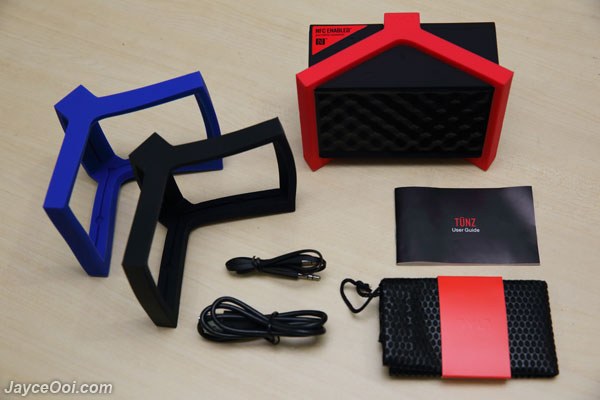 Design
TYLT TUNZ is a small rectangle speaker with diamond pattern front grill. Well-built and light to carry around easily. By the way, the speaker is coated with soft touch rubber which makes it nice to hold and touch. The interchangeable silicon band has more than 1 feature. Besides style up the speaker with 3 colours, it also provides grip and act as vibration cancelling medium. There are volume down, volume up, multifunction, phone touch-sensitive buttons and mic on top of the speaker. And NFC tag is located on the left. At the back, there are 3.5mm AUX input & output, USB & Micro-USB ports, power switch and passion radiator.
Hardware Specifications
Input Voltage: 5V 0.5 Amp (Micro USB)
Output Charging Current: 4.75V – 5.25V – 1 Amp
Lithium Ion Battery: 2,800 mAh
Battery Charge Time: 6-7 Hours
Bluetooth: Version 3.0
Output: 80dB Max Output
Connectivity: 3.5mm Input and output jack / Bluetooth
Touch Controls: Volume, Play, Pause, Answer & End Calls
Size: 5.25″ x 2.625″ x 3.25″
Weight: 12.9 oz. / 365.7 gram
Performance Review
Sound quality is great on TYLT TUNZ. Crisp and clear from these two 3 watt speakers. And bass is powerful thanks to passive radiator (from small speaker perspective). The front 2 speakers provide nice highs and mids while back passive radiator pumps the lows. Furthermore, it supports aptX audio codec which produce high quality stereo audio over Bluetooth. And it can get really loud on maximum volume. Reach 80dB output easily (of course, sound will be distorted if over push it). No problem to fire up a small party and can be used at any place that you prefer even during shower. Perfect companion for phone, tablet and portable media player. Trust me, you can't go back to tiny built-in speaker after tried TUNZ. By the way, you can use AUX in for devices without Bluetooth. And AUX out to another TUNZ (or Hi-Fi).
Battery life exceeds my expectation. I am getting 41 hours music playback on Google Nexus 4 during 1st test (with 50% volume level on TUNZ and maximum volume on Nexus 4). Was playing soft sleeping melodies for baby back then. Way over the official specification of 20 hours. So I re-ran whole benchmark again with Teenage Dream album by Katy Perry which has more bass. Getting 39 hours this time. And 38 hours on Samsung Galaxy S4 with aptX support. A question come to my mind ~ does TUNZ support Bluetooth 4.0 low energy technology?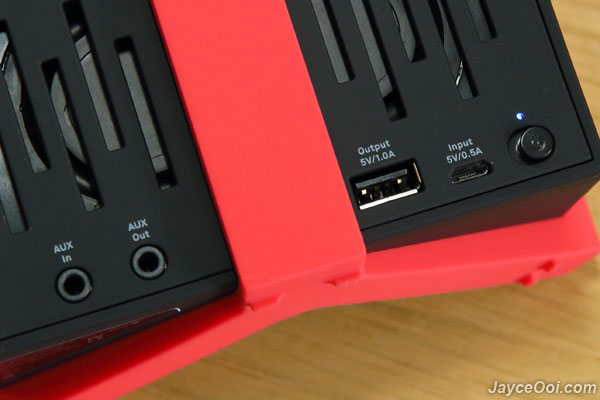 Charging external device with 1 Amp output is a nice add-on. However, it is turned off when reached 50% battery capacity to preserve music playtime. I wish that there is no such limitation. It only managed to charge around 27% battery life of Nexus 4. This translate to 567 mAh based on Nexus 4's 2100 mAh battery capacity.
Note – all the battery life benchmarks were ran after 5 cycles of fully discharge and recharge. It took 6 hours+ to fully recharge. That's why it took more than 3 weeks for this review to come out.
TUNZ is NFC enabled. Basically, it has TUNZ TAGS programmable NFC tag built-in. It will ask you to install NFC Task Launcher when you pair NFC enabled Android device for the first time. Program tasks like turn on Bluetooth and open Play Music in NFC Task Launcher. Write to TUNZ NFC tag then. Android device will perform these tasks when tap it to TUNZ. That's it. By the way, it does not support one touch NFC pairing. You need to pair it with Bluetooth in the old fashion way.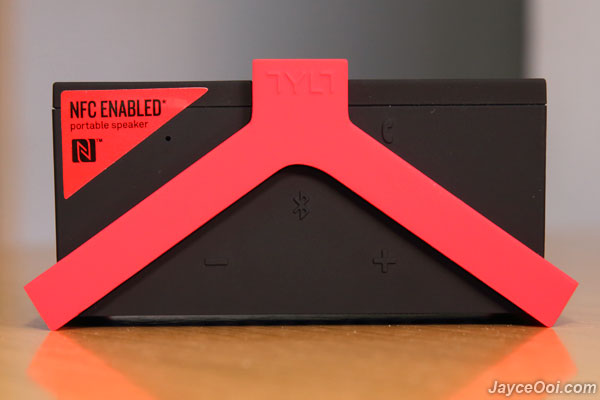 Speakerphone feature is nice for conference call in a small group. Or use it as hand free mode. The Phone button is placed closely with the silicon band to avoid touching it accidentally. This is a nice move. Call quality is good. You can hear other's voice loud and clear. However, you need to get close to the mic in order to let other hears you clearly. But this is expected for speakerphone's mic.
Video Demo

Advantages
Crisp & clear sound quality (aptX supported)
Great bass
Excellent battery life
Charge other devices
NFC enabled
Speakerphone ability
Lightweight & compact
Limitations
Can't charge device when reached 50% battery capacity
No one touch NFC pairing
Loud notification sound (at quiet environment)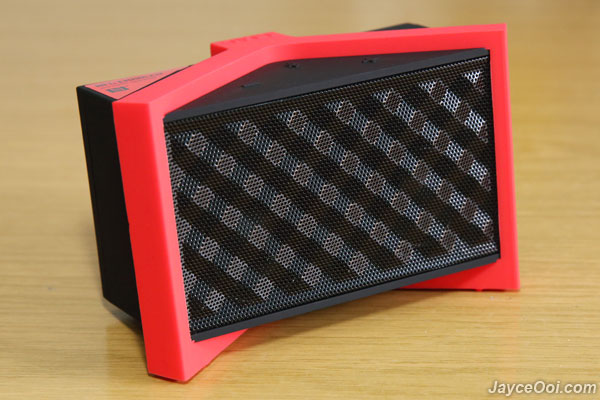 Conclusion
TYLT TUNZ produces crisp & clear sound quality and great bass. Has superior long battery life too. Added with nice features like charging ability, NFC enabled and speakerphone. A perfect companion to your phone, tablet and media player.
Interested? Get yours here.
P/S – I am listening to music videos with TYLT TUNZ on Nexus 7 (2013) while writing this review. Really enjoyable…