Introduction
Want a docking station that can support both two 2.5" and 3.5" SATA hard drives at the same time? I have one to introduce you. Yup, Unitek (Y-3026) USB 3.0 Dual Bay Aluminum Docking Station is the one. It supports all 2.5″ / 3.5″ SATA I, SATA II, SATA III HDD and SSD up to 8TB. Furthermore, is does not need additional driver and support hot-swapping, easy and quick tool-free installation. And have Apple Aluminum stylish design that matches your Apple devices. By the way, it has offline clone function too. Sound great? Let's have a closer look then…
Features
With aluminium enclosure, it's stylish and elegant
USB3.0 SuperSpeed data transfer (transfer speed up to 5Gbps)
Backwards compatible with USB2.0/1.1
Support SATA III, SATA II and SATA I
Allow you to work with 2 hard disks simultaneously
With offline clone function, copy Disk A to Disk B just simply press clone button
Support mass storage, perfectly compatible with large capacity hard disk
Plug and play, no driver required
Support Windows XP / 7 / Vista / 8 / 8.1 / 10 (32 / 64 bit), Linux, Mac OS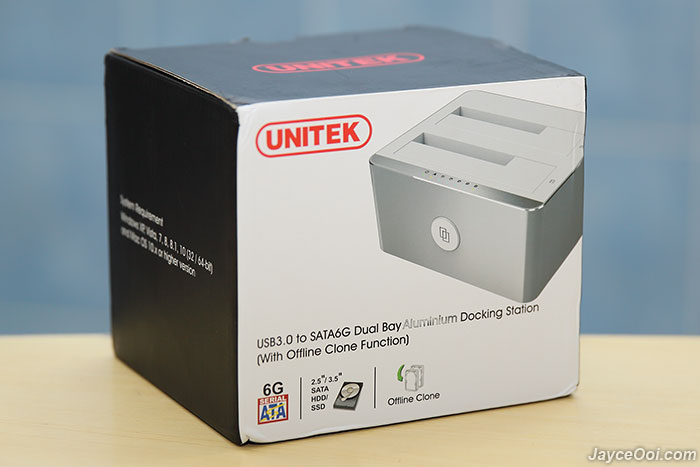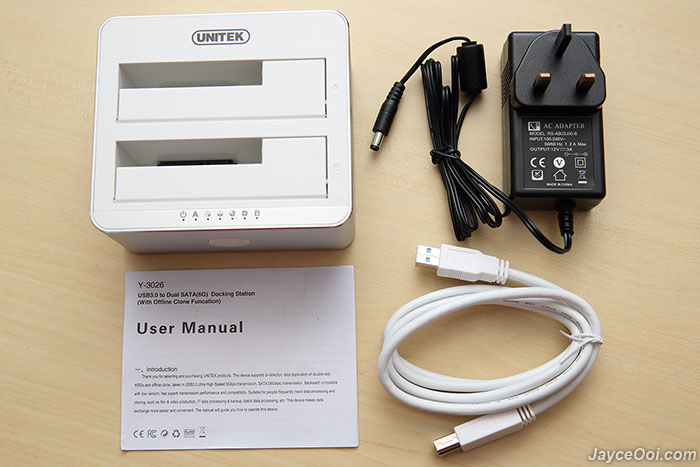 Package Content & Design
There are Unitek Dual Bay Docking Station, USB 3.0 data cable, power adaptor and user manual in the package. The sturdy 1.1m USB 3.0 cable is long enough to connect docking station from desktop below the table. And user manual is clear to let you start using it straight away. The build quality is top notch as we are talking about durable aluminum housing with top and bottom plastics. On top, you can find Unitek logo, 2 hard disk bays with flip cover and LED status indicators. There is a clone button in front while USB 3.0, DC ports and power switch at back. Finally, 4 round anti-skid pads that provide stability at the bottom. Do refer below photos for details.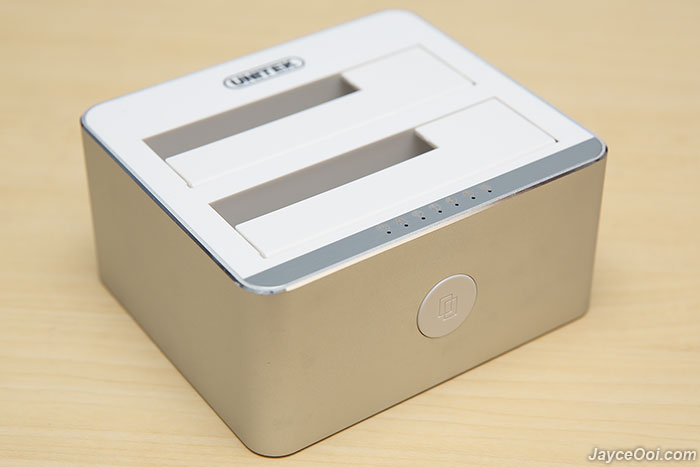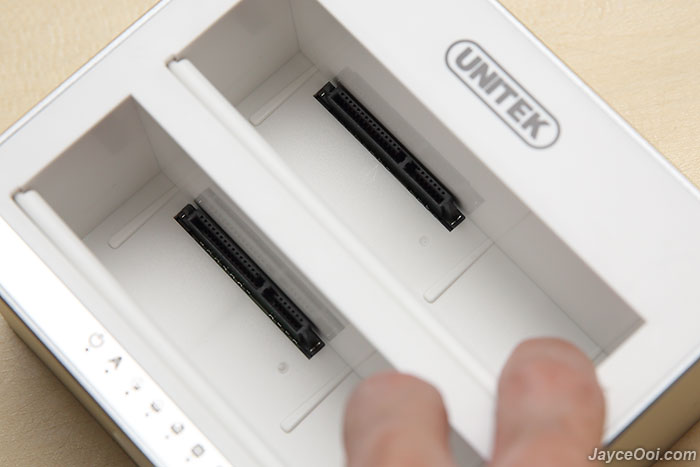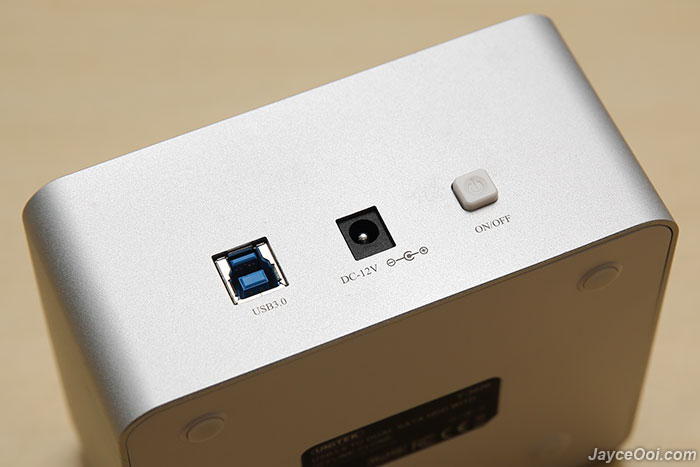 Performance Result
The very first thing that I tried – offline clone function. Yes, no PC or any addition cloning software is needed. No tool is needed to install HDD as well. Just insert original HDD at bay A then target HDD at bay B. Note – B capacity need to more or equal than A. Then press clone button for 3 seconds. 100% indicator light will turn on. Short press clone button again then the cloning process will begin (no worry about hitting the clone button accidentally). 25% indicator will start flashing too. Follow by 50%, 75% and 100%. All indicator lights turn on when cloning is completed. The performance is great. It is getting the maximum speed that my HDDs can provide. It took around 3 hours to clone 1TB HDD. I tested both Windows NTFS and Linux EXT4 file formats. They are getting the exact same partition layout as the original. You can start using the new one immediately then.
I tried lot of HDDs on Unitek USB 3.0 Dual Bay Docking Station – Seagate 3TB 7200RPM, Toshiba 2TB 7200RPM, Western Digital 1TB 7200RPM and Seagate 500GB 5400RPM HDDs. All of them are getting the same result as connected directly to PC motherboard on CrystalDiskMark benchmark software. Too bad that I don't have a free SSD to try (mine are connected as Windows OS on RAID 1). Will surely update it when I have the chance to do so. In short, you will get the maximum performance of your HDD no doubt. That's the beauty of UASP which Unitek Y-3026 supports and provides faster transfers up to 70% faster read speeds and 40% faster write speeds when compared to traditional USB 3.0 BOT. By the way, Unitek Dual Bay Docking Station supports up to 405MB/s when connected to PC and 485MB/s during cloning process (that's the info that I got from packaging).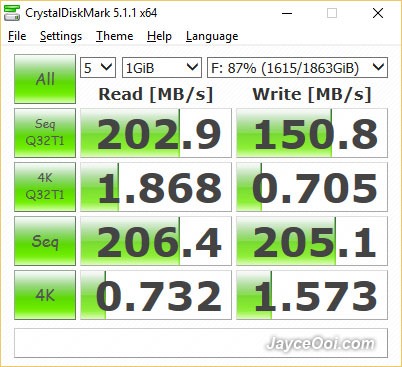 Yes, no need to install additional driver to start using Unitek Y-3026 on Windows. And support hot-swapping which perfect for people that need to do lot of data processing and backup. It surely makes data exchange much more easily than before here.
Update – Yeah… I got a spare SSD with me now. 480GB Kingston SSDNow UV400 SSD that can read up to 550MB/s and write up to 500MB/s is the one. Let's see much far can Unitek USB 3.0 Dual Bay Docking Station pushes this SSD.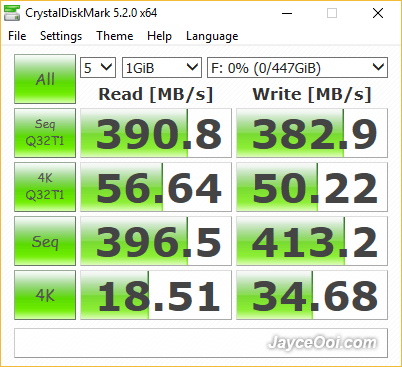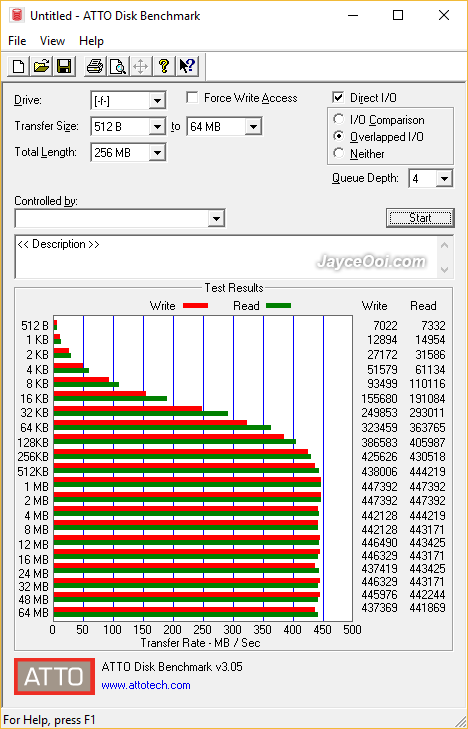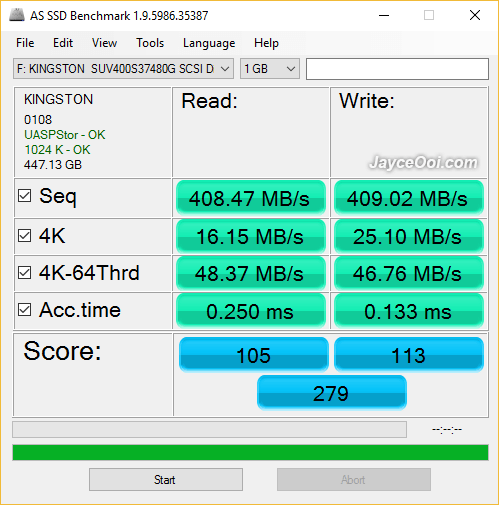 Benchmark results tell all the stories. Unitek Dual Bay Docking Station surely can support up to 405MB/s thanks to UASP support. Well done, Unitek!
Advantages
Fast performance with UASP support
Offline clone function
Support dual 2.5″/3.5″ hard drive
Excellent build quality
Stylish design
Portable
Limitations
Conclusion
Unitek USB 3.0 Dual Bay Docking Station has great performance no doubt. UASP, hot-swapping and offline cloning supported too. Give Unitek Y-3026 a try. And you will like it as I do. More information can be found at Unitek Website. And get yours here.