Introduction
Cutting-edge sound performance with elegant design, Bluetooth, FM Radio, MP3 player and 7 colours pulsating LED… Yup, that's all part of Vinnfier Ether 6 BTR 2.1 speaker system features. Have total power of 38 watts RMS – satellites 8W x 2 + subwoofer 22W. Does it sound great for sub RM200 price range? Let's find out…
Special Thanks
This review is possible thanks to below companies. Be sure to check them out…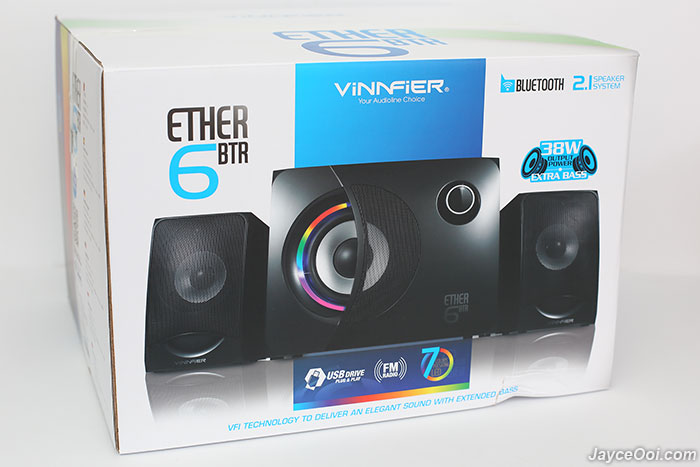 Package Content & Design
Vinnfier Ether 6 BTR comes well protected as usual just like other Vinnfier products. Once taken out the speakers, you can find 3.5mm to RCA audio cable and user manual. Be sure to go through the guide to get started. Not hard to use all its features like Bluetooth, FM radio and MP3 player.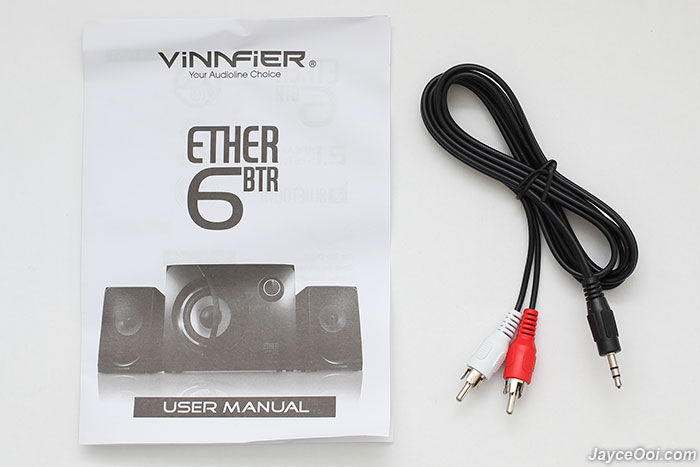 Build quality is decent thanks to tough wooden cabinet. Most of the housing for both satellite speakers and subwoofer are using wood except the front plastic panel with metal speaker grill. Just refer to below photos for its design in details as usual.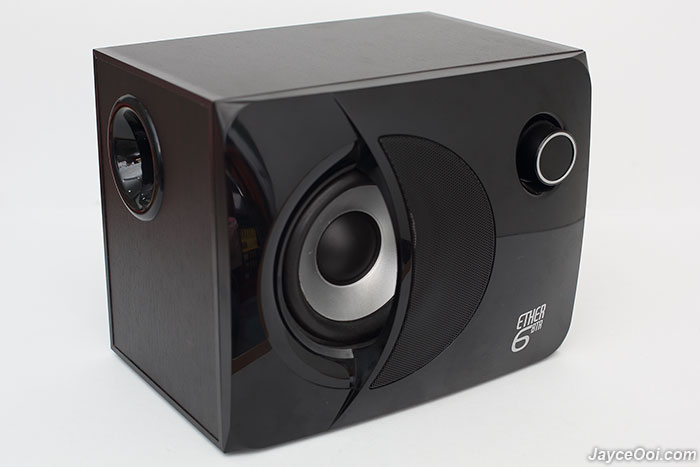 Ether 6 subwoofer is loaded with 5″ driver at front. Half circle colourful LED lights and volume control are there too. Bass reflex port is located on top left. While all other inputs and controls are located on the right.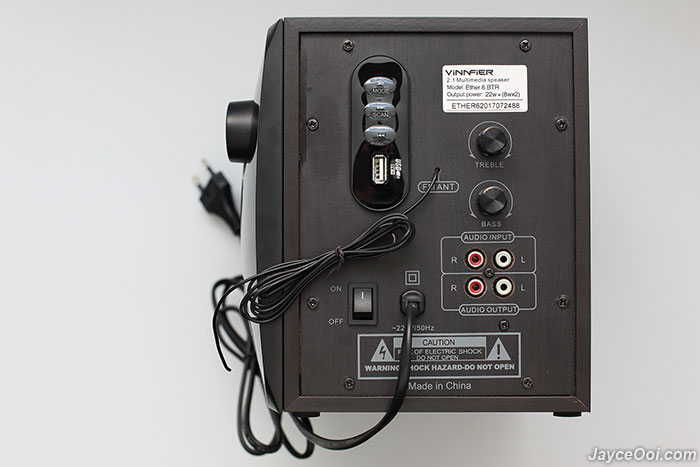 Here are the AUX input and output. Dedicated treble and bass volume to suite your listening taste. Power on / off switch and an external FM radio antenna for you to get the best signal. Lastly, USB port for MP3 and media control buttons.
2 x 3″ driver satellite speakers. Compact in size while still able to blast whole large living room.
Performance Result
Smartphones everywhere. Yes, that's why Vinnfier Ether 6 BTR comes with Bluetooth wireless connection. Great news, it has virtually no lag between video and audio. That's great to watch TV drama, movie and play games on your mobile devices including tablet. As for wireless range performance, it passes in 10m straight sight line test easily. And up to 6m with obstacles like wall. As usual, AUX input is there for PC and non-Bluetooth devices.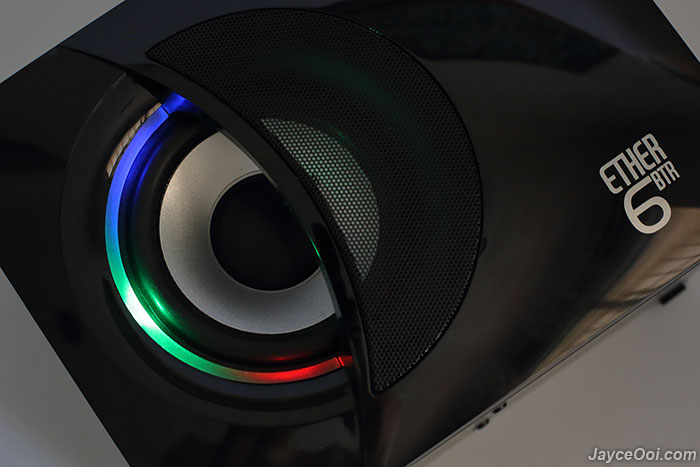 Colourful 7 colours pulsating LED! Yes, it's nice and attractive no doubt. Surely level up your gaming experience with those LED animation effects. Note – it can't be turned off. Any FM lovers? Ether 6 performs well in this department thanks to adjustable external antenna. Signal is clear (depend on your area FM coverage too). As for built-in MP3 player, it will start playing MP3 after USB flash drive is plugged in. Breakpoint memory feature is supported where it will continue to playback the last song and at the place that left off flash drive was ejected.
Glad to know that Ether 6 has treble and bass volume controls. Yes, you can change the sound signature to suit your preferences this way. Make it balance or V shape that bring more exciting listening experience. Personally, I set treble at 85% and 100% on bass. I do like to have more sparkling highs but bass can't keep up with it. No worry, you still can enjoy booming bass but not as deep as those bigger subwoofer.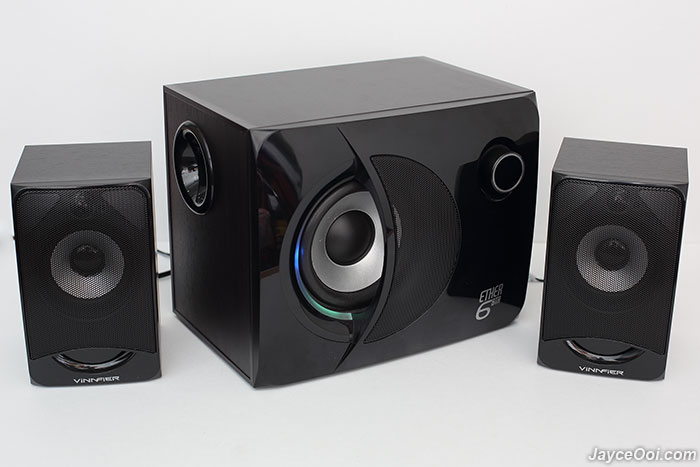 38W is more than enough to blast in a big living room. Yup, you can enjoy clear treble yet pumping bass from Vinnfier Ether 6 BTR. The highs are clear and smooth. No harshness at all. Mids like vocals are a bit forward. Great for those who like to have clear vocals in movie and news. Bass is decent. You surely can feel bass pumping here and there. Overall, Ether 6 sounds great for its price.
Advantages
Clear sound quality with nice bass
You can have small party in house
Bluetooth, FM radio & MP3 player (USB)
Colourful RGB LED effects
Stylish design
Limitations
Can't remember last used audio source
LED can't turn off
Conclusion
Looking for a budget 2.1 speaker system with nice sound quality? Be sure to check out Vinnfier Ether 6 BTR. Besides AUX, you can enjoy Bluetooth, FM and built-in MP3 player. Solid and compact in size too. Do visit Vinnfier Website for more information. Buy yours at Lazada.