Introduction
Is this the best portable speaker for teacher, outdoor party lover? Read this Vinnfier FlipGear Tango 202 review to find out. Yes, FlipGear Tango 202 is a rugged yet lightweight portable speaker with lot of features. Loaded with Bluetooth, FM radio, MP3/WMA player (USB & microSD), karaoke, AUX line-in, sound recording and 7 pulsating LED colours. And it comes with free wireless microphone too. Sound great? Continue reading to find out…
Special Thanks
This review is possible thanks to below companies. Be sure to check them out…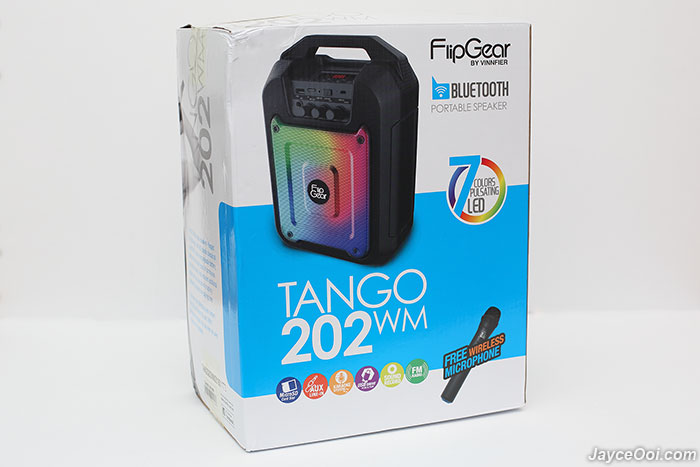 Package Content & Design
Besides FlipGear Tango 202, there are AUX cable, micro USB cable for charging, user manual and wireless microphone in the package. By the way, the wireless microphone needs 2 AA size batteries (not included). Do use rechargeable battery as it does not auto shut off to save battery life.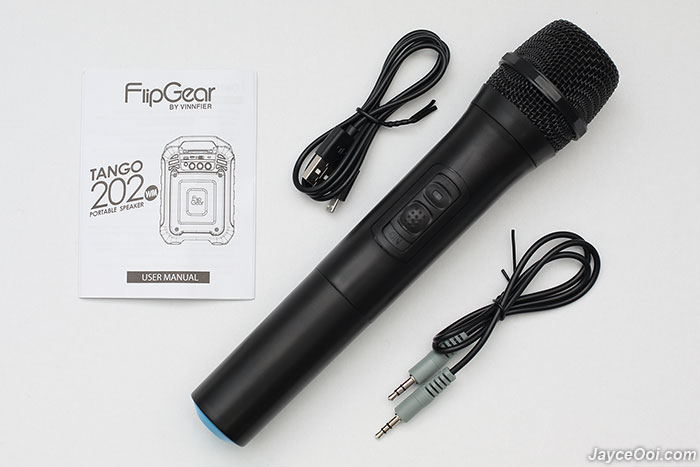 Build quality is decent all thanks to solid ABS plastic chassis. The main 5.25″ speaker driver is covered with metal grill. The top handle is really handy to carry it around. Not too heavy as girl can carry it too. No worry…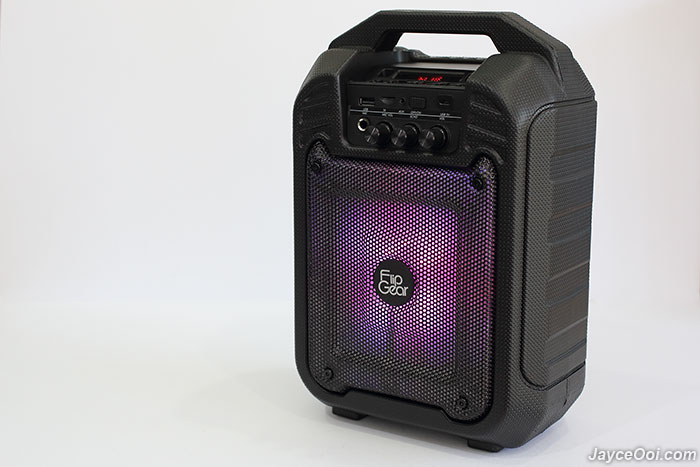 Everything is located on top front of the speaker. Yes, all the control buttons, volume, slots and LED display are there. Do refer to photo for details.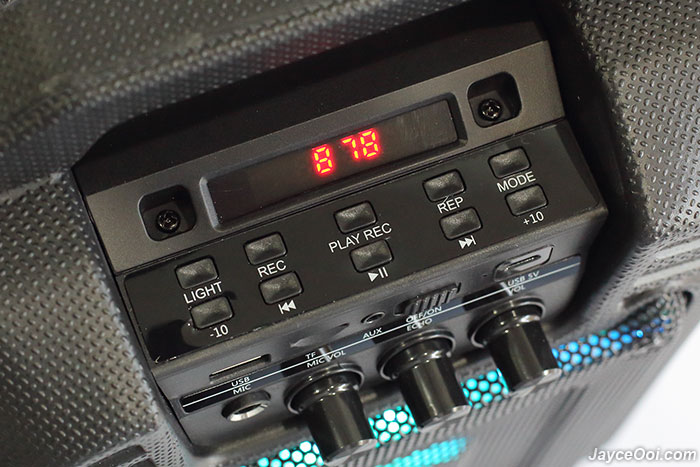 4 anti-skid pads at the bottom that provide strong grip. No worry about speaker wondering around even on maximum volume.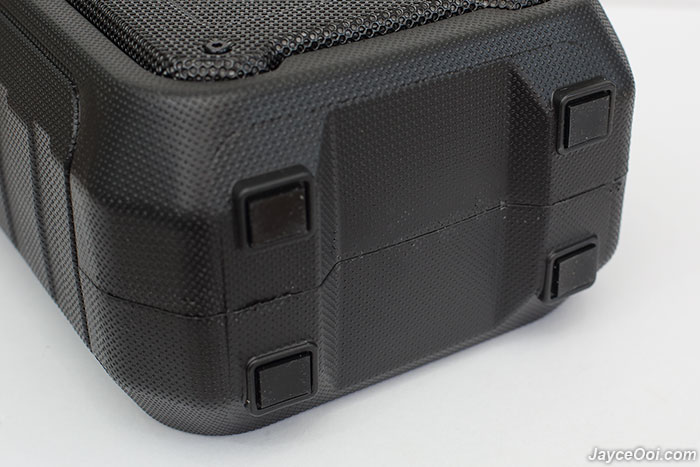 Nice honeycomb design on the back as well.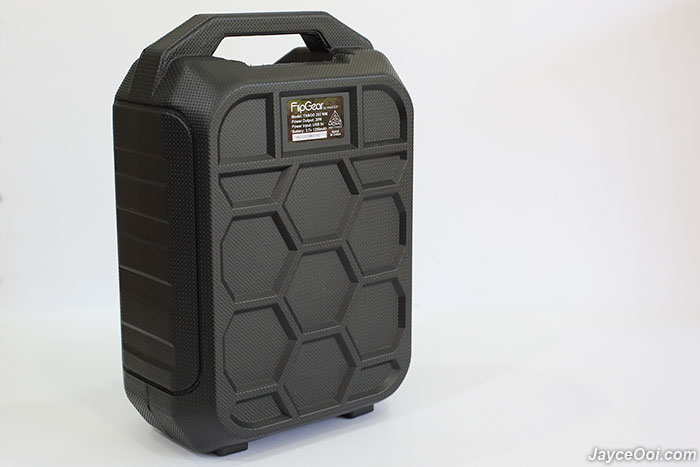 Performance Result
Let's talk about Vinnfier FlipGear Tango 202 output power first. It is a 20W speaker. More than enough to blast at large living room or tuition center. Even on small outdoor party. It has U shape sound signature where you have booming bass (but not subwoofer kind) and sparkling treble. And that brings more exciting listening experience. By the way, don't push too far on this portable speaker with maximum volume. Distortion might kick in depending on your songs.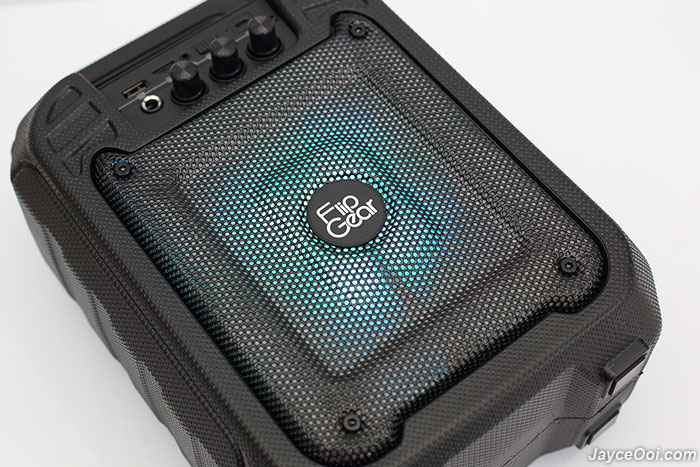 I believe most people bought this speaker due to microphone. Yes, the bundled wireless microphone is excellent. Outstanding wireless range – up to 10m even with obstacles like walls. Rest assures that your voice can be recorded or hear by others loud and clear. No disconnecting issue here. Perfect for teaching, seminar or any indoor event. Unleash your singing skill in karaoke mode too. The dedicated microphone and echo volume controls help to make it even fun and useful when using this speaker. By the way, you can record sound or music through the mic too. A nice feature to have.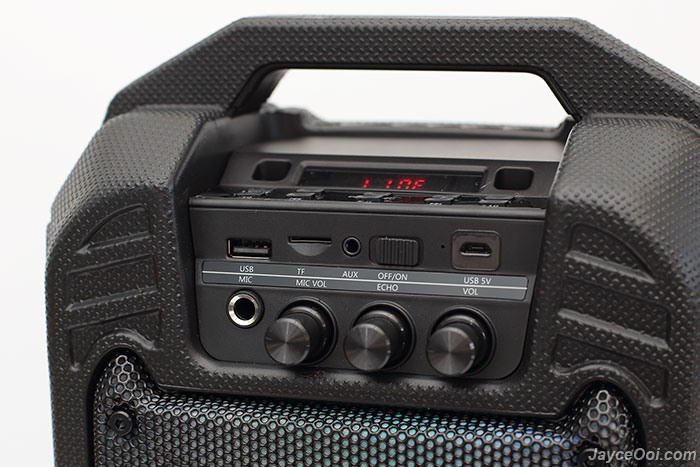 As for Bluetooth, it is great up to 7m with obstacles. Audio and video is almost in-sync. That's great for movie, games and etc. Don't forget that it has FM, built-in player and AUX modes too. FM reception is average. As long as you place it on the right place, you are good to go. Not the best but still working. The built-in player can play MP3 and WMA files. Just plug in the source, and it will start to play. Continue to play the last song being played when power on again. But can't remember last used audio source. Always start in Bluetooth mode. Do take note…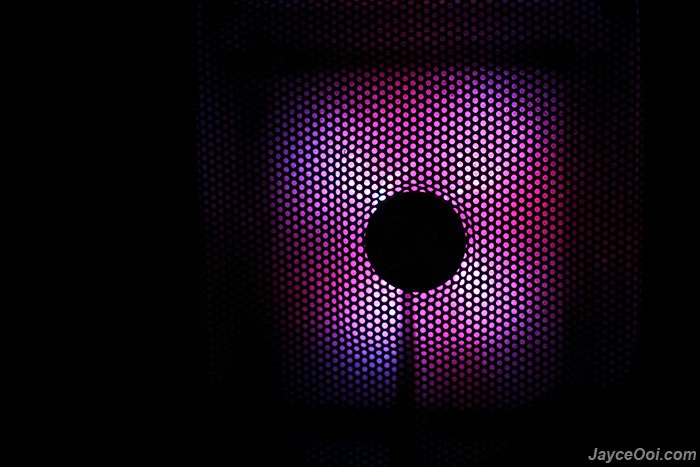 5.5 hours non-stop music playback on its 1000mAh battery. Yup, that's the test done on average room sound level with LED lights turned on. And it takes around 4 hours to fully charge. Based on my USB voltmeter, the charging LED light turned off before fully charge (around half way). Therefore, do leave it for at least 4 hours to get fully charge. Finally, check out the colourful LED lights are great for party.
Advantages
Great for teacher, seminar, party & even karaoke
Wide wireless mic & Bluetooth range
Bluetooth, FM radio & MP3 player (USB & SD)
Excellent & sensitive mic
Decent build quality
Portable
Limitations
Charging LED light turn off too soon
Can't remember last used audio source
Conclusion
Looking for a portable speaker with wireless mic? Be sure to check out Vinnfier FlipGear Tango 202. Enjoy outstanding wireless mic that great for tuition, event and even small party. More information can be found at Vinnfier Website. Get yours at Lazada.