Introduction
Hey guys, check out this 60W total output power portable trolley loudspeaker from Vinnfier – FlipGear Tango 211 WM. It comes with a free wireless microphone for karaoke. And loaded with a lot of other useful features like TWS support, 7 colours pulsating LED light, FM radio, built-in MP3 player, remote control, microphone input with dedicated volume and echo control. Does it sound great? Let's find out together…
Special Thanks
This review is possible thanks to below companies. Be sure to check them out…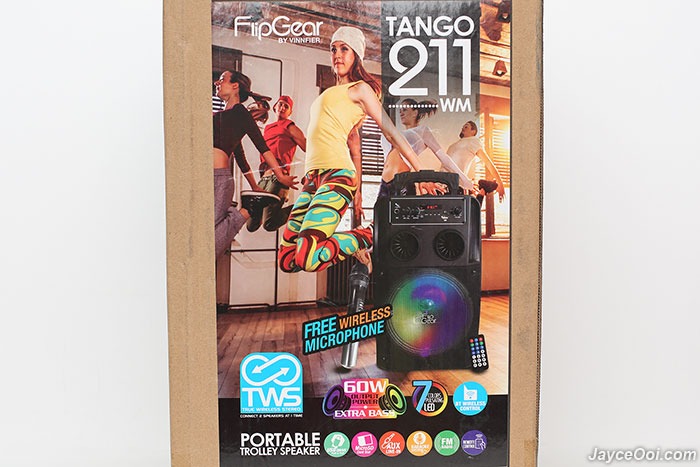 Package Content & Design
FlipGear Tango 211 WM comes well protected. Once taken it out, there are micro USB cable, AUX cable, wireless microphone, remote control and user manual. Do go through the guide if you are new to portable Bluetooth speaker.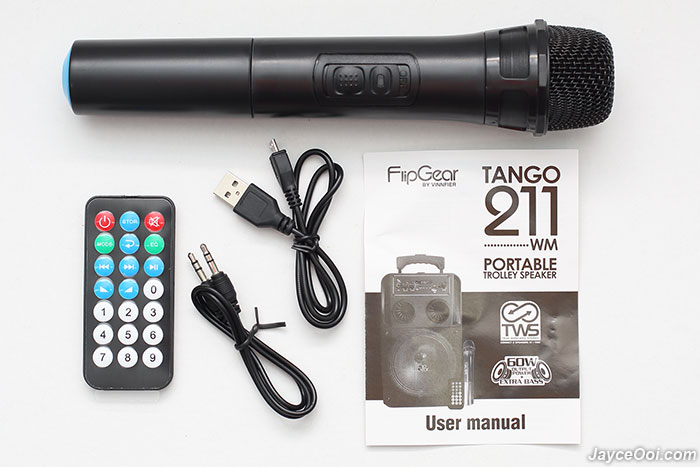 Build quality is excellent all thanks to solid and sturdy ABS plastic chassis. The main 8″ speaker driver is covered with metal grill while the 1″ tweeter is located on top of it. 7 colours pulsating LED is located on the main driver. Follow by all the inputs, outputs and buttons on top. Don't forget the useful LED screen too.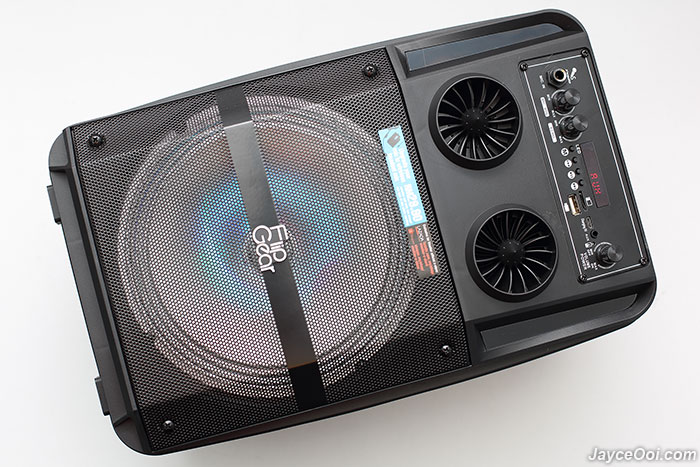 Besides the trolley handle, there is another fixed one to carry Tango 211. Easy to carry around with you for sure.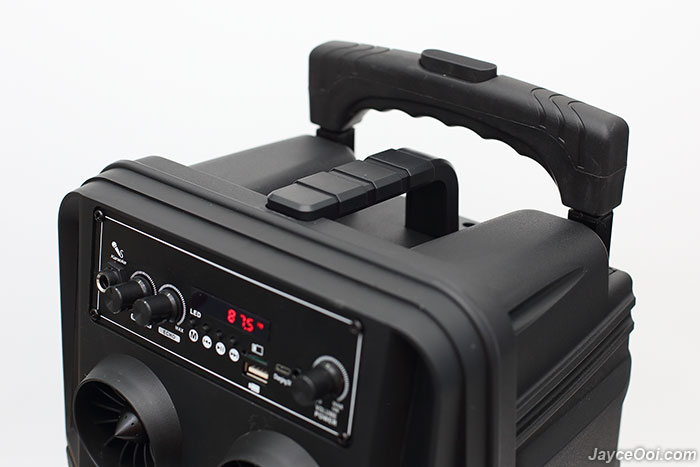 Yes, there is a pole mount for blast at higher place. And the wheels for troll around here and there.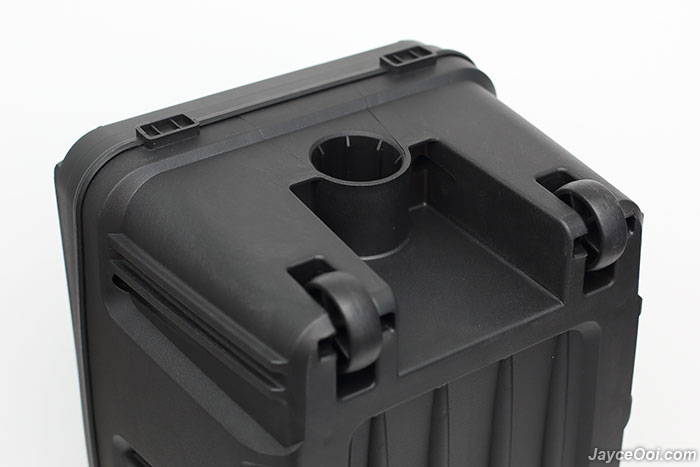 Performance Result
Excellent Bluetooth wireless range! Newer Bluetooth helps FlipGear Tango 211 to reach up to 8m+ easily even with obstacles like walls. Furthermore, audio and video are virtually in-sync. This is great for movie, games on your mobile devices indeed. Lastly, AUX input is always there for non-Bluetooth devices. FM reception is great too. Of course, this depends on your area signal. I am getting clear sound quality here. MP3 built-in player is working well as expected. Lastly, it can't remember last used audio source. Do take note.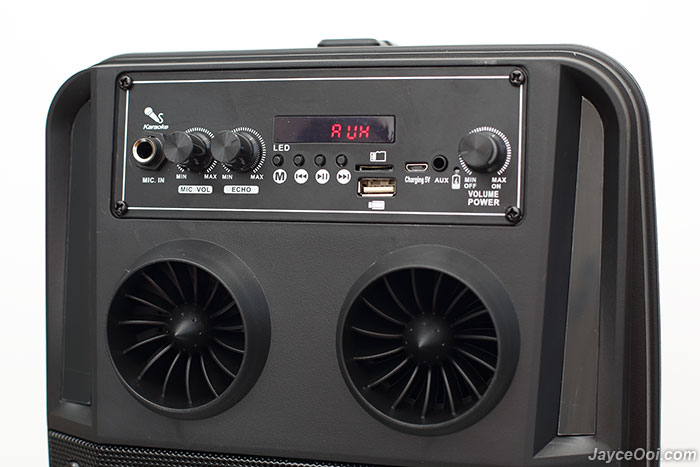 The free bundled wireless microphone is performing great thanks to quality built-in microphone amplifier. Yes, the dedicated mic volume control does help to improve overall microphone performance. And you can play around with the echo effect too. You can always invest a better one to further improve it. By the way, the remote control does come in handy. You can control Tango 211 from far away. There are sound equalizers to select too.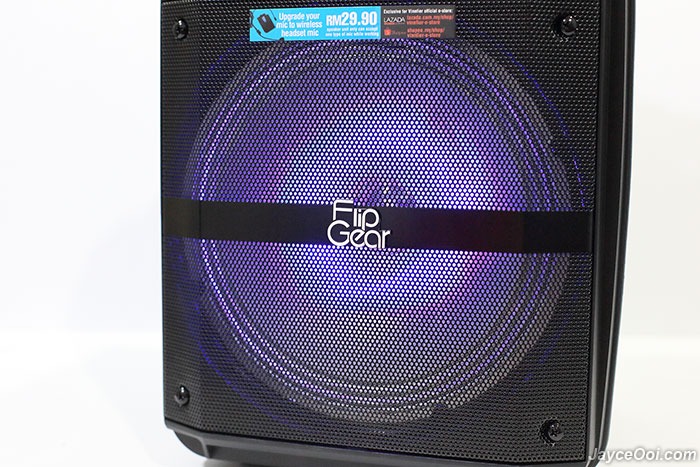 60W total power output is more than enough to blast in a large tuition center or living room. However, no treble and bass volume control can be found. Therefore, you can't change sound signature on it. Bright with clear treble and good amount bass are what you get. A slightly toward V shape. Clear and clean vocal that great for news and giving speech. Bass is there but don't expect subwoofer kind of power level will do. Overall, it's a great portable speaker for all type of activities.
Advantages
Great for teacher & karaoke
Wide wireless mic & Bluetooth range
Powerful mic amplifier
Bluetooth, FM radio & MP3 player (USB & SD)
Decent build quality
Ultra portable with trolley
Limitations
Can't remember last used audio source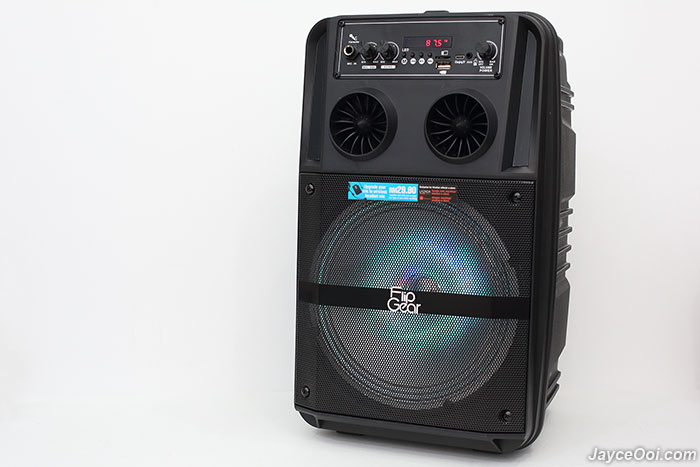 Conclusion
Looking for a portable trolley loudspeaker? Do check out Vinnfier FlipGear Tango 211 WM. Enjoy loud and clear sound quality. Great for event no doubt. Karaoke too. Interested? Do get yours at Lazada then.