Introduction
160W total power output!!! Yes, that's what the latest Vinnfier FlipGear Tango 313 WM can produce. A powerful portable trolley speaker with Bluetooth, FM and built-in player. Multiple audio inputs with a guitar and 2 microphone inputs. Loaded with 2200mAh built-in battery for long hour playback. And can support external portable DC 12V power input. Comes with 7 colours pulsating LED too. Great to use for indoor and outdoor. Does it sound great? Let's find out now…
Special Thanks
This review is possible thanks to below companies. Be sure to check them out…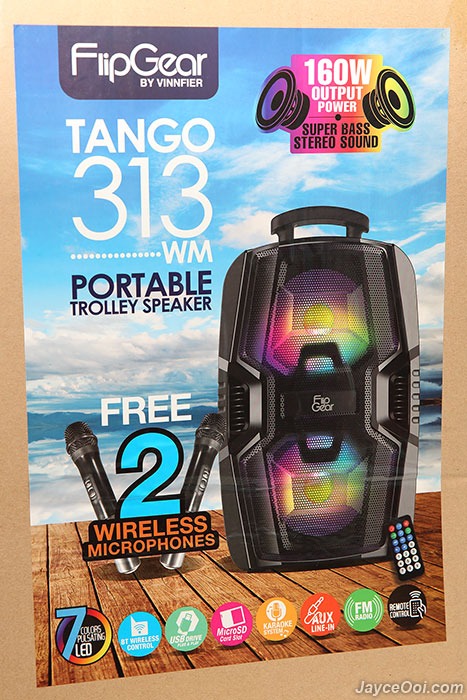 Package Content & Design
FlipGear Tango 313 WM comes in a big package. It itself is a large speaker too. You can find 2 free wireless microphones, AUX audio cable, AC power adapter, remote control and user manual there.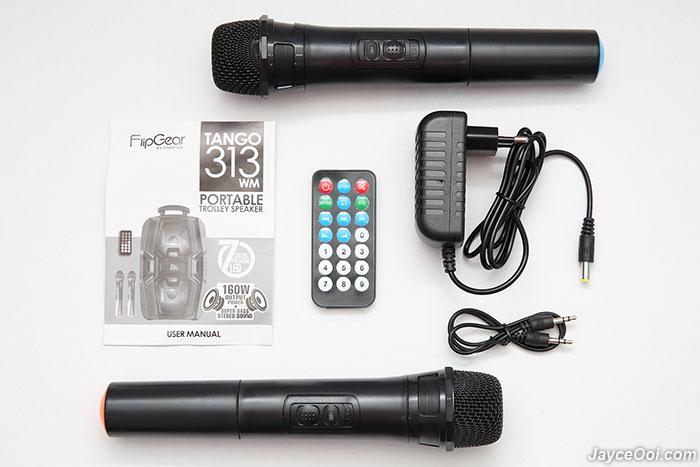 Build quality is excellent all thanks to solid and sturdy ABS plastic chassis. As you can see, it has 2 large 8″ speaker drivers with colourful LED lighting effect. And 1″ tweeter is located behind the FlipGear logo.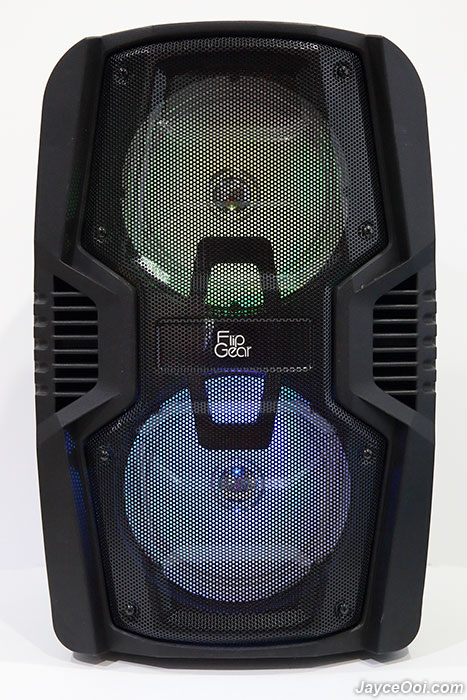 Yes, the extendable trolley handle will help to pull FlipGear Tango 313 WM along with you easily. Besides the trolley handle, there is another fixed one to hand carry it.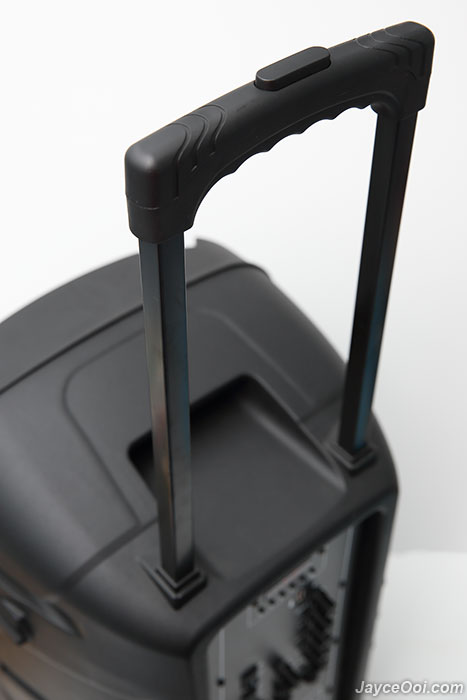 All the inputs and controls are located at the back of the speaker. Yup, there is LED display, microphone inputs, volume and echo control. Master volume control with bass and treble too. AUX input, USB and micro SD slot for direct media playback. AC input, power switch and playback buttons. Dedicated guitar input and volume control. In addition, there is DC 12V input in case built-in battery used up. As usual, do refer to all the photos for details…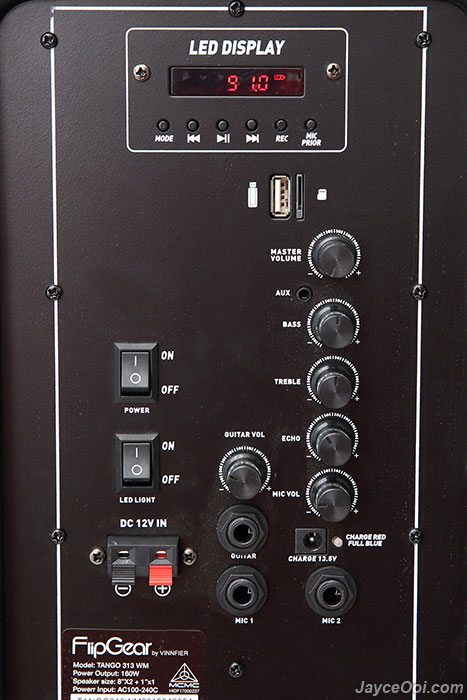 Finally, bottom view with pole mount to blast at higher place too. And the wheels for troll around here and there.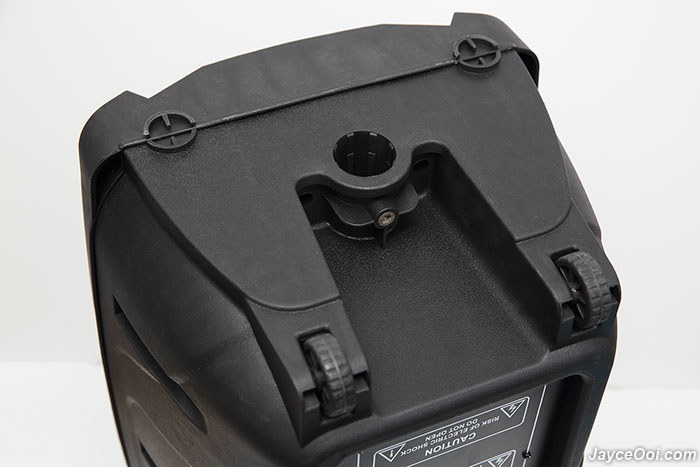 Performance Result
Let's party all day long! Yes, Vinnfier FlipGear Tango 313 WM is good enough to blast in a quiet large hall with 160W total power. More than enough for large living room or tuition center. Thanks to treble and bass volume control, you can change sound signature according to your taste and preferences. Overall, it does have bright treble thanks to dedicated tweeter. Bass is there but not subwoofer kind of power. Rest assures that it still have booming bass here and there. In short, it's great for vocal no doubt. Oh, there are few equalizer modes to select too. Personally, I leave it as normal.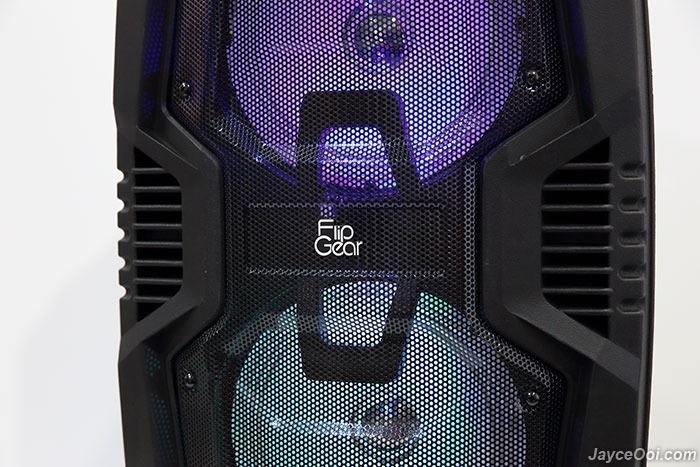 It is using basically the same wireless microphone as other FlipGear speakers. Yes, is has outstanding wireless range – up to 10m even with obstacles like walls. No disconnecting issue. Same apply to remote control. In addition, the dedicated microphone and echo volume controls make it even useful. The built-in microphone amplifier is great even using these free wireless microphones. Better when using high-quality microphone. As a conclusion, it's great for karaoke and speech.
Bluetooth range is good up to 7m+ with obstacles. Audio and video sync is a bit lag though. Noticeable for sure. Do take note. On the other hand, FM reception is excellent. Same apply to built-in player. It is able to play FLAC format on top of the usual MP3 music. That's great! Just plug in the source, and it will start to play. Continue to play the last song being played when power on again. By the way, it can't remember last used audio source. Always start in Bluetooth mode.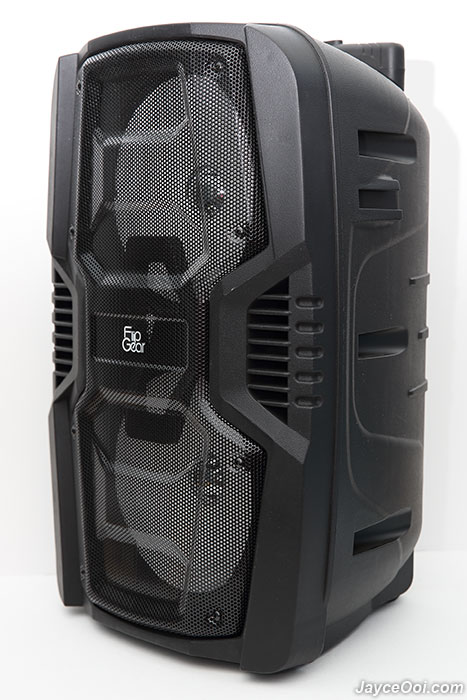 11 hours non-stop music playback. As usual, tests were done on average room sound level with LED lights turned on. Battery life is shorter when playing louder. And it takes less than 3.5 hours to fully charge. Colourful LED lights are great for party. You can turn it off if you don't like it. Lastly, there is digital volume control on top of the analog one. Be sure to max both of them in order to get 160W ultra-loud sound out of FlipGear Tango 313 WM.
Advantages
Loud & clear with 160W total power
Great sound with treble & bass control
Wide wireless mic, remote & Bluetooth range
Bluetooth, FM radio & MP3/FLAC player
Sturdy build quality
Portable with trolley
Pole mount support
Limitations
Can't remember last used audio source
Bluetooth lag between video and audio
Conclusion
Super loud and clear sound! Great for event and karaoke. Indoor and outdoor. Yes, that's Vinnfier FlipGear Tango 313 WM can do. Do visit Vinnfier Website for details. Get yours at Lazada.