Introduction
Hey guys, check out this Bluetooth soundbar with lot of features by Vinnfier – FlipGear Tango Neo 9. A mini portable soundbar that suitable for PC. Loaded with big LED display, alarm clock, FM radio, speakerphone, microSD & USB built-in media player, AUX in and headphone jack. 16W total power thanks to 2 speaker drivers with dual bass reflector. Does it sound great? Let's find out together…
Special Thanks
This review is possible thanks to below companies. Be sure to check them out…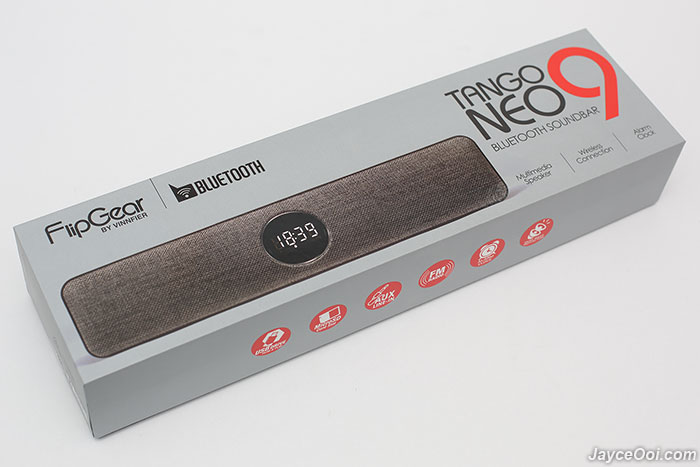 Package Content & Design
Tango Neo 9 is nicely packed and protected. Besides Bluetooth soundbar, there are AUX cable, micro USB charging cable and user manual. As usual, do go through the guide to get started.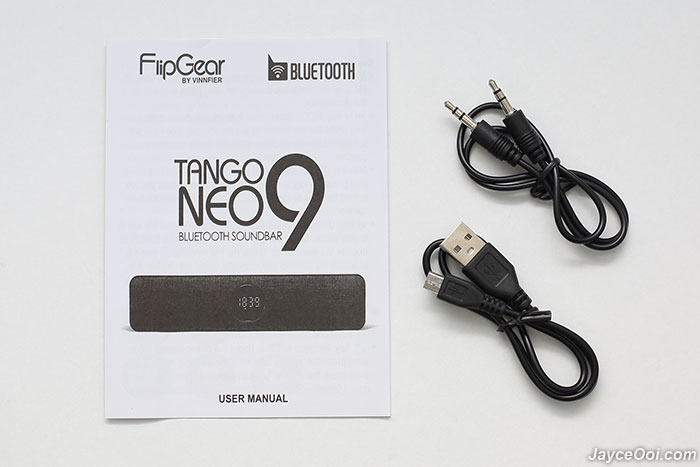 Tango Neo 9 is a stylish, lightweight and portable Bluetooth soundbar as you can see. Easy to carry around. Perfectly match with 24″ PC monitor.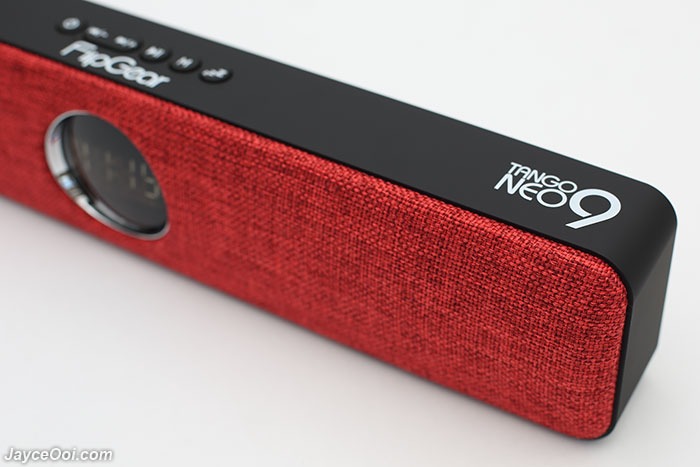 Build quality is great with sturdy ABS plastic housing with smooth matte touch. Nice and attractive fabric covers the speaker drivers in front. For your information, there are red and grey colours to choose from.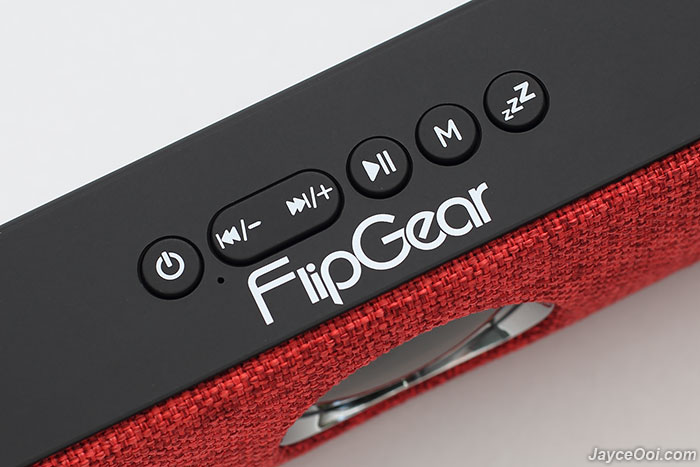 Solid buttons for you to navigate and control the soundbar easily. There is built-in microphone for phone call as well.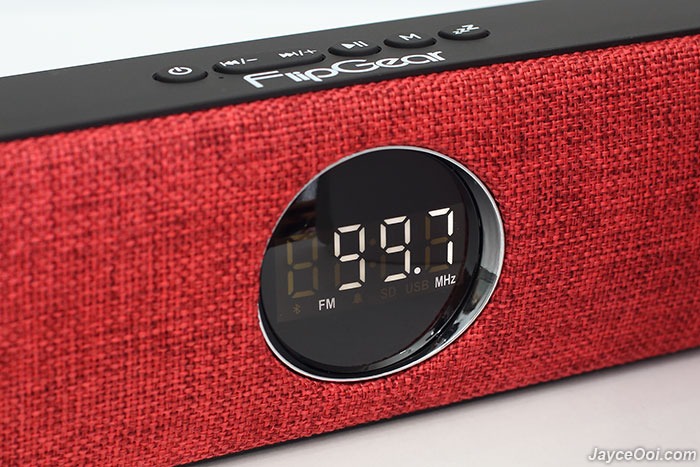 Big and clear LED display. Showing time by default. Useful to know which audio mode you are at currently.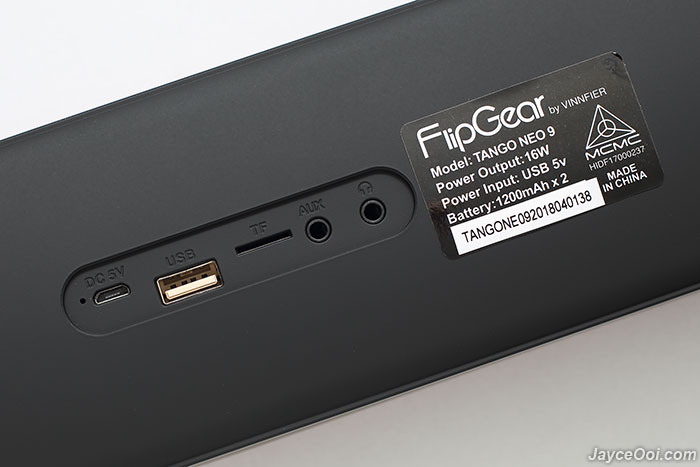 You can find the micro USB charging port at the back. In addition, USB port and micro SD slot for media source. AUX input and headphone jack are there too.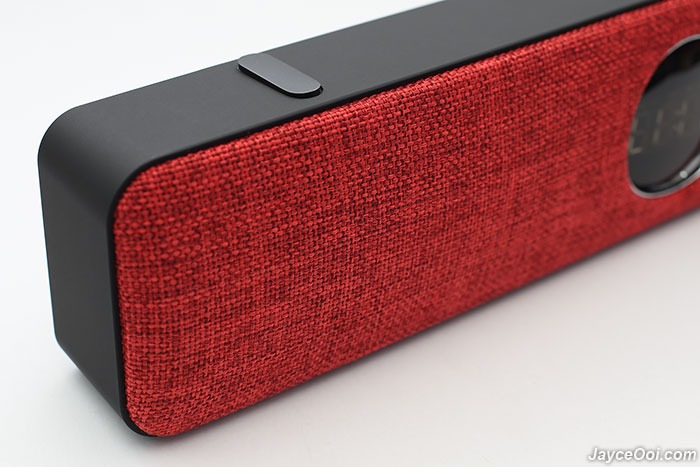 At bottom, there are 2 anti-skid pads. They provide excellent grip even small in size.
Performance Result
Outstanding Bluetooth wireless range. Yes, Tango Neo 9 exceeds the standard 10m Bluetooth range in straight sight line with no obstacle easily. And up to 8m with obstacle like wall. In addition, it has virtually no lag between video and audio. That's great to use it for movie and games on your mobile devices. As usual, AUX input is there for non-Bluetooth devices.
8 hours non-stop music playback is what I get from its 2400mAh lithium battery. As usual, tests were done with average room sound level. And battery life will be shorter when play louder at maximum level. For self-charging, it takes around 4 hours plus to fully charge. Good news, it has battery life indicator on iOS and Android devices. Great to know when to recharge it.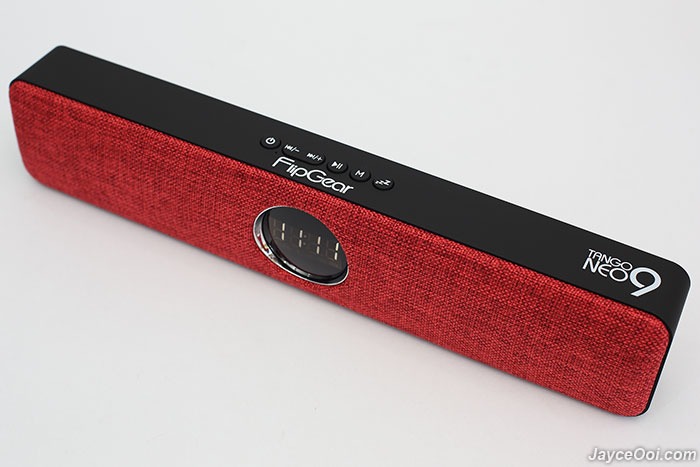 Tango Neo 9 will start to play music once plugged in micro SD card or USB flash drive. Breakpoint memory feature is supported. Great news! It supports FLAC audio format too on top of normal MP3. As for FM radio, reception is great and clear by the way even with internal antenna. Speakerphone call is great thanks sensitive mic. Lastly, don't forget the useful alarm function and clock.
As for sound quality, Tango Neo 9 is a V shape toward bright sound signature soundbar. Enjoy clear and crisp treble. And decent bass thanks to dual 50mm bass reflector. Of course, you can't compare it to dedicated subwoofer. Vocals are nice and clear as well. Furthermore, it has enough power to blast in a big living room. Overall, I am impressed by its sound quality as a portable soundbar. Surely exceeded the price that you paid.
Advantages
Nice V shape sound quality
Built-in player (microSD & USB) & FM radio
Sensitive microphone
Excellent build quality
Light & portable
Stylish design
Limitations
Conclusion
Vinnfier FlipGear Tango Neo 9 is a nice and stylish Bluetooth soundbar that you don't want to miss. Loaded with lot of interesting and useful features. Great for mobile devices and desktop PC. Interested? Head to Vinnfier Website for details. Buy yours at Lazada.