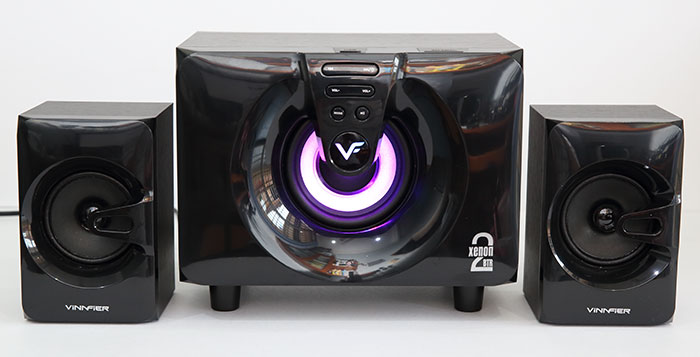 Introduction
Looking for a budget 2.1 speaker system that sounds great? I have one for you – Vinnfier Xenon 2 BTR. It is loaded with 34W total power (RMS), Bluetooth, FM radio, MP3 player, remote control and colourful Pulsating LED. Does it really sound great with 22W subwoofer + 12W satellite speakers? Let's find out together…
Special Thanks
This review is possible thanks to below companies. Be sure to check them out…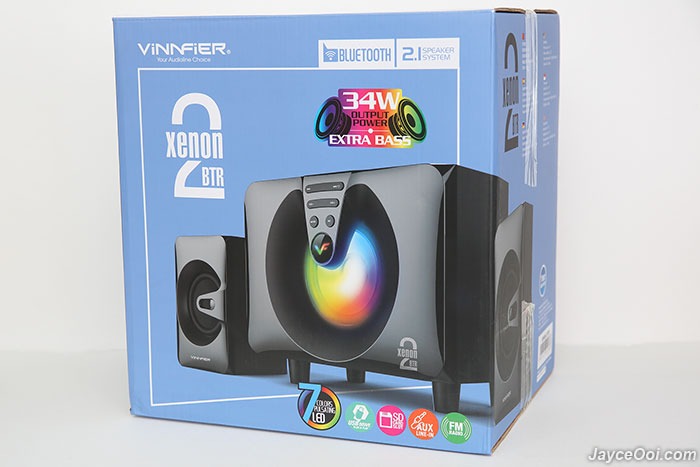 Package Content & Design
Vinnfier Xenon 2 BTR comes well protected just like other Vinnfier products. Once taken out the speaker, there are 3.5mm AUX to RCA audio cable, IR remote control and user manual. As usual, do go through the guide to get started.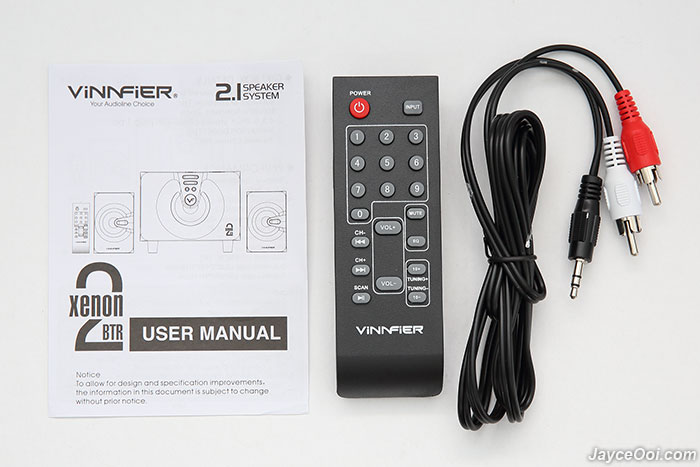 Build quality is great for the price. Thanks to tough wooden cabinet for both subwoofer and satellite speakers. The front part is glossy plastic as you can see. Do refer below photos for its design in details. A compact yet stylish in design. The colourful LED lights help no doubt.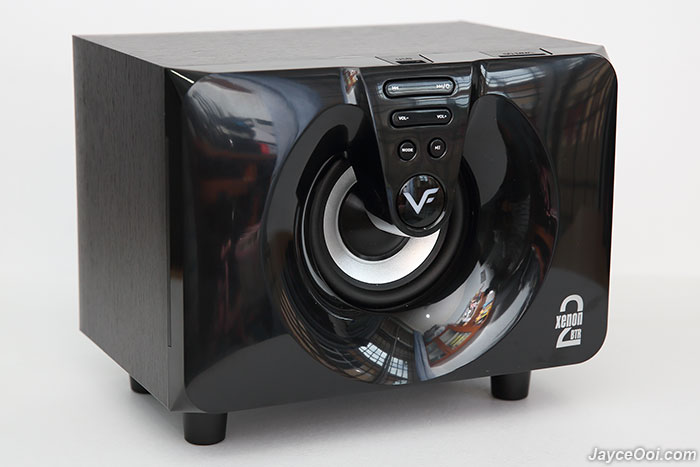 All the playback buttons are located in front. 4″ bass driver and LED lights are there too. SD slot and USB port on top by the way.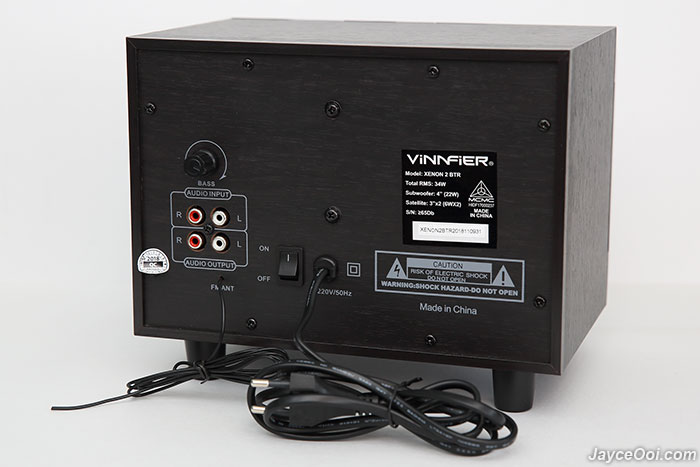 Audio input and output at the back. Same apply to bass volume control. No treble volume that I wish for can be found. Yes, there is an external FM antenna for you to get the best signal possible.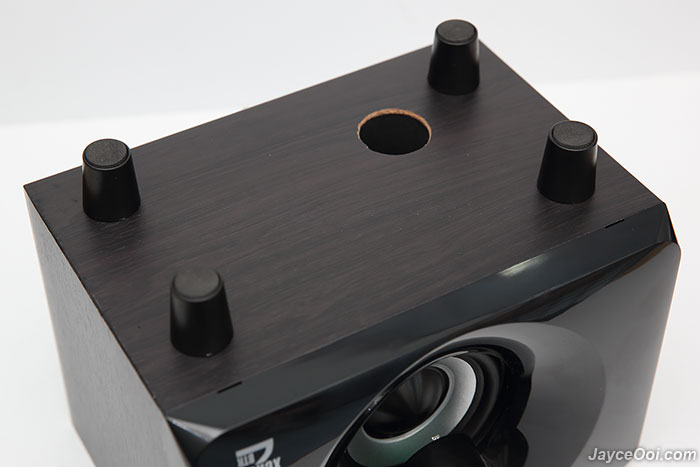 Bass reflex port is located below. Along with 4 long anti-skid stands to provide stability even on maximum volume output.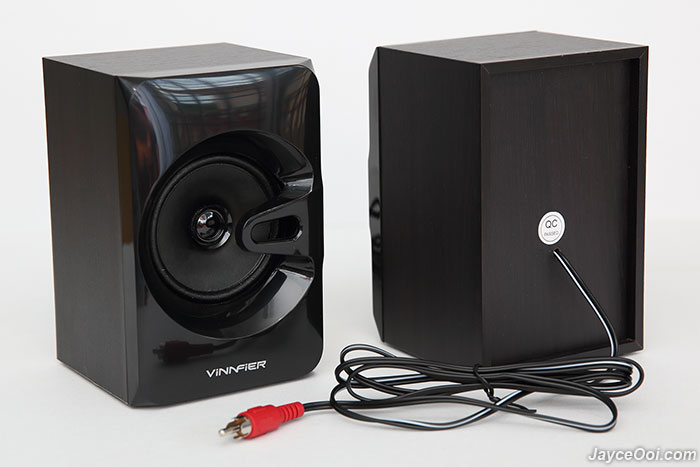 Lastly, these are the 3″ satellite speakers' driver.
Performance Result
34W total power (RMS) is good enough for blast in the large quiet room. The 22W subwoofer is a game changer even small in size. Yes, you can feel the bass pumping here and there. Powerful for its size. Surely brings a lot of excitements no matter in movie, games or music listening. Even with single bass volume control, you still can enjoy bright and clear treble out of the box. That's great! Personally, I turn up all the bass volume to max to enjoy. You should too.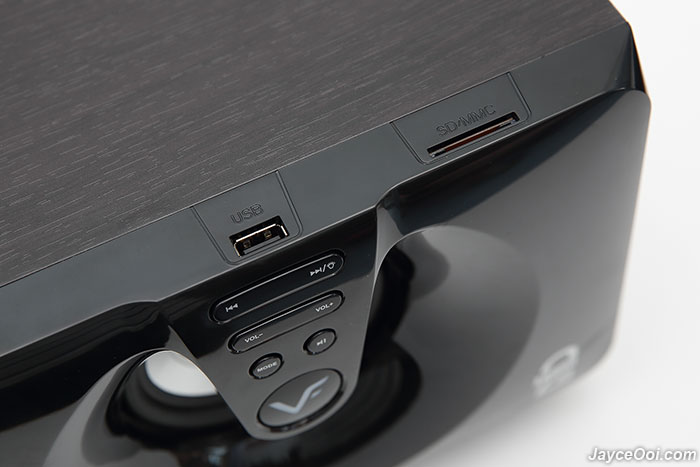 Bluetooth has virtual no lag between video and audio. Perfect for TV drama, movie and games no doubt. However, its range is average at best. Up to 6m with obstacles like wall. As long as you are in the same room with speaker, you are fine. Same apply to IR remote control range, up to 5m only. As for radio signal reception, it is great all thanks to the adjustable external antenna. Built-in MP3 player works as expected. It will start to play MP3 after SD card / USB flash drive is plugged in. Lastly, it can't remember the last used audio source and LED mode. Always start with AUX mode and LED light on.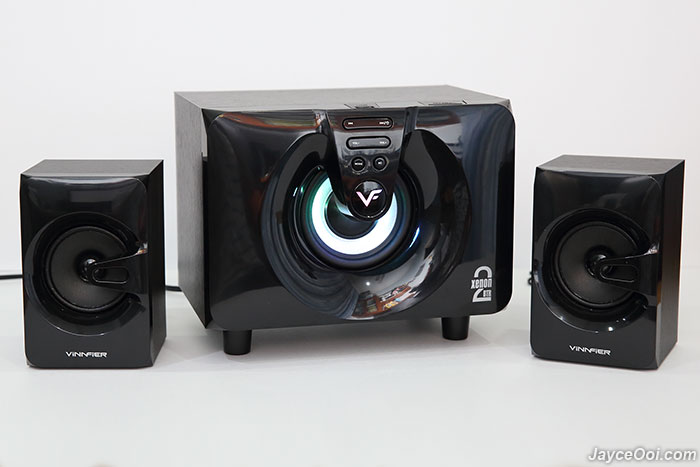 Advantages
Nice sound quality with amazing bass
Let's party all day long
Bluetooth, FM radio & MP3 player (SD & USB)
Nice LED effects
Limitations
Can't remember last used audio source
Single bass volume control
Conclusion
A budget 2.1 speaker system that sounds great!!! Yes, enjoy powerful bass with clear treble with Vinnfier Xenon 2 BTR. And other useful features like Bluetooth, FM radio, MP3 player and so on. Interested? Do visit Vinnfier Website for more information. And buy yours at Lazada now. For around RM100, you can't go wrong with it!