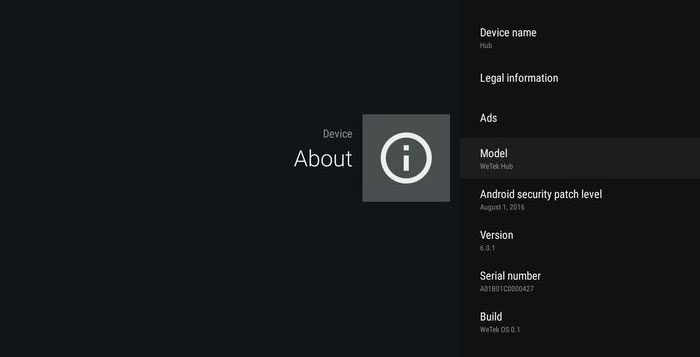 WeTek Hub is a solid and well performed Android TV Box. And it is highly maintained by WeTek support too. Therefore, there are several WeOS ROM available for you to download then. Or you can upgrade through Over-the-air programming (OTA) method too. Anyway, original firmware is used to downgrade or change back from custom ROM. Else OTA upgrade should fit the bill for most users out there. For example, if you don't like WeOS v2.0.1 due to slow performance, you can always downgrade back to WeOS v1.0.2. That's it. So far, there are 6 official ROM for Android 5.0 Lollipop. Android 6 Marshmallow is here too with latest Kodi 17 and support Netflix 4K…
Download WeTek Hub Stock ROM
Android 5.0 Lollipop
v1.0.1 – link
v1.0.2 – link
v1.0.3 – link
v2.0.1 – link
v2.0.2 – link
v2.0.3 – link
Android 6 Marshmallow
v3.0 – link
v3.1 – link
WeOS 1.0.1 Changelog:
Added Web Interface (Virtual RCU, Screenshot tool, HW and SW infos).
Added DLNA server.
Added support for more USB HID devices.
Fixed some minor bugs and improved user experience.
WeOS 1.0.2 Changelog:
VNC server (http://kanaka.github.io/noVNC/noVNC/vnc.html – Host: IP, Port: 5900)
Introduced new launcher features: Widgets, Bing wallpaper
Update WeTek Media Player to 16.1-Jarvis-WeTekMediaPlayer-v3
Update Kodi to Kodi v17.0 "Krypton" Alpha 2
New uboot to fix 4K resolution at LibreELEC and OpenELEC
Fix on the RAM management
Various fixes in Android and Kernel.
WeOS 2.0.1 Changelog:
Brand new launcher
Aptoide, largest independent Android app store
Multitasking app switcher
Web interface listening port changed to 8008
Language no longer changes inadvertently when connecting to HDMI-CEC
Removed FTP server and telnet.
WeOS v2.0.2 Changelog:
WeOS Launcher bug fixes
Bug fix for some streaming apps
Various fixes regarding system's performance and stability.
WeOS 3.1 Changelog:
Improved DRM playback
Improved 4K playback
Improved Auto refresh rate system for Kodi
Update WeOSLauncher
Update WeTekSetupWizard
Update Kodi to 17.3
Update Aptoide
Update Google Apps
Update file manager