Honda City is my new ride. It is a Honda City 2009 Grade E model in Malaysia. It has 5-speed automatic transmission and using 1.5-litre i-VTEC engine. The fuel consumption should be better than 4-speed automatic transmission car, right? Let's check it out…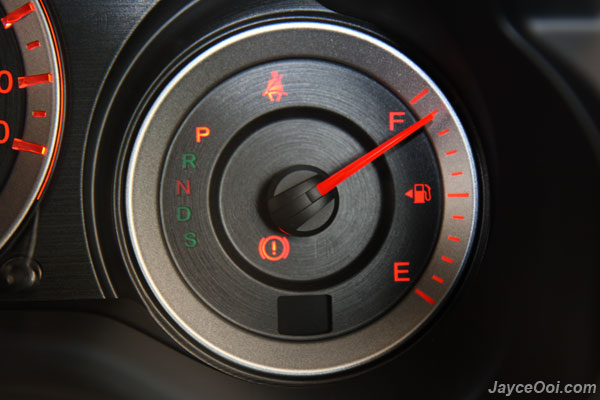 Honda City 2009 Grade E has 42 litre fuel tank capacity. And the low fuel alert will be prompted when fuel level reach the last half block. During that time, it still has 7.9 litre left in the tank.
I filled up 32.43 litre with RM60.00 (RON95 @ RM1.85 per litre) on Petronas Primax 95. It managed to fill up 402 km distant that I travel (80% city and 20% highway drive). Note – I reset the trip meter every time I fill up the petrol. So that I can calculate the accurate fuel consumption on Honda City.
402 km / 32.43 litre = 12.39 km/l
Honda City's speedometer can display the fuel consumption based on the style of your driving (fast or slow). Just like above photo, system shows that the fuel consumption is 12.1 km/l on my current driving style.
My Honda City is still below 1000 km mileage. Will update again when it passes 1000 km and 5000 km mileage.