If you have been following my blog, you will know that I got a lot of stuffs from GearBest. So what not create a guide to show you all – How to buy GearBest products from Malaysia? In short, it is as simple as ABC. Not to worry about custom tax and SIRIM AP permit when online shopping at GearBest too. And it is perfectly safe to buy electronic gadgets like smartphone, tablet from GearBest thanks to their great warranty and return policy. Furthermore, shipping from China to Malaysia is fast – around 1 week only. Interested to buy stuff from GearBest? Read on then…
How to buy GearBest products from Malaysia? First of all, you need to create an account there. And do have PayPal account ready too. You can add credit card, debit card or even transfer money from RHB bank to PayPal account directly. It's great that GearBest uses PayPal because PayPal has Buyer Protection that covers most online purchases. Yup, worry free with PayPal as your backup.
Why buy from GearBest? GearBest has the best price for all the electronic gadgets during promotion. Take one of my buying experience as example. I managed to bought Xiaomi Mi 6 smartphone at $369.99 + insurance $8.40 = $378.39. Great deal indeed even lower than original China selling price – 2499 RMB (~$381.70).
100% risk-free warranty. GearBest provides 7 Day Dead on Arrival (DOA) Guarantee (link). If item arrives damaged or is not working, they will send you a new item free of charge (reimburse the return shipping cost too), or provide a full refund. And there is the usual One Year Repair Warranty as well.
How to avoid custom tax and SIRIM AP permit? In short, stay away from big courier services like DHL, UPS, FedEx and you will be fine. Any other smaller shipper/forwarder will do (eg, EMS). For Malaysia, GearBest provides free shipping through Priority Line – SEA Express most of the time. Use that and you should be safe. At least for all my cases…
How long will it take to arrive Malaysia? For in stock product, around 1 week. GearBest uses Kerry Express / ABX to ship usually (City-Link Express sometime). You can track through Kerry Website. And much more details one with ABX Website when reached ABX warehouse at Malaysia. Take a look on below example.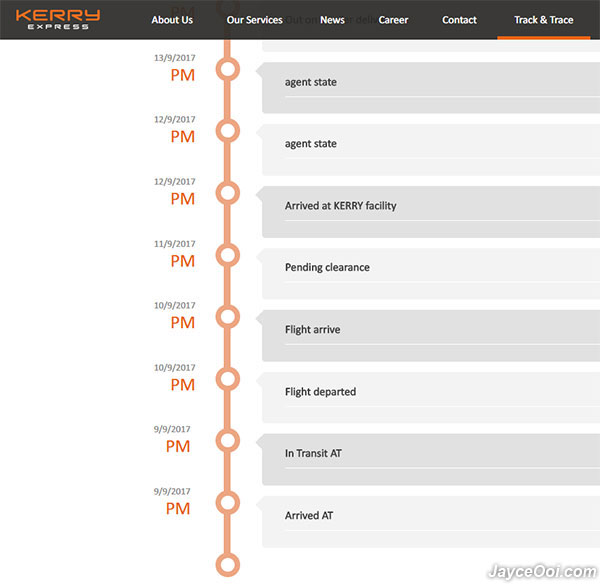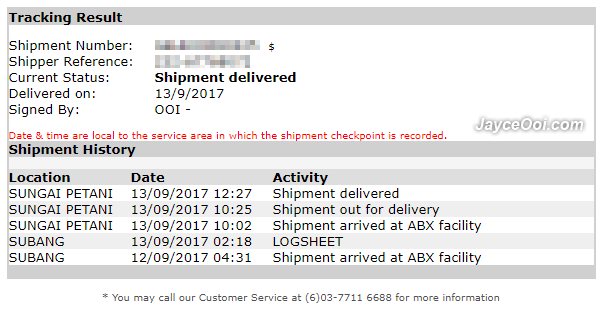 I ordered Xiaomi Mi 6 at 6th Sept. And it arrived at my doorstep on 13th Sept. 1 week in total. Fast or not? You tell me…
That's it. Be sure to visit my blog / Facebook frequently to get the latest discount code / best deals. What are you waiting for? Head to GearBest Website and buy your stuffs now!