Introduction
Yeah… There is a power bank that can fully charge my iPad finally. Yes, it is 20000mAh Kmashi MP828 External Battery Power Bank. It uses 26650 lithium battery that can hold up to 1000 times charge and discharge cycle. And provide high safety with intelligent circuit, full short-circuit, over-current, over-voltage and over-temperature protection. Besides, it supports ultra-fast input charging with 5A wall adapter. Sound good? Let's check out its real world performance…
Specifications
Capacity : 20000mAh / 73.3Wh~74.7Wh
Input1 : DC 5V/5Amp (wall charger included)
Input2 : Micro USB 5V/2Amp
Output1 : 5V/1A
Output2 : 5V/2.1A
Size : 161x63x28mm
Weight : 450g
Warranty : 1 Year
Package Content & Design
There is Kmashi MP828 power bank, micro USB cable, wall adapter and user guide in the package. Kmashi MP828 itself is like long chocolate bar. Yummy… Yes, all my mobile devices want to have its battery juice. By the way, it is coated with soft touch rubber and sides of the unit are rounded to make it which makes it easy to hold and nice to touch. And premium material is used to ensure lightweight and durability. All the stuffs like power button, LED lights, power inputs and USB outputs are located on the left part. The LED lights will show the remaining power once you pressed the power button.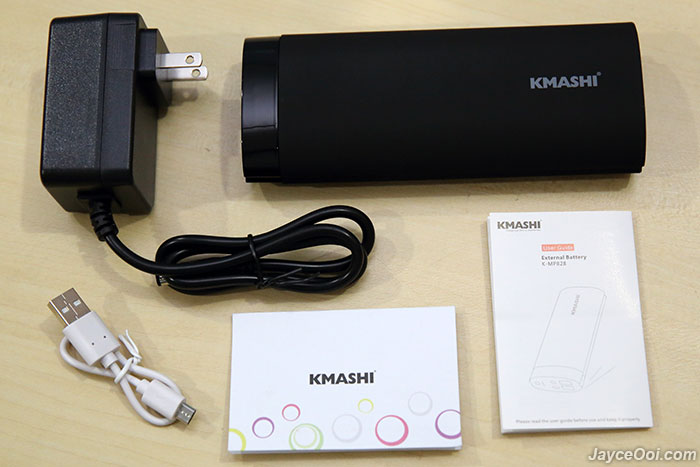 Performance Result
Wow!!! Kmashi MP828 power bank has total effective power supply of 13880mAh based USB voltmeter reading. That's around 70% efficiency. Great job indeed. Based on the mobile devices I have – Nexus 4 (2100mAh), Galaxy S4 (2600mAh), Nexus 7 2013 (3950mAh) and iPad 3 (11,560mAh). It can fully charge Nexus 4 for 6.7 times, Galaxy S4 for 5.4 times, Nexus 7 (2013) for 3.5 times and iPad 3 for 1.2 times. Yes, it is the only power bank in my house that can fully change an iPad, 3 times on smaller tablet and more than 5 times on most of the smartphones out there. A perfect power bank to carry during outing for days where you can't find any power source. By the way, I noticed that Output1 can supply more than 1A just like Output2 (when only Output1 is used). However, it will reduce to 1A when Output2 is been used.
How does Kmashi MP828 power bank perform on latest smartphones? Let's have a look on Galaxy S6 (2550mAh), Samsung Galaxy Note 5 (3000mAh), iPhone 6S (1715mAh) and iPhone 6S Plus (2915mAh).
Galaxy S6 – 5.5 charges
Galaxy Note 5 – 4.7 charges
iPhone 6S – 8.2 charges
iPhone 6S Plus – 4.8 charges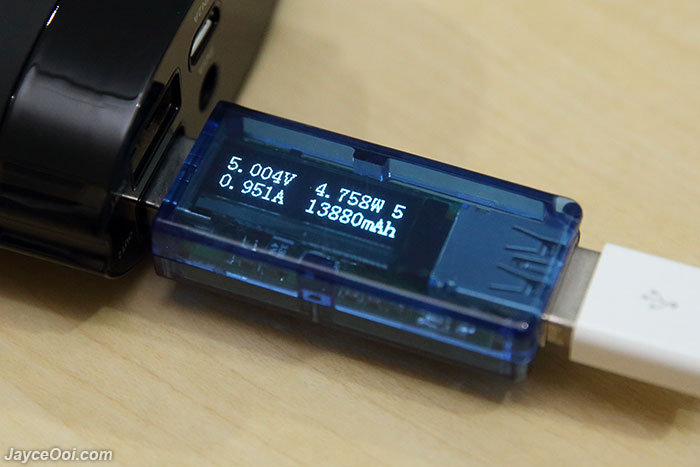 Seriously, Kmashi MP828 performs really well here. And it can be fully charged within 5 hours and 30 minutes with 5A wall adapter. That's 20000mAh I am talking about. It will take more than half a day for fully charge with normal 2A USB adapter.
Note – This power bank had been gone through 5 charge and discharge cycles to get accurate data and prove its stability. Yup, it passed flawlessly…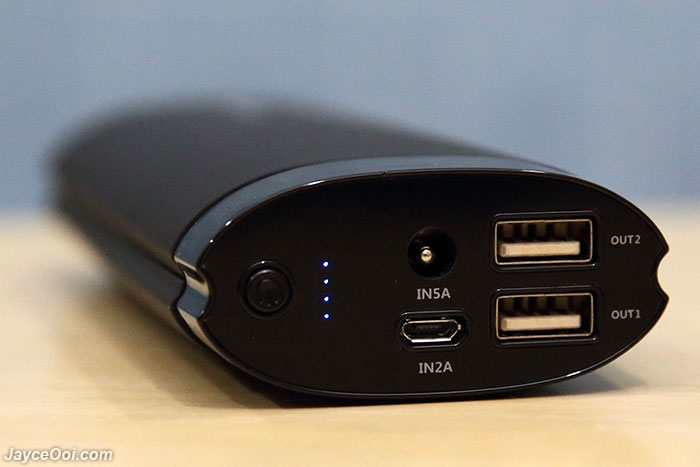 Advantages
Enormous battery capacity
Can fully charge iPad
Extremely fast input charging
Dual ports support
Limitations
Conclusion
Look no further, 20000mAh Kmashi MP828 is the one for you if biggest capacity power bank is what you need. Equipped with ultra-fast input charging with 5A wall adapter. You can't go wrong at this price point. Get yours here now.