Introduction
Hey guys, check out my latest USB flash drive. Unlike normal ones, it has wireless ability that let multiple devices to access at the same time. Yup, you can share photos, music and videos with your best friends through wireless no matter they are using iOS, Android or Windows mobile devices. And it works even without Internet. A nice gadget to keep them entertained on a long trip, right? Besides can be used to free up your phone and tablet disk space, it can backup your precious photos and videos automatically too. Sound great? Let's have a detailed look on it then…
Features
Connect without wires or the Internet
Wireless save and access all your stuff
Share with all your best friends
Stream videos to up to 3 devices at the same time
Free up phone / tablet memory
Automatically backup photos and videos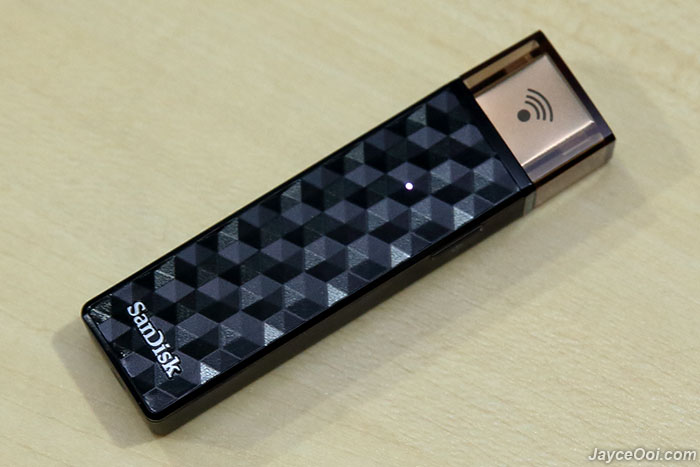 Package Content & Design
There is only SanDisk Connect Wireless Stick in the package, right? Nope, there is a Getting Started Guide in multiple languages included too (soft copy is included in the stick too). Just enough for you to get started. You can learn more about it through SanDisk Connect Drive application or download user manual online for both iOS and Android later. SanDisk Connect Wireless Stick itself is very stylish with diamond design in front. Its size is just slightly bigger than normal USB flash drive. The USB connector cap with wireless logo on top while SanDisk at the bottom. The status LED light is right below the cap. It is very bright and viewable from multiple angles. Power button is located at the right. And lanyard slot for strap is located at bottom back.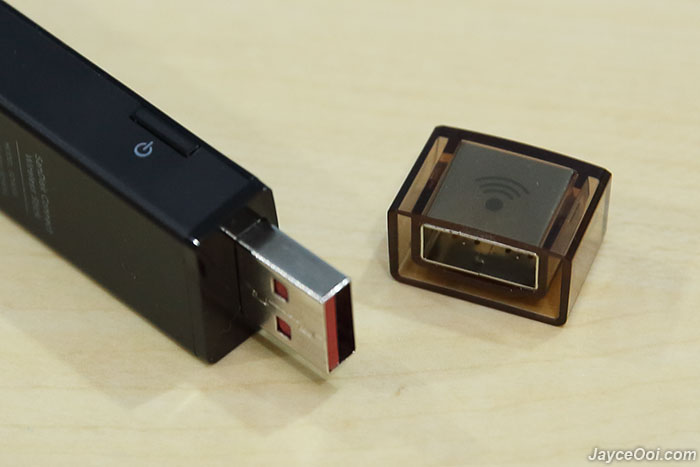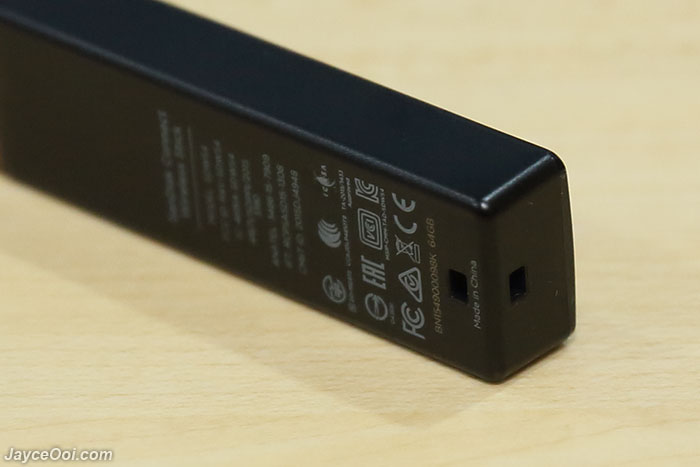 Specifications
Capacities: 16GB, 32GB, 64GB, 128GB, 200GB
Form factor: USB flash drive
Charging: USB port for charging, up to 2 hours for a full charge; up to 4.5 hours of continuous usage
Connection: 802.11n 2.4GHz Wi-Fi and USB 2.0
Mobile device: iOS version 8.0 or higher, Android version 4.2 or higher
Wi-Fi enabled devices: Web browser
PC or Mac computer: Windows 8, Windows 7, Windows 10, Windows Vista, or Mac OS 10.6 or higher
Security: Optional Wi-Fi password protection
Maximum File Size: Dimensions: 0.82 x 3.08 x 0.48 in. (20.83 x 78.21 x 12.19 mm)
Weight: 0.048 lb (21.76 grams)
Operating temperature: 32° – 113° F (0° – 45° C)
Storage temperature: -4° – 158° F (-20° – 70° C)
Warranty: 1-year limited warranty in US & Canada; 2-year warranty in EMEA & APAC
Software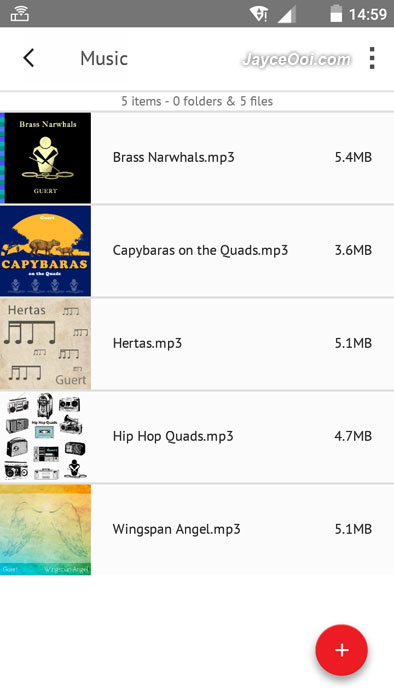 You use SanDisk Connect Wireless Stick as normal USB flash drive. Or install SanDisk Connect application from App Store, Play Store or Amazon Appstore to access files wirelessly. Yup, both iOS and Android mobile devices are supported. No worry, you also can access it with PC, Mac computer or other Wi-Fi enabled devices wirelessly too – through web browser. You can browse all your music, photos, videos and other documents through SanDisk Connect. Listen music with its built-in music player. Watch movie the same way too. Or enjoy all photos in slideshow mode. By the way, it is really simple to use SanDisk Connect Wireless Stick with Android devices. Just launch Connect Drive app and it will automatically connect to Wireless Stick's wireless network. iPhone and iPad will require you to connect to Wireless Stick first, then use the application. Yes, you can't access Internet anymore once connected. No worry, there is a way to access both Internet and Wireless Stick at the same time too. Just setup Wireless Stick to connect to your local Wi-Fi network will do. And mobile internet (LTE/4G) is supported for iOS devices too.
Gallery Auto-Backup is one of the best features. It will backup all your photos and videos in Gallery once connected with Wireless Stick. Never fear of losing these memories no matter happy or sad. A must to-do task as you never knows when your phone memory corrupted or lost. Therefore, always make a backup for fail-safe. 64GB will be more than enough to store all of them. Perfect for devices without expandable storage like microSD slot, right? You can share files from your Wireless Stick in many ways including Facebook, Twitter and others from within the app. And you can find out Wireless Stick battery life and disk space availability (your device too). Configure several stuffs through Settings like password to the drive, change its name, power saving timer and backup/restore phone contacts too.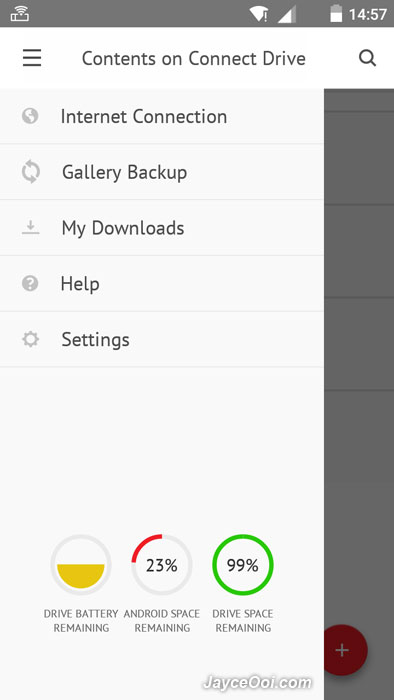 You can download and upload files with SanDisk Connect app. Windows PC can be done through USB. Wireless is supported as well but for download only. By the way, Wireless Stick supports WebDAV protocol. Therefore, all the WebDAV enabled applications will be able to connect to it. A little bit manual work is needed like settings up network connection. But it is totally worth it because I can use my favourite media center – Kodi to stream videos, music and photo. And streaming 1080p video is working flawlessly too. Much better as Kodi processing power and codec is superior than SanDisk Connect's built-in player.
Performance Result
SanDisk Connect Wireless Stick Wi-Fi coverage is great. It manages to give clear signal to all rooms in my double storey house. Have a look on below screenshot. I put Wireless Stick beside Asus RT-AC68U router at first floor. And it is just 10dBm different than normal Wi-Fi router with dedicated antenna at room ground floor. Rest assures that you will get fastest transfer speed as the coverage is wide. In addition, the connection is very stable. I did not encounter any dropout during 2 weeks of usage. It supports up to 65Mbps and Wi-Fi password protection (WPA2). No to worry that others will able to access your files without your permission. And it has more than enough processing power even with WPA2 enabled unlike average router which slow down to encrypt and decrypt WPA2 data. I did not notice any performance drop on Wireless Stick with WPA2 enabled. Therefore, be sure to enable WPA2 after using it.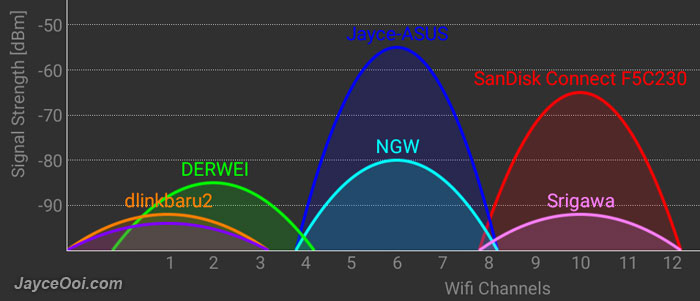 Wireless Stick's battery life is good too. Just like specs, I managed to get 4.5 hours while streaming 2.3 Mbps HD 720p video to one device. Full HD 1080p video streaming performs well here too but I only get 3 hours this round. How about playing FLAC music? 4 hours non-stop playback of 1 Mbps FLAC is what it can do. These are the result for output to 1 device. How about more devices? With the same 2.3 Mbps HD 720p video, Wireless Stick manages to last for 3 hours when streaming to 3 devices. Shorter than 1 device but allow your friends and families to enjoy 2 movies along the long trip back home. If really running out of battery, just plug it in any USB power adapter and continue to enjoy the show. Yes, you can use Wireless Stick all day long when it is plugged. Do take note – it will still get charged when connected to PC / notebook but wireless ability will be turned off as it turns into USB flash drive. No worry, you need 1 hour and a half to fully charge Wireless Stick (which has around 450 mAh battery size). Charging is fast, right? All in all, it is more than enough for normal daily use.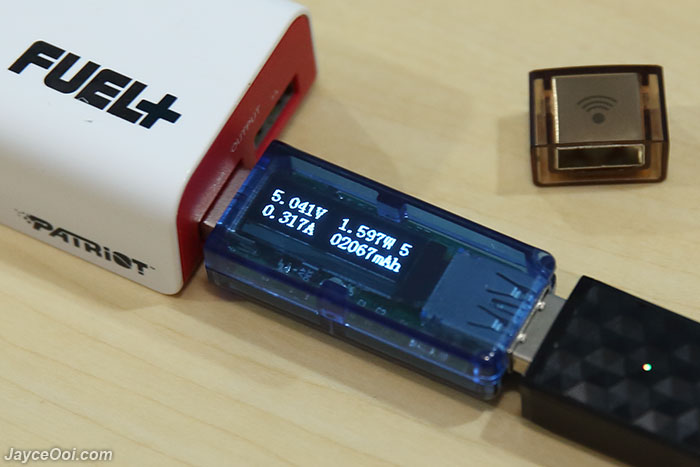 Wireless Stick is able simultaneously connect up to 8 devices. Too bad that I don't have that much devices to try it. But it does able to up to 6 devices that I have. This is where the place that HD video streaming started to struggle. So it is able to stream HD video to 5 devices and Full HD video to 3 devices smoothly at the same time. Tests were done by using Kodi media player by the way. Oh before I forget, no worry about file size limitation too. 64GB Wireless Stick is formatted as exFAT so that you can put file size as large as the drive itself. Yup, it will accept any file size.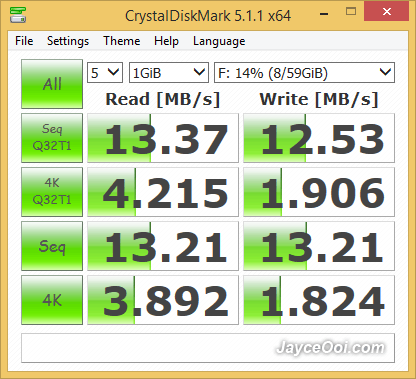 Hmm… Transfer rate is not Wireless Stick best department. With USB 2.0 connection, it manages to get 13 MB/s only for both write and read. And 3 MB/s on Wi-Fi connection. Guess that SanDisk is focusing more on multiple wireless connections support instead of faster transfer rate here.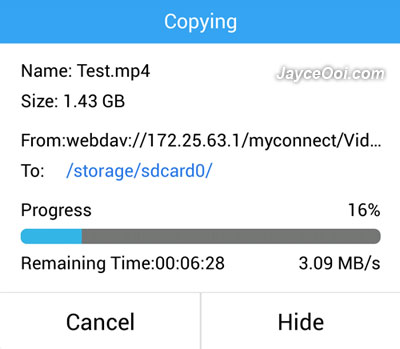 Complaints? Yes, there is one. Not sure it is SanDisk Connect app itself or iOS 8.4. I do face force close issue on iPad some time. Never face this kind of issue on Android as it is working properly and great.
Advantages
Stream HD videos up to 5 devices (with Kodi)
Great wireless range
Auto backup photos & videos
Fast charging
Multiple platform support
2 years warranty
Limitations
USB 2.0 transfer rate
Buggy iOS app / iOS 8.4 itself?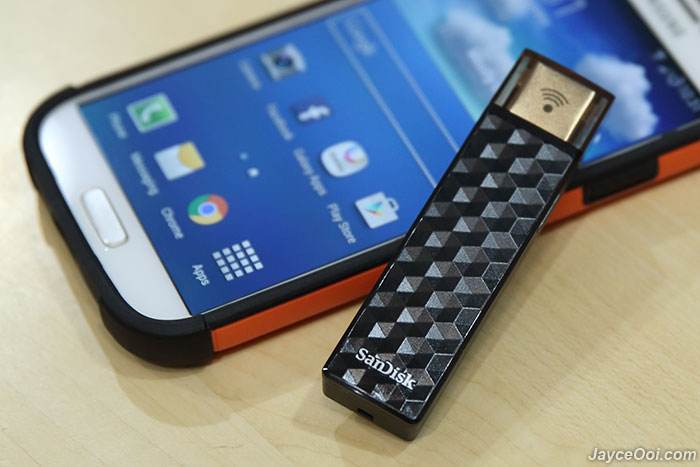 Conclusion
64GB SanDisk Connect Wireless Stick served me well during my 5 hours long trip from Kedah to KL last week. All my family members are entertained thanks to it. A nice device to free up your mobile device's disk space. Auto backup photos and videos feature will safeguard your precious memories. Still need more information, SanDisk website will be able to help you.