Introduction
Hey guys, meet this lightweight programmable 11-button gaming mouse from Kingston – HyperX Pulsefire Raid. It is powered by premium Pixart PMW3389 sensor that can go up to 16,000 DPI, 50G acceleration and 450 IPS. Loaded with reliable Omron switches and colourful RGB light effects. Don't forget the useful HyperX NGENUITY customization software too. Alright, let's have a closer look now…
Special Thanks
This review is possible thanks to below companies. Be sure to check them out…
HyperX for this HyperX Pulsefire Raid Lightweight Programmable 11-button Gaming Mouse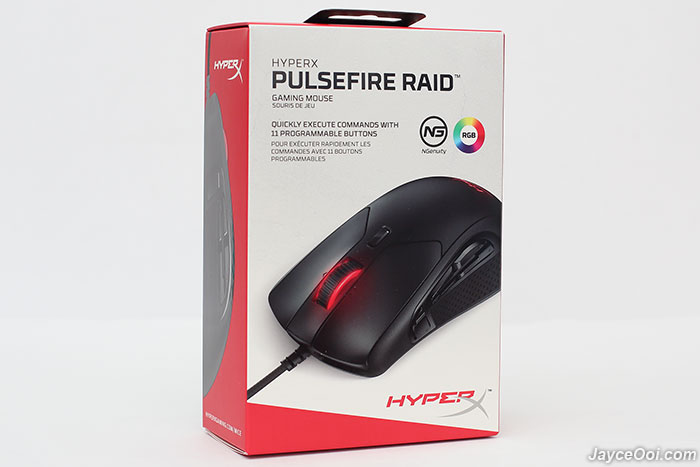 Package Content
Pulsefire Raid comes well-protected. Once opened, you can find the gaming mouse itself, support info card and multi-language quick start guide. That's all.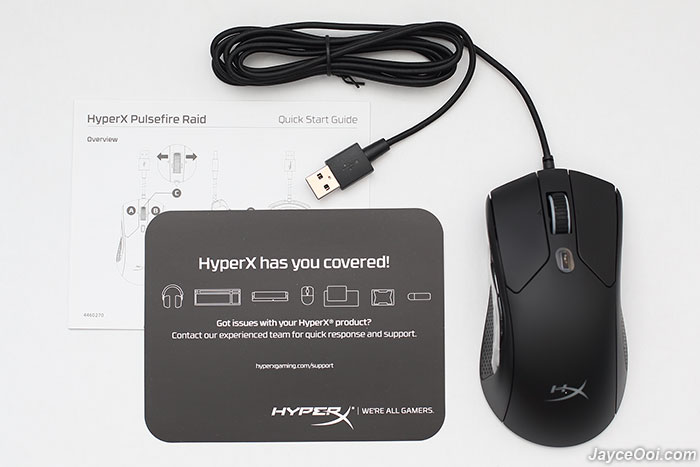 Design & Build Quality
Excellent build quality for the price. Solid plastic housing with smooth matte surface. Perfect for right-handed with great ergonomic. Medium in size that suitable for all grip types like fingertip, palm and claw styles. Every buttons and scroll wheel can be accessed easily. In addition, there are rubberize side grips for both left and right to give you better control of the mouse. 2 extra-large glide pads at the bottom. Finally, the long 1.8m braided cable that let you connect to desktop PC easily. As usual, do check out all the photos for details.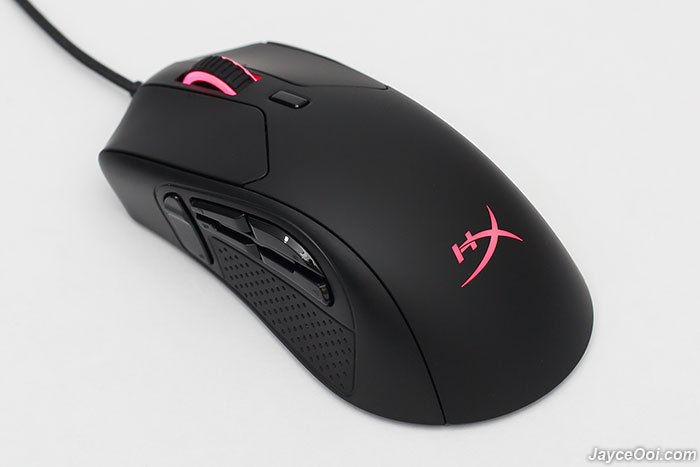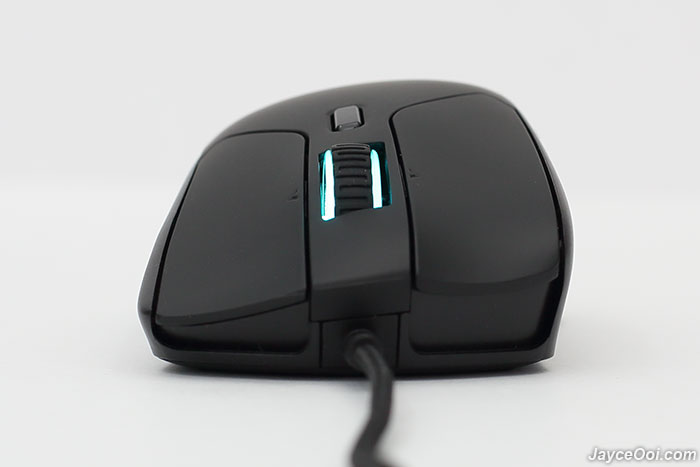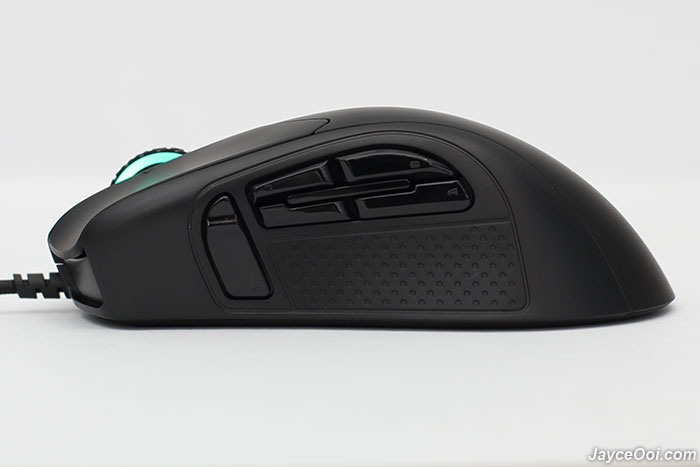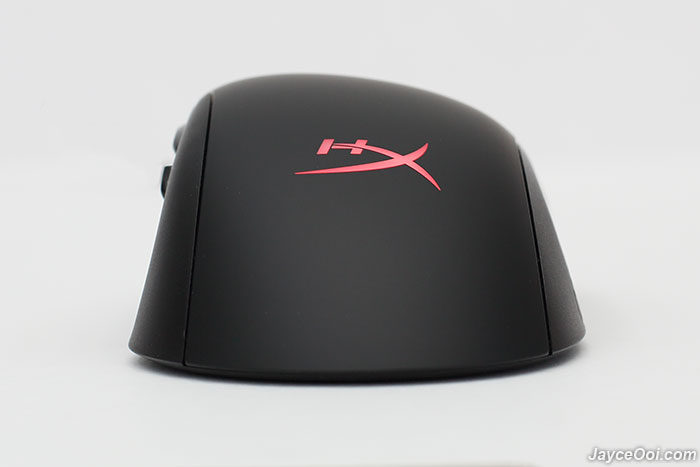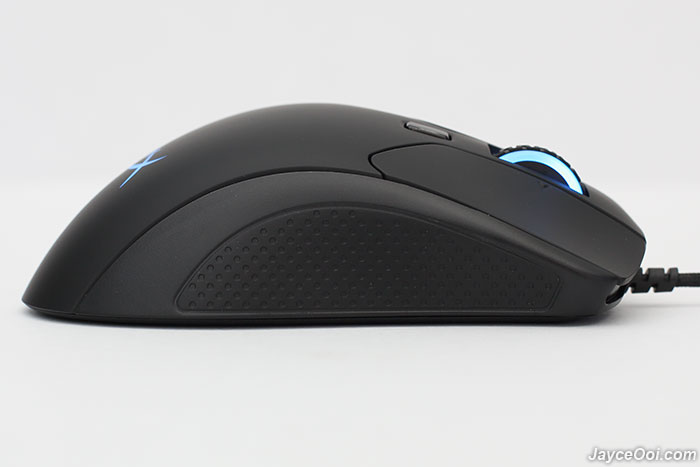 Software
You can start to use Pulsefire Raid directly without any software. With it, you can unlock all its features and functions. Setup the light effects that you love – solid, cycle, pulse or breathing. Set it at scroll wheel or HyperX logo only. Totally up to you. Animation speed can be adjusted too. Same apply to opacity.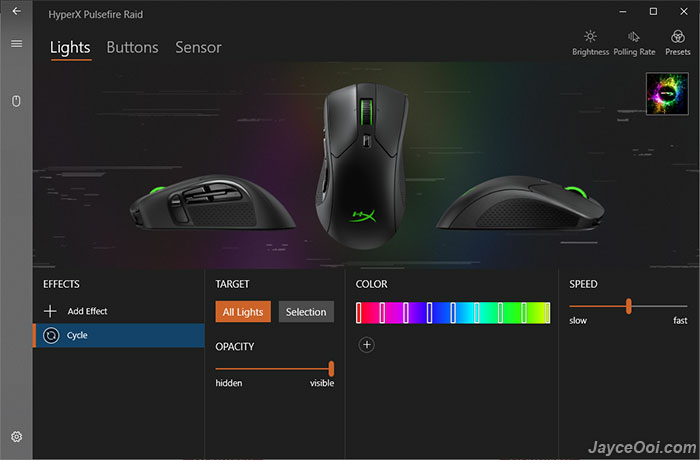 All 11 buttons are configurable. The main 2 left and right mouse buttons are limited to left or right click. The rest 9 buttons can be assigned to whatever macro, mouse/keyboard function, multimedia and Windows shortcut that you prefer.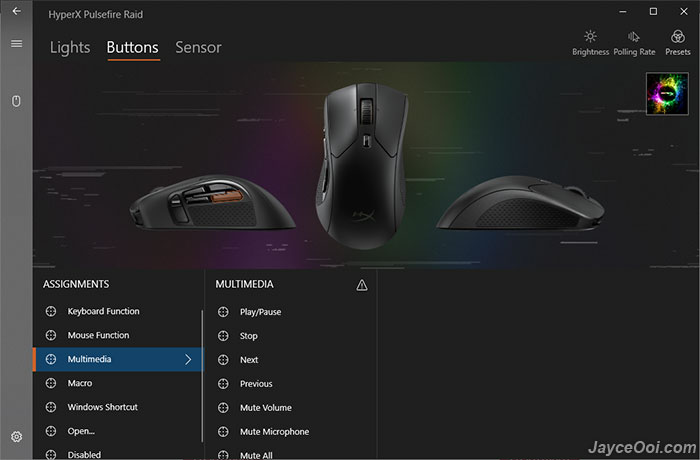 Lastly, DPI settings from 200 to 16000 DPI. Set minimum 1 DPI value and up to 5 maximum. And the preferred colour for each DPI value too. Highly flexible I must say. Lastly, you can set the polling rate like 125Hz, 250Hz, 500Hz or 1000HZ. Everything will be saved on the onboard memory in the end.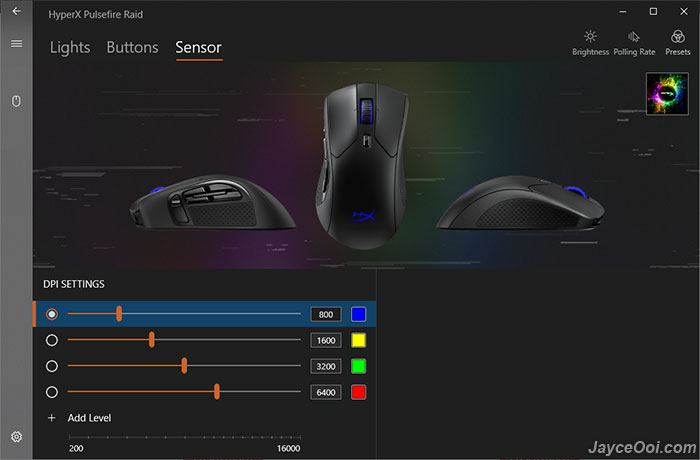 Performance Result
Outstanding optical performance is what you get from PixArt PMW3389 optical sensor. It is perfect for all type of games in the market. Accurate, fluid and responsive. It is working well on multiple surfaces including slightly shinny and reflective ones. The optical sensor is located at center of the mouse. That's great as no new learning curve is required. In addition, the Lift Off Distance (LOD) is very low. Mouse pointer stops moving once you lift up a bit only. That's great for FPS gaming no doubt. With the correct DPI settings, you can experience better gaming like never before.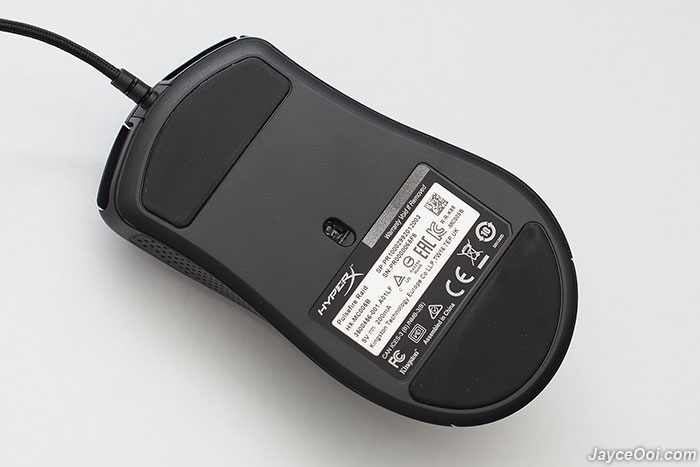 As for ergonomic, it fits perfectly well on my right hand. Best for medium to big size hand by the way. Buttons are responsive and feedback is good too thanks to durable OMRON switches. I like the main left and right buttons with split-button design. It will register button click no matter you where you clicked on it. Certain mouse only registers the top part of the button. Not for Pulsefire Raid. Yes, never miss any shot on the enemies from now on.
Scroll wheel has excellent grip and step control. Great for changing weapon correctly. Never face over or miss out issue. And won't mistaken click on the tilt wheel left/right click too. But it's not the best for website scrolling as you need to push some force there. Not a big deal since it's a gaming mouse after all.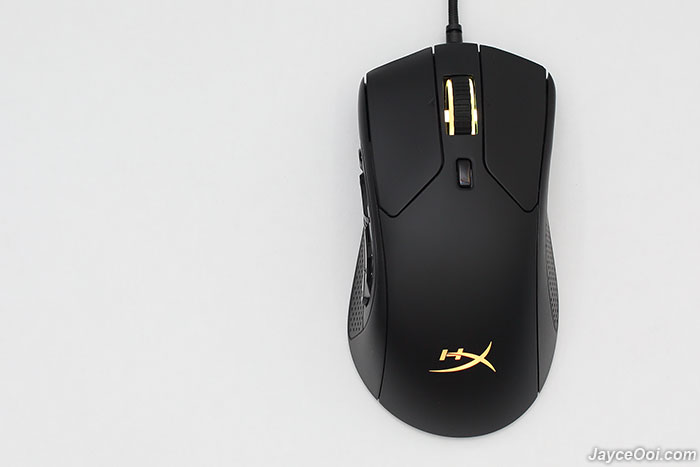 For the 5 side buttons, they get the jobs done once you are familiar with them. Just take your time to train your thumb and you are ready to rock the world.
Advantages
Outstanding optical performance
Excellent ergonomic for comfortable grip
Adjustable CPI values
Customizable keys & LED lights
Excellent build quality
Stylish design
Limitations
Conclusion
HyperX Pulsefire Raid is one of the best gaming mice that you can find at RM200. Period. Enjoy accurate and responsive PMW3389 optical sensor. Up to 11 customizable buttons that suitable for most of the games out there. Wait no more and get yours at Lazada or Amazon. Enjoy better gaming now…