Hard disk drive diagnostic utility ~ a tool to check your hard drive for any manufactured defect. It is useful for home user to check their hard drive before sending to manufacturer for a new good replaced hard drive. Every hard drive manufacturer has their own diagnostic utility to check faulty hard drive. And here is the one for Samsung Hard Disk Drive ~ ES-Tool.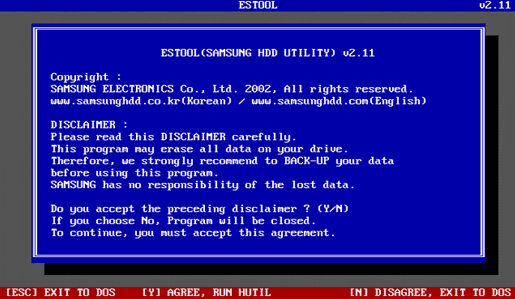 ES-Tool Functions
DRIVE DIAGNOSTIC
LOW LEVEL FORMAT
SET MAX ADDRESS
SET MAX UDMA MODE
AAM MODE (Automatic Acoustic Management)
LBA MODE
ENABLE SMART
DISABLE SMART
INFORMATION
AUTO DETECT
ABOUT ESTOOL
EXIT TO DOS
ES-Tool can test a drive solely manufactured by Samsung. And it is a DOS based utility. So you need to have bootable 1.44-MB diskette or CD-ROM. Floppy drive is long gone by now. I still have issue to create a bootable USB Pen Drive. So the only way is use CD-ROM.
Download Samsung Hard Disk Drive Diagnostic Utility – ES-Tool CDROM and FDD.