Any XBMC Media Player fans here? XBMC 12 Frodo is here. XBMC is still the best video player for my budget Asus Eee PC 1215B netbook. It is perfect for AMD Fusion APU E450 CPU and Radeon HD 6320 GPU. And XBMC team supports Android platform officially in XBMC 12.0 – Frodo. Of course, there are other new features like HD audio support, h.264 10bit (aka Hi10P) video software decoding for anime in this release too.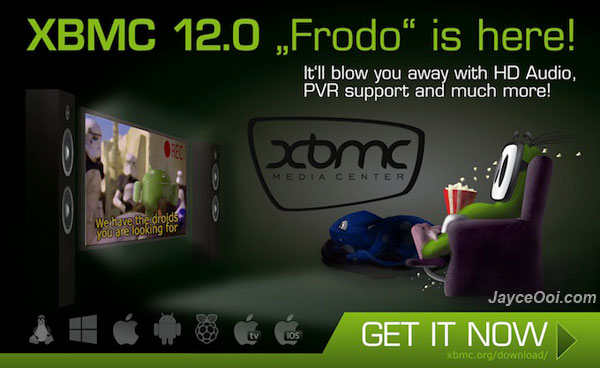 XBMC 12.0 Frodo Features
HD audio support, including DTS-MA and Dolby True-HD, via the new XBMC AudioEngine
Live TV and PVR support
h.264 10bit (aka Hi10P) video software decoding for anime
64bit support in OSX to match the 64bit support in Linux
Improved image support, allowing the database to accomodate numerous additional image types and more interesting and complex skins
Support for the Raspberry PI
Initial support for the Android platform
Improved AirPlay support across all platforms, including AirPlay audio in XBMC for Windows to match the other platforms
Improved controller support in Windows and Linux
Advanced Filtering in the library
Video library tags to complement movie sets
Advanced UPnP sharing
Default video languages now match the language being used by XBMC
Translations now powered by Transifex
Download XBMC 12.0 – Frodo Free Media Player here.