Introduction
With just one click, connect all your home stereo and stream music anywhere anytime, for everyone! Yes, that's what Nexum TuneBox2 capable of. TuneBox2 is a Wi-Fi music receiver that makes listening to music smarter and let you enjoy brand new audio experience at home. It supports Airplay, DLNA and even Spotify Connect. By connect TuneBox2 to your high-end Hi-Fi stereo or portable speaker, you can enjoy streaming services like Spotify, Apple Music or Google Play Music through them wirelessly. Furthermore, it uses ESS 9023 DAC that support sample rate up to 24bit/192kHz. Besides, you can connect your existing CD, vinyl player and play the music to multiple TuneBox2s through party mode – all your speakers sing together. Interested? Stay with me to find out more…
Features
Smooth – Enjoying music without notification sounds
Smart – The unique Party hotkey: all your speakers sing together
Innovative – Stream traditional stereo and vinyl with ease
Simultaneous – Optical, coaxial, and analog output to any audio device
Crystal Clear – 24bit/192kHz quality for your picky ears
Awesome – Built-in SRC. 16bit/48kHz CD sound quality can be enhanced to 24bit/192kHz
Anything Goes – No need to change your habits regardless of which system you use
Powerful – Turns itself into a WiFi AP (802.11n)
Super Easy-to-use – Connect with WiFi to play music right away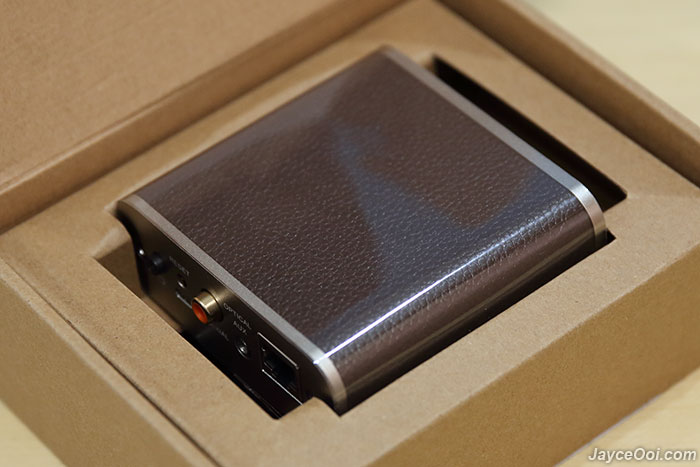 Package Content & Design
In the environment friendly package, you can find TubeBox2 itself, USB AC adaptor, micro USB cable for power, 3.5mm audio cable, 3.5mm to RCA audio cable and quick user guide. By the way, did I mention that there are 2 models of TuneBox2? Yup, there are TB20 and TB21. What's the difference between TB20 and TB21? TB20 supports digital output/coaxial audio output but no analog audio input. While TB21 supports 3.5mm cable audio input, which can be from your CD, vinyl player, and so forth. It has built-in ADC to accommodate analog input but with no digital audio output. Other than that, they are the same. Yes, TubeBox2 build quality is top notch thanks to highly protective with detailed cutting aluminium housing. And covered by durable, sturdy and not water-dissolvable leather cover. There are 4 round anti-skid pads at bottom to provide stability. In addition, the bundled cables are top in quality too.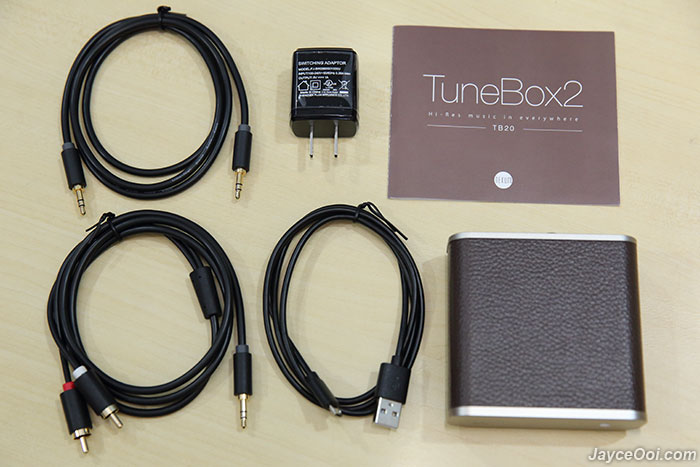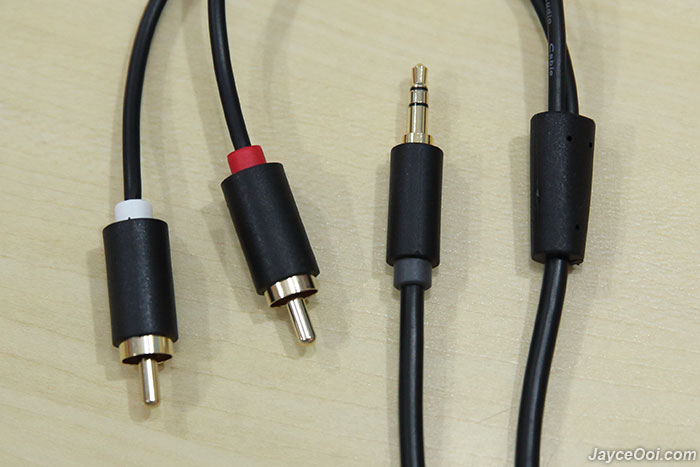 Both TB20 and TB21 have status LED light below NEXUM logo in the front. Party mode button at the right. TB21 has another toggle switch to select between AUX and NET. At the back, both TB20 and TB21 has power & reset buttons, micro USB power port, 3.5mm analog audio output and RJ-45 network port. TB21 has 3.5mm analog audio input while TB20 has digital optical AUX and coaxial audio outputs.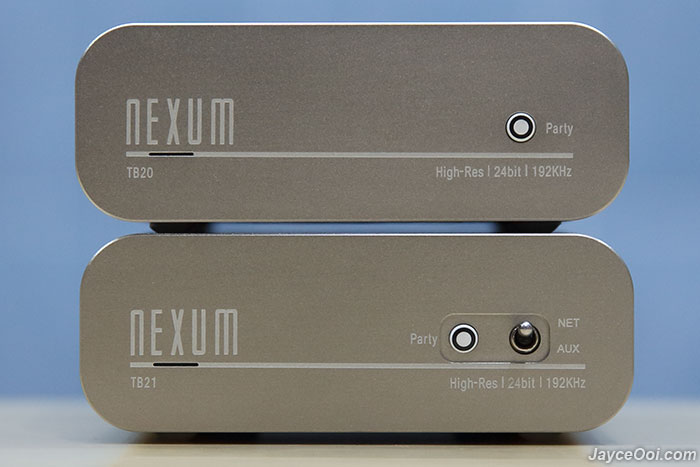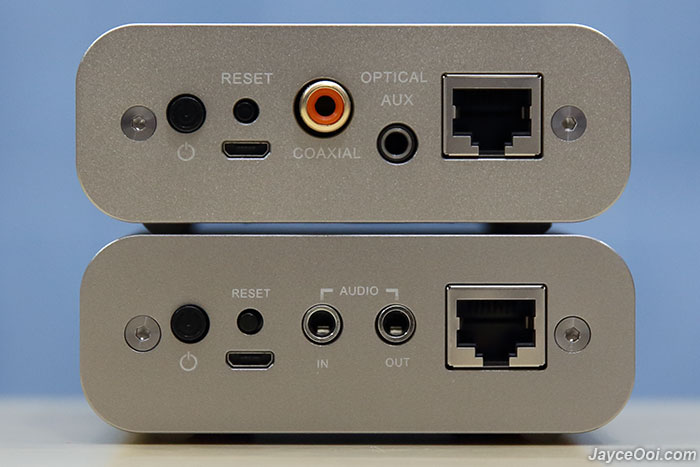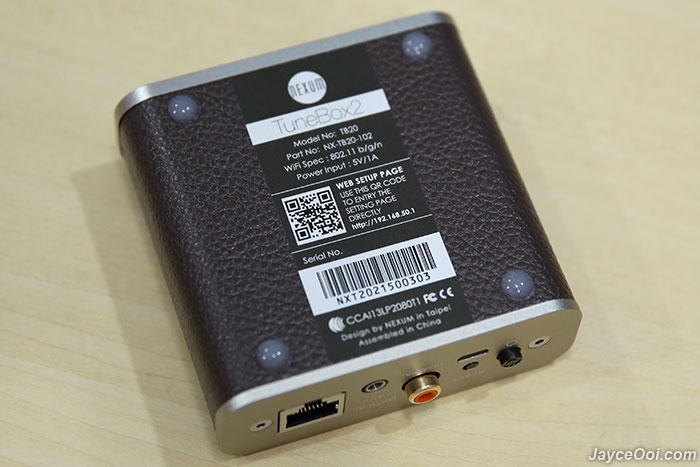 Specifications
Platform – iOS, Android, Mac & PC
Connectivity – AirPlay, DLNA, Spotify Connect
Format – MP3, AAC, WAV, WMA, M4A, FLAC…
Wi-Fi Protocol – 802.11 b / g / n @ 2.4 GHz
Wi-Fi Range – 50m / LOS
Audio Output – 3.5mm stereo (Both TB20, TB21), optical & coaxial (TB20 only)
Audio Input – 3.5mm stereo (TB21 only)
Power Supply – 5V – 1A (micro USB)
Size – 9 x 8.8 x 3.2 cm
Weight – 250g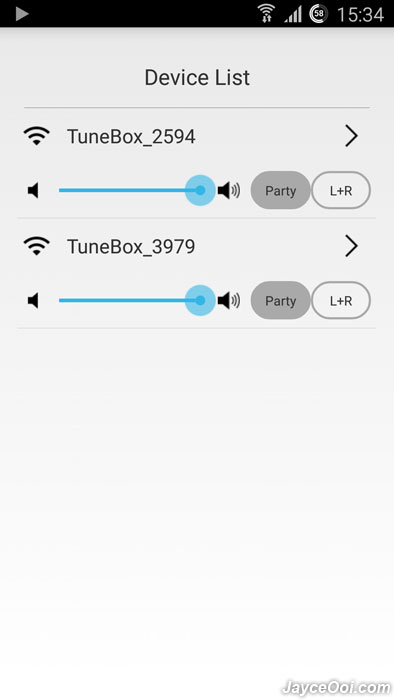 Software
You don't need to use any special application to use Nexum TuneBox2. Just connect to TuneBox2 Wi-Fi and start using it. Or use browser to expand its usability like enable client mode or AP mode. Check the system, Wi-Fi and TCP/IP information. Set your preference and do firmware upgrade as well. That's not all. With the Nexum application, you can do even more stuffs. The Nexum app is available on both iOS and Android platforms. Just search for 'nexum' at Play Store or App Store will do. Within the app, you can do all stuffs like browser. See all your TuneBox2s in a page. Enable party mode on the one that you prefer. Control the volume. And change the stereo left and right channel output as well. Yup, you can set one TuneBox to output right channel and another one for left. Or both left or right or stereo (default). By the way, you can rename your TuneBox2 from TuneBox_3979 to Living Room, Bedroom or Kitchen to match its location.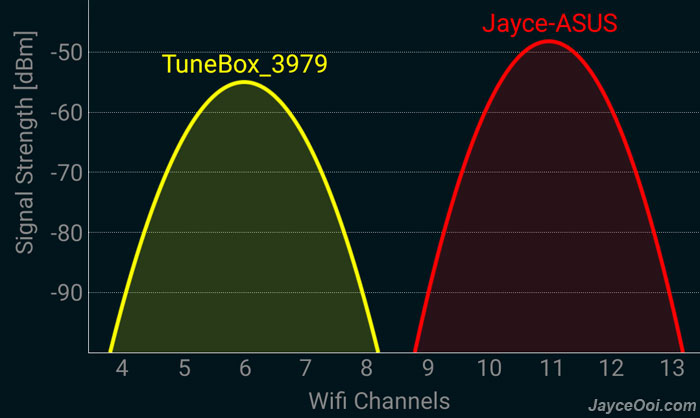 Performance Result
Nexum TuneBox2 Wi-Fi coverage is great. It manages to give clear signal to all rooms in my double storey house. Have a look on above screenshot. I put TuneBox2 beside Asus RT-AC68U router at first floor. And it is just around 10dBm different than normal Wi-Fi router with dedicated antenna at room ground floor. In addition, the connection is very stable. I did not encounter any dropout during 2 weeks of usage. It supports up to 72Mbps and Wi-Fi password protection (WPA2). No to worry that others will able to access it without your permission. Of course, this applies to direct and extend Wi-Fi AP mode. Note – you can't access Internet with direct mode. So here comes the recommended one – router mode. Basically, TuneBox2 will act as client and connect to your router. The router will become the middle man between your device and TuneBox2. You can surf Internet, access to your local NAS files or connect to other home network devices as usual. Too bad that extend Wi-Fi AP mode does not work well on firmwares that I have tested. Oh, I forgot to tell you, mine are pre-production units. And Nexum team is working hard to improve it day by day. So it will be perfect when it arrive at your doorstep.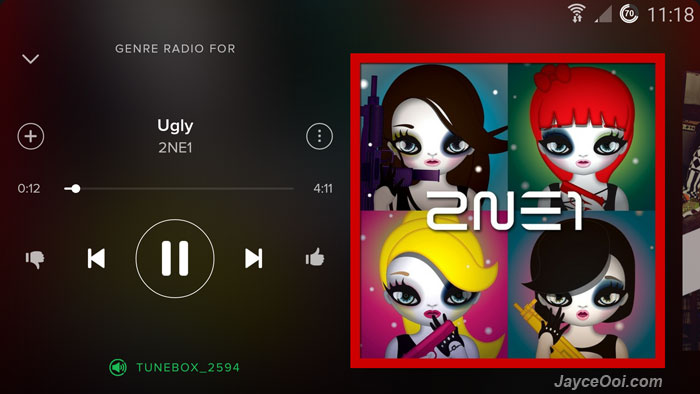 TuneBox2 supports AirPlay, DLNA and Spotify Connect. Basically, it turns your old speaker into a smart one. And it is using Wi-Fi connection which has better coverage and sound quality unlike Bluetooth (that compress audio data and have shorter range). Furthermore, you can enjoy favorite music without annoying notification sounds (which Bluetooth speaker does). And easier for friend and family to connect to it and play music. No need to pair and unpair manually like Bluetooth one. In addition, it supports all popular platforms like iOS, Android, Mac and PC. Yup, AirPlay is working great on iPhone and iPad. I can enjoy all my favourite music and videos through TuneBox2. The audio syncs with the video perfectly. As for DLNA, it is working well on Android devices and PC (through Net Audio – Wi-Fi sound card). However, audio does not sync with video (delay) due to Android and PC's limitation. And there is a weird bug on DLNA service currently too – DLNA service will auto turn off after 1 hour++ (Err… iOS wins this round). Finally, Spotify Connect that I love the most. Yes, I can enjoy non-stop Spotify music all day long. TuneBox2 will continue to play Spotify music even your device was turned off (as it fetches from Spotify server directly). Of course, TuneBox2 does not stop here. It supports other streaming music players like QQ Music, BubbleUPNP, KKBOX as well…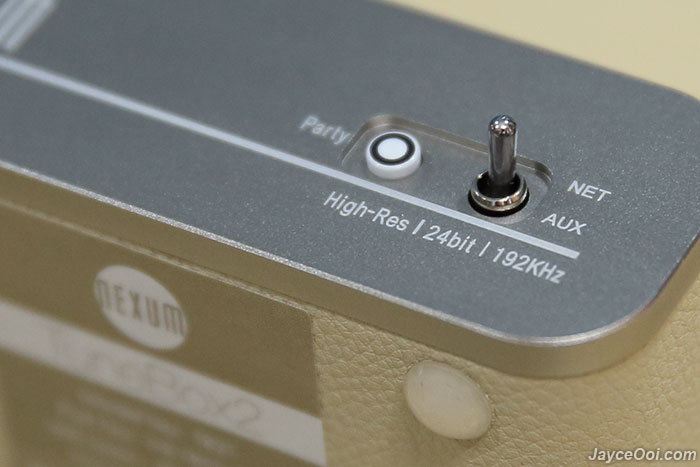 Let's party!!! That's where TuneBox2 really shines. It supports multi-room audio play up to 10 TuneBox2s. Just push the 'party' button and you're set, totally app-free. Play your favourite vinyl/CD music at living room, push the party button and you can enjoy it at bedroom with the very same button too (you can do so with Nexum App too). And they sync 100% simultaneous, not a slight delay at all. Too bad that I don't have the proper equipment to try out optical output as it supports 24bit/192kHz only. So I will update this portion later. How the audio quality? I won't cover it much because Nexum team is still optimizing it especially above 96kHz rate. So far it sounds good. And look forward for even better sound on future firmware (Yes, you can update TuneBox2 firmware through OTA just like smartphone).
Advantages
Let's party!!!
Support up to 24bit/192kHz
Stream vinyl/CD with ease
Wide Wi-Fi coverage
Multiple platform support
Excellent build quality
No notification sounds
Limitations
DLNA audio sync delay on video
Bugs flying around (currently)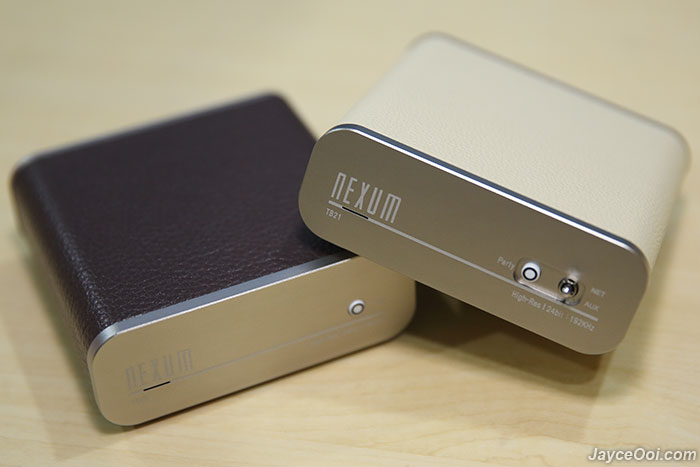 Conclusion
Nexum TuneBox2 lets you stream favourite music to high-end Hi-Fi stereo or portable speaker through Airplay, DLNA and Spotify Connect. As well as traditional CD, vinyl with ease. And link all your speakers with party mode. Furthermore, it supports up to 24bit/192kHz with ESS 9023 DAC. By the way, TuneBox2 is being funded at Indiegogo right now. Be sure to grab yours now with discount.