Have you buy anything online before? For me, I am a frequent online buyer. But some might not due to security concern. I can assure you that online shopping is perfectly safe (of course, this applies to high reputation shop like Vmall only). Furthermore, it is fast and easy. No need to drive so no traffic jam here and there. Yup, here is the parcel that I got from City-Link Express (Huawei Vmall appointed logistic partner). I believe you know what is in the parcel already by reading this article title. Okay, let's unbox Huawei Honor 5X…
I got mine the next day after payment was made. Yes, it is very fast as mine is part of Honor 5X End Consumer Trial Program. Normal one should arrive within 3 working days for Peninsular Malaysia and within 5 working days for East Malaysia. And you can pay with multiple methods like FPX, credit or debit card, Global Pay and MOLPay. And no worry about the shipping process as Honor smartphone is well protected. Lot of seals to prevent package being opened. Just don't sign if it arrived unsealed or with broken seal.
YES!!! I love 1 to 1 exchange warranty if anything wrong with my Honor smartphone on top of 1 year manufacturer warranty. The exchange can be done within 180 days from the date of receipt. And you will receive the replacement within 7 working days once the returned product reaches Huawei Honor warehouse (of course, this will depend on stock availability).
Honor 5X comes with bright sky blue box with seals. Once opened, you can see Honor 5X is protected with plastic cover. There are 1A AC charger, USB cable, SIM slot pin, quick start guide and warranty card in the package. All of them come in good shape as they are well protected with bubble wrap and foam in the package all the time during shipping.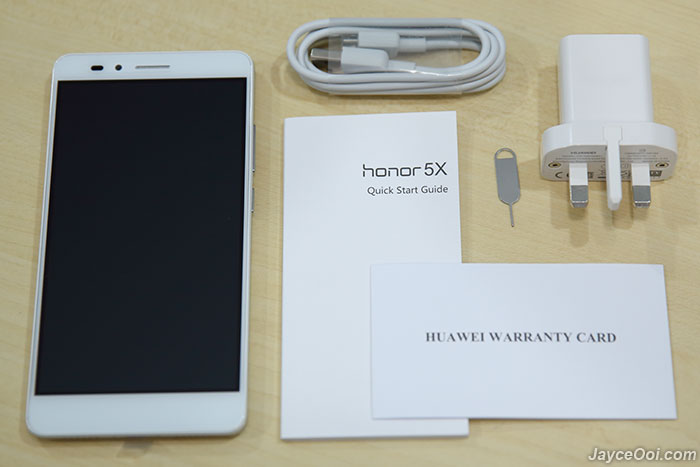 Honor 5X comes with pre-applied screen protector. And it applied very well with no air bubble at all. I did not notice it at all until I found there is an opening at front camera. I am not a screen protector lover. Don't apply screen protector usually. But this quality screen protector does not affect the gorgeous colourful and vivid 5.5″ IPS screen. I will just leave it there (for now).
The back of Honor 5X is covered with plastic with lot of parts' descriptions like where is the slot for micro SIM, nano SIM and microSD cards. Both IMEI numbers are there too. By the way, there are openings on back camera, fingerprint sensor, USB port, mic and speaker so that you use it straight away. Believe it or not, I use my Honor 5X with back plastic cover attached at the very first day. Too precious of it and don't want to tear it off to protect it fully.
Well, that's it for now. At first impression, I love Honor 5X aluminum alloy body and its fingerprint sensor is very useful. It totally change the way I use smartphone. Lastly, the gorgeous 5.5 Full HD IPS display makes me want to turn on it more (to play games of course).
Continue on The beauty of Honor 5X