Introduction
Don't drive and talk on your cell phone. Yup, we need to be careful all the time. But I don't like to wear Bluetooth Headset while driving as I don't receive much call. What should I do? NoiseHush N650 Solar Bluetooth Car Kit is the solution for you and me. Let's check out the review…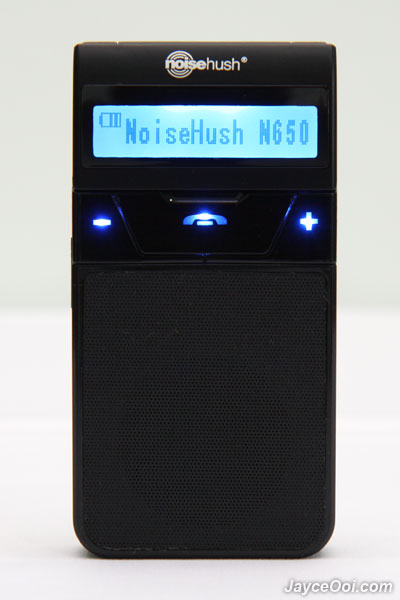 NoiseHush N650 Solar Bluetooth Car Kit
NoiseHush N650 Features
Unlimited Talk Time
Optimized Sound Quality with DSP
Adjustable LCD Screen
ECO-Friendly
No Tools Required
Easy Install
Includes USB & Car Charger
Charged & Ready to Go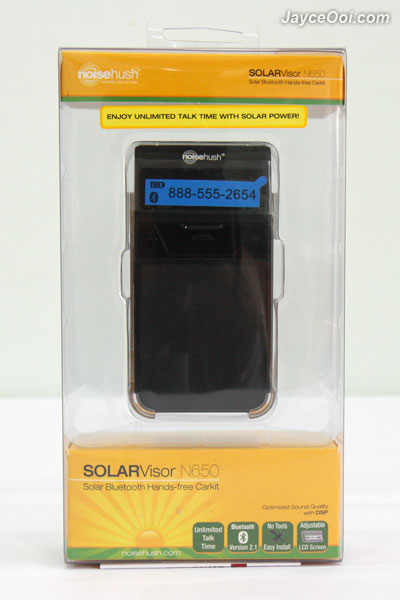 NoiseHush N650 Packaging
NoiseHush N650 Specifications
Talk Time: Up to 10 Hours
Standby Time: Up to 160 Hours
Charging Time: About 2 Hours
Bluetooth Version: v2.1
Bluetooth Profile: HSP & HFP
Solar Panel: 5.5V === 50mA
Working Temperature: -10~60C
Storage Temperature: -20~70C
Dimensions(mm): 106(L) x 54(W) x 15(T)
Weight: Main Body-65g Windshield-14g
Operating Distance: Up to 30 feet (10 meters)
Battery: 100 mAH Li-polymer
Package Contents
There are NoiseHush N650 Solar Bluetooth Car kit, transparent plastic casing, vehicle charger, suction cups and user manual in the package. The detail user manual will guide you use it in no time.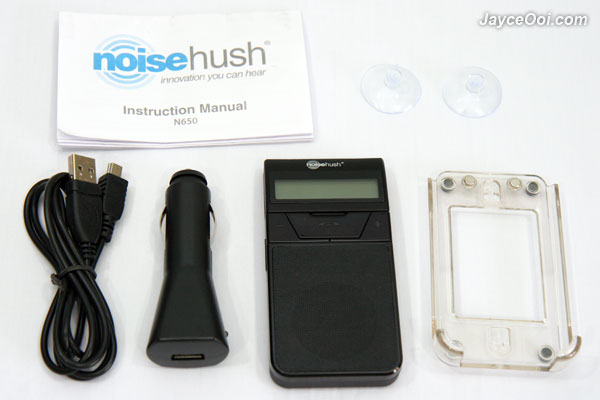 Package Contents
Design
NoiseHush N650 Solar Bluetooth Car Kit is made with solid plastic. It has a large speaker in front. And a blue lid LCD screen on top of it. Great for driving at night. By the way, the LCD screen is adjustable to match your viewing angle. 3 buttons (+, multi-function and -) between them. On the left, there are on / off button. A/T button and USB port on the right. Finally, solar panel at the back.

NoiseHush N650 Outlook
Front | Blue LCD | Back | Adjusted LCD | Right | Left
Usage, Battery Life & Call Quality
It is really simple to use NoiseHush N650 Solar Bluetooth Car Kit. Pairing with my HTC HD2 done in seconds. Transferring contacts from phone with 1 click. It took several minutes to transfer all my contacts (I have quite some amount of contacts). After done, the build-in phone book function is ready to use. I can browse through the contact list from A to Z (but it is slow by using + / – buttons). And the LCD screen will display the caller name if he is on your contact list. Else number will be displayed.
After charged using USB port for a while, it is ready to action. I installed it top right of car windscreen. The mount was attached secure and tight. And snap NoiseHush N650 on it. No sign of dropping off the windscreen after 1 week of usage. Battery life is good. It dropped 1 bar from 3 after 1 week. I made and received several calls (around 2 hours). The good thing of NoiseHush N650 that it is solar powered too besides using USB power. But it requires 28 hours to fully charge the battery. Let's see how long does it needs to be charged with USB again.
Voice quality is good on receiving part. I can hear from others loud and clear (only enable 2/3 of its volume). DSP echo cancellation and noise reduction are working their job. And people can hear me too. No complaint from them. And some of them don't even realize that I am using Bluetooth car kit. However, my voice is soft to them sometimes and like talking from distance. Overall, I enjoy using it as I don't need to wear any headset on my ear while driving.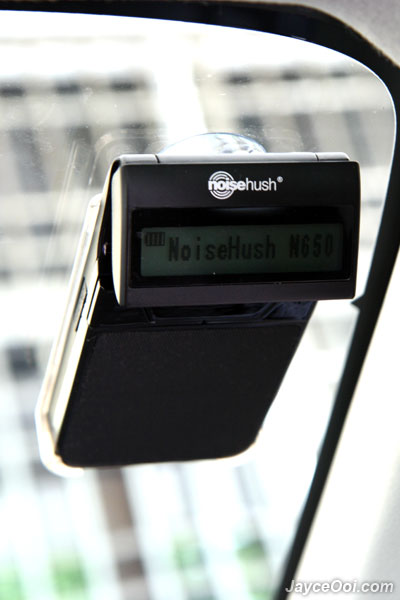 NoiseHush N650 on windscreen
Conclusion
NoiseHush N650 Solar Bluetooth Car Kit is a nice to have Bluetooth Car Kit. It is ECO-Friendly as solar powered. The sound quality is loud and clear, thanks to DSP echo cancellation and noise reduction. Cons ~ my voice is soft to other sometimes.
Thanks WirelessGround.com which has full line of quality cell phone and PDA accessories and products for the opportunity to review this product. Be sure to check out NoiseHush N650 Solar Bluetooth Car Kit here.