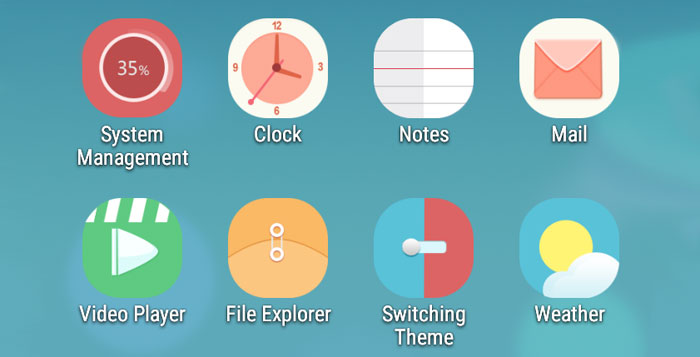 Neffos C5 is powered by Android 5.1 Lollipop. And it looks like stock Android OS with a skin layer on top of it. Well, that's good because you get the clean and smooth operating system out of the box. Yup, not much bloatware or any stuffs that not needed. Therefore, performance is good as a result. At first look, Neffos C5 home screen UI is just like iOS devices. No app drawer here. Everything is placed directly on home screens. Just like iOS, you can freely rearrange them to the location that you prefer. Just drag and drop will do. Or create several folders to store all of them according to category. Alright, let's have a detailed look on those software and tools that come along with Neffos C5.
Fine Home Launcher (as the skin layer) is the one that you see every time when turn on Neffos C5 screen. Basically, it controls all the user interface including lock screen, wallpaper, home screens, fonts. And you can customize it with Themes app. If Fine Home Launcher does not suit your taste, just download your prefer one from Play Store to replace it.
Without app drawer, folder is the way to keep your home screens tidy. Yup, just arrange all the games or software to their own folder will do. Just like above screenshot, tools in one folder and all Google apps in another one. Lot of useful tools like FM radio, compass and photo editor are there.
Yes, Fine Home Launcher has the ability to hide applications. Just swipe down / up with 2 fingers in the middle of the screen to bring up these hidden apps. Hehe… Keep all your secret apps now.
If you are bored with Neffos built-in UI. Try out others in Themes app. There are several for you to choose from (both paid and free). Not much but more than enough for casual users.
This is what Neffos C5 music app looks. Play all your favourite songs no matter on internal storage and external microSD card. They are sorted by songs, albums and artists. You can also create your own playlist too. Album art and song lyrics will be shown when available.
The built-in video player is a simple one. It will play most of the Video file format. And play 1080p smoothly too. No on-screen brightness and volume control here. But it does support floating mode for multi-tasking. Personally, I stick with my favourite 3rd party media player – Kodi as it supports AC3 audio codec (built-in one can't, and most of the player can't).
3rd party file explorer like ES File Explorer is getting complex each day. Therefore, I always use built-in simple yet useful file explorer. I can locate the needed files fast and easily.
If you play with devices with stock Android OS, you should familiar with all of these. Yup, here are the shortcuts for quick access. By the way, the cast screen feature is very useful to project mobile display to your home TV (with Wi-Fi Direct support). Enjoy everything on bigger screen.
And here are the notifications. Notifications panel will show up first when pull down from above screen. Follow by shortcuts.
Switch to other apps easily with multitasking button. You can clear up and remove all opened apps there too. Free up all the memory for games.
Pop-up call reminder will save you from losing a battle. A great and must have feature for all the mobile gamers out there. Saver for those (including me) who play Clash of Clans and Clash Royale.
Neffos C5 will work just fine without System Management app. However, you can know your smartphone better and improve usability with it. Apps manager lets you know which apps that you least use to remove and clean up the disk space. Boost helps to clean unneeded files, caches and APKs. Control apps' autostart too. Battery saver identifies which hardware and software are using more battery. Data saver gives the ability to control apps from using Wi-Fi and mobile data. And track them too. Control each one of the apps' permission like use camera, send MMS with Permission feature. Lastly, control which application to prompt notification or not with Notifications feature.
System Update app is the one for those who can't wait for OTA update to show up. Yes, you can install latest firmware locally with it. Or check for latest update there. Well, that's all for now.
Continue on Neffos C5 Software & Gaming Performance (Video)