Introduction
Armaggeddon is famous with gaming gears like keyboard, mouse, headset, speaker and components for PC. And let's meet their latest addition – Armaggeddon Puma III – an outdoor portable Bluetooth speaker for gaming. Loaded with lot features like Bluetooth, FM radio, built-in MP3/WMA player (USB & microSD), AUX-in and hand-free mode for phone call. How does it perform? Read this review to find out…
Special Thanks
This review is possible thanks to below companies. Be sure to check them out…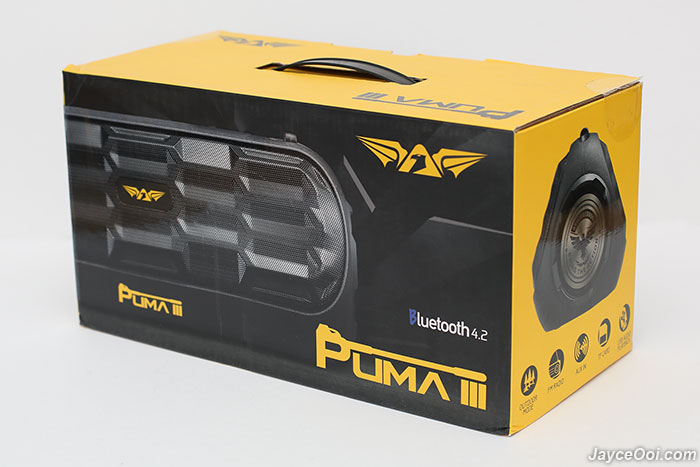 Package Content & Design
Armaggeddon Puma 3 comes well protected. Once taken it out, you can find AUX audio cable, micro USB cable, carrying strap and user manual. Carrying strap will be handy to carry Puma 3 while travel as it is a big portable speaker.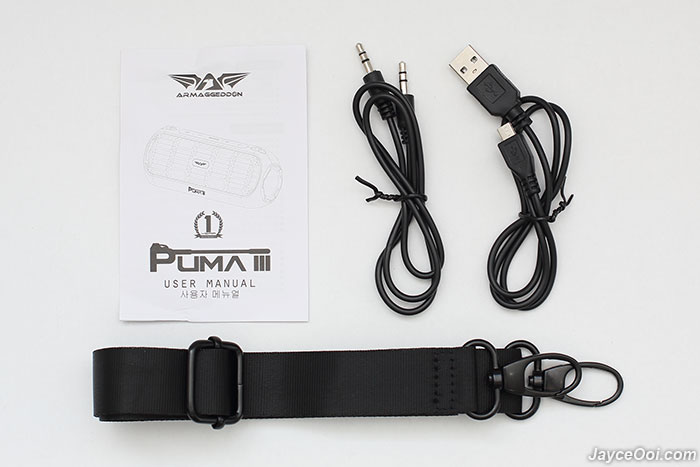 Meet the mini tank. Yes, build quality is decent with sturdy plastic housing. Front 2 2.75″ speaker drivers are covered with metal grill by the way. Comes with 2 colours – jet black and camouflage army green. Just pick the one that suit your taste.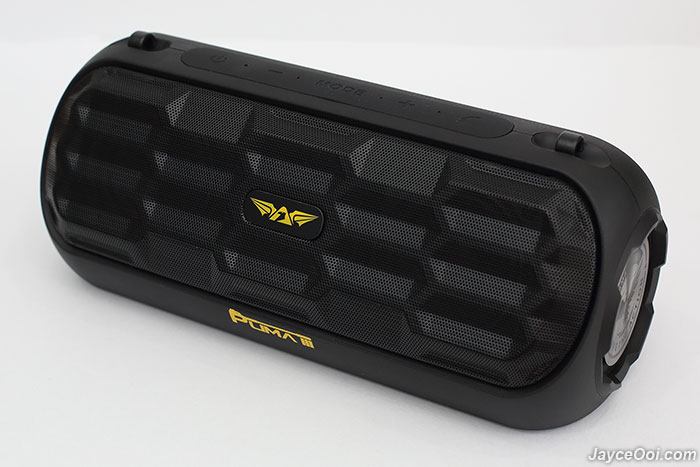 On top, there are long rubberized buttons. LED light indicators and microphone are located there too. You can power on/off, control volume, track and audio mode with those buttons.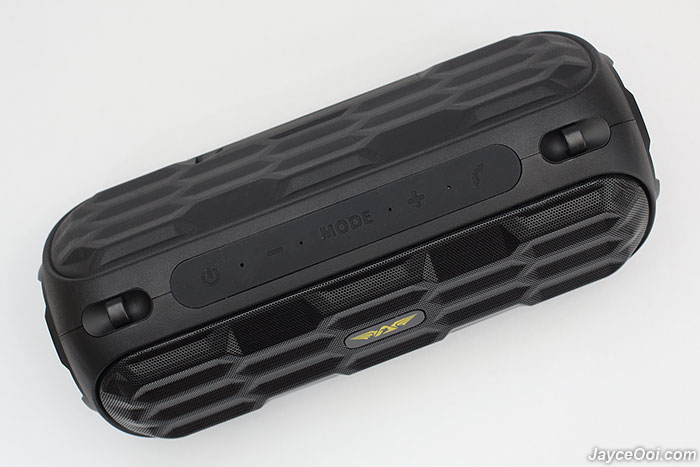 Here is the passive radiator for extra bass. They are 2 of them – located on both left and right. A must for portable speaker to have better bass response.
4 small anti-skid pads at the bottom to provide stability.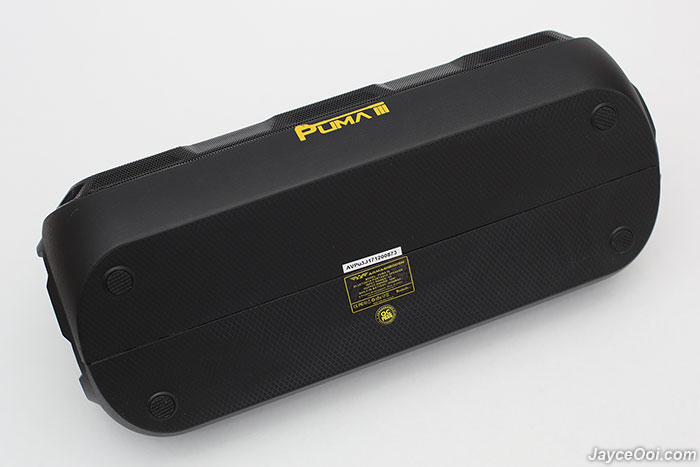 All the inputs like DC in, micro SD slot, USB port, reset button and AUX-in are located at bottom back. Covered as you can see.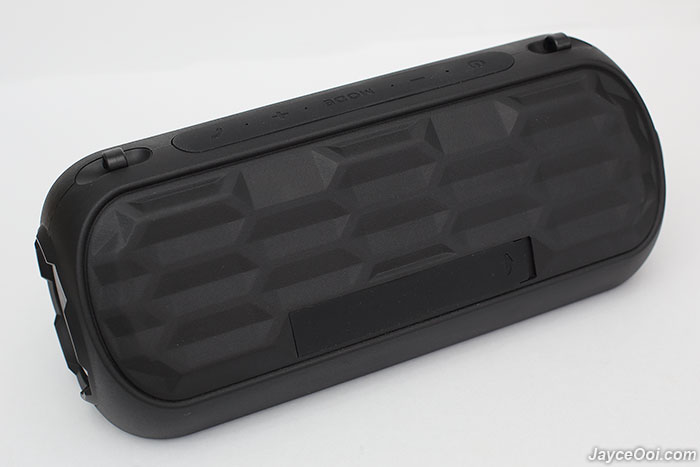 Do take note that it is a big portable speaker unlike the usual Bluetooth speaker you see. Therefore, here is the carrying strap that let you ease to carry Puma 3 with your shoulder.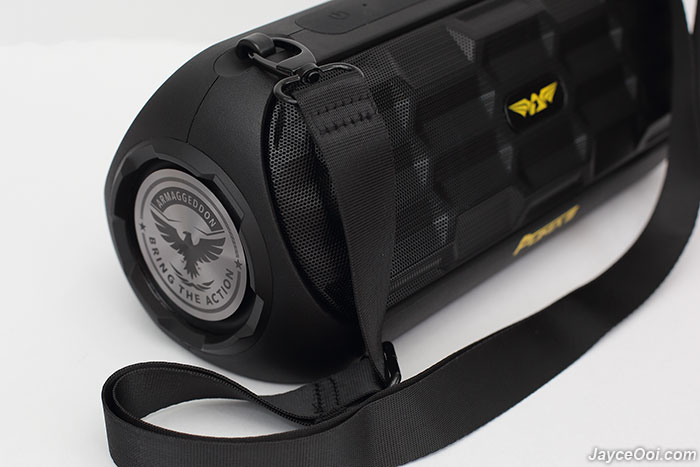 Performance Result
Armaggeddon Puma 3 has great Bluetooth range. Easily passed the 10m Bluetooth range in straight sight line test. And up to 7m with obstacles like walls. The best part – it has almost no lag between video and audio. Great for movie and games too! As usual, there is AUX in port for non-Bluetooth devices. As for FM radio, you can ignore it. Can't seem to get clear signal for most channels. Do take note if you plan to buy it for FM radio. Personally, I seldom listen to radio due to too much advertisements. Therefore, USB/ micro SD mode with built-in player is here for me. Just plug in the source, and it will start to play. It can play MP3 and WMA formats by the way.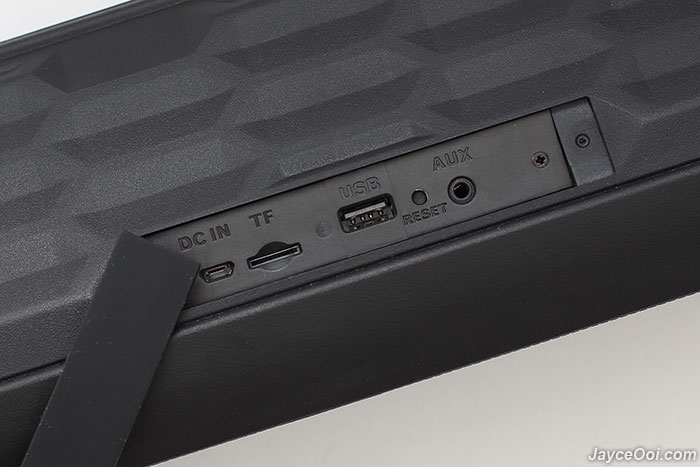 As for battery life performance, I am getting around 16 hours non-stop music playback on 4000mAh battery. As usual, the test done on average room sound level. Shorter battery life when play louder. And it takes around 5 hours to fully charge. Mic performance is average. As usual, you need to close to the mic in order for others to hear you loud and clear.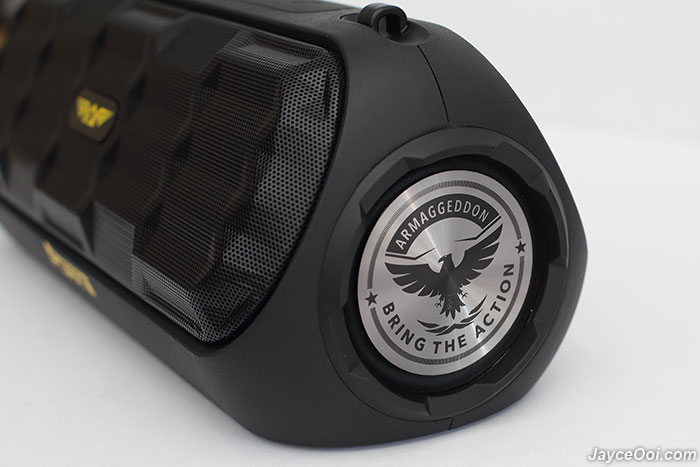 Puma 3 has warm sound signature which have more bass than treble. Yes, I love the deep and powerful bass. Bass head will surely love it too. Highs and mids are there and smooth but bass still in charge. No worry, it's not over power until muddy the treble. Love bright sound? You are in luck too. Yes, Puma 3 has 2 kind of sound signatures – bright and warm. By turning on outdoor mode, you will get sparkling bright treble. Note – this mode has piercing highs if you are too close to the speaker. Recommended range is 3m away to get the best sound quality. Personally, I prefer outdoor mode while playing outside. And normal mode inside the house where speaker close to you. In short, sound quality is great for its price. And 16W RMS output power is good enough to blast for small party.
Advantages
2 sound signatures – bright & warm
Great sound quality for its price
Wide Bluetooth range
Bluetooth, AUX & MP3 player (USB & SD)
Excellent battery life
Limitations
Conclusion
Looking for outdoor portable Bluetooth speaker? Be sure to check out Armaggeddon Puma III. Great for outdoor activities no doubt. More information can be found at Armaggeddon Website. Get yours at Lazada.