Introduction
One USB charger to rule them all. Yes, I can replace all USB chargers in my house with just 1 BlitzWolf 40W 5-port USB Desktop Charger. Furthermore, it supports Power3S technology which intelligently identifies your device capacity to deliver optimal possible without worrying about overloading, overheating or overcharging. And charge up to 2.4 amp each port, faster than your original phone charger. Yup, I can charge my iPad, iPhone, 1 Android tablet and 2 Android smartphones simultaneously with it. And they are still getting highest charging speed. Interested? Read this review to find out more…
Features
Power3S Ports: Smart digital power output , High Speed charging, Safe Multichannel Protection
40W of power: Enough to full-speed charge multiple devices simultaneously
5 ports to pick from: Enough charging ports to handle a family's worth of gear
Grab-and-go ready: Compact and light design ideal for traveling, wherever you go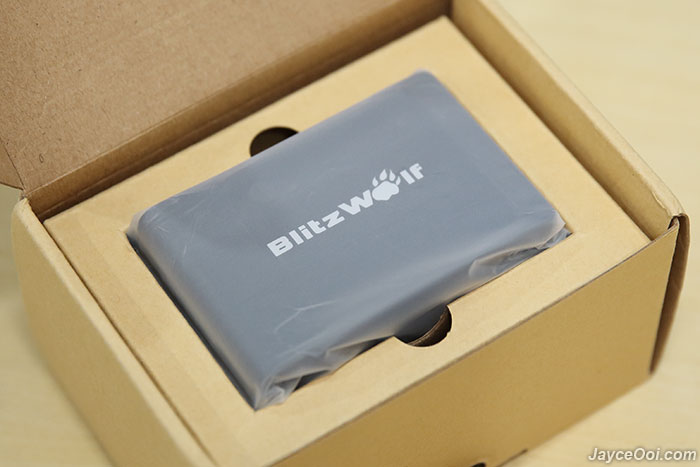 Package Content & Design
Most of the company are using environment friendly packaging lately. And I love it. Same apply to BlitzWolf. In the package, there are 5-port desktop charger, detachable power cord and user manual. BlitzWolf Desktop Charger is made with sturdy and heat durable polycarbonate as the housing. On top, there is BlitzWolf logo. The 5 Power3S charging ports are located on the right while power cord input on the left. There are 4 round anti-skid pads at bottom to provide stability. BlitzWolf Desktop Charger is small to ease carry around. In addition, it only takes 1 power socket and able keep your place clean and tidy. And there are 4 power cord plug types to suit your need like UK, EU, AU and US. White and black colours to choose too.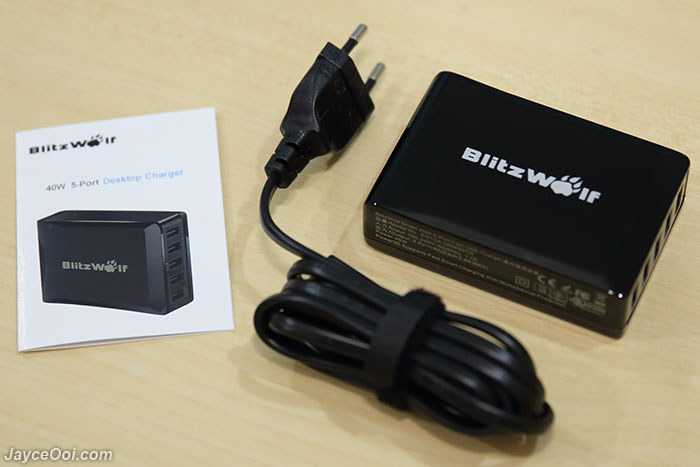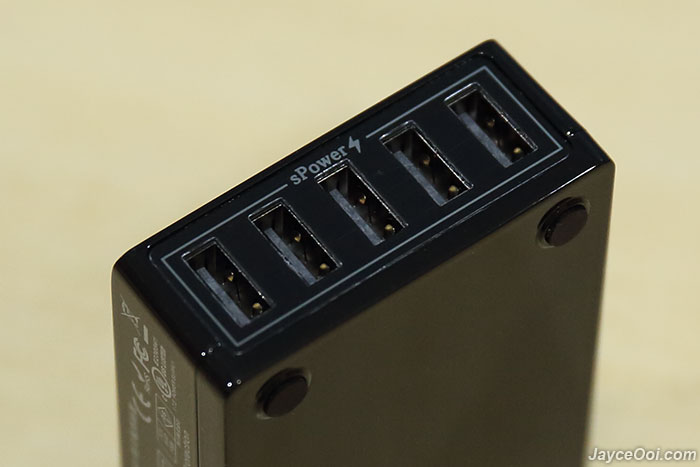 Specifications
Power: 40W
Input: AC 100-240v
Output: 5V ± 0.2V / 2.1A (2.4A Max)
Total output: 5V / 8A
Size: 91 X 58 X 26 mm / 3.6 X 2.3 X 1.0 inch
Weight: 300g / 11.02oz
18 months warranty
Performance Result
BlitzWolf Desktop Charger will adjust its output automatically to ensure that the device recharges at maximum safe speed. And also have advanced overloading detection to protect your devices' battery by ceasing the flow of current as soon as the battery reaches full power. Besides, it also has overheating and overcurrent protection as part of its safety technology. By the way, USB port output is also clean and noise free. You can listen to your Bluetooth speaker while charging it at the same time. Rest assures no humming sound like other cheap charger.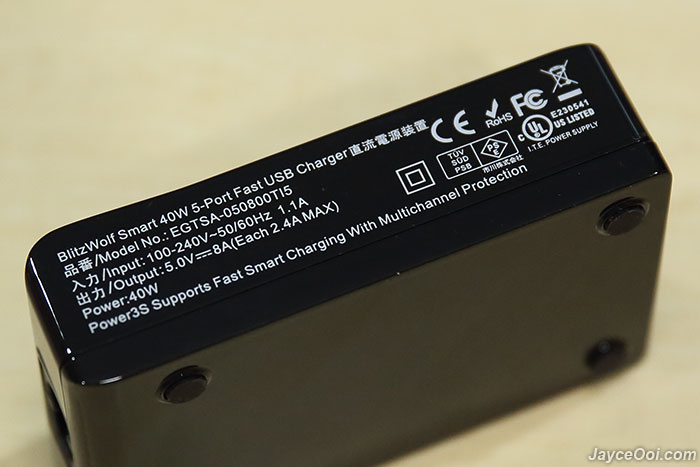 Yes… Yes.. Yes… I am getting maximum charging speed on all my devices. I plugged in iPad 3, Nexus 7 (2013), Galaxy S4, Galaxy Note 3 and Onda V820w which require around 8A current all together. And BlitzWolf Desktop Charger still able keeps all of them happy by providing highest charging speed that my iOS and Android devices can accept. One thing to take note. It warms up a little bit when charging 2 to 3 devices simultaneously. Hotter when all ports are being used and supplying maximum 8A. Should you worry? Nope, because it is UL, CE, FCC, RoHS certified which meets the rigorous safety standards of Underwriters Laboratories.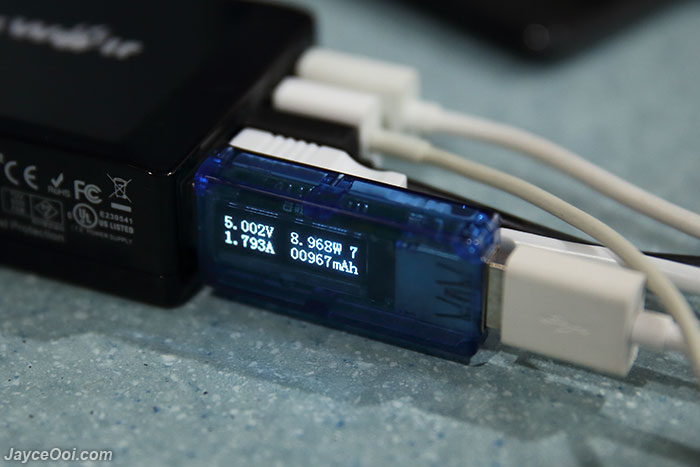 18 months warranty! Enjoy extra 6 months warranty on BlitzWolf Desktop Charger. 18 full months of protection is what you will get in the end.
Advantages
Charge 5 devices at the same time
Excellent build quality
Overloading, overheating or overcharging protection
Portable & lightweight
18 months warranty
Limitations
Heat up when fully loaded
Conclusion
Looking for multiple port USB charger for your office and home? Give BlitzWolf 40W 5-port USB Desktop Charger a try. And you will love it like I do. Enjoy charging 5 devices simultaneously now. More information can be found at BlitzWolf Website. Buy yours at Amazon or Banggood.