Introduction
Yeah… I have the latest in-ear earphones from Brainwavz – M100. The M100's have been delicately crafted from aircraft grade metal to create high fidelity audio. The musical tuning of the M100 make it suitable for most musical genres. Furthermore, it comes with a universal 3-button control built into the cable for both audio playback and microphone for audio calls. A complimentary set of Comply Foam tips are also included besides the standard silicone ear tips. Does it sound great? Let's find out…
Features
Tuned for clear sound with well-defined bass
Special crafted drivers, with high purity copper and feather light diaphragm
Made with aircraft grade metal
3 Button microphone & remote, compatible with iPhone & Android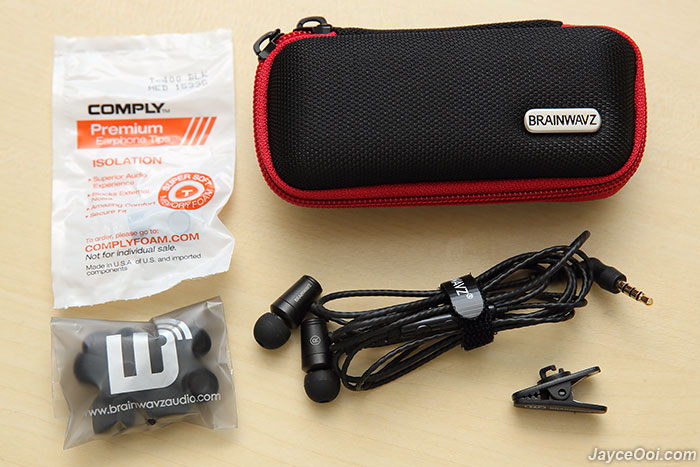 Package Content
Brainwavz M100 and all the other accessories come in earphone hard case which reside in the black and white packaging. Once opened, you can find M100 itself, and 6 sets of silicone ear tips (S M L), 1 set of silicone bi-flange ear tips, 1 set of Comply Foam Tips T-400, shirt clip, Velcro cable tie, instruction manual and warranty card. Brainwavz always packs lot of goodies in their earphones.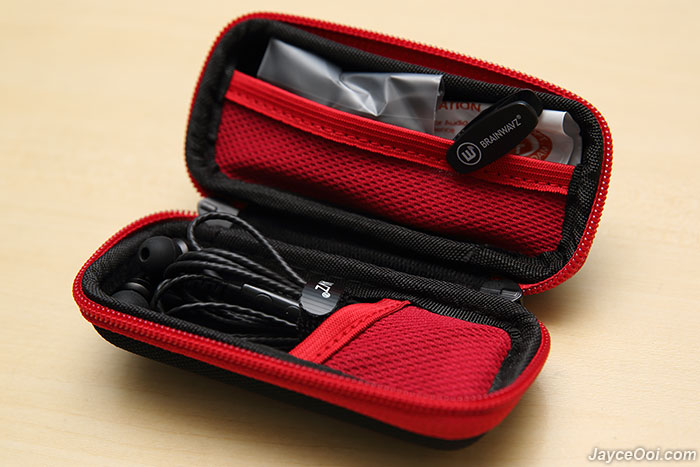 Specifications
Drivers : Dynamic, 8 mm
Rated Impedance : 32 Ω
Frequency Range : 12 Hz ~ 22 kHz
Sensitivity : 110 dB @ 1 mW
Plug : 3.5 mm, Gold-Plated
Cable : Braided 1.3 m OFC Copper
Remote & Mic: 3 Button, Apple & most Android phones compatible
Design & Build Quality
Wow… Brainwavz M100 builds like a tank yet light in weight thanks to aircraft grade metal as housing. The cable is another plus which is very sturdy with twisted and coated. Almost tangle free too. Build quality is excellent I must say. By the way, there is a cinch slider above the Y-splitter but it is hard to move it. Both earphone housings look the same, but not hard to determine left and right channel as the remote with microphone is located on the right channel. Find the remote, you find the channels. By the way, there is vent hole on bottom of the housing near the cable. And the plug is 45 degree.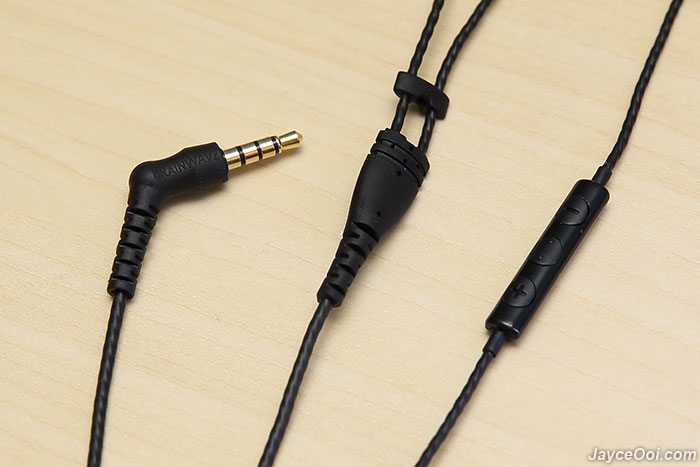 Fit, Comfort & Isolation
Brainwavz M100 is designed to be worn cable down. But it can also be worn over the ear. And they fit well thanks to small and lightweight housing. Of course, multiple selection of ear tips help here. You have standard silicone ear tips (S,M,L), bi-flange and Comply Foam Tips T-400 to select from. As usual, Comply Foam Tips T-400 provides the best comfort here. And bi-flange ear-tips for maximum seal. Isolation is good as and blocks some of the environment noises. In addition, there is no sound leakage too. And there is almost no microphonic even when worn cable down. Finally, it is comfort to wear for long hours.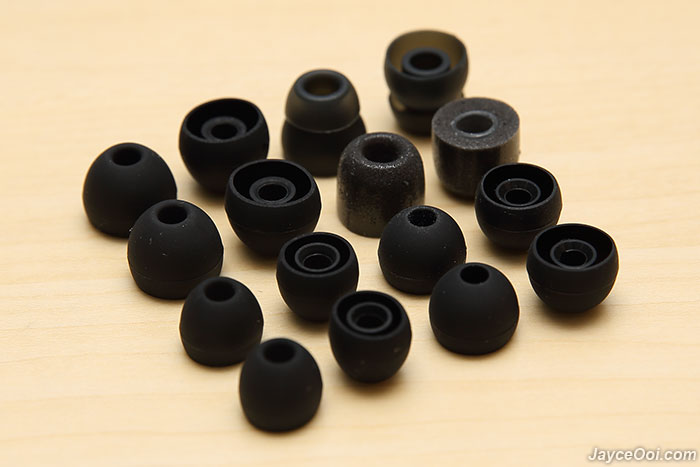 Performance Result
Brainwavz M100's microphone is great. Others can hear my voice loud and clear thanks to the placement of mic that is higher and nearer to mouth. However, thing is not that good on my side. I can hear others but just not that clear and muffled. Will cover more on sound quality later. Let's talk about remote now. It is working properly on both Android and iOS devices. Volume control, play, pause and next / previous track all are working great on my devices.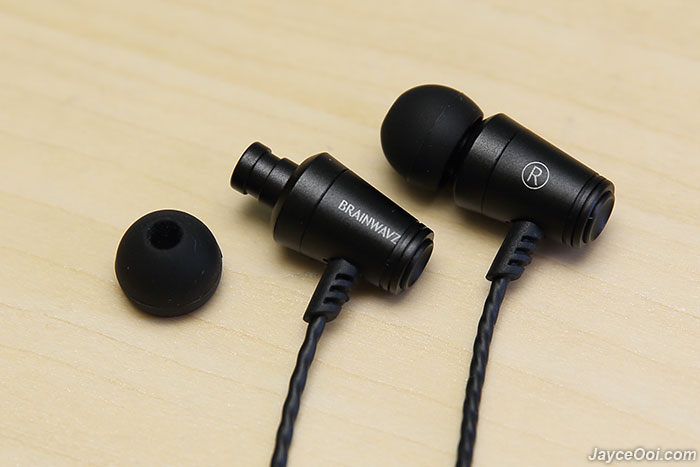 Err… I put too much expectation on Brainwavz M100's sound quality as a high fidelity earphones. In short, it sounds very warm and dark. Seem like Brainwavz has gone a little bit too far on tuning M100 and make it sounds unnatural. Super bassy you can say. Due to that, M100 sounds muffled in overall. Overpower bass overtakes mids and highs. And affects soundstage and instruments placement separation too as you can't really hear them clearly. But look at the bright side, there is totally no sibilance and sharp peaks at treble. Personally, I can accept warm sound signature but M100 is too much for me.
Advantages
Comfortable for long hour wear
Good isolation
Built-in mic & remote
Solid build quality
Plenty of accessories
2 years warranty
Limitations
Very warm & dark sound signature (for me)
Microphonic (reduced with shirt clip)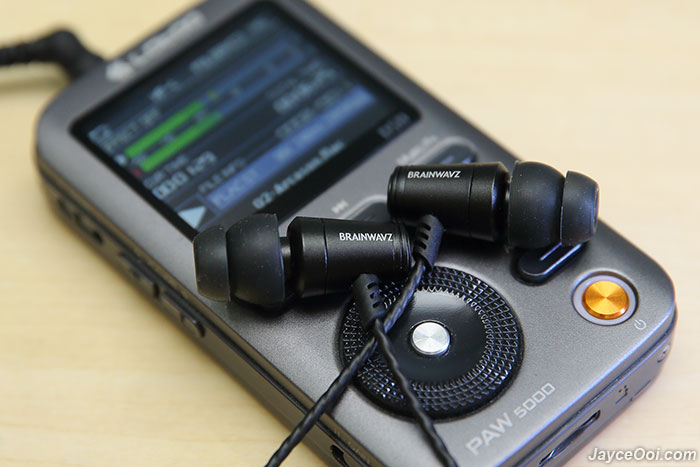 Conclusion
Brainwavz M100 is a very unique sound signature earphones with mic and remote. Excellent build quality and plenty of accessories included. And back with 2 years warranty. If you like very warm and dark sound, M100 is the one for you. More information can be found at Brainwavz Website. And get yours at Amazon.