Introduction
My wife office is using free Wi-Fi router that bundled along with Internet provider. However, it does not able to cover her whole office especially near the rear part. And faces dropped connection issue sometimes. How to solve it? I got her a Wi-Fi extender. Yup, Comfast CF-WR302S 300Mbps Wireless Repeater comes to rescue. It supports Wireless N speed up to 300Mbps and has Ethernet 2 lengthened antennas to provide best wireless coverage. Loaded with dual Realtek Chipset (RTL8192E + RTK8192ER) to guarantee long-term network stability. And support 3 modes – router, repeater and access point. How does it perform? Read on to find out…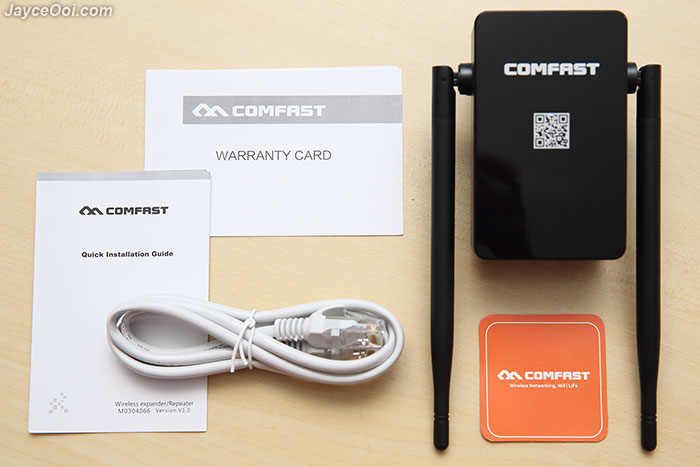 Package Content & Design
There are Wi-Fi repeater, RJ45 cable, quick installation guide, warranty card and QC card in the package. Comfast CF-WR302S build quality is decent with solid plastic. And loaded with 2 long 5dBi external antennas that be freely adjusted (like below photos). You can find 100Mbps Ethernet port and WPS button (also act as reset button) at bottom. And 3 blue LED light indicators for power, Ethernet and Wi-Fi connection in front of the repeater.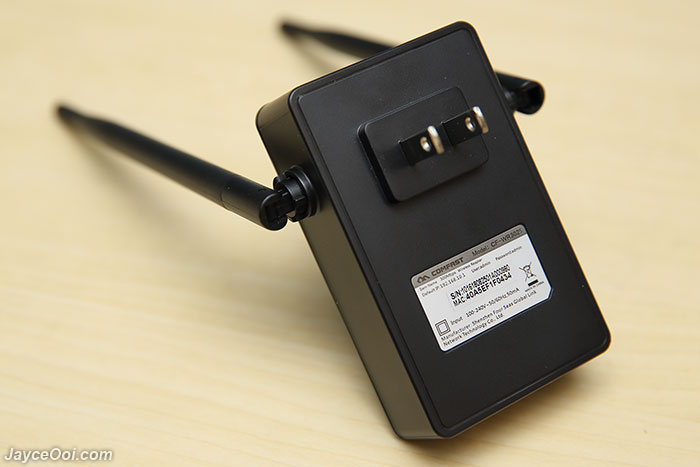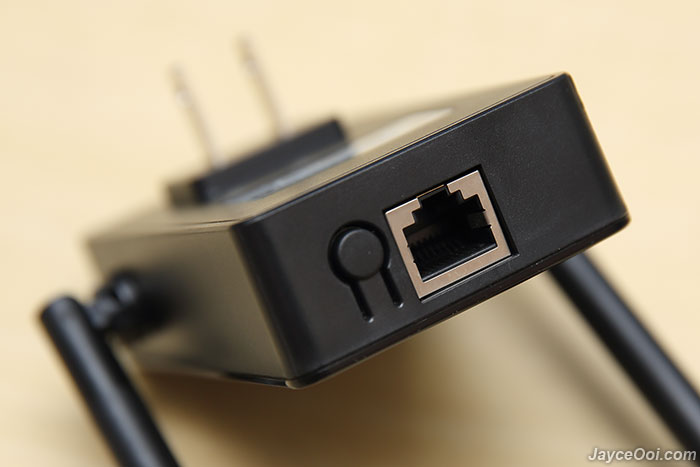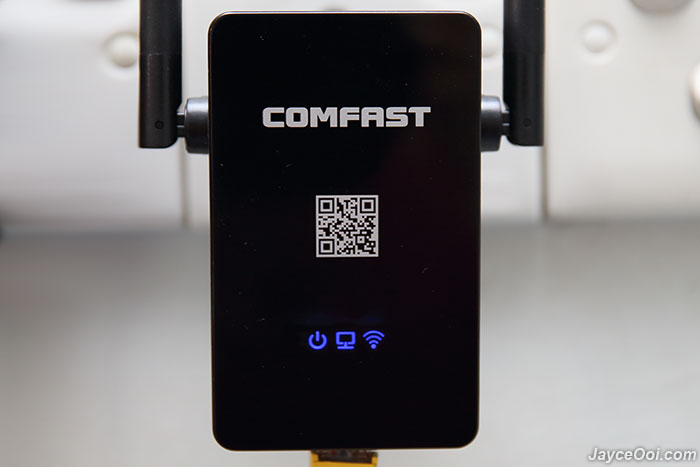 Installation & Software
Installation is as easy as ABC. Just plug Comfast CF-WR302S into wall socket and power on it. After that, press WPS button on your router and then press WPS button on the Wi-Fi repeater will do. That's all. It will create a new SSID like xxxx-plus (for my case – Jayce-ASUS-plus) and using 192.168.10.x subnet. Don't have WPS support on your router? No worry. Follow the step by step guide at Amazon page then. You will get the same result after performed these few steps. Alright, you can start to use it as wireless extender now.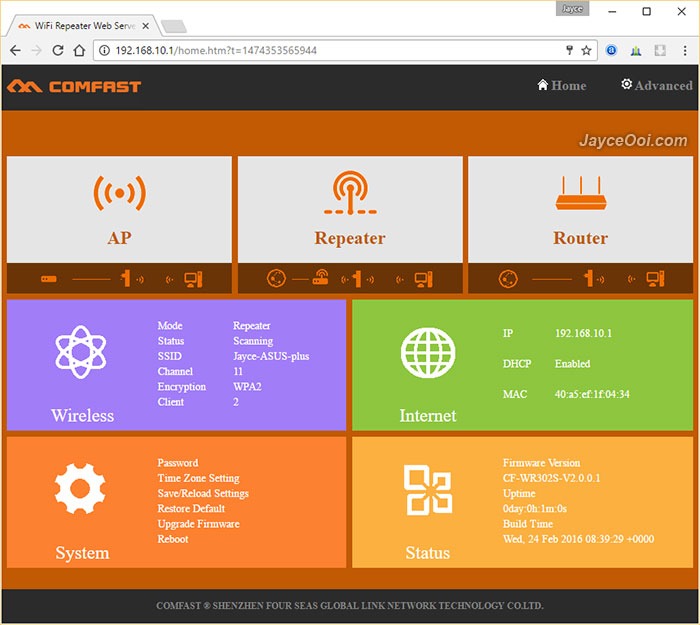 You can also turn Comfast CF-WR302S into router and access point modes. However, some technical knowledge is required here as there is no user manual for those advanced stuffs. So do take your time to play around with the settings. And check the Internet for guides will do. By the way, Comfast CF-WR302S supports both desktop and mobile user interface. So you can configure it easily with your mobile device too.
Performance Result
I am impressed with this little fellow performance. Wow, Wi-Fi signal strength almost on par with my US$200 Asus RT-AC68U router. Not bad at all. Yup, both Comfast repeater and Asus router are placed at the same spot on 1st floor. And screenshot below was taken while I was on ground floor. No doubt that Comfast CF-WR302S wireless coverage is great too. Easily cover my whole house while put it in center of the house. Definitely no more Wi-Fi dead zone around here.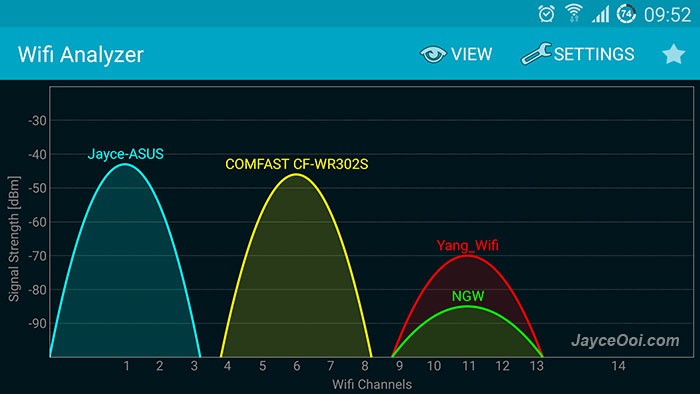 How about file transfer rate? Fast but a bit slower when compared to Asus router. I put both of them in router mode for file transferring benchmark. Copy file between 2 computers through them. First test was done through wired and wireless. Asus router managed to get 13 MB/s while Comfast repeater got 10 MB/s. Second test was done through wireless only. Asus router managed to get 8 MB/s this round while Comfast repeater got 6.5 MB/s. How about Internet connection speed? Well, it performs the same here as my 8 Mbps ADSL connection can't even push to the limit of Comfast repeater. Overall, I am satisfied with Comfast wireless repeater as it only cost 1/10 of Asus router price.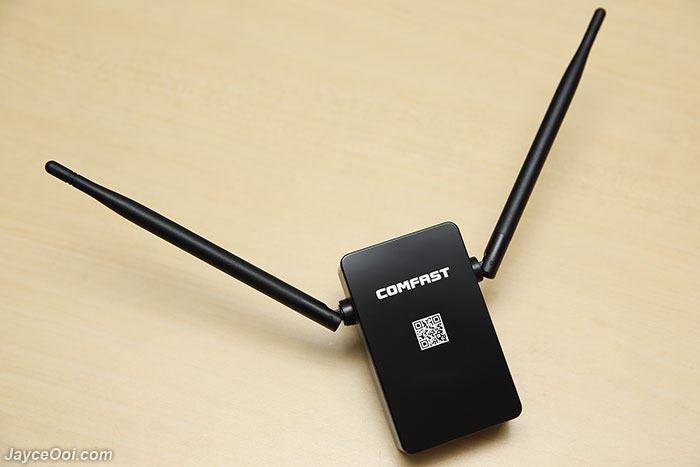 Advantages
Wide wireless coverage
Fast transfer rate
Support router, repeater and AP modes
Easy installation with WPS
Limitations
Conclusion
Yup, I solved dropped connection issue at my wife office. Thanks to Comfast CF-WR302S WiFi Repeater that has wide coverage and fast transfer rate. Just make sure that your router supports WPS else some manual steps are needed to setup it. Still need more information? Head to Comfast Website to get them. And you can buy yours at Amazon or GearBest.