Introduction
Finally, I got myself an active noise cancelling headphones. I can get rid of those environment noises now. AtomicX V203 by iDeaUSA is the wireless Bluetooth headphones (over the ear type) that I am taking about. It is loaded with Bluetooth 4.0 and 300mAh for 16 hours music playback. Does it sound good? How does ANC perform? Read on to find out…
Features
Active Noise Cancelling (ANC) at the flip of a switch, that background noise is reduced. You are left with the music you love
Compact over-ear design, with proprietary soft cushions- helping to further reduce noise while providing a comfortable fit
On board three buttons control switches between calls and music, controls volume and track selection
Traveling companions, 300mAh rechargeable lithium-ion battery, you can expect 16 hours of use from a fully charged battery
Fold-flat earcups rotate 90 degrees for easy storage and portability in the included case. It is also foldable, more space saving.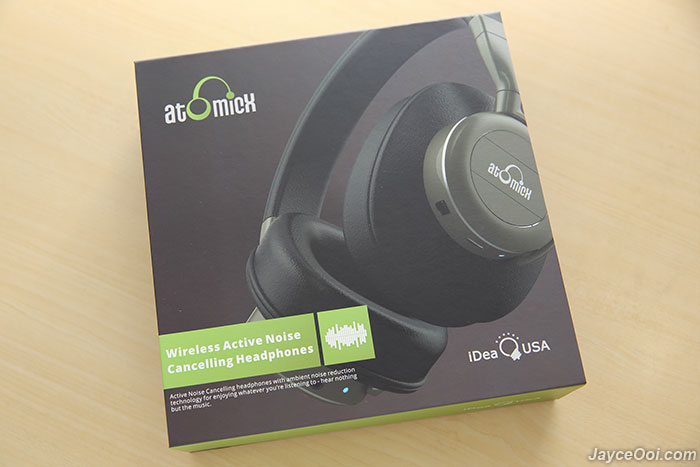 Package Content
AtomicX V203 comes in a sturdy packaging. Once opened, you can find it protected well. And all other accessories like USB charging cable, 3.5mm AUX cable, airline adapter, carrying bag, user manual and warranty card are located in another box. The user manual also comes in 5 languages like iDeaPlay W200 that I just reviewed. Have the same treatment on warranty too – 30-day money back guarantee, 12 months warranty and lifetime support.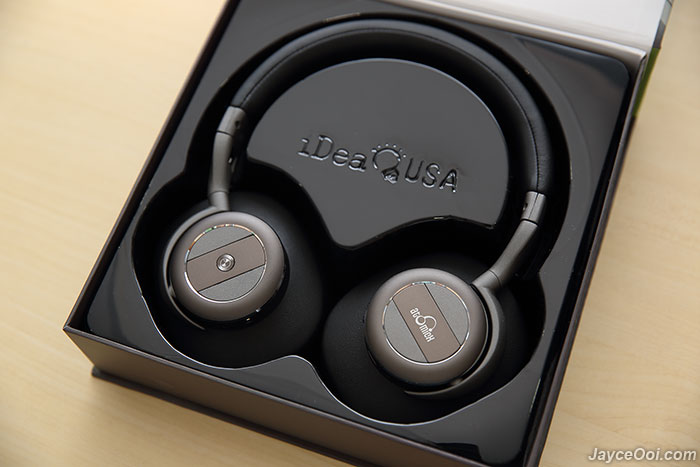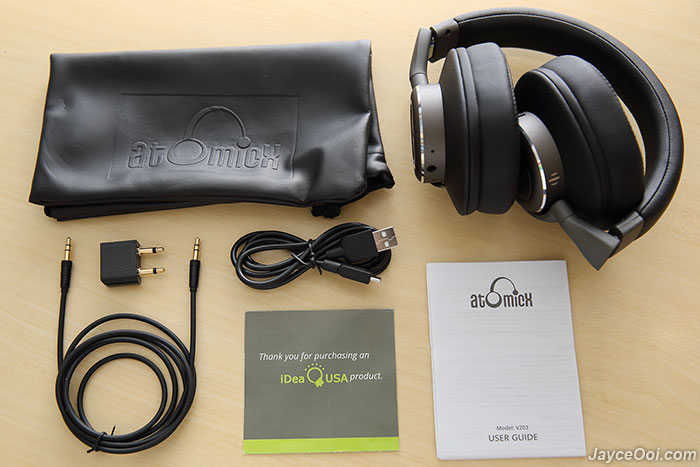 Specifications
Dimensions: 6.9*7.5*3.1 inch
Weight: 12.1oz
Color: Black/Grey
Chip: Bluetooth 4.0
Range: 33ft (No obstacle to prevent the single)
Driver Sensitivity (S.P.L): 105±3dB
Frequency Response: 20Hz—20KHz
Battery Life: 300mAh (8h ANC playback, 16h music playback, 250h standby)
Profiles: A2DP / AVR CP / HSP / HFP
Design & Build Quality
Wow… AtomicX V203 build quality is awesome. Thanks to all matte metal housing. Yup, that's definitely improve durability and give you premium outlook too. However, metal frame does added some weight into the headphones. Alright, let's talk about the design now. The headband height is adjustable and well cushioned. The over the ear cups are rotatable – 90° inward, 45° outward and slightly tilt able. And covered with soft touch PU leather. The control buttons, microphone, LED status indicator and 3.5mm audio jack are located at right ear cup. And noise cancelling switch, LED indicator and micro USB charging port are located on the left one. By the way, there are 2 microphone for noise cancelling on top of both ear cup. Finally, it is foldable to keep in the included protective carrying pouch. Do refer to all the pictures for more details.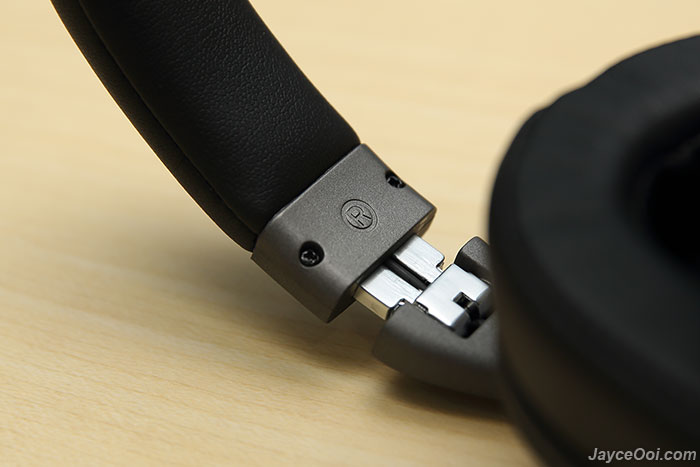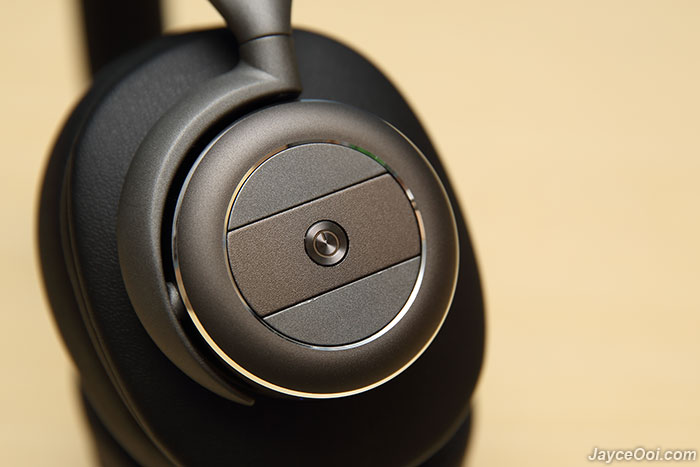 Fit, Comfort & Isolation
In short, it is pleasant to wear AtomicX V203 for long hour. All thanks to well cushioned headband and large thick soft pads. And fit well too as it has adjustable headband and rotatable ear cups. It has decent passive noise isolation. It does block some of the environment noises even without activate the active noise cancelling function. And there is almost no sound leakage so others won't be able to hear what you are listening.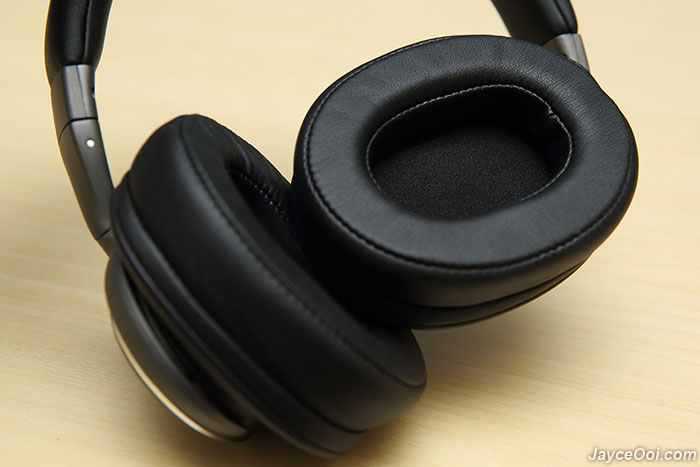 Performance Result
Wireless connection is very important for Bluetooth headphones. And AtomicX V203 passed with flying colours. Yup, it easily exceeds 10m Bluetooth range in straight sight line with no obstacle. Almost up to 8m with obstacles. Furthermore, it is easy to pair. All my iOS, Android devices and Windows PC are able to connect to it. No Bluetooth? No worry, you can always use the bundled 3.5mm AUX cable on normal music player. However, all the buttons and microphone are unusable in this mode. It does not affect ANC though. You still can activate noise cancellation as long as it has battery power left.
How is the active noise cancelling performance? Well, it does help to reduce background noise like fans in the room but not totally (tested without any music playing). And don't expect it can cancel out others voices as ANC works best on cancelling ambient sounds. With music playing, you shouldn't able to hear much environment noises then unless they are really loud.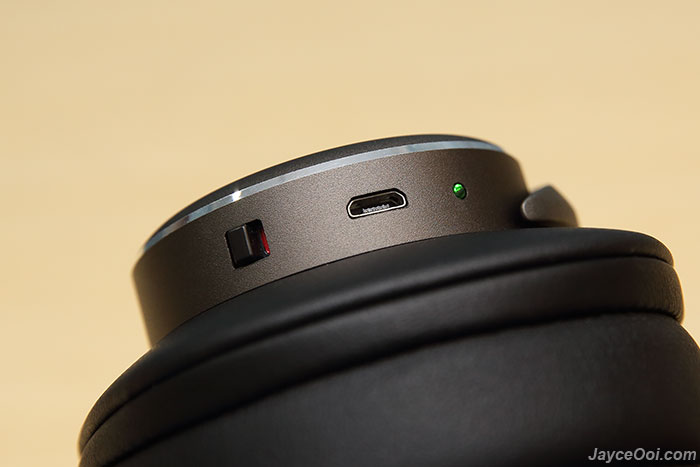 iDea V203 battery life is decent. I am getting 12 hours of non-stop music playback with its 300mAh battery. Tests were done with active noise cancelling enabled. ANC uses some of the battery life here. Therefore, you will get much longer battery life with ANC turned off. Furthermore, there is battery indicator status on iOS devices like iPhone, iPad and iPod to check remaining battery life. And some newer Android devices are able to show that too. Finally, it only requires around 1 hour and a half to fully charge. That's fast.
Lastly, phone call quality is decent. Others can hear my voice clear. No problem to hear others too. Do take note – built-in mic is not working on wired mode.
Sound Quality
AtomicX V203 has slight warm and forward mids sound signature with ANC turned on. Mids back to balance when turn ANC off. Overall, sound quality is good at this price point. And work great on all my smartphone and tablet on games, movies and music. Personally, I prefer balanced sound signature. Therefore, forward mid is not my cup of tea. But my wife loves it as she can listen better and clearer vocals (when closer to her ears). Oh well, it is totally up to personal taste and preference. I can always turn ANC off to get back balanced sounds, right?
Advantages
Decent sound quality with warm sound signature
Long battery life
Comfortable for long hour wear
Foldable design with carry pouch
Fast charging
Limitations
Forward mids with ANC enabled (for me)
Conclusion
Love slight warm sound signature with forward mids? If so, you will going to like AtomicX V203 wireless headphones then. Enjoy lesser environment noise with active noise cancelling feature. Comfort to wear for long hour. Have great battery life and wireless range too. Interested? Feel free to check out iDeaUSA Website for more information. And buy yours at Amazon.