Introduction
Look! It is a Bluetooth speaker. No, it's a lamp. It's digital palette. No no, it's thermometer. No way, it's an alarm clock… Well, everyone is right. Divoom AuraBox actually consists all of the above features in addition of speakerphone. Yes, it is a smart music gadget beyond your imagination. You can create any drawing, message and even animation then display through LED lights. Wow… Does AuraBox really sound that good? Read on to find out…
Features
Packed with a powerful 3″ 5-watts speaker, get ready to enjoy the thrilling music experience with your AuraBox.
Free mobile proprietary application, compatible with iOS 7.0 and up/Android 4.3 and up.
With the AuraBox App, you can create any drawing or message on the AuraBox. Unleash your full imaginations while listening to your favorite tune.
Link up to 8 frames to create your own animation. Use your brain, and apply both creativity and logic to create that awesome masterpiece.
Feel free to enjoy your music at full blast, and the AuraBox notification system will keep you alert for the important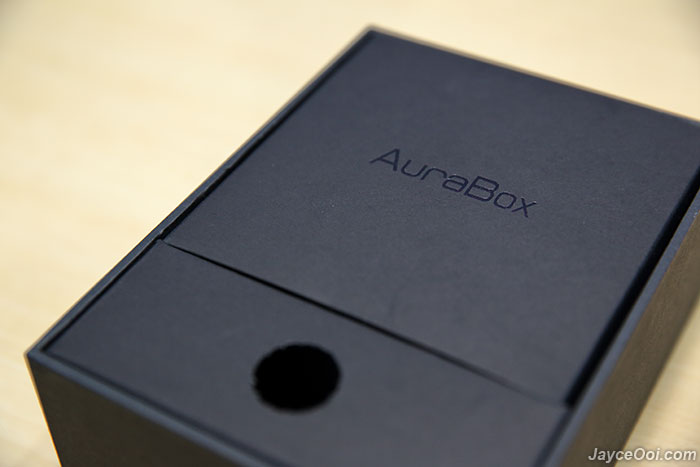 Package Content & Design
There are Divoom AuraBox LED speaker, USB cable, 3.5mm audio cable and user manual in the box. AuraBox is a black square box with 10×10 LED lights in front and 3″ speaker on the back. LED lights is covered with glossy black plastic and body by soft touch black rubber. All the input buttons and mic are located on top. You can use them to control power on/off, volume up/down, next/previous, play/pause/hands free/stop alarm and LED display effects. Temperature sensor, micro USB charging port and Aux in at the back. By the way, AuraBox does come with screen protector pre-installed.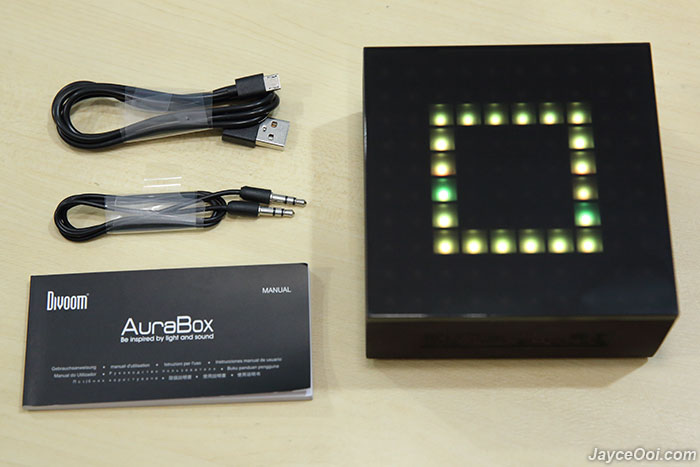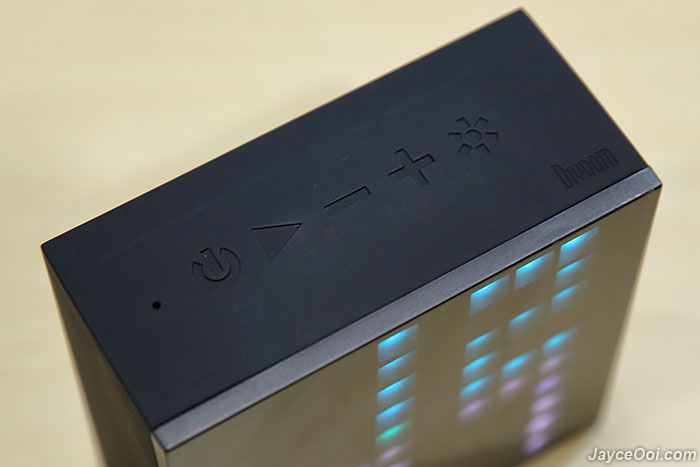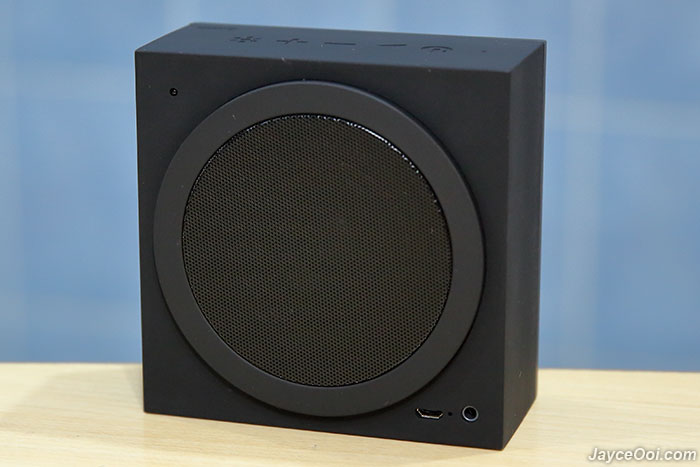 Specifications
Dimensions: 110L x 50W x 110H mm
Driver size: 3″ full range
Output power: 5 W
Signal to noise ratio: ≥75dB
Battery Capacity: 2000 mAh
Battery Voltage: 3.7 V
Battery Charge Time: 3-4h hours
Wireless Range: Up to 10 meters
Bluetooth compliant: Bluetooth V4.0 smart
Frequency Response: 60-20000Hz
Play Time: Up to 6 hours
Charging: Via USB cable, 5V -1A
Performance Result
Divoom AuraBox Bluetooth coverage is great thanks to its Bluetooth v4.0 SMART Chip. It easily pass the 10m Bluetooth range in straight line with no obstacle test. And up to 7m with obstacles like wall. All my Android and iOS devices are able to pair and work flawlessly. Aux in port is there for older non-Bluetooth devices. Once connected, you will get the very first mode – Clock. Then thermometer and other LED effects by clicking the LED display effects button. As simple as ABC…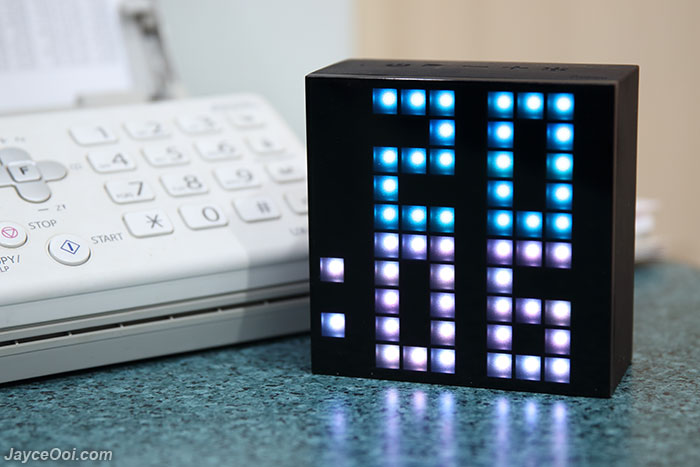 7 hours and a half is what you can get from AuraBox with average room sound level and rainbow mode LED light effect turned on. Not bad for 2000 mAh battery. It's more than enough for your small party already. If still not enough, you can always plug in power cable to continue rock and roll. Or just turn off LED lights to get your music playback longer. But you miss out the beautiful LED light effects then. By the way, it took around 4 and a half hours to fully charge.
AuraBox performs well as a speakerphone. I can hear other's voice loud and clear. And the other way around too. As usual, your voice will be softer when away from the mic. As a speaker, AuraBox sound quality is good. The 3″ 5W driver can go real loud for its size as a 1 channel speaker. The treble is clear and bass is there. However you will get some distortions at higher volume levels depending the tracks that you listen to.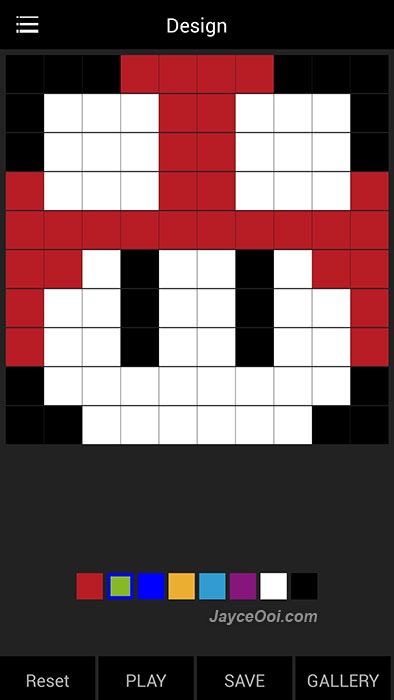 The LED lights come first then speaker. This is what AuraBox meant for, right? Its 100 LED lights can do lot of stuffs. You can turn it into alarm clock, thermometer, lamp, drawing board and lot more beyond your imagination. Yes, you can use it without mobile application to change LED lighting effects and do lot more with mobile app.
Notifications will be displayed at AuraBox. It will flash phone icon during incoming call. And other applications' notification as well like Facebook, Twitter, WhatsApp and others. Never miss out important things anymore…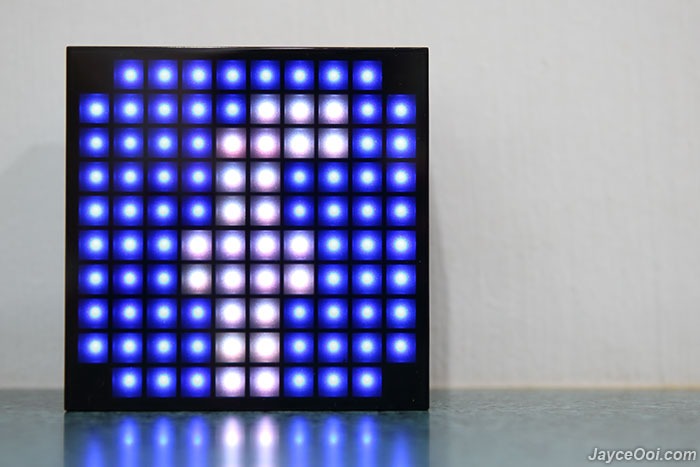 My 3 years old boy love it very very much!!! Jumping here and there while playing with alphabets and numbers. Yup, he know how to select them on AuraBox app then display out to AuraBox's LED board. Besides built-in designs, you can create your own ones. And animations too.
Check out AuraBox live in action with below video – demo of all LED light visual effects, some animations and 3 built-in sceneries.
Advantages
Hey, it's fun to play
Amazing LED lights
Decent sound quality
Multi-features in one
Mobile app supported
Lightweight & portable
Limitations
Sound distorted near max level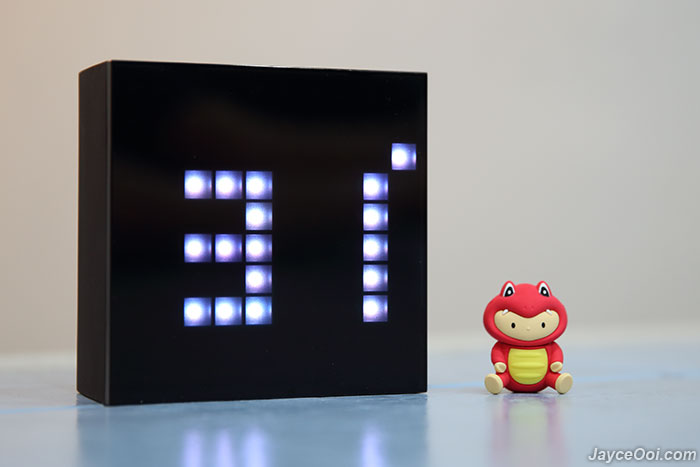 Conclusion
Hey, it's fun to play with Divoom AuraBox. And loaded with lot of features. A nice tool for parents to teach and can be acted as message board for business merchants. Definitely a smart music gadget beyond your imagination. Do visit Divoom Website for more information. And get yours at GearBest.