Want to record every phone call? You can do so by using ACR ~ Auto Call Recorder for Windows Mobile (Note – Telephone tapping is not legal in all countries/states (link)). ACR is working out from the box on ASUS P835, HTC Touch HD, HTC Touch Diamond 2, Samsung Omnia i900, Samsung Omnia 2 and more…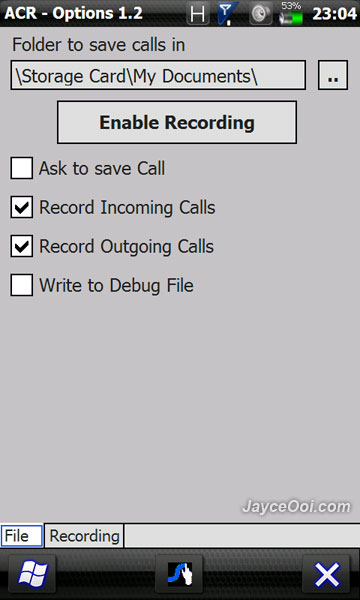 ACR – Auto Call Recorder Features
Folder to save calls in
Ask to save Call
Record Incoming Calls
Record Outgoing Calls
Write to Debug File
You can select SD card as the folder to save the call wave files. No need to worry phone memory running out issue. ACR will auto record every calls for you after enable recording.
Note – HTC HD2 users, you need to install 2-way In Call Recording Fix for HTC HD2 in order to make ACR working properly. Else you can only record 1 way voice only.
Download Auto Call Recorder (ACR) v1.2.4 here.