Titanium Backup is one of the must have Android application. You can backup and restore application, data, setting with it. A great tool for me who like to test several Android builds. However, it is for rooted phone. But it is not a problem for me as most of the Android builds for HTC HD2 are rooted.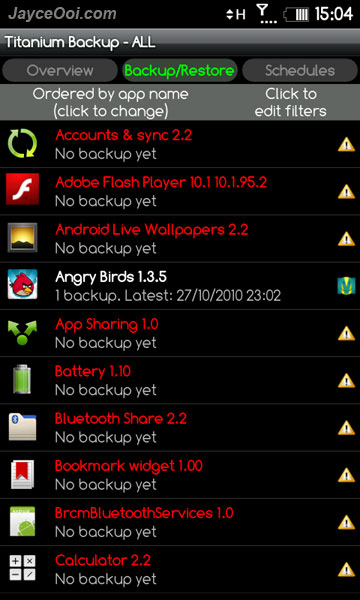 Titanium Backup (root) Free Features
No time limit
Very fast app listing (~1 second for 300 apps)
Sort apps by name / last backup / backup frequency
Filter apps by name / type / status / Apps Organizer labels (also affects Batch operations)
Backup/restore regular apps + their settings
Backup/restore protected apps + their settings
Backup/restore system settings (incl. Wi-Fi AP list)
Restores the Market links when restoring apps
Zero-click background batch backup
Interactive batch restore
Many batch scenarios (eg: if more than N days since last backup, etc)
Zero-click app un-installer
Zero-click system app un-installer
Desktop widgets
A single weekly or biweekly scheduled backup
User-defined apps lists with filtering, coloring and scheduling support
Search for 'Titanium Backup' at Android Market to download it.