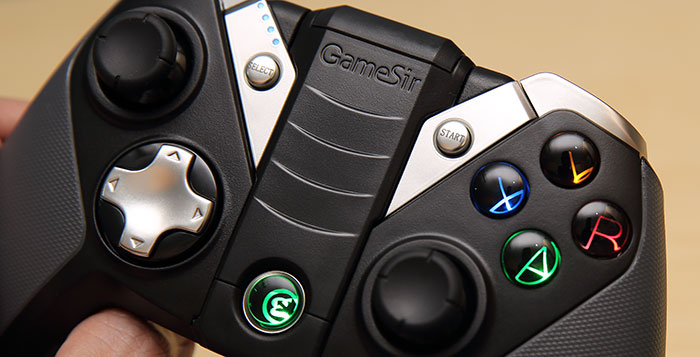 Introduction
Hi guys, check out my latest gamepad that can support both Android and Windows. Furthermore, it can be connected through Bluetooth 4.0, 2.4GHz wireless and wired. Yup, GameSir G4s controller is the star today. It has high performance 32-bit MCU chip to enables the gamepad to be accurate and responsive. In addition, the button layout fully conforms to ergonomics. And A, B, X, Y and Home buttons are loaded with LED Lights. The thing that I like most – built-in bracket to attach your smartphone. Yes, turn your smartphone into a portable gaming machine on the go. Alright, let's check it out in detail…
Specifications
Working Platforms: Android/Windows PC/PS3
Working Mode: Android Standard/GCM/X-input/D-input
Connection Types: Bluetooth/Wired
Charging Time: 2-3H
Working Distance: Approx. 8m
Bluetooth Version: Bluetooth 4.0
Battery Life: 18H
Battery Capacity: 800mAh
Charging Voltage: 3.7V~5.2V
Charging Current: 1A~2A
Working Current: Approx.66mAh
Working Temperature: —20℃ ~ 65℃
Working Humidity: 20%~80%
Product Size(mm.): 155*102*65.5
Net Weight(g.): 248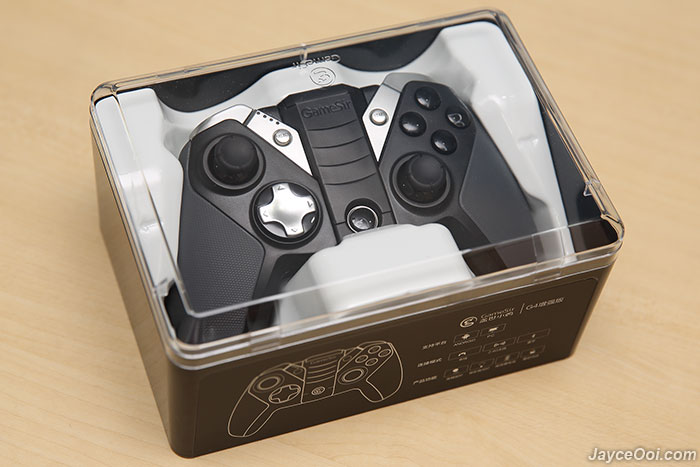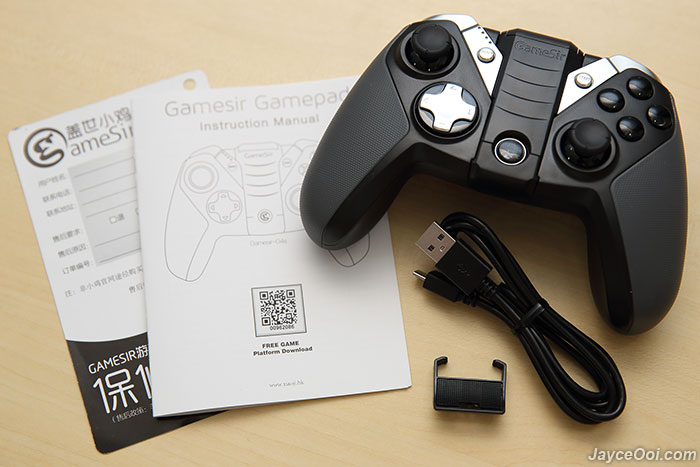 Package Content & Design
GameSir G4s comes in a gift box as packaging. Yes, perfect for own use or as present for others too. Once opened, you can find micro USB cable for charging and wired connection, optional support bracket, instruction manual and warranty card. GameSir G4s build quality is excellent. And looks stylish as well with silver, grey and black colours. Buttons with LED Lights make it looks even better. Look is not everything, ergonomics do. GameSir G4s does well in this department too. It fits on hands very well and the rubber grips give you soft and comfort feel.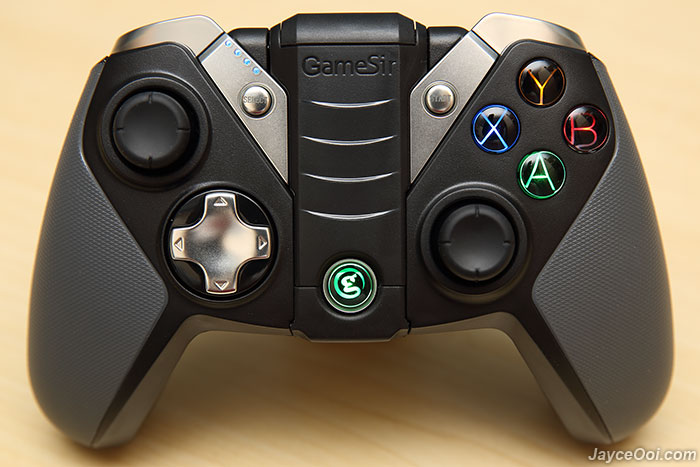 The dual analog sticks, D-pad and A, B, X, Y buttons are well placed. Easily reach with your thumbs. Same apply to the L2/R2 triggers too. By the way, the left joystick and D-pad are exchangeable for simulator that does not support D-pad setting. And top of the analog sticks have soft rubber feel.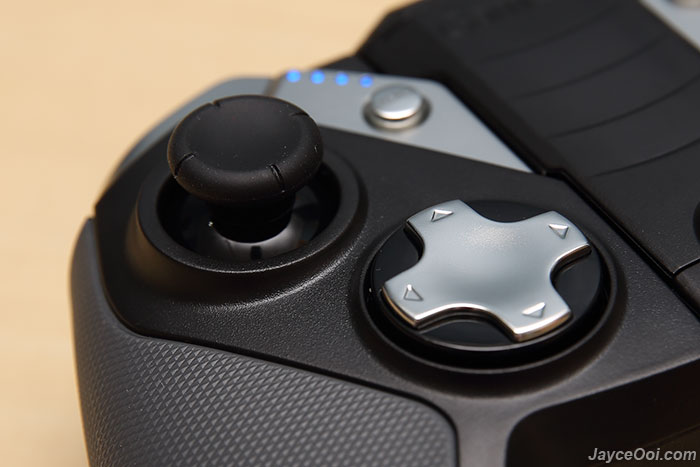 There are 4 blue LED battery power indicators to indicate the remaining battery life on top of select button. And the start button on the other side. Home button with GameSir logo is located at center bottom. And turbo and clear buttons are hidden under the built-in bracket. The smartphone holder can be adjusted to 2 angles – 110 and 150 degrees to give you the best viewing point. And support 3.5 to 6 inch smartphones. Both built-in bracket and optional one have rubber grip to provide the best hold ever.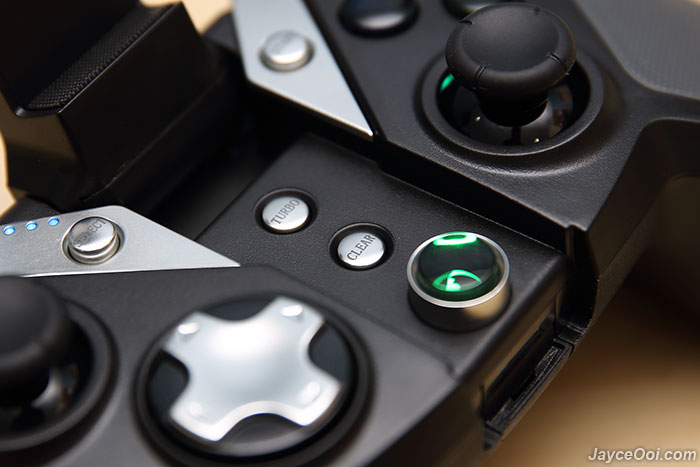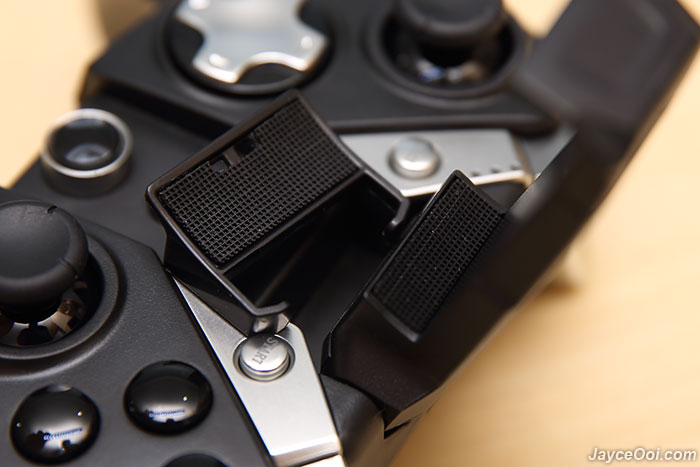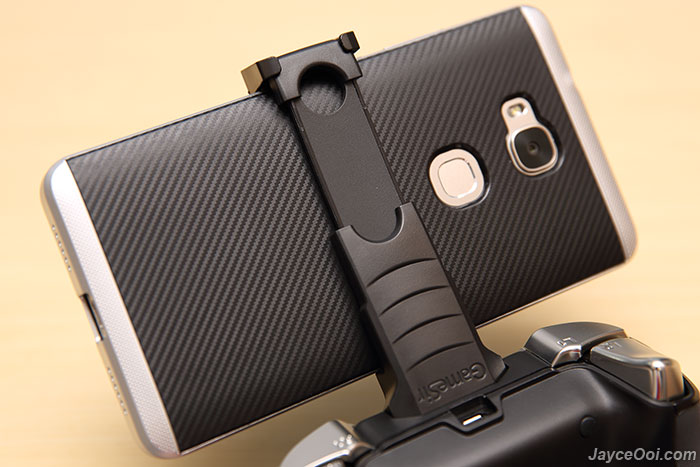 There is a micro USB port for charging in front of GameSir G4s. It can be used as wired controller once connected with USB cable to Windows PC. Or use the hidden Wi-Fi dongle at bottom for wireless connection which suitable for both PC and home TV.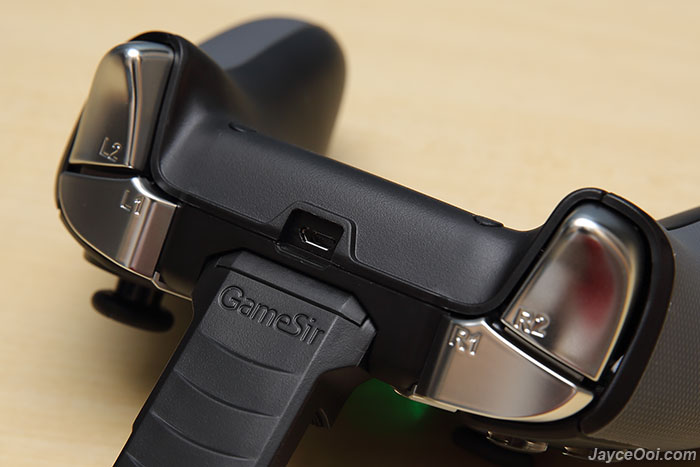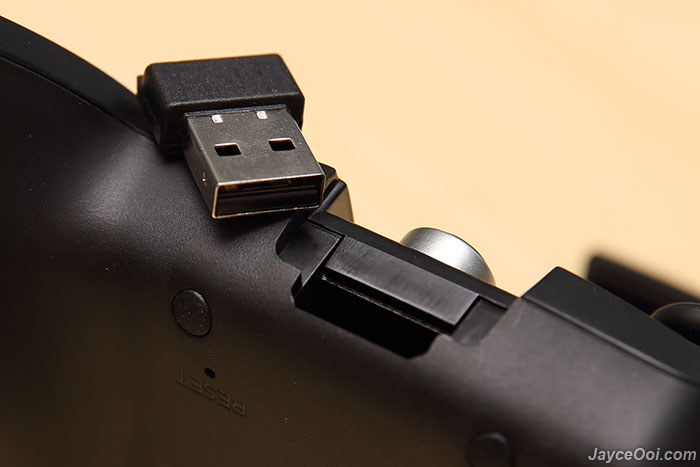 There is a reset switch for you at the back in case that the gamepad freeze or stop functioning. So far, I only used it once when the gamepad completely frozen when failed to connect to my tablet.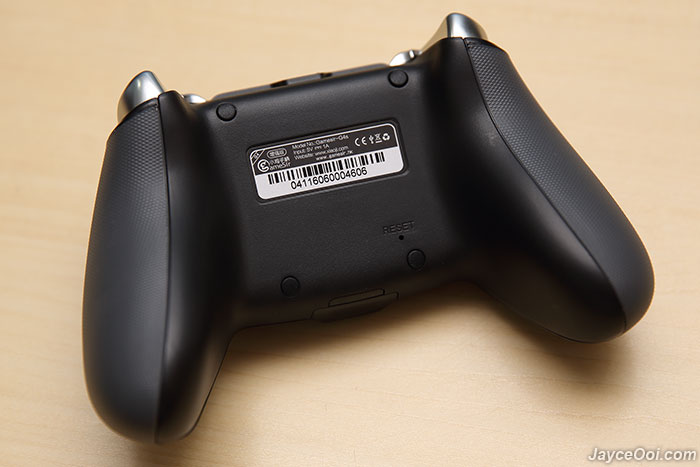 Performance Result
Being a wireless game controller, Bluetooth and 2.4GHz Wi-Fi range ranges are very important. You don't want to get disconnected while playing intensive games, right? GameSir G4s does a great job here. It easily exceeds the standard 10m Bluetooth range in straight sight line with no obstacle (same apply to Wi-Fi connection). Surely can cover your big living room with TV and sofa at each corner. Definitely, not an issue at all on smartphone, tablet and PC that close to you. Furthermore, there is no sign of delay on response too. Thanks to the fast 32-bit MCU chip with computing capability being up to 48 million times per second. For your information, it supports Android standard and GCM mode on Android devices. And X-input (act as Xbox 360 Controller) and D-input on Windows PC. Don't have wireless connection? No worry, USB cable is there for you. Turn GameSir G4s into a wired gamepad will do. By the way, you can also use wired connection if you Android devices have OTG support too.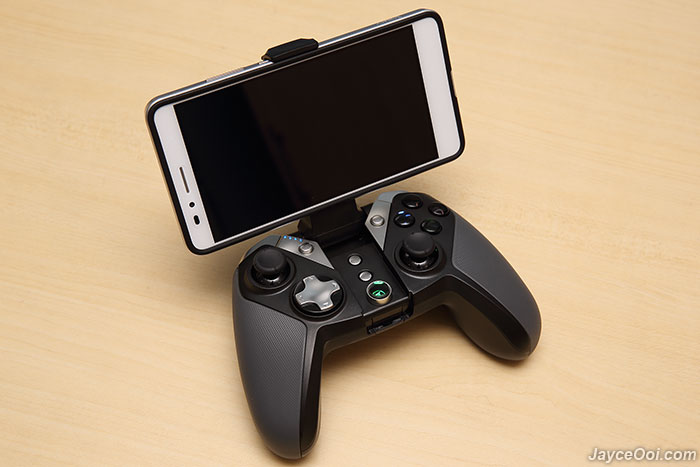 My favourite mode – Android portable gaming machine. Yes, just pull out the built-in bracket. Put your smartphone there. Then you are ready to play your favourite Android games with gamepad support any place you like. Some of the Android games like Rayman Adventures, Unkilled, FIFA 16 and a lot more have totally different gaming experience with gamepad. Yes, you get bigger viewing area and better gameplay compare to touch screen. And you won't hurt your fingers on long hour of playing too. Don't forget those video game emulators like SNES, N64, PSP, NEO GEO, CPS and other more. They work great too.
Let's talk about the control. Yes, the analog sticks are responsive and accurate. Fast movement and precise targeting on FPS games. Same apply to the R2/L2 triggers too. 8-way D-Pad is great for retro arcade games. A, B, X and Y buttons feedback is good but clicking sound is a bit louder compare to my other game controllers. Turbo function is very useful in arcade shooting games with auto-fire. Force feedback is good and you can adjust vibration frequency as well to suit your preference. Besides, buttons' LED brightness can adjusted or turn off. Oh, before I forget. You can use GameSir G4s as mouse too with mouse simulation mode. Left joystick control mouse movement while A and B buttons as left and right mouse buttons.
Battery life is great! Enough for you play until you are tired – around 10 hours here. 4 blue LED battery power indicators will tell you the remaining battery life. And it take around one and a half hour to fully charge GameSir G4s' 800mAh battery. Alright, let's have a look of GameSir G4s live in action with video below.
Advantages
Windows & Android support
Ergonomics yet stylish
Great wireless range
Long battery life
Built-in bracket for smartphone
Excellent build quality
Limitations
Conclusion
GameSir G4s is a great game controller for both Windows and Android. Period. Loaded with a lot features and easily turn your smartphone into Android portable gaming machine with built-in bracket. Don't forget the long battery life for day long gaming too. Interested? Do visit GameSir Website for more information and get yours at Amazon or GearBest. Use this discount code – G4sGS to buy it.