Yes, yes, yes!!! GearBest half price promotion is back again during this Black Friday sales. Lot of Intel laptop and tablets are being sold at 50% off price crash. Yup, you can get Pipo N7 tablet with $49.85. And T-bao Tbook R8 15.6″ FHD IPS screen laptop at $89.99 only. Crazy prices, right? Read on to get more deals inside…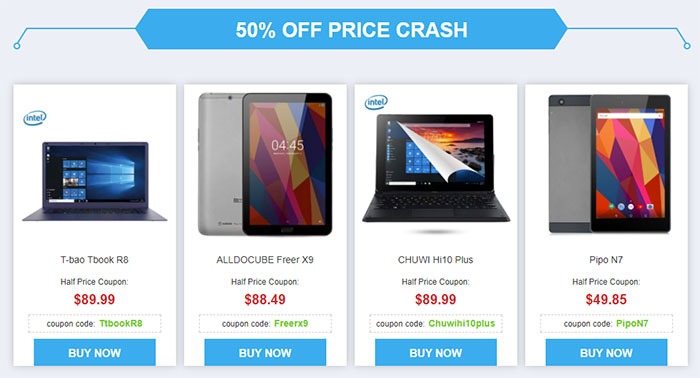 Besides T-bao Tbook R8 with original Microsoft Windows 10 OS, there are ALLDOCUBE Freer X9, CHUWI Hi10 Plus and Pipo N7 tablets. All of them are selling at half price with discount coupon. Okay, what is the catch? You need to be really fast. The coupon active on 10.00am UTC (6pm Malaysia) every day from 20 to 27 November. Err… I missed today chance. Will be fighting for tomorrow. Try your luck at GearBest Black Friday Intel Half Price Promotion too. You might be the lucky one to get it. Good luck!
By the way, I am eyeing on ALLDOCUBE Freer X9 Tablet. How about you?