Introduction
Seriously? Mechanical gaming keyboard below US$40? Yes, GranVela MechanicalEagle Z-77 is the one. It is a multi-colour backlit 87 keys mechanical gaming keyboard with blue switches. Yup, it supports anti-ghosting 87 keys/N-key rollover which perfect for fast paced gaming as each key is controlled by independent switch. Furthermore, it has 9 backlighting modes to choose with Fn+Ins and built-in 8 modes gaming keys lighting-up patterns. Sound great? Let's have a closer look then…
Features
Designed with the newest switch replacing technology and made for performance Gaming
Anti-ghosting 87 Keys
Gaote / Outemu Blue mechanical key switches
Multi-colored Backlight
9 Light Effect Modes
Durability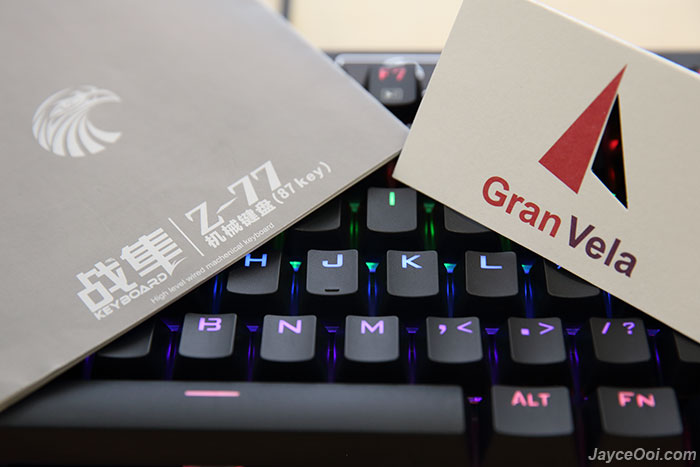 Package Content & Design
GranVela Z-77 keyboard comes in well protected packaging. Besides keyboard, you can find user manual and GranVela information card there. That's all, no Windows CD driver. Its build quality is excellent thanks to top-grade ABS material for housing and metal plate on top. Once plugged in, you can see all the colourful and interesting LED backlighting. Yup, all the keys are visible in all types of lighting conditions no matter day or night. And you can also see the keys clearly without LED light. That's great. Do take note that this keyboard does not support RGB backlighting. All the colours are fixed but you can select lighting pattern to suit your taste. For your info, the cable comes with a magnetic ring to provide the best signal to PC. And cable tie to keep cable tidy to ease carry around.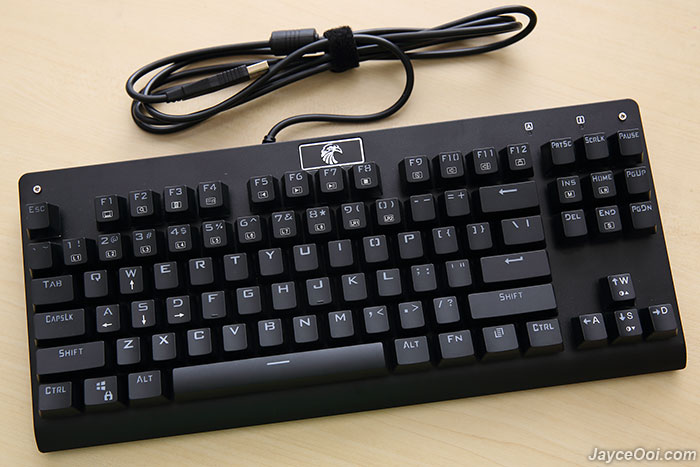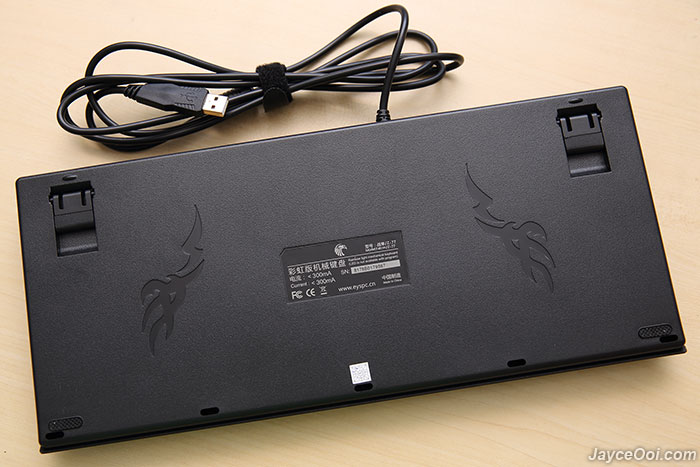 GranVela Z-77 is an 87 keys keyboard without the numpad. All character keys are illuminated with rainbow colour backlit. And 2 LED light indicators for caps and scroll locks. At bottom, you can find 4 rubber anti-skid pads. Yes, even the keyboard legs have anti-skid pads. That's great for providing the best stability. By the way, you can swaps AWSD keycaps with arrow keycaps too. Just refer to all the photos to know more about this keyboard layout.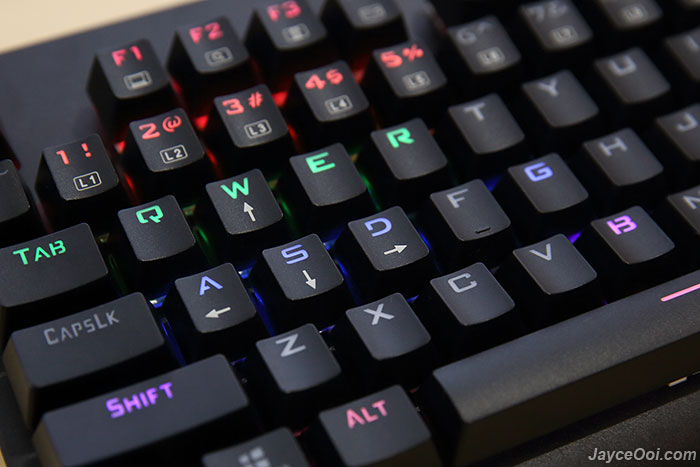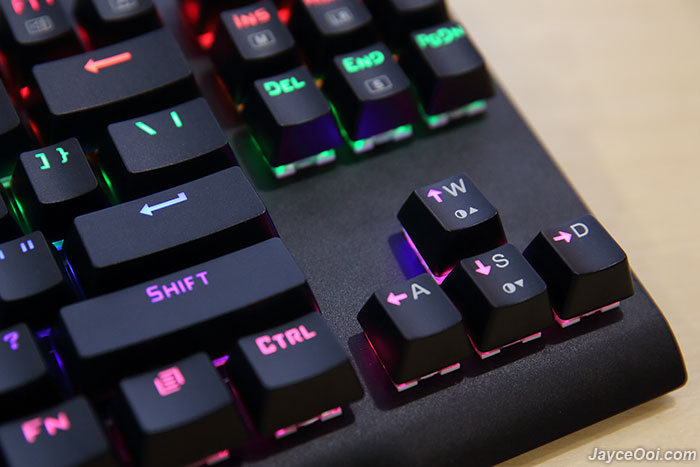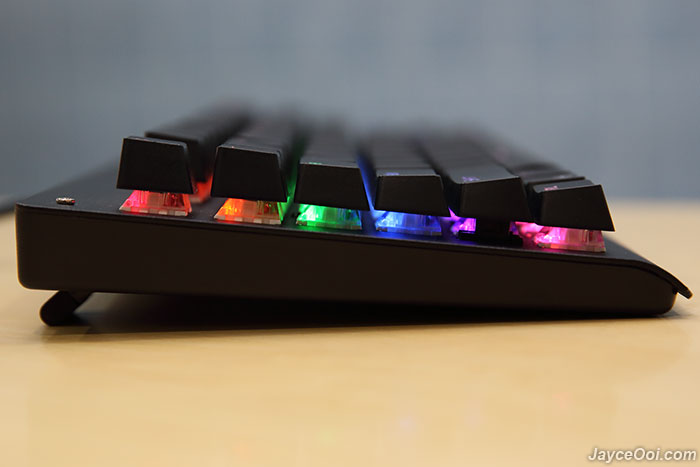 Hmm… The switches are labelled as Xinda. I am still new to mechanical keyboard switches. Not sure they belong to Gaote / Outemu since I did not use both of them previously. Do you know?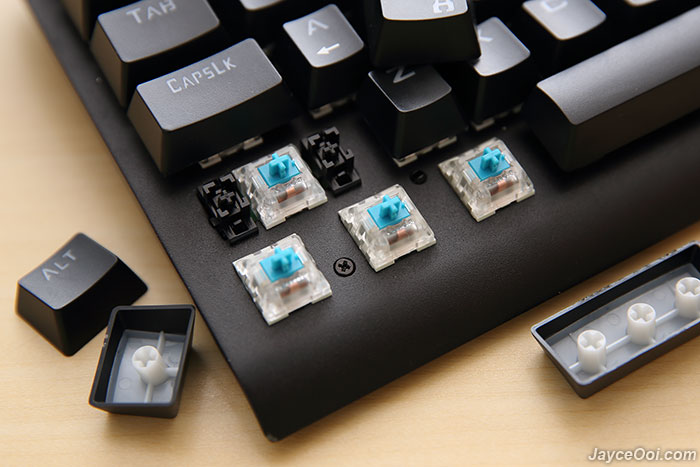 Specifications
Size: 357mm*156mm*30mm
Cord Length: 1.8 m/70.87 inches
Standard Keys: 87
Key Switch: Blue switch
Net Weight: 1075g±15 g
N-key-rollover: Support
USB interface: USB full speed 2.0
Operating Voltage: 5V
Compatibility: Windows Vista/Win 7/Win 8/Win 10/Mac OS/Linux
Performance Result
I like gaming keyboard with colourful illuminated keys. Even though it's not RGB backlit but it is good for gaming as I can see all the keys clearly in dark environment. Not only for show off but have the real usage purpose. Furthermore, it has multiple lighting modes which light up certain keys only. For example, Esc, AWSD and arrow keys are lit for FPS games. AWSD, R, shift, ctrl, alt and arrow keys are lit for racing games. You can also set your own custom backlighting keys on LR1 and LR2 to suit the games that you play. Or set to other 8 light effect modes that have patterns and cool lighting animation like water drop off and snake modes. By the way, there are 3 brightness levels to select. And you can also turn it off totally.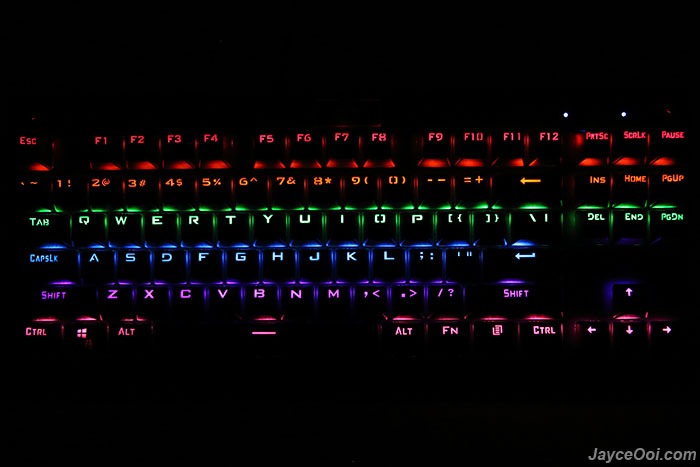 Besides lighting effects, MechanicalEagle Z-77 comes with 12 multimedia function keys. Well, they are not dedicated function keys but shortcuts with Fn key. However, they do their work flawlessly. Yes, you can bring up My Computer, launch Windows Media Player, control songs' tracks and PC volume. You can also lock down all keyboard keys with Fn + F12 (I wonder what is the use of this). Fn + W function lets you to change the functions of arrow keys to WASD keys which provide easier control in games. And the function I like most – Windows key lock function which will help to prevent pressing it while playing games. Yes, no more exit to Windows due to mistaken key press here.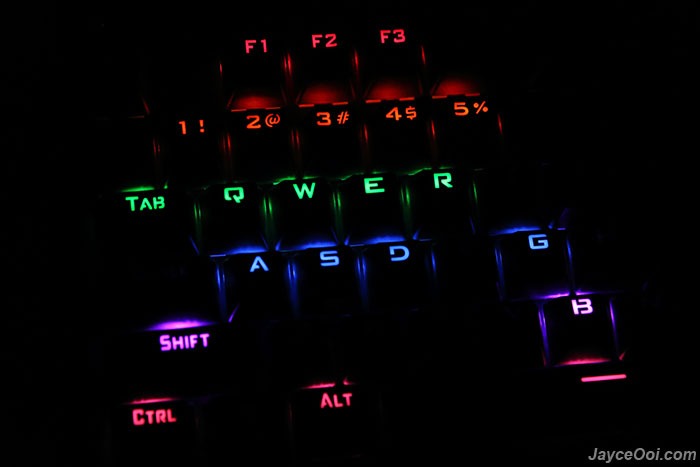 Anti-ghosting technology with n-key rollover!!! Yes, GranVela Z-77 supports it no doubt. Every single key is scanned independently by the keyboard hardware. Windows will able to detect regardless of how many other keys are being pressed or held down at the time. Perfect for fast paced gaming and a must for hardcore gamer. You can also limit it to 6-key rollover for easier password input as well. Xinda blue switches are being used here. Compare to Kailh blue switches (that I tried before), they provide almost the same tactile feedback which is great. Just Xinda switches are slightly stiffer and louder. Again, high profile keycaps give the best user experience here too.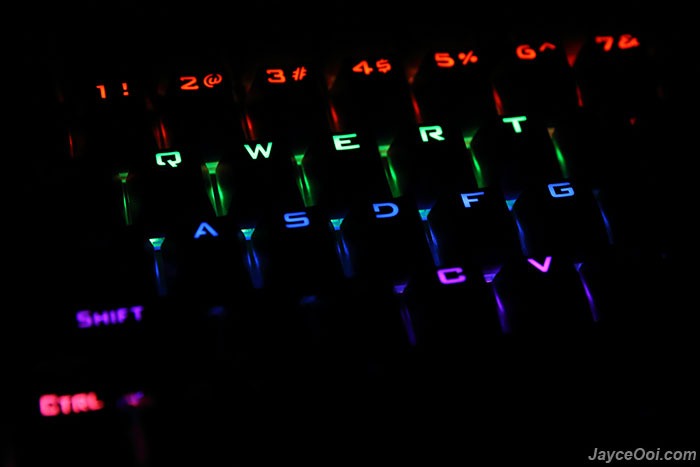 Advantages
Anti-ghosting with n-key rollover
Illuminated character keys
Windows key lock
12 multimedia function keys
Cool backlight effects
Excellent build quality
Limitations
No software (macro) support
slightly loud clicking sound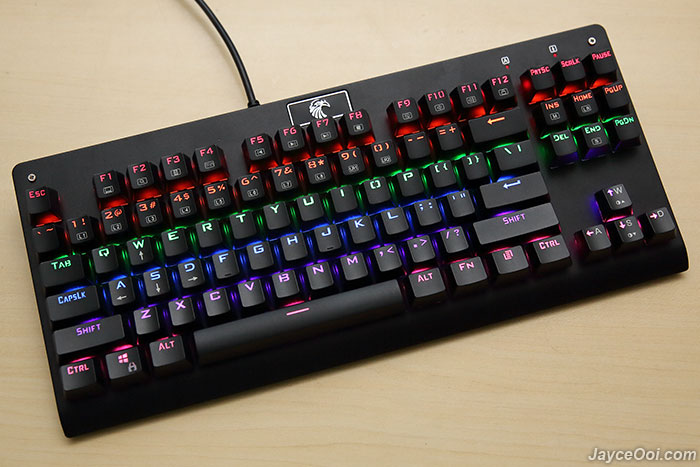 Conclusion
GranVela MechanicalEagle Z-77 is a solid budget mechanical gaming keyboard no doubt. Perfect for those who looking for a their very first mechanical gaming keyboard as it supports anti-ghosting with n-key rollover and loaded with LED illuminated character keys. Wait no more, and grab yours at Amazon now.