Introduction
Any MMO games lovers here? I have one MMO gaming mouse to introduce you. HAVIT HV-MS735 that comes with 19 programmable buttons (including 12 macro keys on the side of mouse) should give you advantages in the games. Furthermore, it has 7 DPI settings and supports up to 12000 DPI. Loaded with customizable LED light and changed according to DPI settings. Sound great? Let's check it out in detail…
Features
19 programmable keys
12000DPI optical sensor
Strong compatibility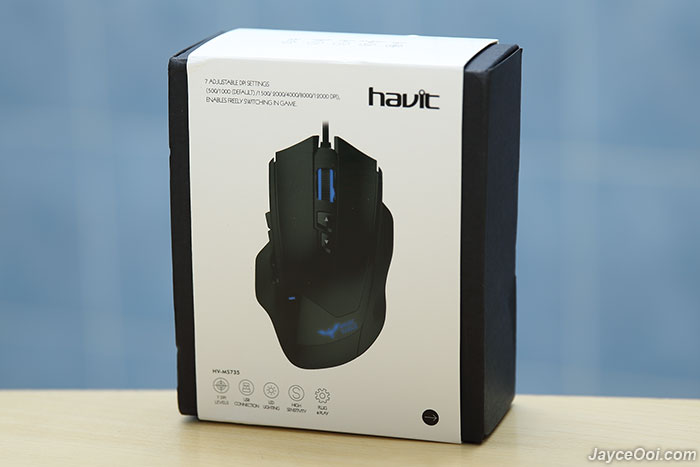 Package Content & Design
I like Havit packaging. It's like open a gift box. You take out HAVIT HV-MS735 mouse first, then CD driver, user guide and feedback card. By the way, the user guides come in 2 languages – English and German. The detailed and colourful guide surely can help you get started to use the mouse in no time.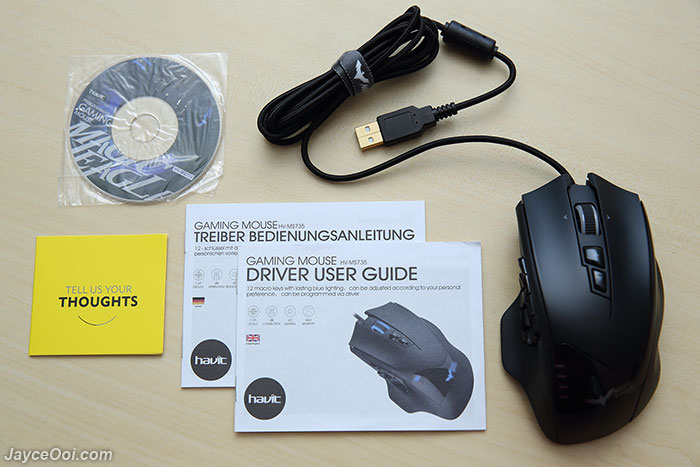 Build quality is great with solid matte plastic. And ergonomically shaped for palm grip. No worry, you still can use claw and fingertip grips as well. Both buttons and scroll wheel provide nice feedback. By the way, the scroll wheel is tiltable and scroll smoothly. Not too tight or loose. All 12 thumb and DPI buttons are easy to reach. Just make sure that you know which thumb button's function because they are a lot of them. The thumb buttons and DPI indicator are blue LED lit (can't change colour). Scroll wheel and MagicEagle logo support multiple colour and effects like standard, respiration and neon. And comes with braided-fiber cable with gold-plated USB connector, magnetic shield and velcro cable tie. Do have a detailed look on the shape of this MMO gaming mouse with pictures below.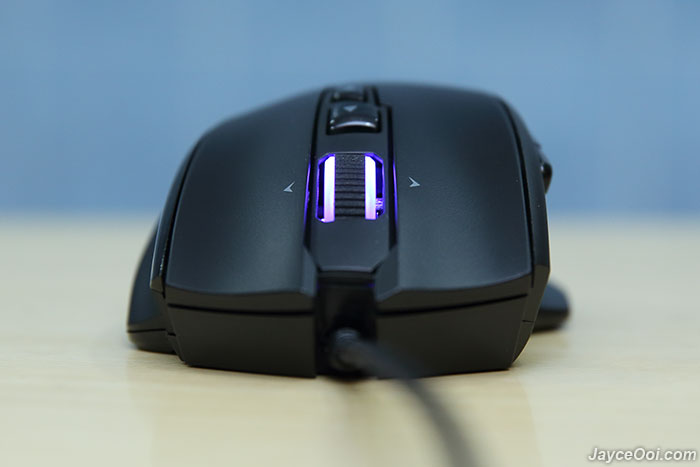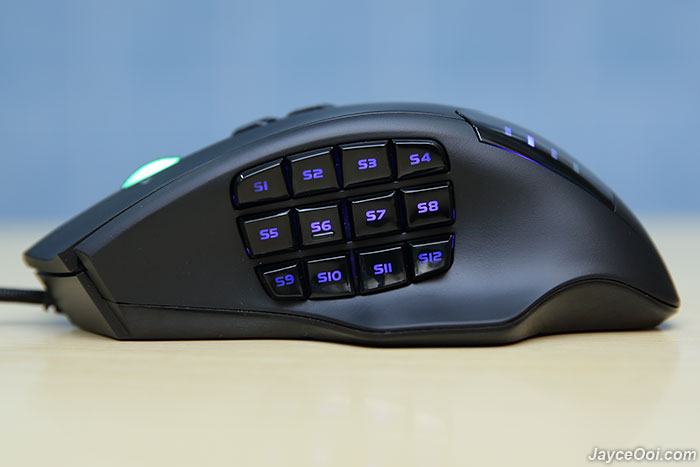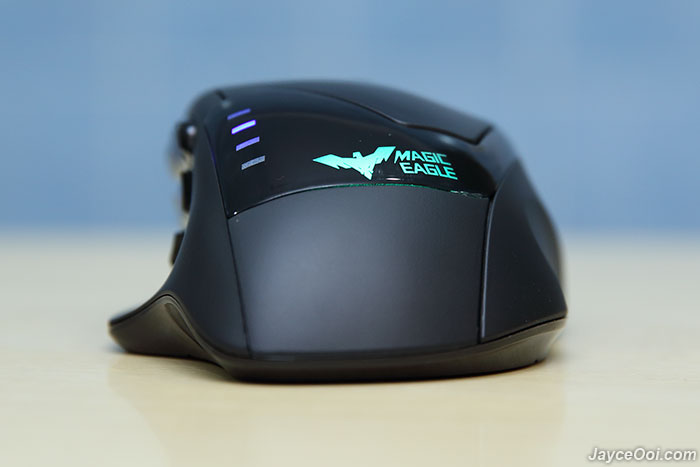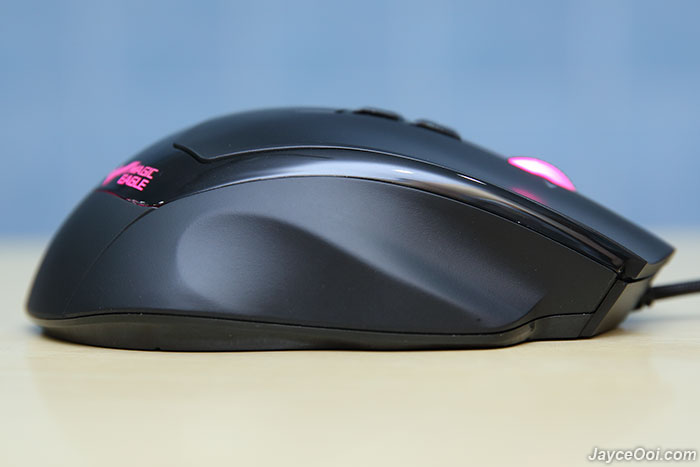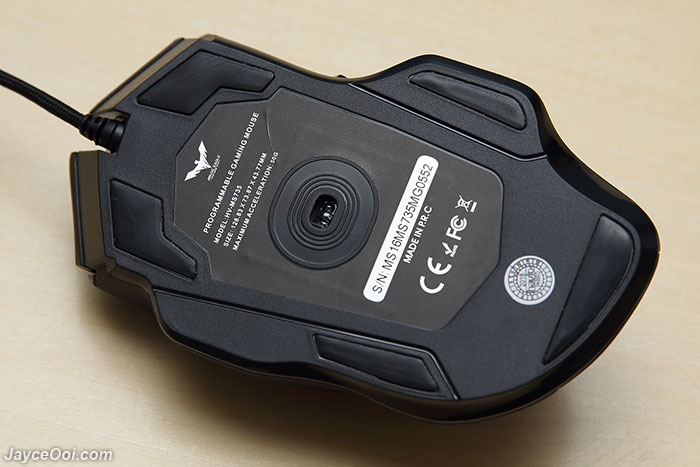 Specifications
DPI: 500/1000 (default) /1500/ 2000/4000/8000/12000 (can be adjusted among DPI via software)
Programming: Supported by software
With driver: Yes
Sensor: Pixart 3360
Sensor Type: Optical
Report rate: 500Hz
Interface: USB
Maximum acceleration: 50G
Frame rate: 12000FPS
Cable length: 1.8 m
Software
You can start using HAVIT HV-MS735 MMO Gaming Mouse without install any software or driver. Yes, plug and play will do. However, you are not getting the most out of it then because the most important 12 thumb buttons are disabled. And DPI values are set to 500, 1000, 1500, 2000, 4000, 8000 and 12000 DPI by default. Therefore, you need to install driver from the CD or download from Havit Website. You can configure lot of stuffs once installed.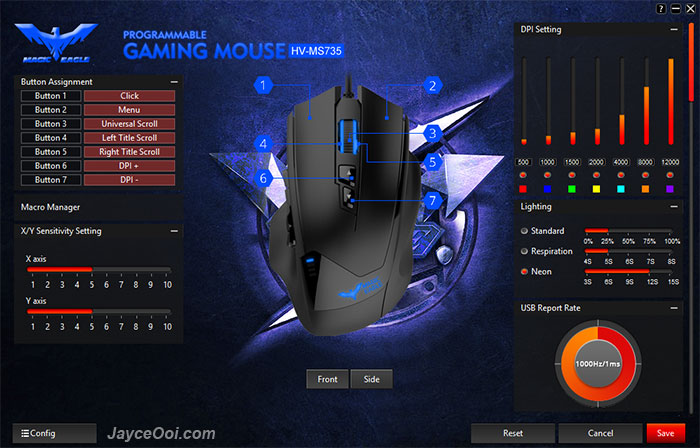 The very first thing that I did after install software and driver – adjust DPI setting. Yup, you can select from 100 DPI to 12000 DPI with 100 DPI each step. However, the selection is not so user friendly because you can't input based on number value but need to adjust based on the bar. Not easy but luckily you only need to adjust them once in a while. After that, you can set the LED light colour to match to the DPI values. Example, red for 500 DPI, blue for 1000 DPI and so on. Just pick the colour that you prefer. Or set it go wild in neon mode which cycle through all the colours. As usual, I set the USB report rate to 1000Hz/1ms. Leave mouse, double click and scroll speed as default. By the way, you can turn on angle snap and use gesture correction features too. And of course, adjust X/Y sensitivity as well.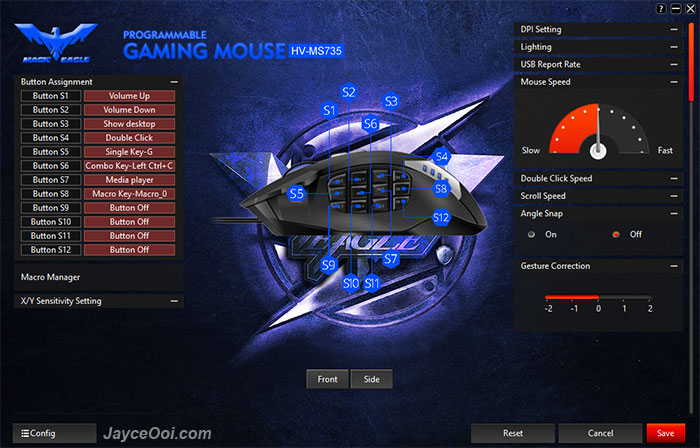 Alright, it's time to configure the buttons now. Yes, take your time as there are 19 programmable buttons to go through. As usual, you can set lot of shortcuts like copy, paste, multimedia functions like volume up/down, play/stop, or Windows functions like show desktop, bring up My Computer and combo keys. Of course, you can set complex key combination with built-in macro manager as well. Set all macro keys that can bring victory to all your games. Before I forget, it supports simple profiling and all the settings are stored in mouse memory. Therefore, you still have the same setting configuration when you plug it into another PC. Cool, right?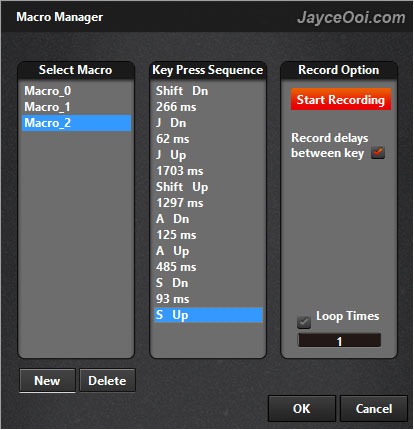 Performance Result
Yes, the optical sensor is located at center of the mouse. This gives you the best usability and adapt to the mouse really fast. Every mouse should have this kind of design. And Pixart 3360 optical performance is great too. Works on multiple surfaces including slightly shinny and reflective ones. Great on gaming mousepad of course. Highly sensitive 12000 DPI mode is still usable. Personally, I don't use DPI that high. 4000 DPI is good for me already. The liftoff distance is very low and that's great. And of course, the mouse is very accurate no matter which DPI settings you set.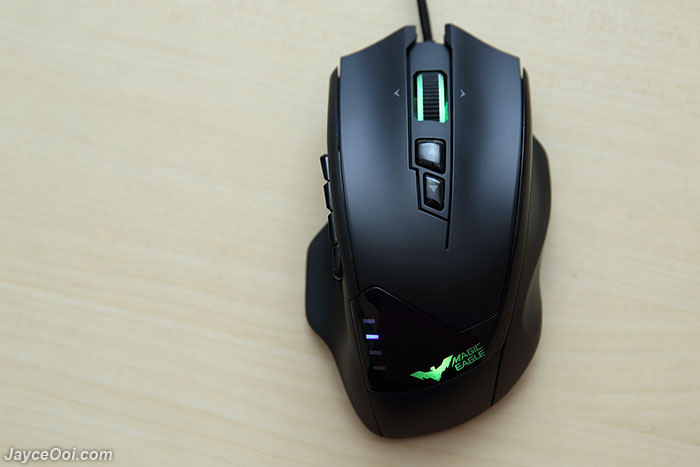 Advantages
Great optical performance
19 programmable buttons
Good ergonomic for comfortable grip
Customizable lighting effect
Onboard memory profile
18 months warranty
Limitations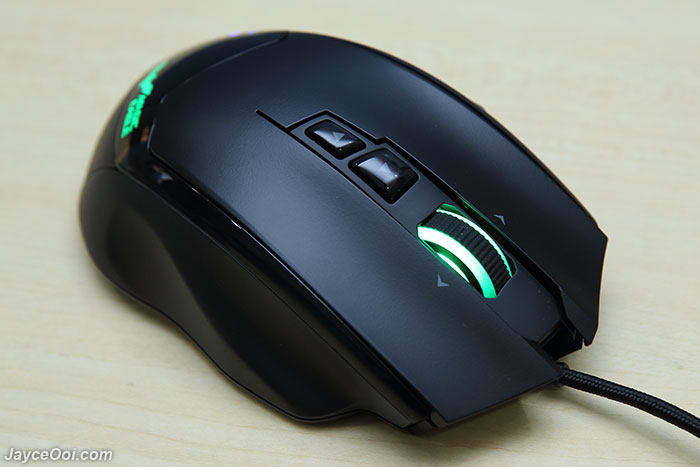 Conclusion
Looking for a MMO gaming mouse? Look no further, give HAVIT HV-MS735 a try and you will like it as I do. Yup, enjoy all 19 programmable buttons and great optical performance from Pixart 3360 sensor. Don't forget the cool yet useful LED lighting effects too. As usual, do check out more information at Havit Website. And you can buy it at Amazon and AliExpress.