Introduction
Hey guys, meet this stylish fully customizable RGB gaming mouse – Ironcat Infinity One. It is loaded with 16000 CPI PixArt PMW3389 optical sensor, 32Bit ARM MCU for fasted speed control, Omron 20M Switch and LOD adjustable for FPS gaming. Of course, don't forget its unique customizable design and lovely RGB light effects. Alright, let's have a closer look on it…
Special Thanks
This review is possible thanks to below companies. Be sure to check them out…
Ironcat for this Ironcat Infinity One Fully Customizable RGB Gaming Mouse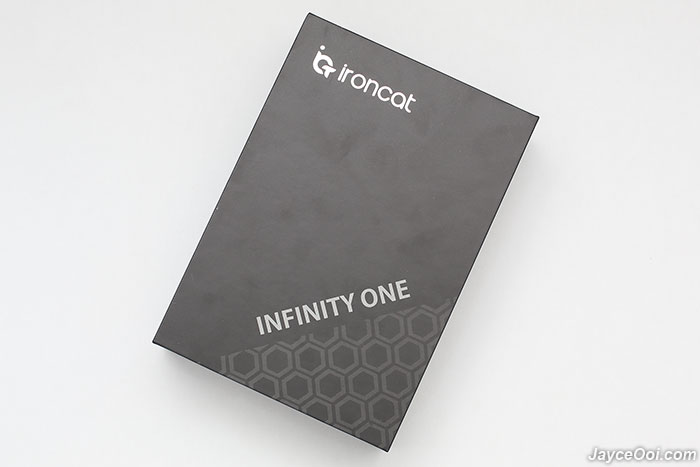 Package Content & Design
Ironcat Infinity One comes in a sturdy package. Well-protected by foam board as you can see. And a lot of stuff included for DIY customization.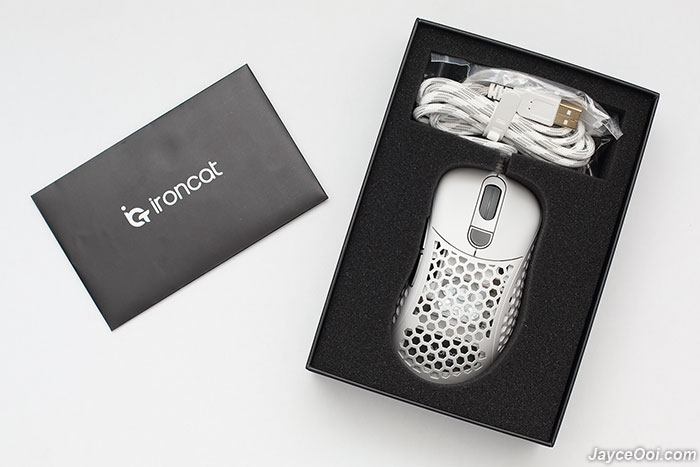 There is detailed user manual in both English and Chinese. Extra high quality teflon footpads replacement, bottom cover and grip covers for both right and left side.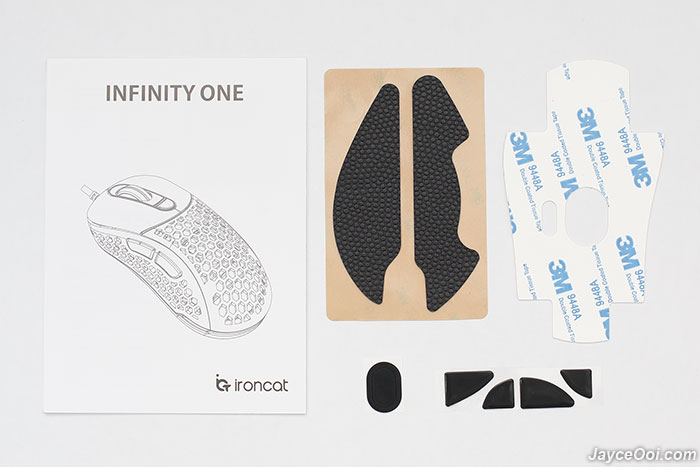 That's not all. A without hole cover and 2 extra rubber DPI buttons with different colour.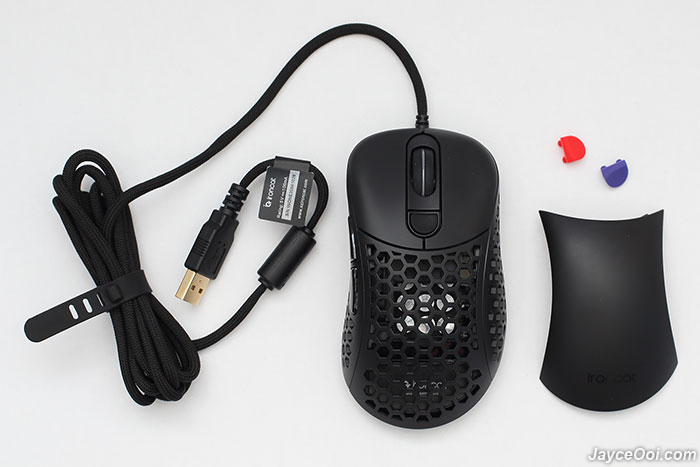 Build quality is excellent! Solid plastic housing with smooth matte surface. In addition, it is stylish with those colourful LED light effects. Nice honeycomb design and perfect for right-handed with great ergonomic. Medium in size that suitable for all grip types like fingertip, palm and claw styles. Every buttons and scroll wheel can be accessed easily. By the way, the slightly glossy matte UV surface gives smooth feeling when touch. 5 small glide pads at the bottom. Finally, the 1.8m paracord cable comes with anti-interference magnet ring, cable tie and gold plated USB plug. As usual, do check out all the photos for details and see the loving RGB LED lights.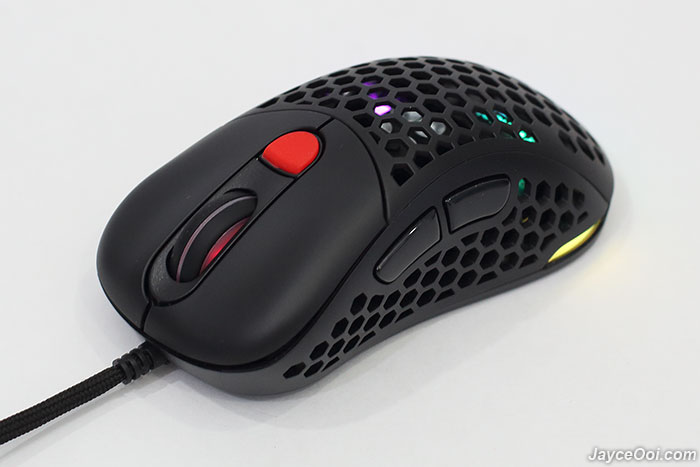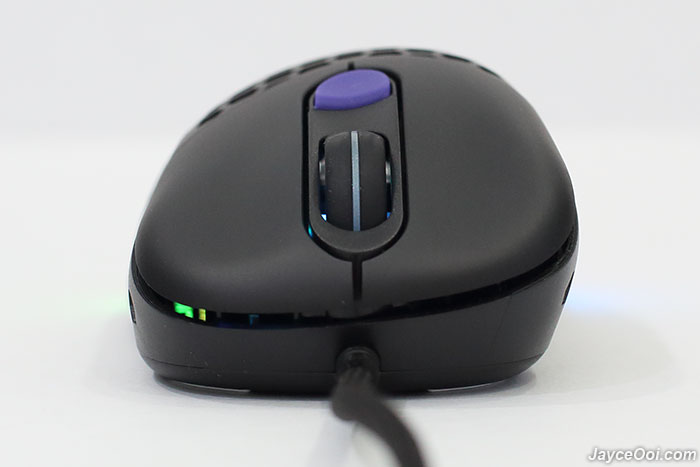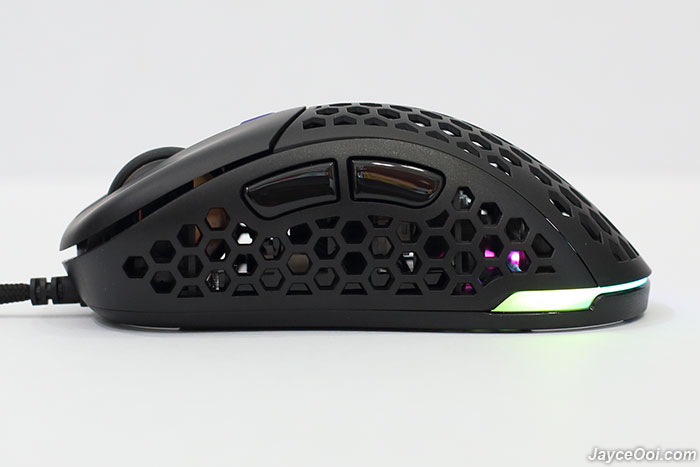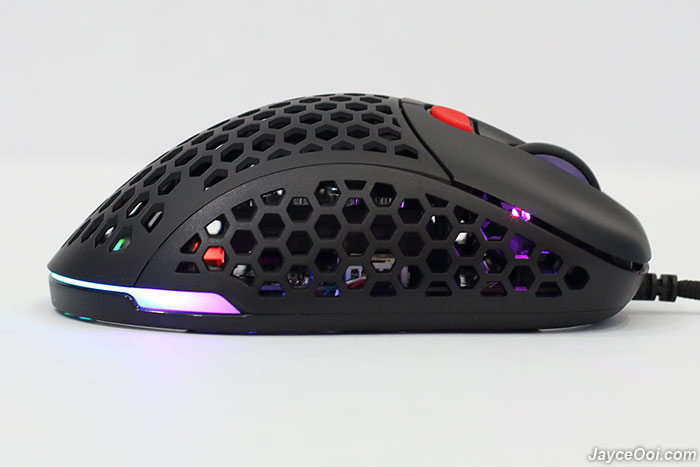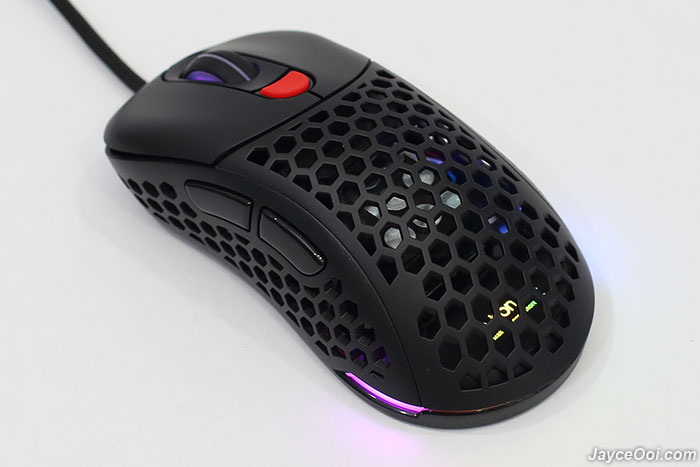 Software
You can start to use Ironcat Infinity One without any software driver. With it, you can unlock all its features and functions. All 7 macro-able buttons are configurable. Select Windows shortcuts, macros and multimedia functions that you prefer. 5 profiles that store in onboard memory.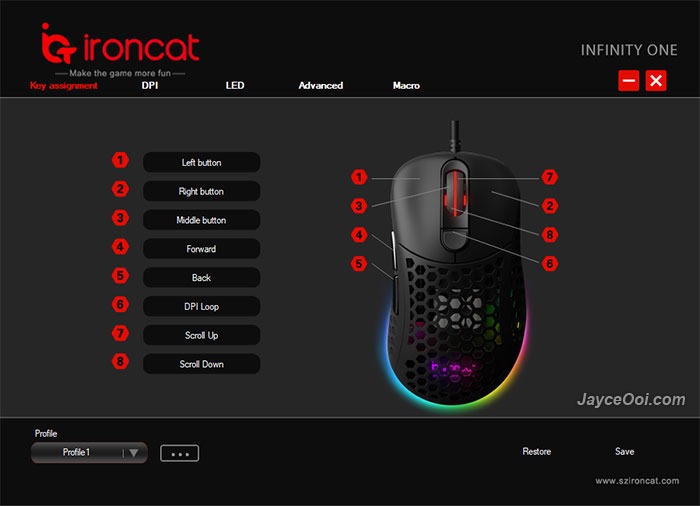 7 sets of DPI can be set from as low as 50 to 16000 CPI. 50 DPI / step adjustment. You can also adjust X/Y axis independently. Hmm… That's new to me.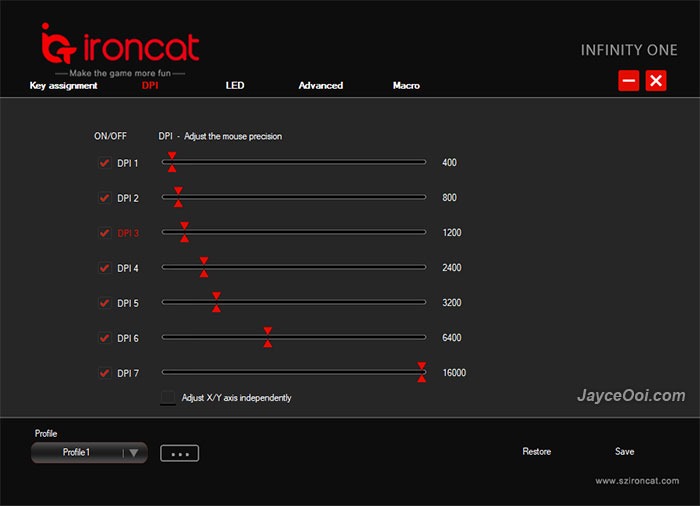 As usual, you can play around with the LED light effects. The default one is Prismo and follow by Steady, Breathe, Neon and LED OFF. Brightness, animation speed and colour can be configured.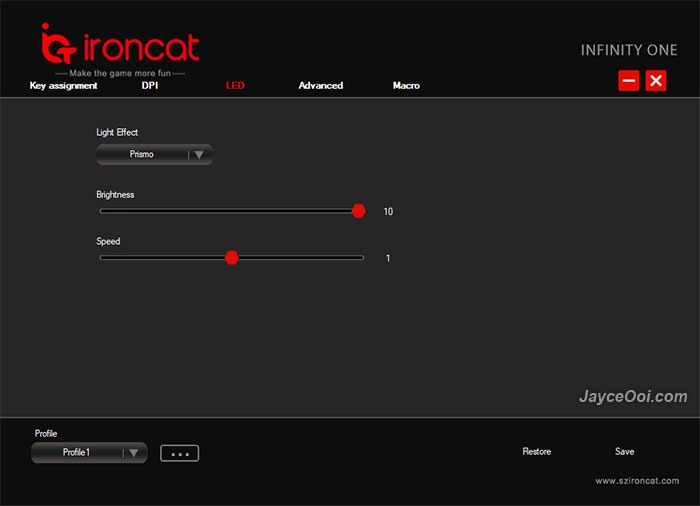 In advanced settings, you can set mouse sensitivity, scrolling and double click speed. Yes, you can set Lift Off Distance (LOD) as well. Set a very low LOD that great for FPS gaming. Of course, the usual macro manager to assign macro shortcut is included too.
Performance Result
PixArt PMW3389 optical sensor is perfect for all type of games out there. Accurate and great for the price indeed. It is working well on multiple surfaces including slightly shinny and reflective ones. The optical sensor is located at center of the mouse. That's good as no new learning curve here. Again, ergonomic is perfectly well and fits my right hand. Best for medium size hand by the way. Buttons are responsive and feedback is good too thanks to durable OMRON switches. Scroll wheel has enough grip for gaming and still fast to scroll along website.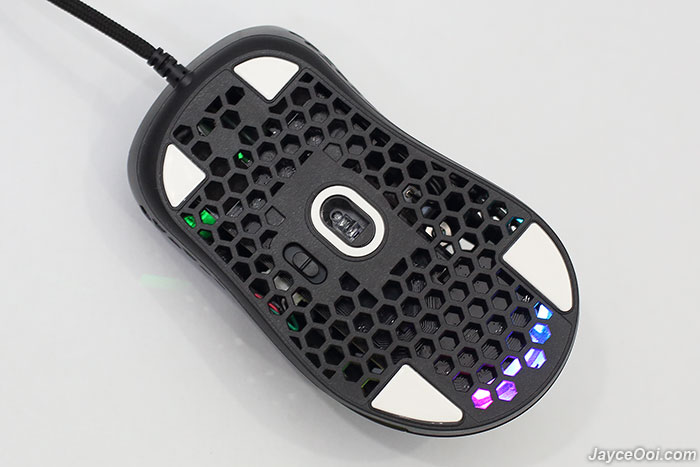 Change response rate with this switch at bottom of the mouse – 125, 500 or 1000 Hz polling rate. Just pick the one that suits you most. You can use Infinity One for all type of games including FPS, MOBA, RTS, sports and so on…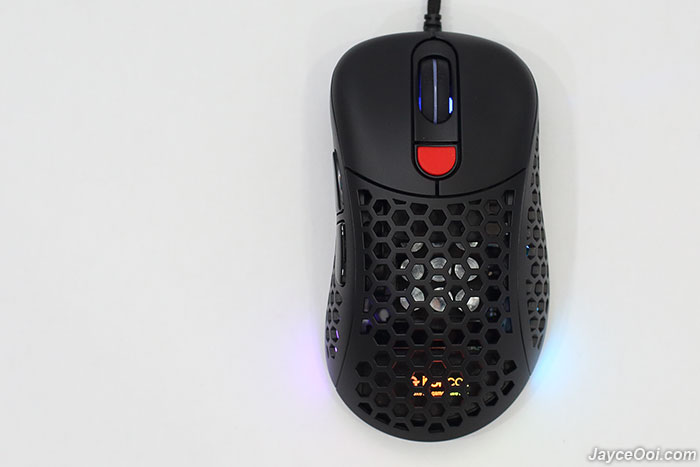 Lot of customizations
It's DIY time! First of all, you can adjust the overall mouse weight with unique customizable modular weight system. 12 pieces of round metal with 1.5g for you to choose. Just pick the weight that you prefer – total mouse weight from 55g to 80g .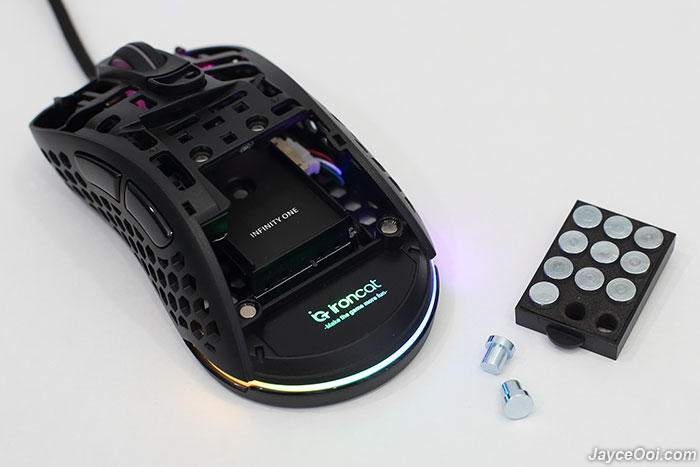 Lot of colours to choose. And detachable cover. Select the default honeycomb cover or without hole cover. Totally up to your taste.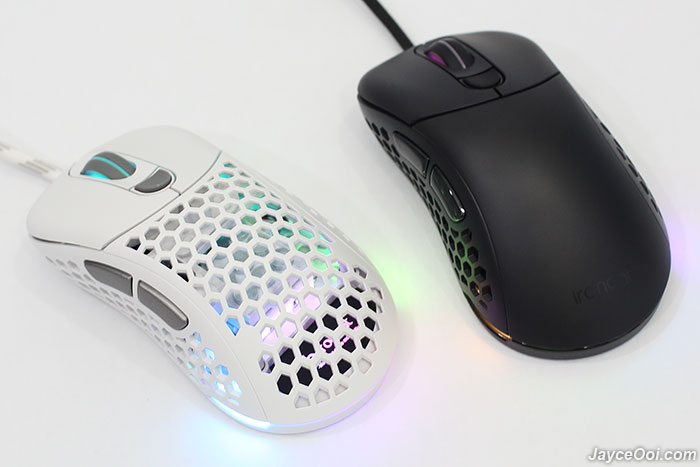 Yup, buttons can be changed as well. Same apply to the DPI button that I mentioned previously.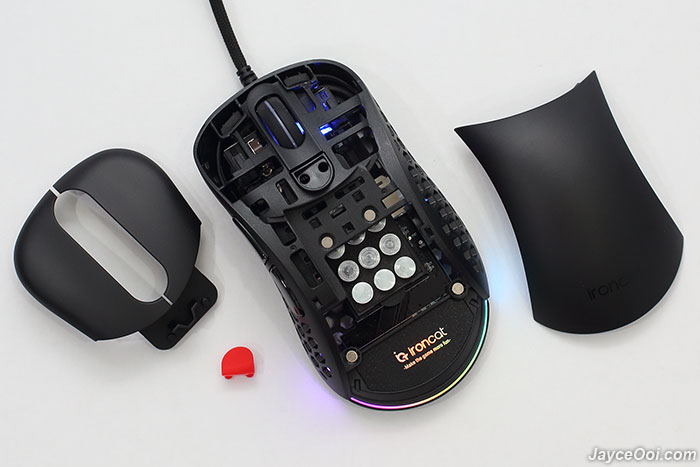 Add cover to the mouse bottom? Yes, you can do so.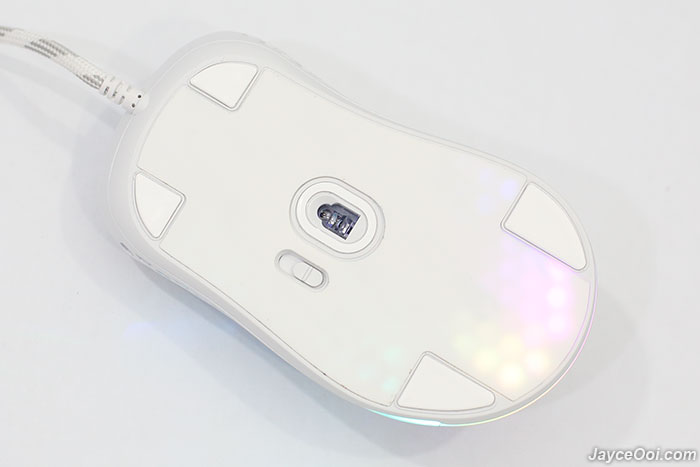 Put on more grip with the bundled side grips for both left and right. Fully customizable no doubt!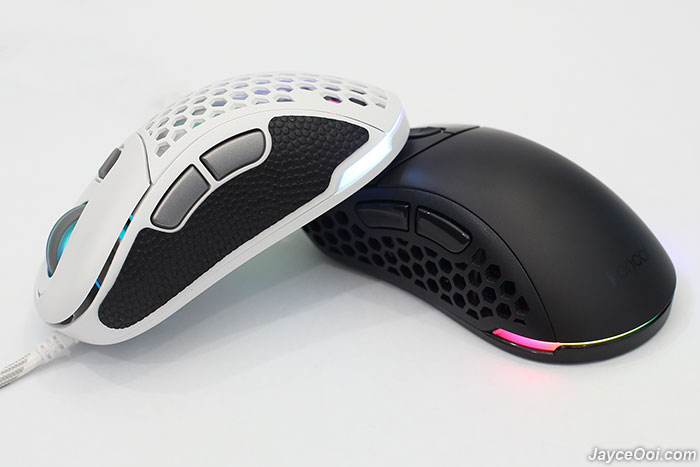 Lovely RGB light effects
Last but not least, the colourful LED light effects to level up your gaming experience. Enjoy…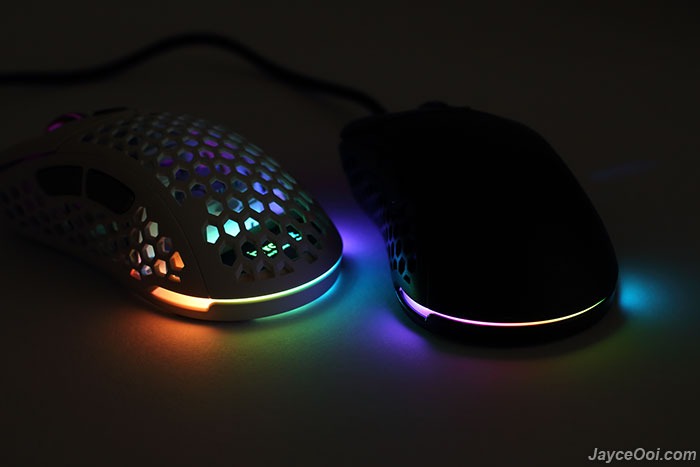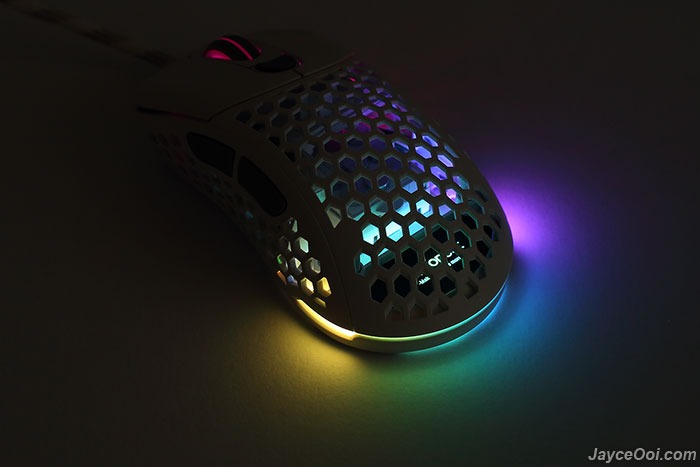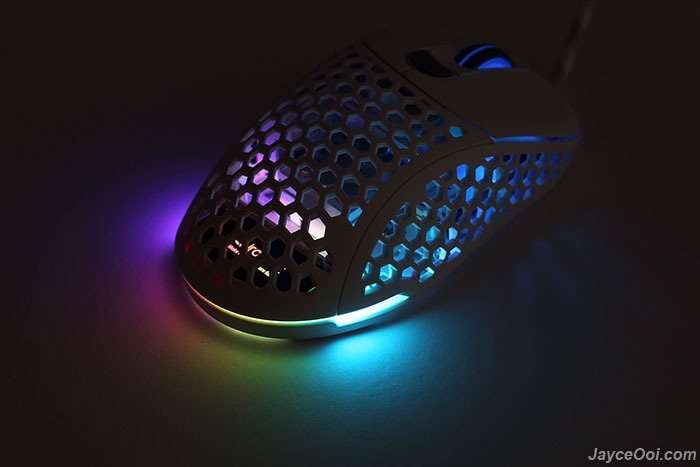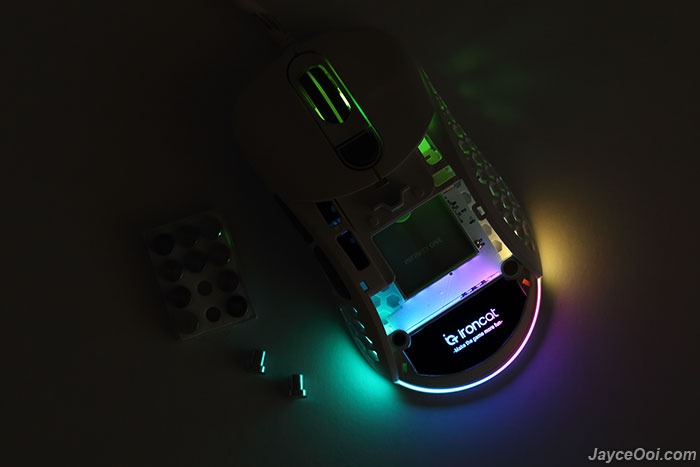 Advantages
Outstanding optical performance
Excellent ergonomic for comfortable grip
Fully customizable
Adjustable CPI values
Weight management
Customizable keys & LED lights
Lovely RGB light effects
Stylish design
Limitations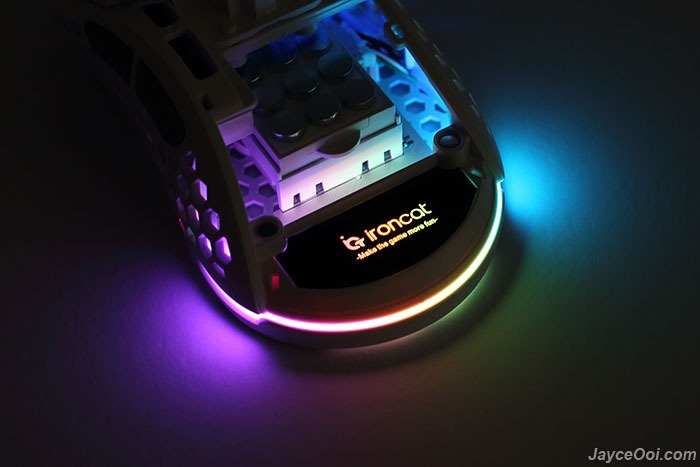 Conclusion
A performing fully customizable gaming mouse! Period. Enjoy accurate optical sensor and excellent ergonomic. Great for all type of games. Don't forget the lovely RGB LED light effects too. Interested? Do visit Ironcat Website for details.