Introduction
"Mom, did you see my wallet?", "Where is my keys?"… Can't find your stuffs? Fear no more, Lapa 2 – the Bluetooth object finder comes to rescue. Besides wallet and keys, you can use Lapa to find other stuffs like pet, laptop, backpack, or anything that you want including tablet and smartphone that linked with Lapa. By the way, Lapa 2 is the 2nd generation object finder from Lapa Studio. It uses Bluetooth 4.0 LE with replaceable battery which able to last for 1 year. Furthermore, it is waterproof and reachable up to 60 meter. Interested? Read this review to find out more about this Bluetooth tracker…
Specifications
Bluetooth 4.0 Low Energy Support
Up to 200 feet / 60 meter range in line of sight
1 year battery life
Replaceable CR1632 (140mAh) battery
Waterproof, submersible up to 3 meters
Operate within -20°C and 70°C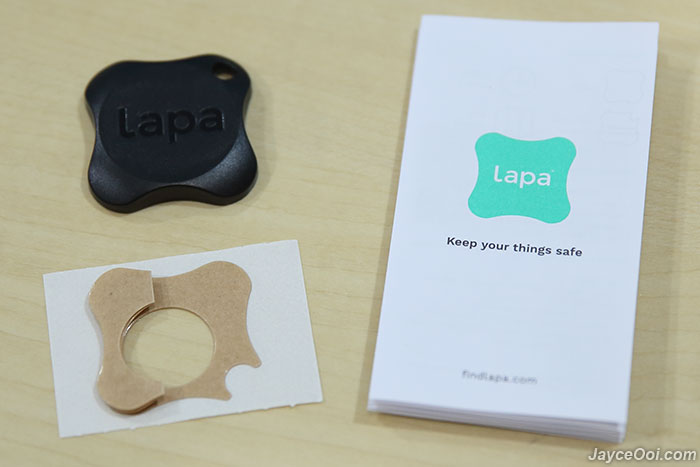 Package Content & Design
There are Lapa 2 with CR1632 battery loaded, adhesive sticker and information manual in the package. That's it. The manual is very useful to get you start using Lapa. Lapa itself is made with sturdy polycarbonate and EPDM which are shock resistant and waterproof. There is a big Lapa logo in the front. And an embedded button just right below it. On the top right, there is a hole for key chain and strap. LED light on top left. The battery is located at back with removable cover. As for dimension, it is 33mm x 33mm x 5mm. By the way, there are 3 colours to choose. Mine is black and the other two are white and blue. In addition, there are accessorizes like bracelet and pet collar to keep your love one safe.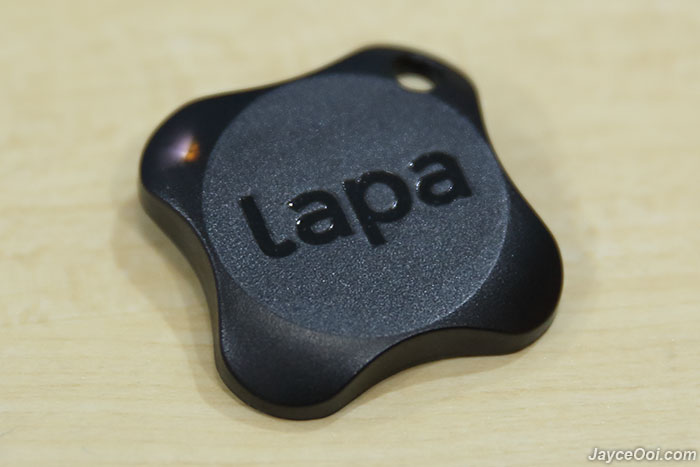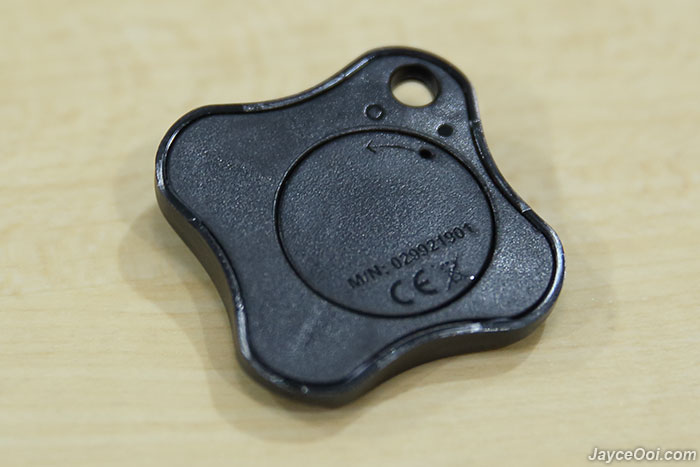 Software
Lapa 2 is super easy to use. Thanks to simplified and well design application. Just download Lapa application from Play Store or App Store. Register an account and add your Lapa to it. You are ready to go. By the way, Lapa supports both iOS (iPhone 4s & later, iPad Mini, iPad 3rd & later) and Android 4.3 devices onward with Bluetooth 4.0. With the app, you can track your Lapa as long as it is within Bluetooth range. Once connected, you can click on the bell icon to make Lapa rings and flashes. This will ease to find it. Besides, its current location is updated with GPS through your smartphone. And it is using Google Maps to provide precise location on last seen coordinate. In addition, you can share your Lapa with friend and family too. They can track it through their smartphone as well then. One of the best part of the software is its safety mode. Lapa app will alert you when your belonging is left behind. Finally, report your Lapa as lost so that other Lapa users can help to track it for you.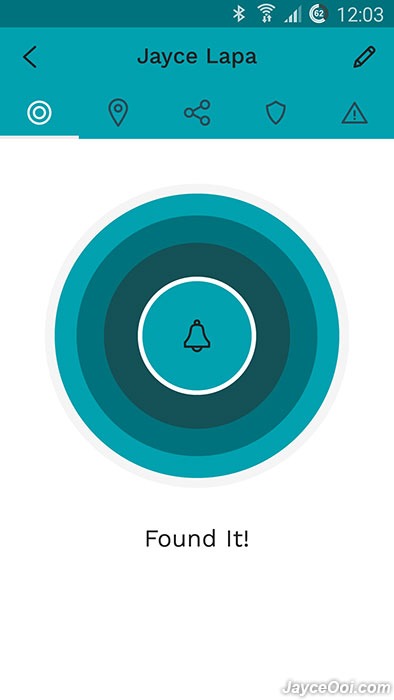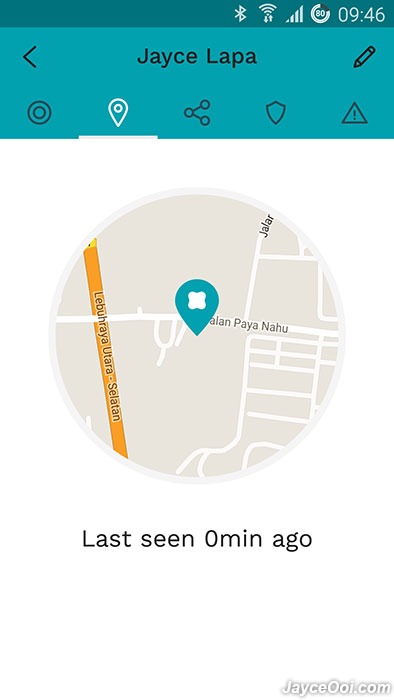 Performance Result
Wow… Lapa 2 coverage range is really great. Yes, it definitely able to get connected up to 60 meters in line of sight. I tested it on the field in front of my house. It manages to detect Lapa from one corner to another corner. Or course, range is shorter during indoor with lot of obstacles. But I still manage to get Lapa which hid under pillow at my bedroom upstair from ground floor connected. Basically, I can find it as long as it is within the house. There are 4 stages of range definition once connected = within range – getting near – almost there – found it. This will help you to determine that your Lapa is nearer or farther away. I have no problem to locate my belonging. And the sound alert ease the finding task better during 'almost there' range. The sound is not that loud but you will surely hear it within a room. I can hear it even put it in my wallet. However, you might miss it when it is covered by pillow. By the way, the flashing LED light is very useful at dark environment (or bottom of your bag). You can't miss it.
Yes yes yes!!! Lapa 2 is waterproof. I did not have the chance to immerse it up to 3 meter. But I did left it overnight on my half meter water pool. And it is still working fine now. No worry about dropping it in water or mud. It will survive but coverage range will be lesser when submerged in the water. Lapa 2 gives me consistent and accurate location after weeks of usage. No issue to track my stuffs here. And it is very useful to track where is my smartphone too with single click on Lapa. Yes, it even work when my smartphone is in silent mode. No worry about losing your smartphone or your Lapa attached belonging anymore.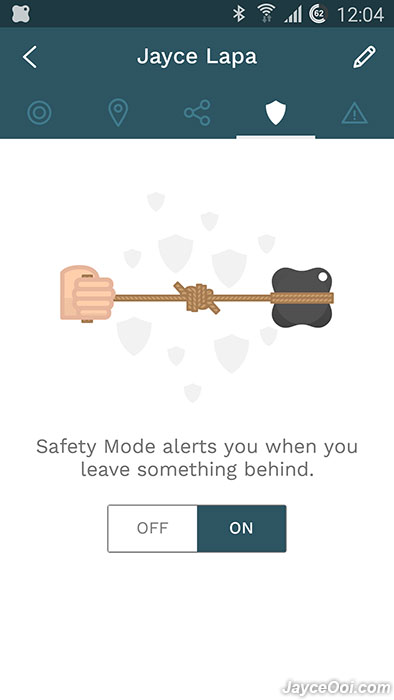 Any complaints? Lapa 2 is working on all my Android devices and iPad 3. I using it primary with my Samsung Galaxy S4. The safety mode is a hit and miss for me. It did alert me when Lapa is out of range. But some time is not. And I can't seem to get report it as lost function to work as well (or I don't know how it work). Reported mine as lost and let other user to find. But other can't seem to detect it and update its latest location.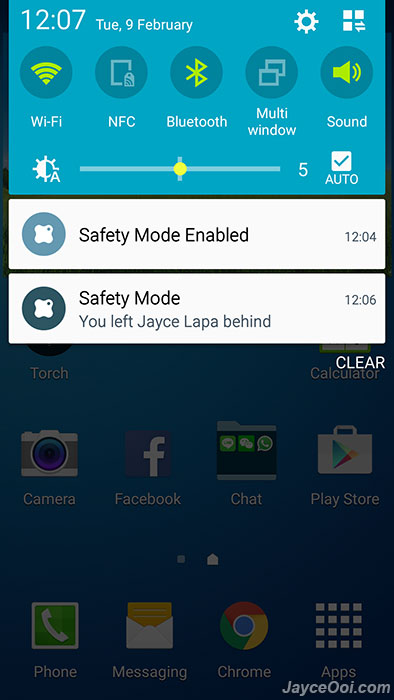 Advantages
Superior Bluetooth coverage
Excellent build quality
IP8 waterproof
Replaceable battery
Clear sound & useful LED
Limitations
Lapa App needs improvement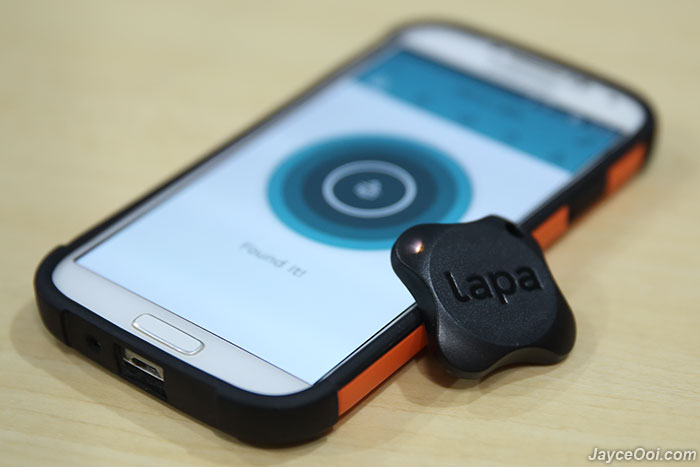 Conclusion
Always left things behind? Forget where your stuffs are? Lapa will help you recover them and save your precious time. With its easy to use application and wide Bluetooth coverage, your lost belonging will be retrieved in no time. Besides, it is built with durable material and waterproof to provide consistent and accurate location data even in harsh environment. Interested? Head to Lapa Website for more information. And get yours at Amazon.