Introduction
Microsoft Explorer Mouse is the first Microsoft mouse with its new BlueTrack Technology. Microsoft BlueTrack Technology combines the power of optical with the precision of laser for remarkable tracking on virtually any surfaces like granite countertops, carpet, wood table and even on a rough, unfinished park bench. (does not work on clear glass or mirrored surfaces). Microsoft has 2 series of Explorer Mouse ~ one is desktop version and another mini version for mobile (Microsoft Explorer Mini Mouse). We will talk about the bigger brother ~ Microsoft Explorer Mouse.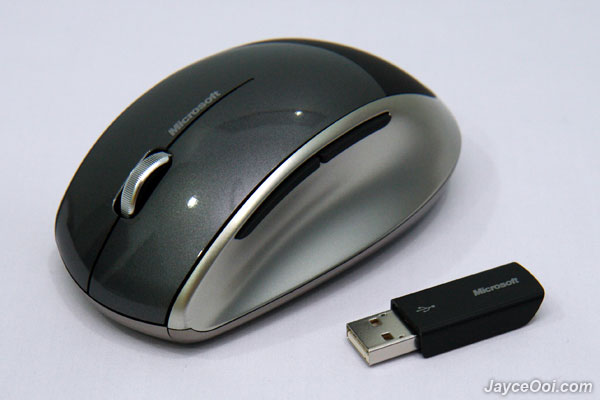 Microsoft Explorer Mouse Features
BlueTrack Technology
Easy Recharging
Snap-in Mini Transceiver for Portability
Sophisticated Design and Ergonomic Comfort
3 Weeks Between Charges
Blue Lighting Effects
Works on Virtually Any Surface
Device Stage
Better Than Optical and Laser
4-Way Scrolling
Customizable Buttons
Ergonomic Design
Rechargeable Mouse
3 Years Warranty
Package Contents
Microsoft Explorer Mouse comes in a good packaging. There are Microsoft Explorer Mouse, mini transceiver, recharging base, AC adapter, 1 rechargeable AA battery, driver CD and manual guides inside the package.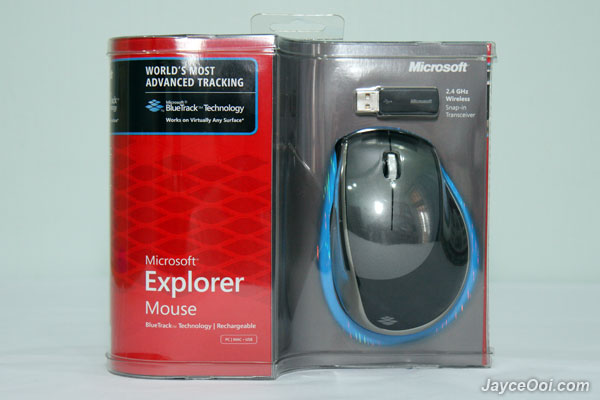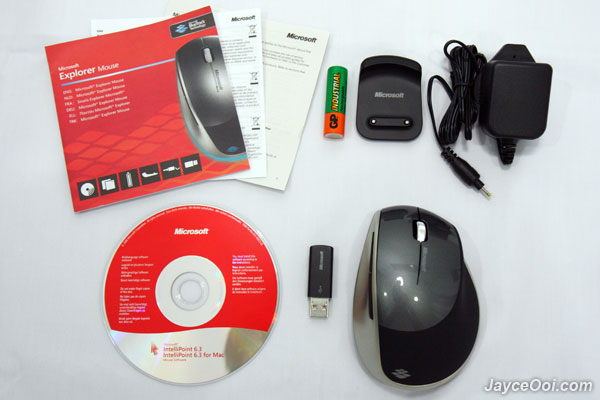 Design
Microsoft Explorer Mouse has a sophisticated design and provides ergonomic comfort due to its ergonomic layout. However, it is a big right-handed mouse and may not suitable for small hands. There are 5 buttons in total. 2 main left and right buttons, 1 middle wheel button and 2 side thumb buttons. All of them are customizable thanks to Microsoft Intellipoint software. Yeah, I love the glowing blue light effects that coming out from bottom of it when you unplug the mini transceiver. It looks so cool and I cannot stop myself to show off it to my friends. By the way, Microsoft Explorer Mouse's scroll wheel does not support click-to-click scrolling. Its hyper-fast scrolling is good for office work like reading spreadsheets and documents but not suitable for 3rd person shooter games that require click-to-click scrolling during changing weapons.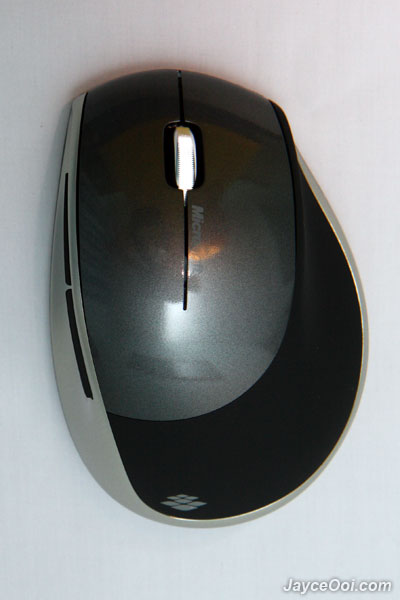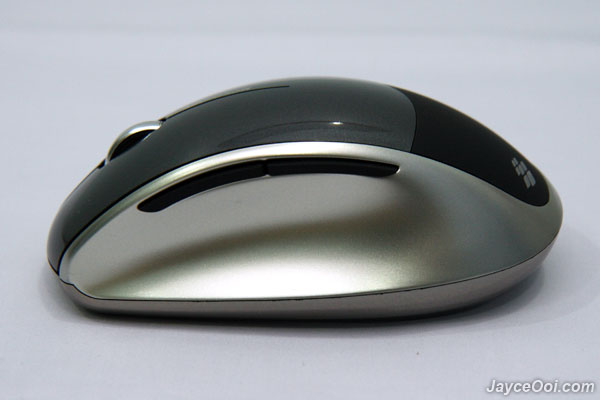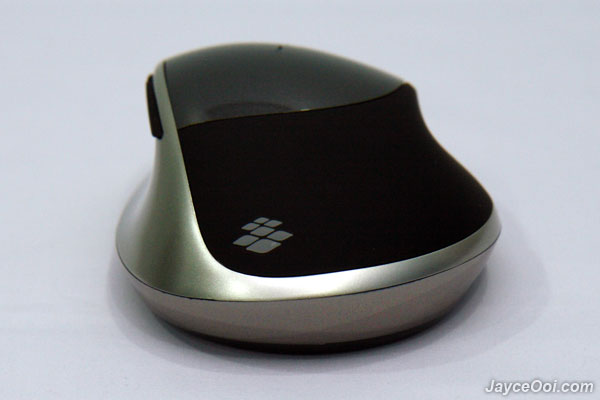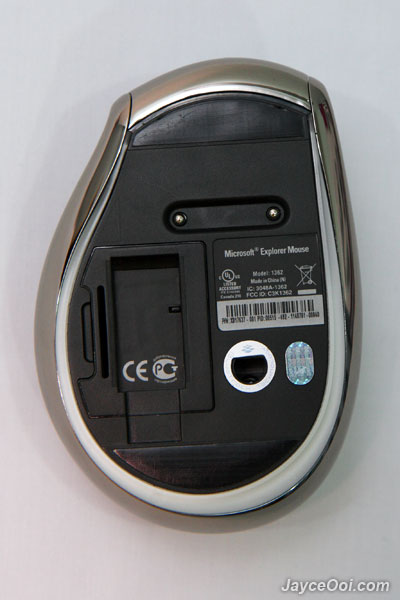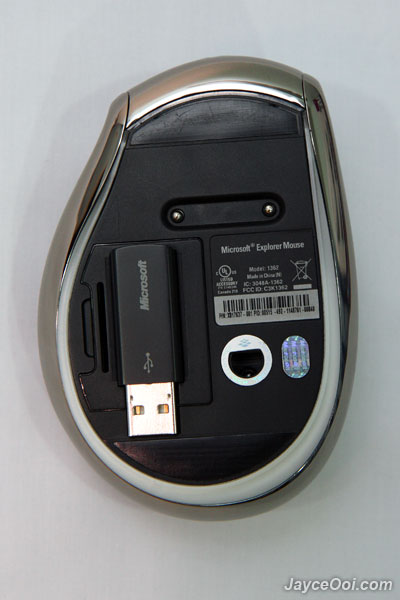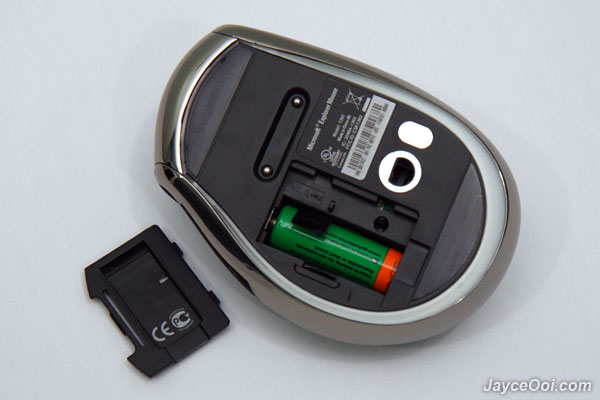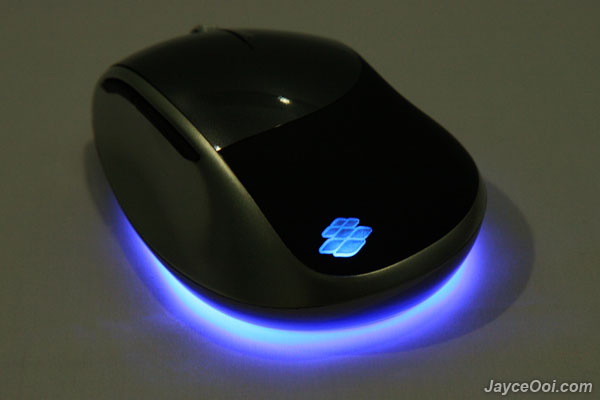 Performance Results
Microsoft BlueTrack Technology is the main selling point of Microsoft Explorer Mouse. It can work on virtually any surfaces. Okay, let's test it. It is a surprise that Microsoft Explorer Mouse cannot work properly on certain matte art white paper. The mouse cannot move at all on it. Seem like the same old white surface issue faced by Microsoft Wireless Notebook Laser Mouse 7000.
Working surfaces
Mouse pad
Wood table
Ceramic tile
Bed sheet
Carpet
Jeans
Non working surfaces
Glass
Mirror
Certain matte art white paper
Microsoft Explorer Mouse's ergonomic design is great. Using it whole day long is a joyful task. For those coming from smaller mouse, you might need to take sometimes to adapt to its size. How about the battery performance? Based on 8 hours x 5 days per week usage, its battery can last for around 2 weeks on single charge. The red light indicator will blink when the battery level is low. Then, it's time to charge it by using the recharging base. It took me around 4-5 hours to fully charge it. Or you can use normal AA alkaline battery too.
Conclusion
Microsoft Explorer Mouse is a great mouse with Microsoft BlueTrack Technology. Love the cool blue lighting effect. It works on virtually any surfaces. A nice companion for those who travel a lot and use its mouse on multiple surfaces. Interested? Head to Microsoft for more technical information. And do check out other experts and users' opinions at TestFreaks.