Introduction
After AMD took over ATI… ATI Radeon HD 4800 series broke lot of benchmark scores and they are selling at a very attractive price range too. There are lot of model in HD 4800 series like 4830, 4850 and 4870. And we have 512MB, 1GB and 2GB version of video memory to choose from. Not to mention X2 series like 4850 X2 and 4870 X2. There one that I have is Sapphire ATI Radeon HD 4870 Silent Efficiency 512MB GDDR5 PCI-E. How does it perform? Read on to find out…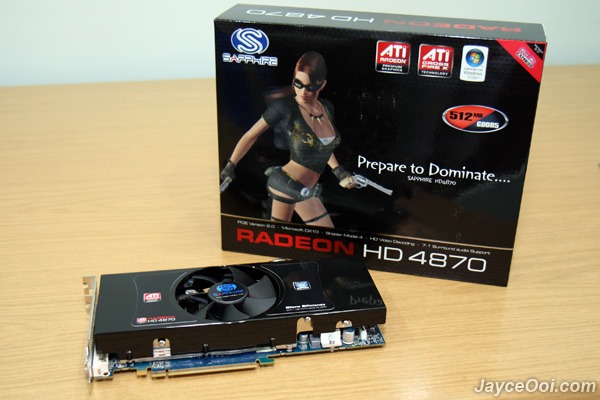 Product Specifications
Display Output: Dual DL-DVI-I+HDTV
Core Clock: 750 MHz
Memory Clock: 900 MHz, 3.6Gbps
PCI Express 2.0 x16 bus interface
512MB / 256bit GDDR5 memory interface
Dual Slot Active Cooler
HDMI compliant via dongle
7.1 Audio Channel Support
Microsoft® DirectX® 10.1 support
Shader Model 4.1 support
Packaging and Accessories
Sapphire ATI Radeon HD 4870 Silent Efficiency 512MB GDDR5 PCI-E bundles all the stuffs that you need. From power connector to ATI CrossFireX Bridge Interconnect cable… Head to Sapphire ATI Radeon HD 4870 Silent Efficiency Preview post to see the package contents and the display card appearance. This Sapphire ATI Radeon HD 4870 is Silent Efficiency Edition which has different heatsink than the reference design. Besides look better and it performs cooler too.
Test Setup
| | |
| --- | --- |
| CPU | Intel Core2 Extreme quad-core processor QX9650 |
| CPU Cooler | Cooler Master Geminii S (風神鍛) |
| Motherboard | GIGABYTE EP45-DS3 |
| RAM | 2 x 2GB Corsair Twin2X4096-6400C4DHX DDR2 |
| Hard Drive | 500GB Seagate Barracuda 7200.11 SATA 3Gb/s |
| Power Supply | 620W Cooler Master Real Power M620 |
| Monitor | 22″ Samsung T220 |
| Video Card | Sapphire ATI Radeon HD 4870 Silent Efficiency 512MB GDDR5 PCI-E |
| Driver Version | ATI Catalyst 9.2 |
| Operating System | Windows Vista Ultimate 64-bit SP1 |
Performance Results
I have several games benchmark results to show. However, I did not include 3DMark Vantage as one of the benchmark because it does reflect to real world gaming performance. I will include that if anyone is interested.
Crysis Warhead
Crysis Warhead is one of the best first person shooter (FPS) games out there. It requires lot of GPU processing power. Below scores are based on Enthusiast graphics setting, using DirectX 10 and running ambush map. This is the only game that fell below 30 fps without turn on 4X AA on 1680×1050 resolution. I need to add on another card to have CrossFireX enabled to pass 30 fps.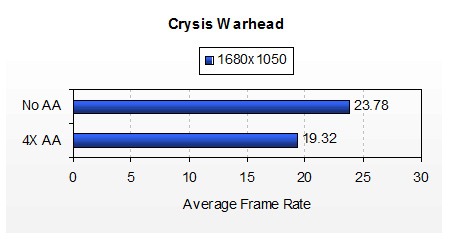 Far Cry 2
Far Cry 2 is another famous FPS game from UbiSoft. Its performance depends on both GPU and amount of memory. This game is slower on 512MB compare to 1GB version of ATI Radeon HD 4870.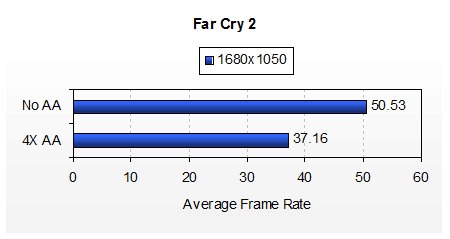 Left 4 Dead
Left 4 Dead is using optimized Half-Life 2 engine. The benchmark scores are based on custom timedemo that I created. The scene where they need to fight lot of monsters. And it is the worst case scenario that you will face in the game. Hey, you get 4X AA for free here.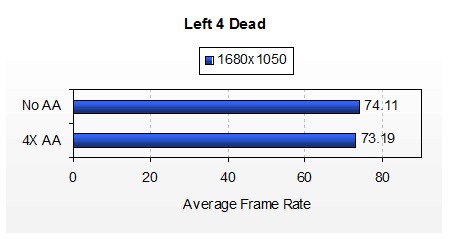 Devil May Cry 4
Devil May Cry 4 is a fast action game from CAPCOM. The built-in benchmark has 4 scenes. The scores below are based on scene 4 which is the lowest among all the scenes. This is the only game that 4X AA performance is better than normal (No AA). Something wrong with the game or ATI display driver?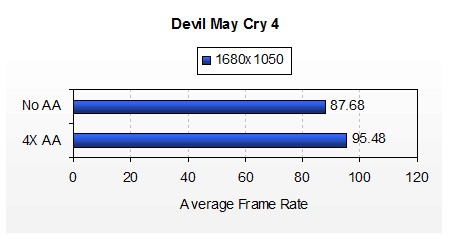 Overclocking
It's time to overclock. I used to overclock CPU and display card in order to get the best performance. However, does this card a good overclocker with custom designed heatsink? I managed to get 840 MHz GPU clock and 1035 MHz memory clock with ATI Catalyst Auto-Tune in ATI Overdrive. However, it failed to run some of the benchmark with this setting. In the end, the stable clocks that I managed to get are 800 MHz for GPU and 1000 MHz for memory from default 750 MHz GPU and 900 MHz memory. It gets around 3 to 7 % performance boost on Crysis Warhead and Far Cry 2.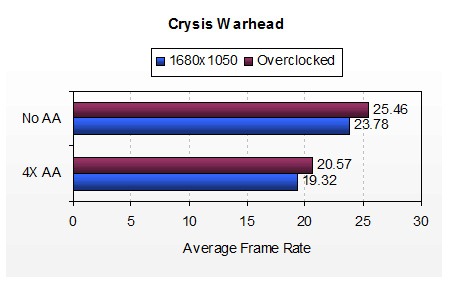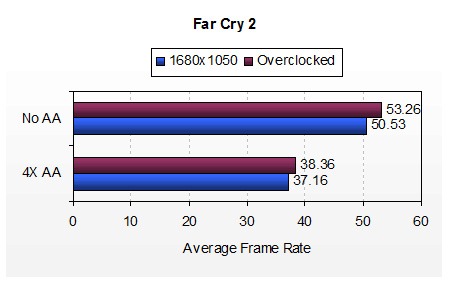 Operating Temperature & Noise
This Silent Efficiency Edition of Sapphire ATI Radeon HD 4870 is better than ATI reference designed card. The GPU's temperature is around 49°C during idle (2200 RPM fan speed) and reaches maximum 63°C during load (3200 RPM fan speed) with 100% GPU at a room with temperature of 25°C. These temperature scores are based on overclocked GPU and memory clocks. I don't have a noise measurement tool to test the noise level. Therefore, no exact noise test here. You will only hear some noise when the game is in totally quiet scene. Else you won't hear anything when you are in real action (the games sound and music cover the noise already).
Conclusion
Sapphire ATI Radeon HD 4870 Silent Efficiency 512MB is a great performer at 1680×1050 resolution. You will need to get 1GB version in order to play certain games at 1920×1200 resolution and above. If you are playing at 1680×1050 and below, this is the perfect card for you. ATI Radeon HD 4870 512MB is going to price at US$150 (RM570). With this attractive pricing from AMD, you don't want to miss the chance to get it. Can't wait the computer vendor in Malaysia to start selling at this price…